Fun-Haver Off-Road 2021 Ford Bronco 4400 Race Trucks
Every so often, you run across a story that's so engaging that you don't know where to begin telling it. I'm happy to say that the tale of these two Ford Bronco 4400 race trucks is one of those occasions. From the drivers to the finished machines, there's a treasure trove of coolness to write about. Hopefully, I can do them the justice that they deserve.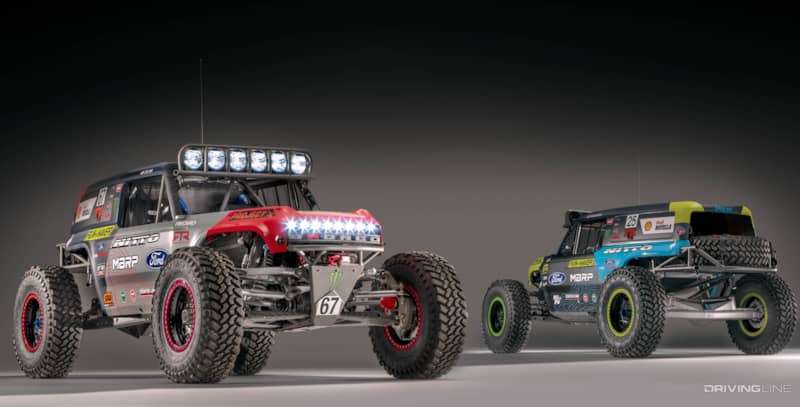 Hammer Time
These twin Bronco-based race machines are piloted by two legends-in-the-making: Loren Healy and Vaughn Gittin Jr of Fun Haver Off-Road. I don't use the term legend lightly. But what these two guys have achieved in the racing world so far are foundations upon which racing legends are built. Healy's off-road resume packs a ton of podium finishes, going back at least as far as his championship win at King of the Hammers in 2010. Since then, he's become the second Ultra4 champ to repeat with another KOH victory in 2014. He's also a team driver for Nitto Tires.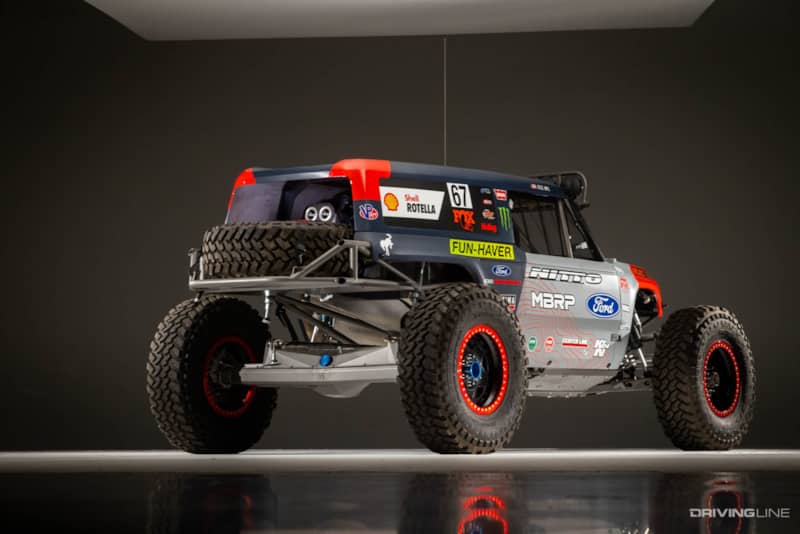 Not to be outdone, Vaughn Gittin Jr's accomplished a lot racing both on and off the pavement. The same year Healy took down his first King of the Hammers championship, Vaughn was getting it done on the asphalt, claiming his first Formula Drift title in 2010. After he won the 2020 Formula Drift Championship, there was not doubt in anyone's mind that he was one of the best formula drift drivers in history. And that's aside from all of the other achievements he's had in drift competition.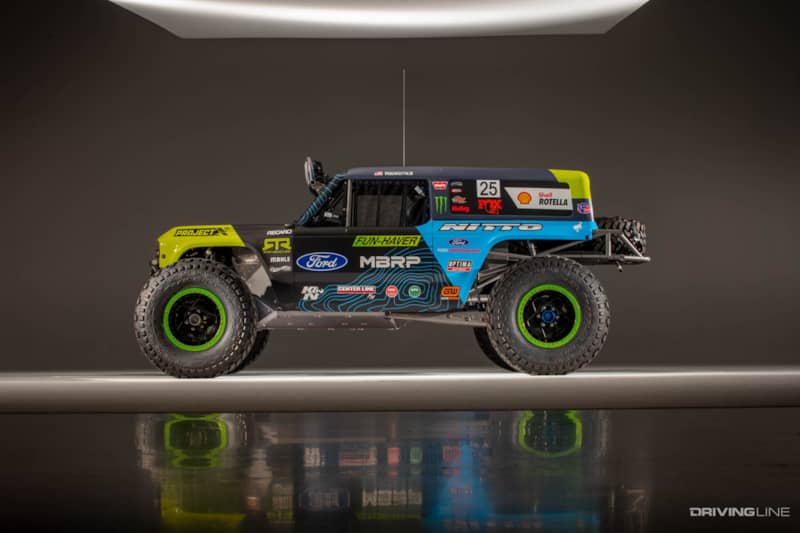 You May Ask Yourself, "How Did I Get Here?"
So how in the wide, wide world of sports did these two guys end up racing Ultra4 as teammates? Well, as Loren Healy tells it: "That's a funny story. Vaughn was invited to race a spec class truck five years ago by Nitto at King of the Hammers. When he got there, he had no clue what to do in the dirt or how to use four-wheel drive. Nitto asked me to spend some time with him. He was totally hooked and loved it. Vaughn's the crossover driver from on-road to make it to King of the Hammers and succeed. He got up to speed quickly. Two years ago we got him into the top three for the unlimited championship. We work amazingly well together."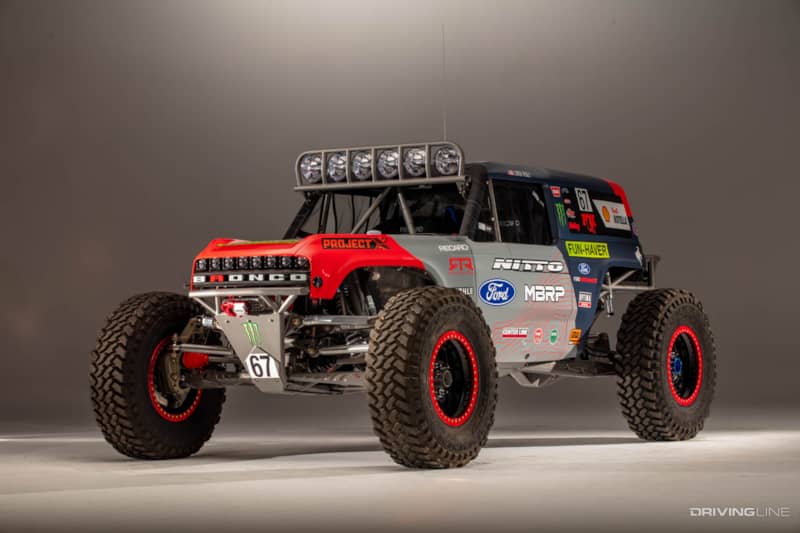 Enter Fun-Haver
That partnership gave rise to Fun-Haver and, eventually, the two incredible 2021 Ford Bronco race trucks before you. The two racers initially designed race trucks that were very Ford Bronco and with heavy involvement from the manufacturer to keep the overall Bronco essence. Ultra4 trucks take an absolute beating, though, with lifespans that might last four to five years. So when it came time to make the change earlier this year, the guys decided to make some modifications. This go-around they wanted identical trucks. Not out of any sense of novelty; this was all about practicality. Identical trucks means interchangeable parts and only having to familiarize your mechanics with one truck in order to take care of both of them. Ford would still be involved but not to the same extent as before: "They gave us a box to play in and wanted it to be Bronco-inspired but they knew this was the unlimited racing class," Loren Healy elaborated. "They kept us reined in but wanted us to make sure that the body looked and felt Bronco."

Endless Possibilities
What ensued would be one of the most expensive and ambitious off-road racing customization projects in history. Fun-Haver enlisted Triton Engineering for a nose-to-tail re-imagining of the two 2021 Ford Broncos as some of the finest off-road race trucks to ever set tire to dirt. Healy continued: "I think the CAD engineering with Triton is second to none. They do it with trophy trucks a lot; all of their work makes for lighter, smaller trucks. I think this will make for a great competitive advantage."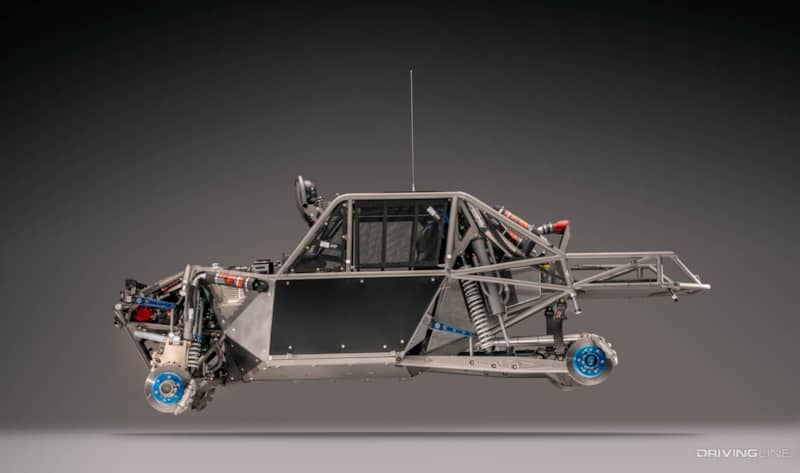 Triton Engineering designed and built the lighter-weight frames for each truck but the true beauty of what they brought into play may lie with the portal gears at the front wheels. While not the first time that this sort of tech has made the leap from all-wheel drive trophy trucks to Ultra4, this is the first time that you have individual gears at each wheel with axle shafts spinning in the right direction. You have gears that aren't trying to twist and rip themselves apart. That allows for more strength in a portal gear. They also move stress from the drivetrain to the wheel, which, lets Loren and Vaughn run smaller drivetrain parts if they like. And they also grant four more inches of ground clearance which is always a good thing to have in the rigorous off-road world of Ultra4. The rest of the driveline is no slouch, either. You'll find custom Spidertrax Off-Road 1 3/16-inch with 1350 U joints up front and J.E. Reel 1480 driveshafts in the rear.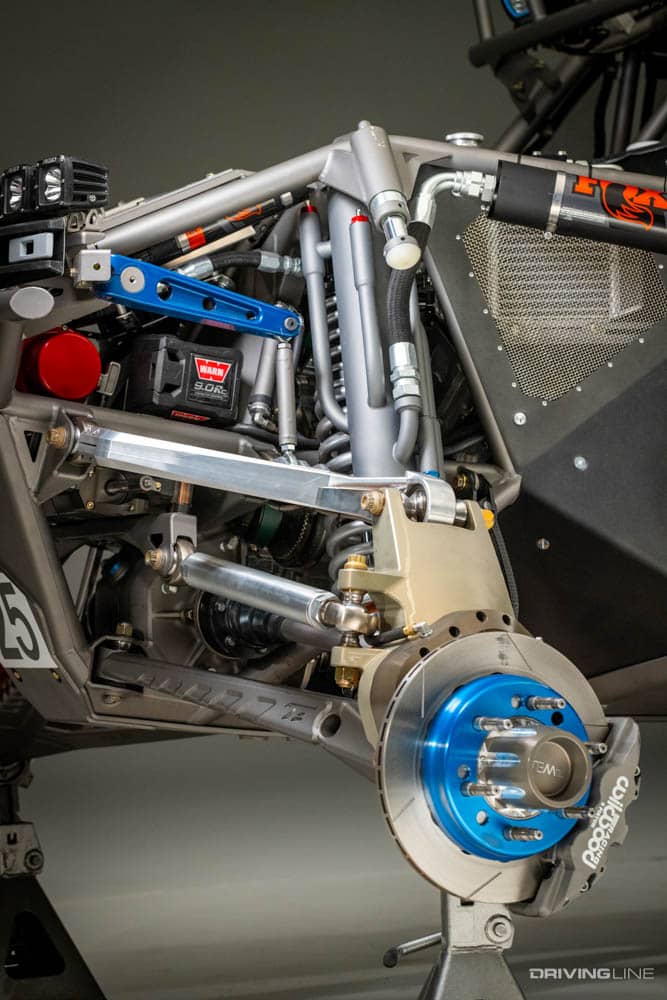 Fox on the Run
It would be a grave injustice to go to all of that effort with the chassis and driveline, only to skimp on the suspension. Racing legends aren't built on second-rate shocks; that's why Fox coilovers with Eibach springs and Kibbetech upper A-arms came into the mix. Spidertrax Off-Road swaybars up front and a Triton Engineering trailing arm reverse 4-link in the rear round out this killer setup.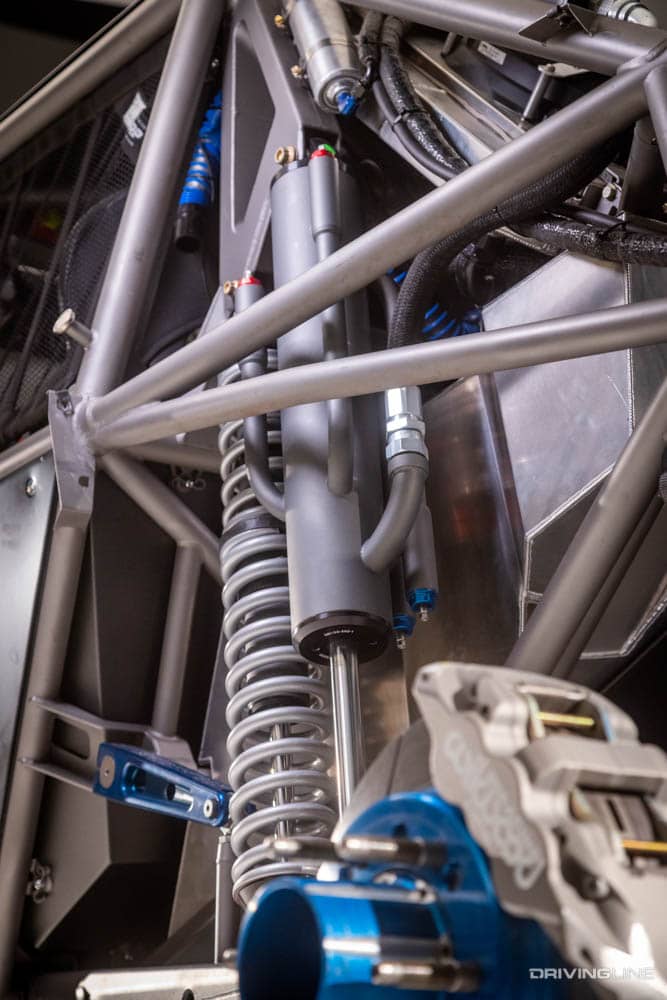 On the Trails
The high-end, high-quality rogues' gallery of custom parts continues with wheels and their associated tread and brakes. In fact, the wheels are one of the few things that the two racers differ on; Loren runs Center Line Hammer Beadlocks while Vaughn uses RTR Tech 6 Beadlocks. Both, however, agree on their Nitto Trail Grappler KOH Spec 40/42-inch Trail Grapplers: "We've been racing on Nitto tires for as long as I can remember. They're absolutely amazing," says Loren. "Nitto went above and beyond designing the K-spec tires and they give us everything we need to win on Nitto tires. That 42-20 is new and only available to racers." Both Broncs rely on Wilwood calilpers and rotors with Tilton master cylinders, Jamal pedals, and Spidertrax hats for stopping power.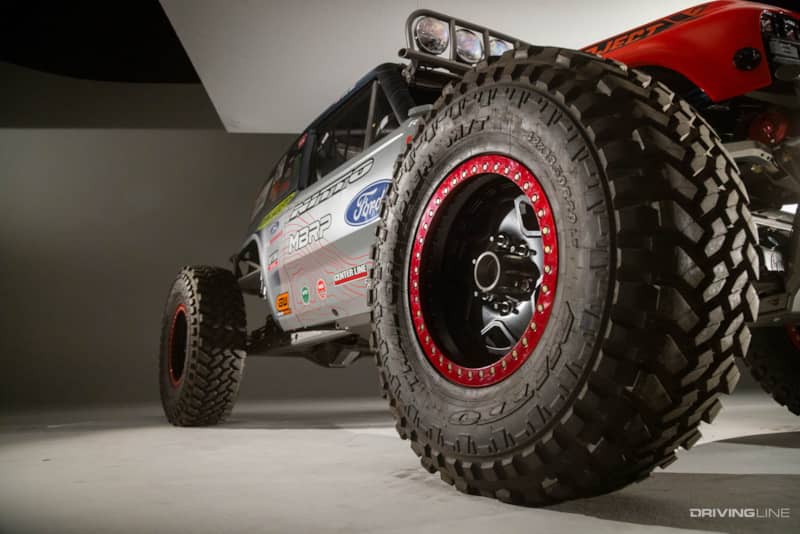 It's Go Time
Although this all adds up to an amazing rolling chassis, it's not going anywhere without an engine. Although Ford did exercise some control in this project, we are talking about the unlimited class; your typical limited-class hop-up isn't going to do the job. These two mega-racers run Ford 460 cubic-inch tall deck D3 JGRE engines with Holley throttle bodies, MAHLE pistons, K&N filters, NGK plugs, and NTK sensors, sending 780hp to the driveline courtesy of a Gearworks Turbo 400 transmission.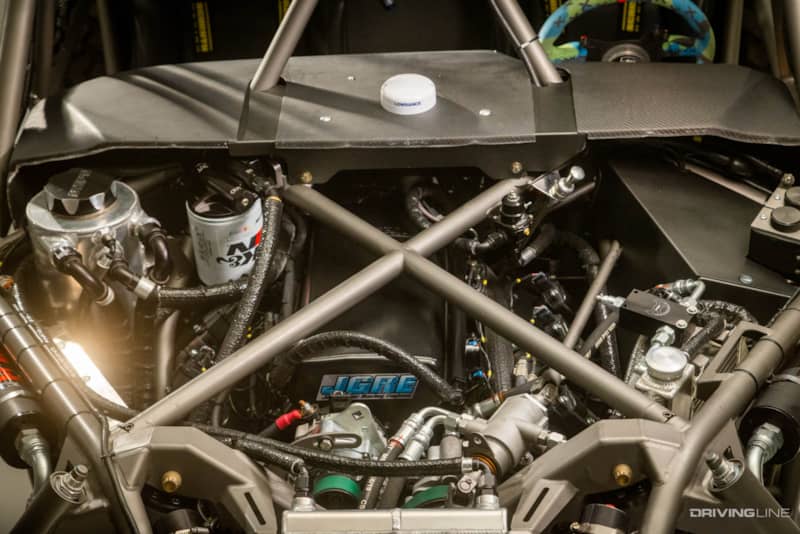 Cooling the engine when the going gets hot falls to a radiator, heat exchanger, and stand-alone transmission coolers from CBR Performance.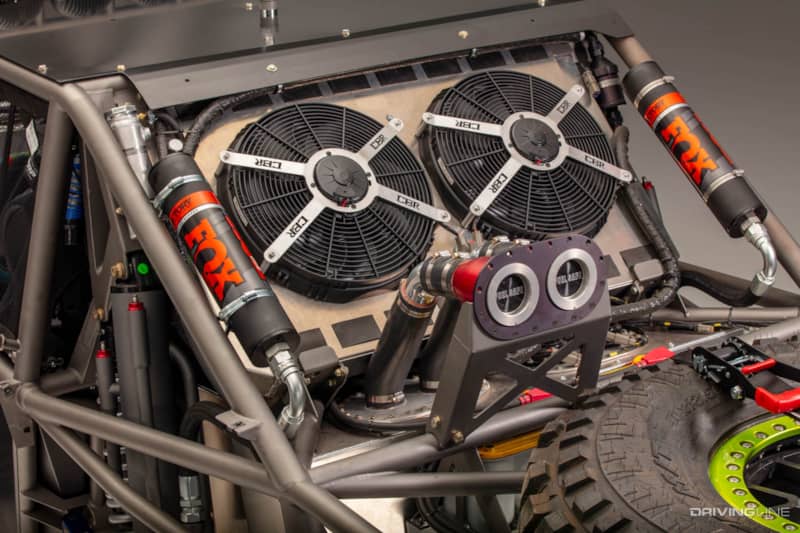 Rock That Body
Fun-Haver's own handiwork came into play with the bodywork. That fiberglass Ford Bronco-esque body is all theirs but the fenders were designed by Triton Engineering.
Move into the cockpit to check out the instrumentation and you'll find it in Fun-Haver's svelte carbon fiber dashboard. Rugged Radios and Lowrance HDS 9 GPS comprise the communications suite that keeps the boys on track when they're out getting it done in the dirt. RECARO ProRacer ORV seats with Schroth Racing harnesses and Lifeline Fire Suppression systems keep them safe and sound.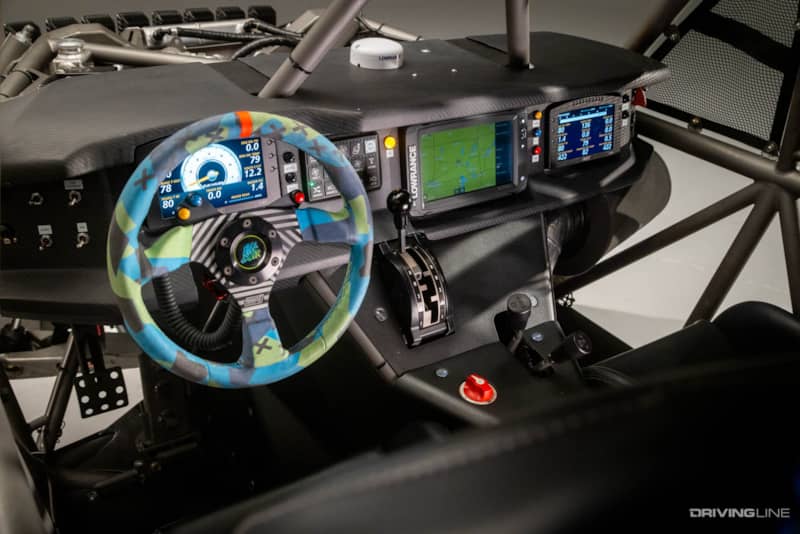 All of which adds up to two of the most ambitious rigs to take on Ultra4, if not off-roading in its entirety. But what else would you expect from a team made up of two racers who'll probably be in at least two halls of fame before they're done? No one can say for sure how far they'll go, but with machines like these two Broncos, it will definitely be a blast to watch and see.