Grind Hard Plumbing Company's Crunchy Taco: Absolutely. No. Frills.
When Grind Hard Plumbing Company set out to build a truck to try and take on Moab the only two things that mattered were function and the lowest possible cost. But those parameters are nothing new to Edwin Olding and Ethan Schlussler, owners of Grind Hard Plumbing Company. They've earned serious online notoriety through their everyman, realistic (if not severe) budget oddball builds, starting with their Mustang Barbie car turbo go-kart build and their Gambler 500 BMW 232. As you may have surmised, they're not really plumbers. Ethan Schlussler explained, "Grind Hard means to work hard on something and we figured using plumbing in the name was different enough that it would come up quickly on Google searches. Plus, we thought it would be hilarious to stamp all our builds with a plumbing company logo."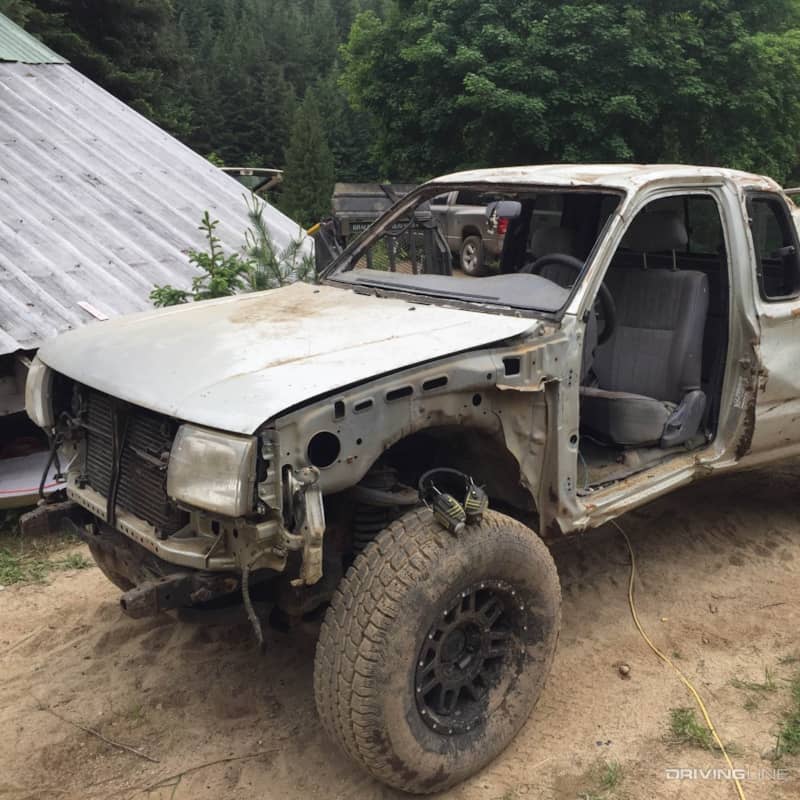 Starting From Scrap
With their financially restrictive plan in mind they approached a friend of Edwin's who had the perfect platform to start their project with: a 2000 Toyota Tacoma with 212,000 miles that had been dwelling in storage for the last two years. The poor 3.4L V6-equipped Tacoma had been flipped from swerving to avoid a deer and was clearly totaled (from any insurance company's point of view), and then it was parked, wet. "He offered to give it to us, but we felt bad for our friend, so we gave him $150 and went home to go pick up a trailer." Schlussler said. "Of course, he had lost the keys, so we had to hotwire it–we hooked up jumper cables and it started the first try!" This was one of the reasons why they chose it in the first place, given the Tacoma's reputation for being incredibly reliable well into the hundreds of thousands of miles.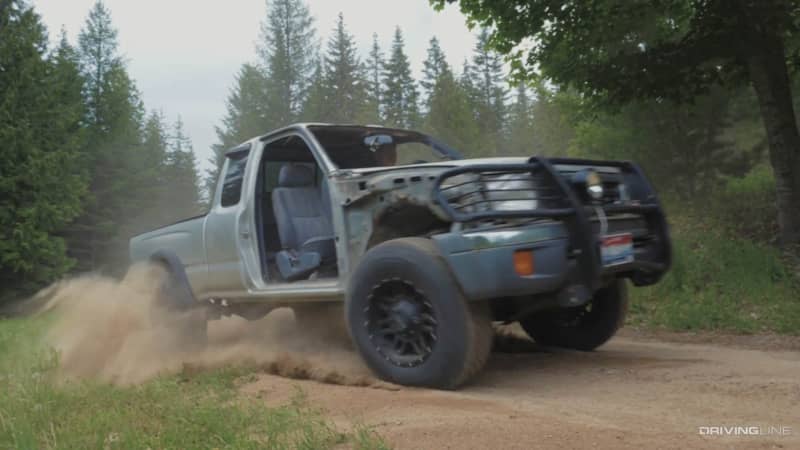 It was no surprise there were many parts of the truck that weren't ready to tackle Moab. The automatic transmission was toast; it wouldn't go into reverse or any gear other than second. But it was surprisingly easy to swap out the automatic for a manual trans. "For $500 we bought a kit that came with all the parts necessary for the swap including the driveshaft and clutch. The only aspect that wasn't bolt-on was the hole we had to drill in the firewall for the clutch pedal assembly," Schlussler said. They also welded-up the rear differential to give the truck poor-man's posi-traction­. Unfortunately, one tire always spins when turning.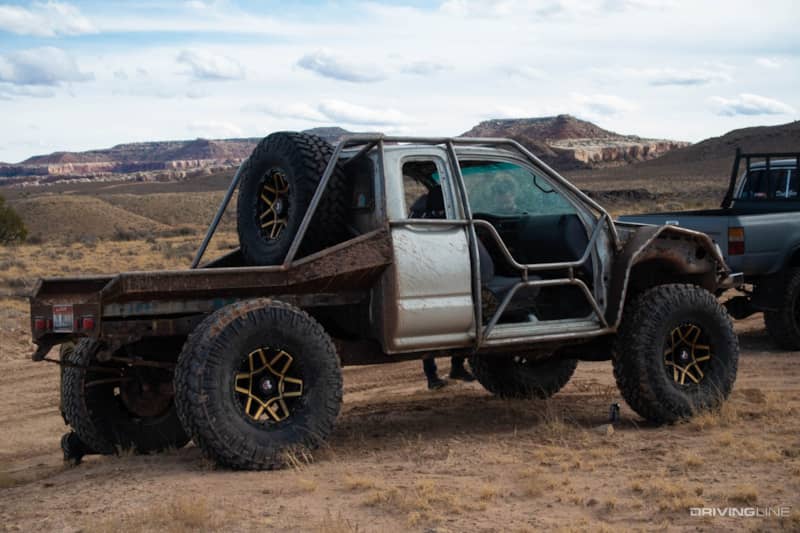 Stock Suspension
Otherwise, the truck was basically stock, including the suspension. They found a pair of spacers in the front suspension that lifted the front end about an inch and a half, but the leaf springs in the rear were as they came from the factory. They knew going to Moab in a truck would be rough, so they replaced the worn-out ball joints even though they weren't completely broken. "We used cheap replacement ball joints thinking they would be OK, but we should have gone with higher-quality parts because they failed us and we had to replace them on the trails in Utah," Schlussler said.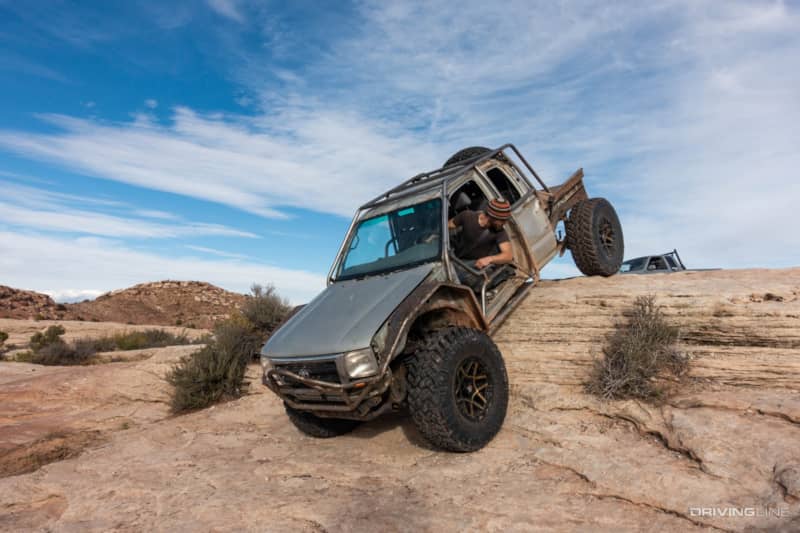 Nice Wheels and Tires
Without an actual lift, there were some modifications required to fit the Mamba M23 wheels and monster-sized Nitto tires. They had to chop four inches out of the fender areas to accommodate the 37x12.5 R17 Trail Grapplers and buy wheel spacers so they fit the stock suspension properly.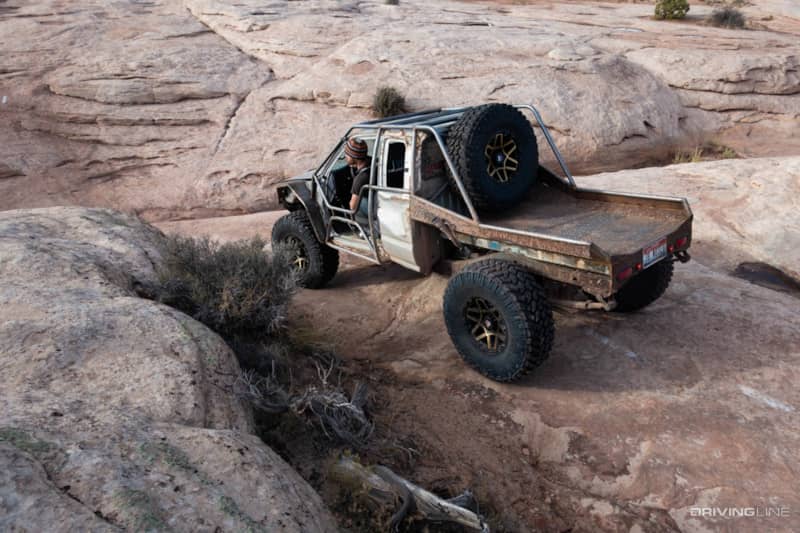 Don't Stress the Aesthetics
On a build like this, there weren't many decisions to make regarding the interior. They tore everything out of the cab and only put the seats and seat belts back in. During the process they noticed evidence of welds all around the roof line. Apparently, the truck's roof had experienced damage or its wheels had been in the air at least twice and the roof had been replaced. They continued their delicate massaging of the sheet metal and floor boards with a sledgehammer and welded it up as necessary and replaced the windshield. "We liked the idea of keeping it 'crunchy'—we didn't want to waste any time or money to fix any body work," Schlussler said.
They attacked the exterior aesthetics by avoiding them altogether. "We knew it was going to need a roll cage because we expected that the truck would be upside down again somewhere on a trail this time. We discussed it and thought we might as well do it on the outside, because it's not exactly a show truck," Schlussler said. "We like the look of one-and-a-half inch diameter steel tubing—anything thicker looks silly, and anything smaller might not be strong enough. Also, that's the size die we have for our tubing bender." They continued to build and make decisions as they went and worked their way down to the details.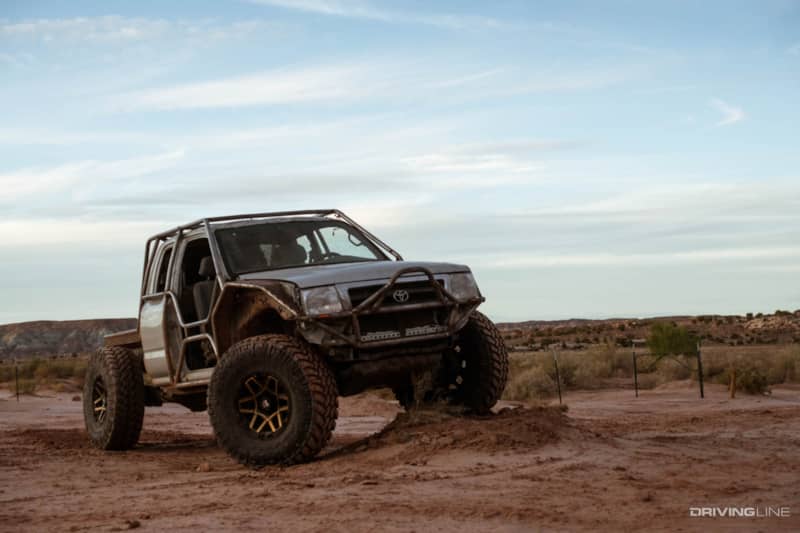 Fun and Effective
Of course, they tested the truck out in the wilds of northern Idaho before they took it to Moab. "The end result was more capable and cooler than what we ever imagined. Having viewers watch the progress and get excited about it made the build more fun and helped us stay motivated," Schlussler said.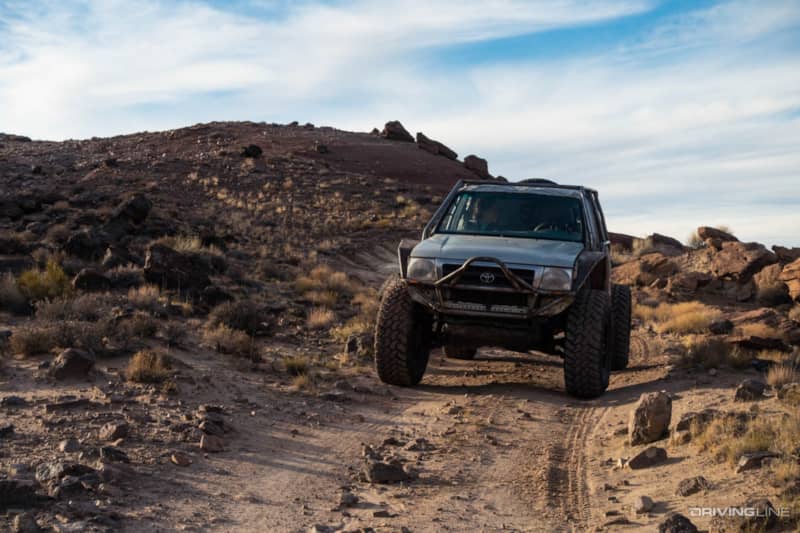 The goal of their week-long trip was to have fun, so they towed the Taco to Moab so they wouldn't have to worry about driving it home. "It handled every obstacle we sent at it. And, we didn't have a lot of rock climbing or any extreme off-roading experience prior to this trip. We were really impressed with the truck," Schlussler said. "The only problems we had were the ball joint I mentioned earlier, and one of the rear shocks broke. Tore off the bottom of the shock after we hyper-extended it—it was not intended for this use." Other casualties of the trip included the old, stock leaf springs which were stretched and are now slightly flat instead of bowed.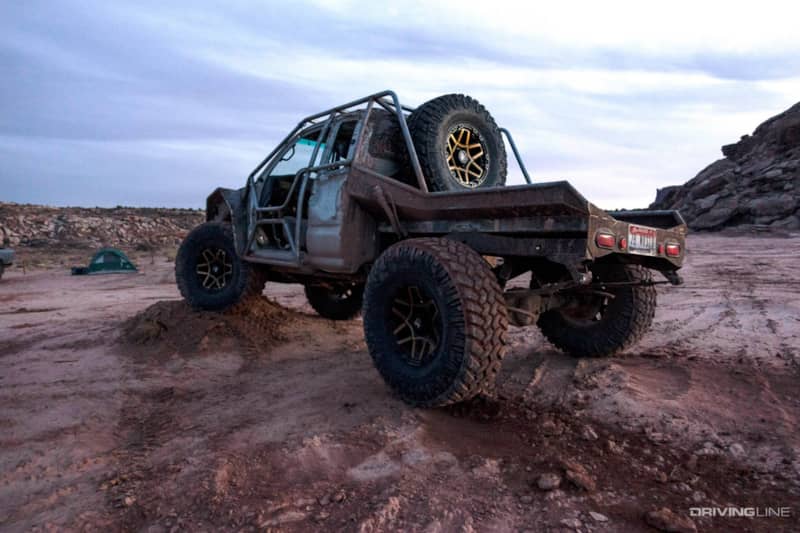 "I love how ridiculous and absurd it looks. It's so crusty and yet it has nice wheels and tires. I can't believe how great it is to drive. It rolled over some of the more difficult trails in Moab in basically stock condition." Schlussler continued, "We use it as much as possible, but after Moab there's nothing as challenging here in Idaho, but the custom flatbed great for anything from an ice cooler to a dirt bike."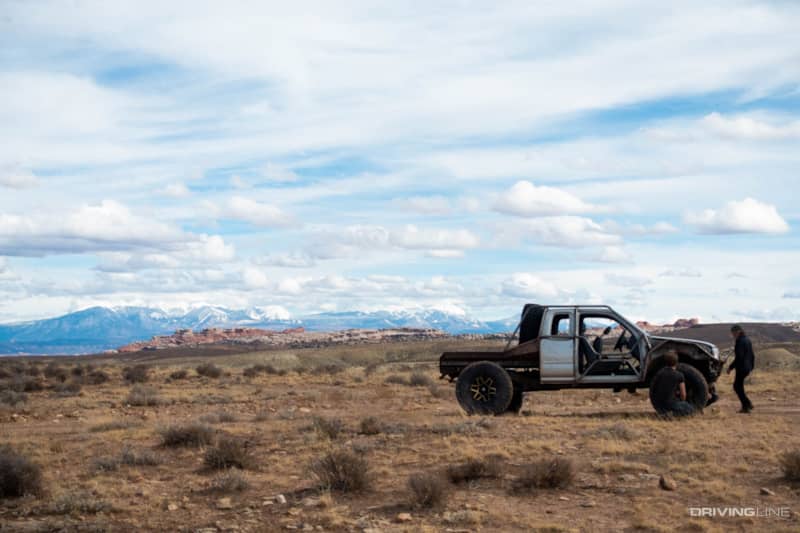 So how much do they have into the build, not including the wheels and tires? $1600 total. Plus, it's street legal in Idaho and has a legal title and plates. While they met their budgetary concerns, they put serious time into it–Edwin and Ethan both having spent roughly 100 hours, but then they're quick to admit that they're not good at keeping track of time when they're not getting paid.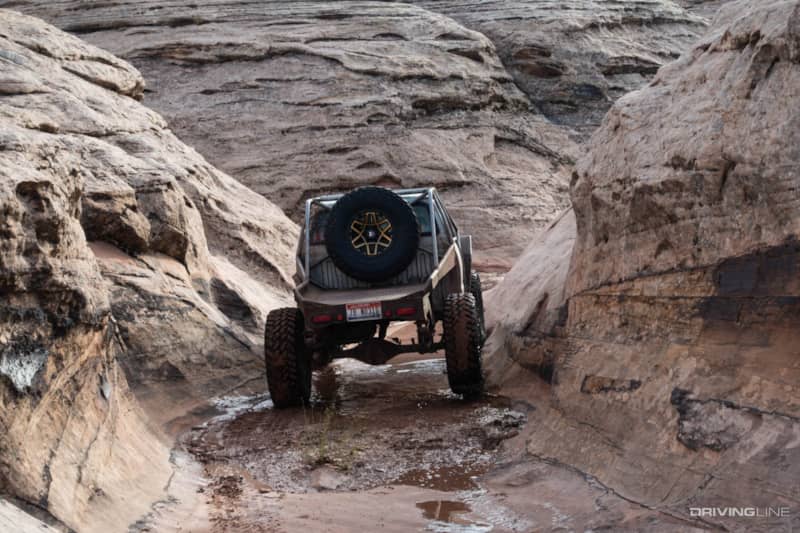 Sure, there are other budget builds out there, but rarely is much accomplished with as little money as with Grind Hard Plumbing Company's Crunchy Taco.
Want more Toyota Tacoma Action? You need to see the Supreme Taco.