History Of GM's HD Trucks, Part 4: '17-'23
Times were once again changing in the ¾-ton and larger pickup market in 2017, with the Big Three steadily marching toward medium-duty towing and payload figures as well as offering diesel engines with at least 900 lb-ft of torque. But instead of playing the 30,000-pound towing game, GM chose to perfect its existing platform for '17—along with adding a new-and-improved version of the 6.6L Duramax diesel, the L5P. Enhanced trailering technology was employed to complement the added towing capacities, additional cameras helped improve all-around safety, and plush, upscale interior options made the '17 Chevrolet Silverado and GMC Sierra HDs—the Cadillacs of the heavy-duty pickup world.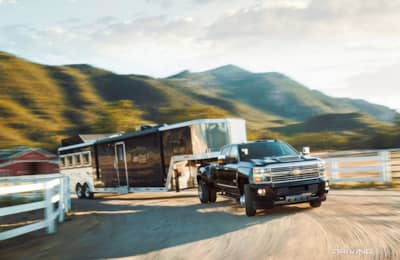 Then in 2020, the General was formally ready to challenge Ram and Ford for all-out towing supremacy. That year the 10-speed Allison transmission was released in conjunction with a jaw-dropping towing figure: 35,500 pounds via fifth-wheel or gooseneck hitch. The mountain-moving news was joined with a fresh look (and a memorable bold face on Silverados) and further advancements in towing aids. While GM didn't lead the torque war on the diesel front, it did replace the aged 6.0L Vortec with a new, 401hp gasoline V-8, the 6.6L L8T, not to mention that its trucks were arguably the best at handling the immense weight they were designed to haul.
Stay tuned. Major changes are headed our way soon with the release of the '24 HDs. We'll delve into what they'll be bringing to the table next time.
L5P Duramax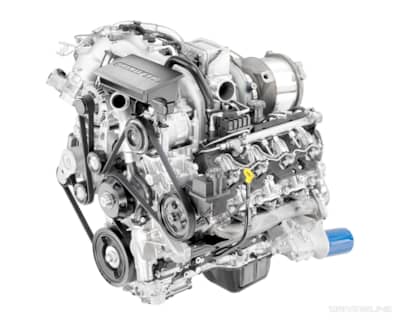 Keeping up with the Joneses in '17, GM introduced the sixth version of the 6.6L Duramax it'd produced since 2001: the L5P. The new diesel V-8 packed a completely different high-pressure common-rail injection system, a fresh BorgWarner variable geometry turbocharger and produced a class-leading 445 hp at 2,800 rpm and 910 lb-ft of torque at 1,600 rpm. Electrically actuated and controlled, the new VGT provided quicker response than previous Garrett versions aboard the Duramax had and the integrated exhaust brake (i.e. turbo brake) capitalized on the advanced VGT technology to help bring GM's HD trucks and their cargo to a halt in a safe and highly effective manner.
Denso Fuel System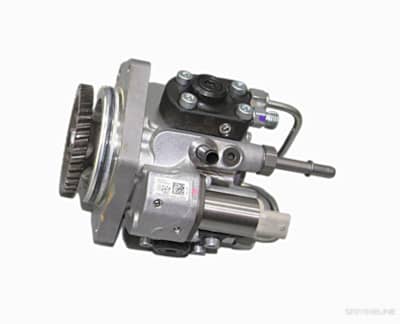 For the first time in the Duramax V-8's production history, a Bosch fuel system wasn't present for '17. Instead, GM sourced its high-pressure common-rail fuel pump and injectors from Denso. The Denso HP4 high-pressure fuel pump, which has proven more reliable than the problematic Bosch CP4.2 used on '11-'16 LML engines, was supplied low pressure diesel by way of an in-tank lift pump. This marked the first time GM's diesel-powered HD trucks came with an OEM lift pump. The Denso-supplied injectors were of the solenoid style variety and provided precise firing, multiple injection events per power stroke and outflowed the previous Bosch piezoelectric units by 20-percent (hence the L5P's substantial horsepower and torque increase).
10-Speed Allison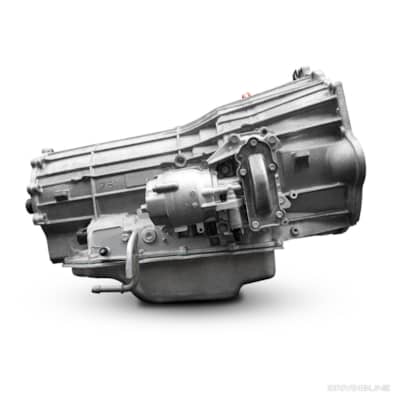 To match the extra 145 lb-ft of grunt the L5P picked up over the LML Duramax, the Allison 1000 (still a six-speed at the time) received a new, higher input torque capacity converter in '17. However, things changed drastically on '20 model trucks when the all-new 10L1000 Allison debuted. A 10-speed automatic, with eighth, ninth and 10th all being overdrive gears (10th is 0.63:1), the 10L1000 was said to have been fully built by GM but with careful oversight provided by Allison Transmission. Does this make it an Allison or did GM hold on to the Allison name in order to sell trucks? You make the call there. All we know is that the 10L1000 has proven to be a pretty solid transmission thus far.
GMTK2XX Platform, Similar Frame, Axles And Suspension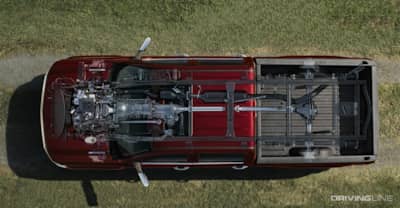 The '17 model year Silverado and Sierra HD's were built on GM's GMTK2XX platform and continued to boast a high-strength steel, fully-boxed frame. A total of nine crossmembers provided considerable lateral support to the HD foundation. The front sections of the frame were hydroformed in order to minimize weight without sacrificing anything in the way of strength. In the rear, 3-inch wide leaf springs continued to be employed above an AAM 1150 axle and payload capacity checked in as high as 7,153 pounds on a properly-equipped 3500 model. Up front, the AAM 9.25 independent front suspension remained.
High-Strength Steel Cab and Bed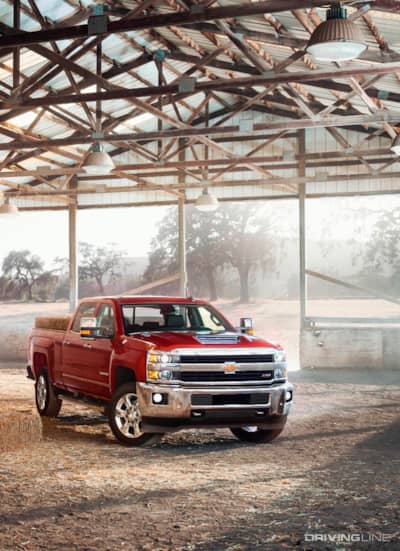 As Ford pivoted its Super Duty's to aluminum sheet metal in '17, GM doubled down on steel. In fact, 66-percent of its HD cab structure was made of high-strength steel (this includes the pillars, roof rails, and even the rocker panels). HD beds were made of high-strength steel, too, including a roll-formed steel pickup box floor which was lighter yet stronger than traditional stamped steel boxes. Other mentionables for the bed included two-tier loading capability, integrated tie-downs and improved accessibility courtesy of rear bumper corner steps.
Upscale Trim Levels That Delivered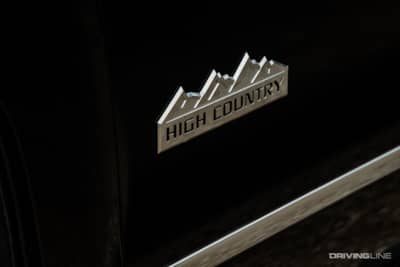 If you remember the marketing surrounding GM's HD trucks back in 2017, the High Country trim got a lot of press—and for good reason. The high level package boasted paint-matched front and rear bumpers, 6-inch assist steps, mirror caps, a spray-in bed liner, halogen projector beam headlights and a power sliding rear window, among other things. And not only were the full-feature front bucket seats comfortable, but the cabin was quiet as a mouse, with dB testing showing GM's new HD trucks to be just as quiet as the interior of many Mercedes-Benz vehicles offered at the time. It's also worth noting that in '17 GM offered the first full-size pickup with built-in 4G LTE Wi-Fi.
Huge Towing Increases Beginning In '20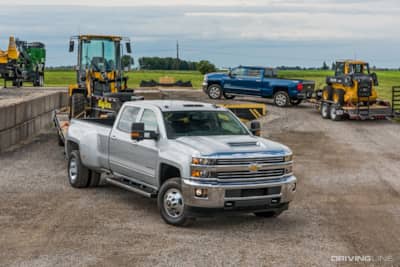 As we alluded to earlier, for its '17 models GM primarily focused on perfecting the towing experience rather than pursue 30,000-pound towing capacities. To be sure, with a 23,200-pound tow rating by way of either  fifth-wheel or gooseneck hitch, the '17s weren't exactly slouches. However, everything changed in 2020 when maximum towing jumped to an astounding 35,500 pounds on properly-equipped 3500 HD models. The addition of the 10L1000 Allison, 12-inch ring gear rear axle and 30-percent larger driveshafts all factored into the substantial towing increases GM was able to provide its customers. A year later ('21), max towing increased again, this time to 36,000 pounds—a best-in-class figure.
Vs. The Competition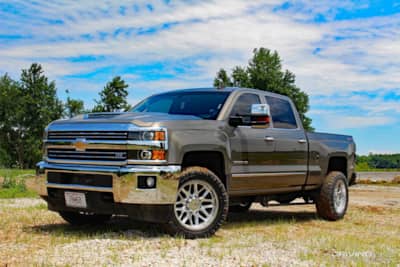 So how did the '17-'23 HD trucks stack up against the crosstown competition of Ford and Ram? Just fine. If it was acceleration you were after, GM's trucks—which usually tip the scales a tad lighter than the other two—were the sprinters of the bunch. It's also important to bear in mind just how efficient the Duramax diesel and Allison transmission combination was, sacrificing just 10 to 12-percent driveline loss in most instances. As for towing, once GM upped the ante to 35,500 pounds in 2020 its trucks have been in the thick of the gooseneck/fifth-wheel towing capacity wars ever since. In payload capacity, GM's HD's, which have always been competitive or at the top, were right on the money.
More From

Driving Line
Curious how GM's HD trucks got to this point? Check out 

Part 3

 

for the lowdown on the fully boxed frame, beefier IFS and LML Duramax that debuted in 2011.