History Of GM's HD Trucks, Part 3: '11-'16
By 2011, it was time for GM to challenge Ford's Super Duty for all-out truck supremacy in Detroit. Leading the field in towing capacity, max payload, chassis strength and even diesel horsepower and torque output were top priorities for the General and—up until Ford's surprise high output reflash (that bumped its 6.7L Power Stroke to 400 hp and 800 lb-ft of torque)—GM succeeded. The '11 model year HD's were built on the GMT900 platform released in '08, but with significant improvements. First and foremost, a fully boxed frame was introduced, followed by nearly every component in the AAM 9.25 IFS system being beefed up. Then came the asymmetrical leaf spring arrangement, which kept the rear axle planted in addition to providing improved ride quality.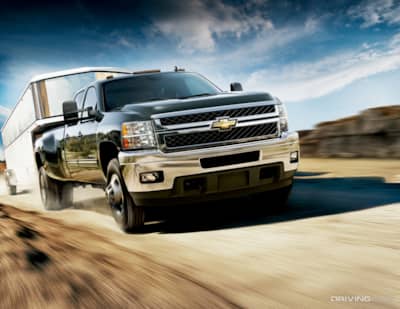 The big powertrain news for '11 was, without question, GM's latest version of the Duramax, the LML. The V-8 diesel turned out 397 hp and 765 lb-ft of torque, authoritatively besting its LMM predecessor's 365 hp and 660 lb-ft rating. Thanks to a new, 30,000-psi Bosch common-rail injection system, a revised exhaust aftertreatment system and selective catalytic reduction, GM was able to accomplish its groundbreaking power figures while simultaneously lowering emissions significantly. On top of that, the Allison 1000 transmission had been further improved upon and now worked seamlessly with the Duramax power plant's new exhaust brake function. At no other time in the history of GM's heavy duty pickups was such a comprehensive list of improvements made to its trucks. From head to toe, the '11-'16 GM HD's were built for hard work.
Fully Boxed Frame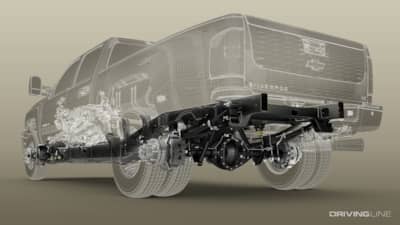 With a target of overtaking Ford's Super Duty in both payload and towing capacity, GM switched to a fully boxed frame in 2011. This was a major improvement over the C-channel frame that preceded it in terms of rigidity, although it did add considerable weight to the '11 HD's. Higher gross axle weight ratings (GAWR) were on the table in 2011 as well, with the front AAM 9.25 IFS rating up to 6,000 pounds and the rear AAM 1150's increased to 9,375 pounds.
Asymmetrical Leaf Spring Arrangement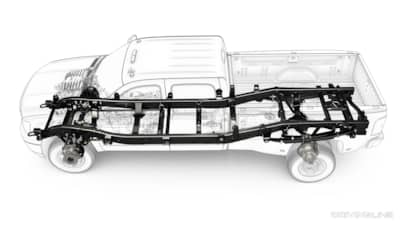 Rear suspension was another area where GM broke away from the rest of the field. In 2011 its trucks came with an asymmetrical leaf spring arrangement out back. This design locates the rear axle forward of the center of the spring pack in an effort to quell axle wrap—and it proved highly effective with the '11 HD's under load and heavy throttle, especially with 765 lb-ft of torque in the mix. The asymmetrical leaf springs also helped improve ride quality. For better load stability, GM also went with 3-inch wide leaf springs (vs. 2.5-inch wide springs on previous models).
More Stability Up Front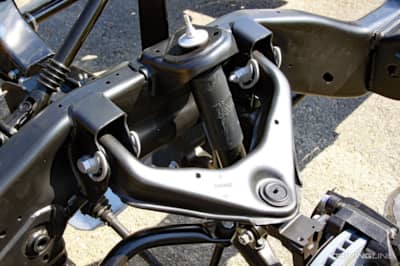 As mentioned earlier, in 2011 very few front-end pieces remained from the '10 model trucks. In order to prep the HDs for heavier workloads, considerably larger torsion bars were added, forged-steel upper control arms were employed and machined, cast-iron lower control arms were included. Noticeably taller knuckles were a part of the upsizing, too, not to mention that two bump stops existed per side. Between the fully boxed frame and the front-end beef-ups, the end result was a truck several hundred pounds heavier than it previously was (an '01-'07 4x4 crew cab short bed was typically 7,100 pounds vs. the '11 of the same configuration weighing 7,600 pounds). However, with the newfound towing capability and fuel economy that matched what some owners saw with their '01-'07 HD's, there was little complaining about weight.
LML Duramax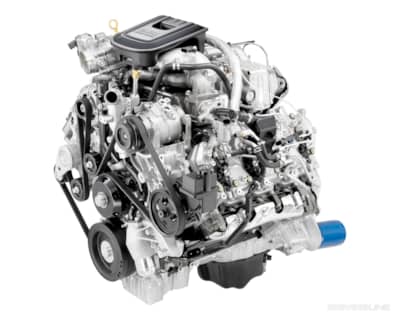 At this point, the Duramax platform had gone from having virtually zero aftertreatment emissions devices associated with it to utilizing EGR, to being laced with a DPF and regeneration cycles, to being saddled with all of the above plus selective catalytic reduction (SCR) technology. Despite all of those acronyms (namely the issues and downtime they can cause for a truck owner), the LML Duramax was widely successful. GM's use of SCR allowed the automaker to drop NOx emissions by 63-percent while increasing horsepower. The LML turned out 397 ponies at 3,000 rpm. Down low, the 6.6L Duramax produced 765 lb-ft of torque at just 1,600 rpm.
Allison Upgrades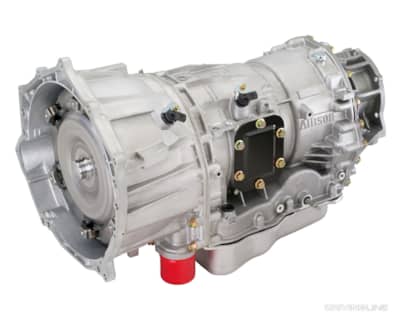 The Allison 1000 didn't gain any forward gears for 2011, but the commercial-grade, six-speed automatic did see torque-based, variable main line pressure control for the first time, which helped reduce ATF temps. A new torque converter with a higher torque input capacity was added, which was designed to spend more time with the converter clutch locked for improved fuel economy and less slippage. Low-drag clutches were also added to decrease spin losses. As icing on the cake, the new exhaust brake (which was technically a turbo brake that capitalized on the turbo's variable geometry technology) only complemented Tow/Haul mode's ability to slow a heavy load quickly.
Best-In-Class Payload Capacity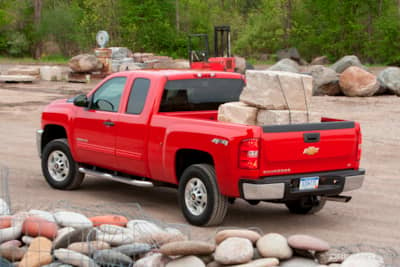 Maximum payload capacity on a properly-equipped 2011 3500 HD model with dual rear wheels checked in at an impressive 6,635 pounds—which led the class. And while topping Ford's Super Duty for best-in-class hauling capability was surely a crowning achievement for GM's truck engineers, their trucks also outshined the competition in their ability to bring things to halt. Larger brake pads, calipers, and rotors (14-inch units up front) paved the way for the '11 HDs to out-brake Ford's Super Duty as well. Note that brake pedal feel was vastly improved for 2011, bringing an end to the "mushy" brake feel of its predecessors.
Best-In-Class Towing Capacity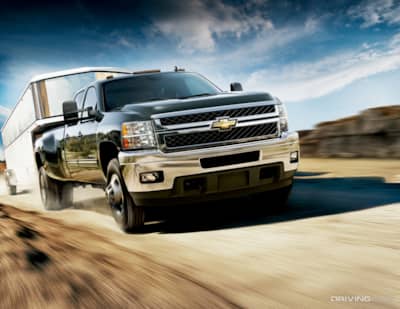 We told you the '11 HD's were built for business and we meant it. Despite Ford rolling out a revamped Super Duty with a brand-new, much-hyped powertrain for 2011, GM stole its thunder by laying claim to top towing honors. The conventional towing capacity for a properly equipped '11 3500 HD was 17,000 pounds (thanks in part to a beefier Class V hitch), which beat out Ford's 16,000 pounds with the '11 F-350. And the 3500 HD's 21,700-pound fifth-wheel towing capacity ousted Ford's F-350 by 100 pounds.
The Competition…Was Left Scratching Its Head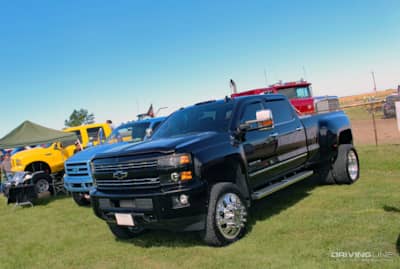 So how did GM's new HD trucks fare against the competition in 2011? Simply put, the '11 GM HD's—thanks in large part to the upgraded chassis and the LML Duramax matched with the new and improved Allison 1000 transmission—could out-accelerate any comparable truck offered by Ford or Ram, loaded or not. GM's superiority was on full display in loaded acceleration tests conducted in elevation. Yours truly was part of gooseneck tow testing that pitted an '11 Chevrolet Silverado 3500 HD against an '11 Ford F-350 Super Duty in an 8-mile acceleration test near the 11,000-foot high Eisenhower tunnel in Colorado. The GM made it to the top of the mountain a full two minutes faster than the Ford…