Is the 3.0L Duramax Living Up To the Hype?
General Motors' 3.0L Duramax flaunts water-to-air intercooling, highly-advanced, 36,000-psi high-pressure common-rail fuel injection, a variable intake manifold and the only inline-six architecture in the half-ton diesel segment. However, this cutting-edge, cast-aluminum block and head I6 is much more than the sum of all its fancy parts. It produces a class-leading 277 horsepower and sustains its 460 lb-ft torque number from 1,500 to 3,000 rpm. Packaged inside a 4x2 version of Chevrolet's Silverado 1500 and backed up by the 10L80 10-speed automatic transmission, an EPA fuel economy rating of 33-mpg highway can be achieved—at least on paper (given their different aerodynamics, GMC Sierra versions are rated for 30-mpg highway).
But how is this new workhorse performing out there in the wild? So far, highway fuel economy numbers have, in general, come up short of EPA estimates. That said, they have proven higher than what people driving similarly-configured 2020 Ram EcoDiesels and Power Stroke F-150's are seeing. And from an acceleration standpoint, GM's 3.0L Duramax is the clear winner. In terms of towing and payload capacities, the Bow Tie doesn't quite measure up to its crosstown rivals, but that certainly isn't the engine's fault. In fact, of the few complaints we've heard about so far (which is to be expected with any new engine platform), none of them have anything to do with a lack of power or drivability.
For our 8-month analysis of GM's reentry into the half-ton diesel game, keep scrolling.
Cutting-Edge and Quiet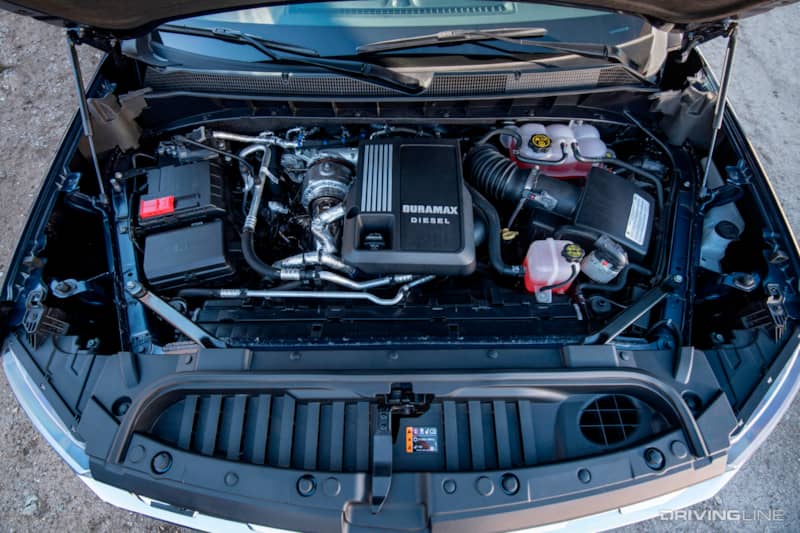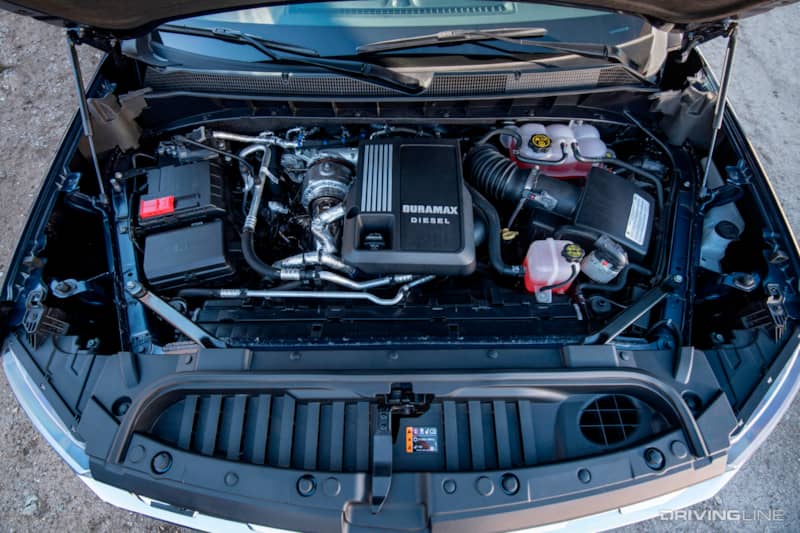 A cast-aluminum block and DOHC head, forged-steel rods and hypereutectic pistons all made their way into the 3.0L LM2 Duramax engine (and don't forget the ductile-iron cylinder sleeves or the block stiffener). Robust in structure, the inline-six Duramax is also ultra-quiet thanks to the 36,000-psi common-rail injection system and fast-acting solenoid valve injectors that are capable of multiple pilot events per combustion cycle. This, in conjunction with the electronically controlled and actuated variable geometry turbocharger, yields class-leading 277 hp and 460 lb-ft of torque that holds true from 1,500 rpm to 3,000 rpm. This engine's torque curve means it is more suited to tow than others in the segment, but you were expecting that from an I6 diesel, right?
No News is Good News—And There's No News Yet…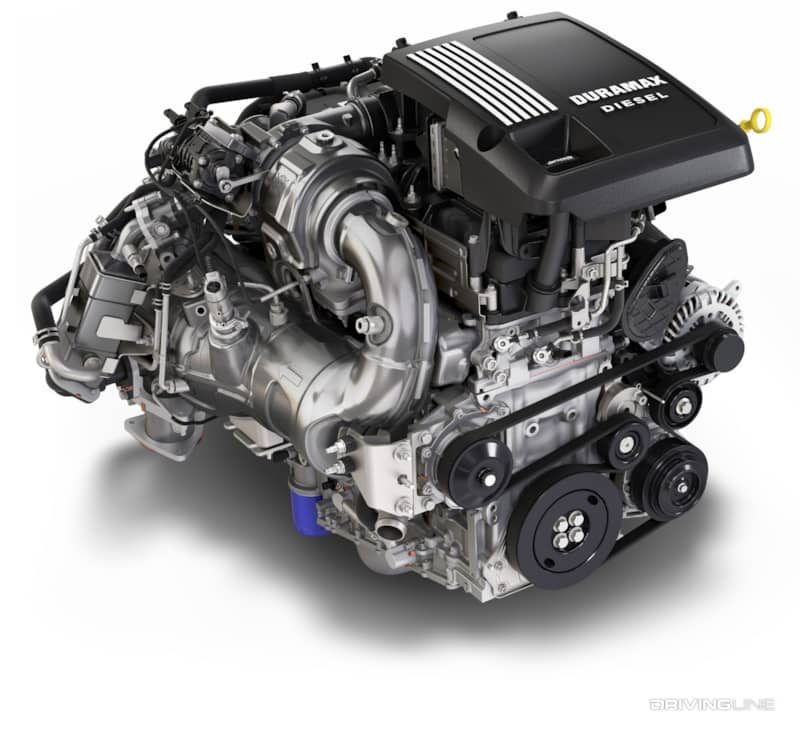 While it's pretty early on in the 3.0L Duramax's production run to notice any specific engine-related problems that would call its reliability into question, we fully expect the EGR and exhaust aftertreatment systems to experience a few issues from time to time, as has become common on diesels over the past decade. Though the low-pressure EGR system (in conjunction with a conventional high-pressure EGR system) will improve turbocharger and engine efficiency, the system as a whole will most likely still have its fair share of EGR valve and EGR cooler ailments somewhere down the road.
The Biggest Complaint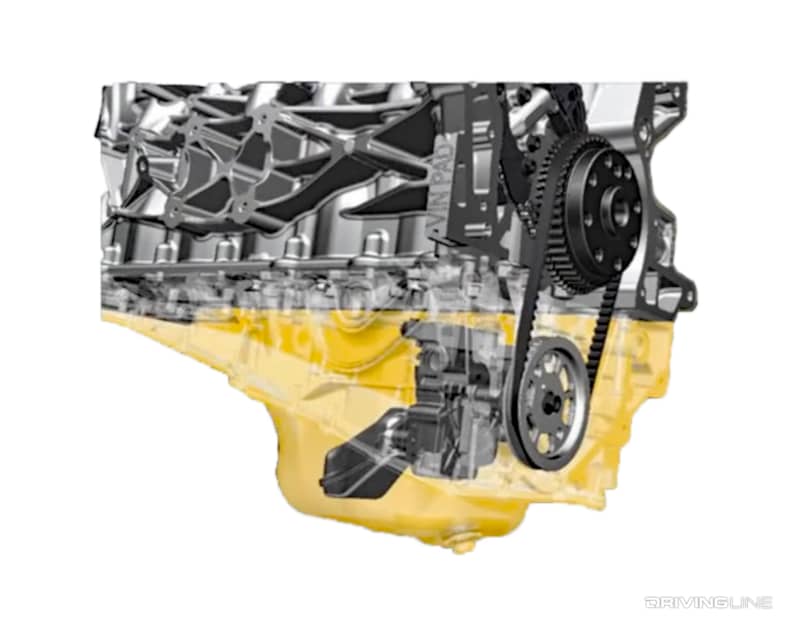 By far, the biggest gripe with the new 3.0L Duramax (other than Tow/Haul mode activated by way of a knob on the dash rather than a button on the shift stalk or the fact that the diesel isn't offered in WT trim) is the serviceability of the belt that drives the engine's variable flow oil pump. Belt-driven from the back of the crankshaft, the oil pump's belt carries a 150,000-mile replacement interval. And given its location, the transmission has to be pulled in order to access the belt (along with the transfer case if your truck is four-wheel drive). This is interesting given the fact that both the high-pressure fuel pump and camshafts are chain-driven. While other areas of the engine likely live up to the ease-of-serviceability nature of most inline-six mills, this aspect certainly doesn't.
It's Faster Than The Others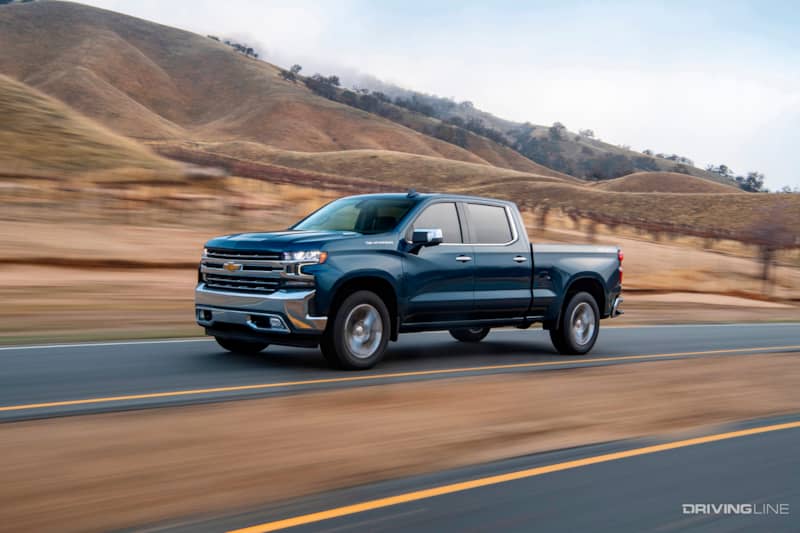 Pitted against the other diesel-powered domestic trucks in the half-ton segment (the Ram 1500 EcoDiesel and the F-150 Power Stroke), the Duramax is hands-down the fastest. The editors at Car and Driver were able to navigate a Silverado 1500 crew cab 4x4 through the quarter-mile in 15.5 seconds at 88 mph. By comparison, a similarly-configured Ram and F-150 returned 16.1 at 84 mph and 16.0 at 85 mph, respectively. Given the Silverado's weight of 5,653 pounds, its 88-mph trap speed suggests that 270hp made it to the pavement, which equates to roughly 300 hp at the crank. If you ask us, the 3.0L Duramax's 277hp factory rating (at the crank) is underrated.
It Loses The Towing Battle, But It's Plenty Capable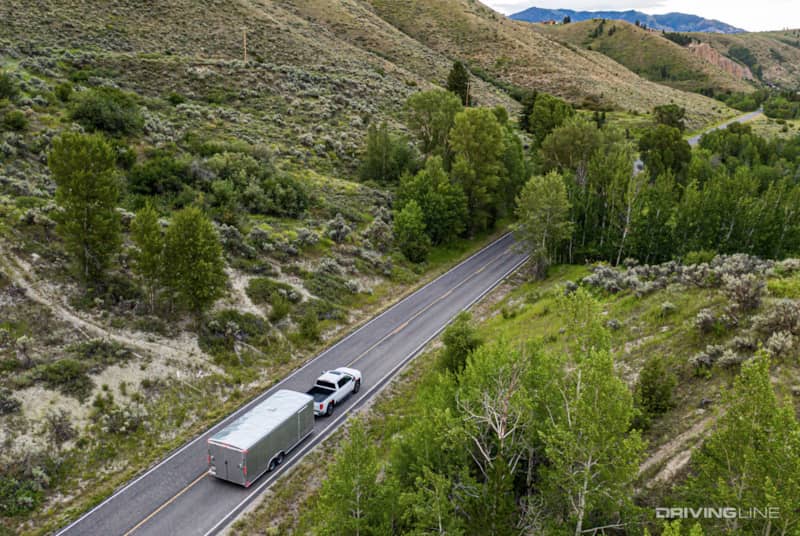 With a max tow rating of 9,300 pounds, a Duramax-propelled half-ton Chevy Silverado or GMC Sierra 1500 falls short of the 11,400-pound rating from Ford and the new 12,560-pound rating from Ram. However, given the Duramax's table-top torque curve from 1,500 to 3,000 rpm you are never going to see the GM lose the race to the top of the hill. And with the inherent balance and structural advantage of an I6 design, our money is on the Duramax outlasting the other two oil burners as the miles rack up.
The Exhaust Brake Function is a Little Soft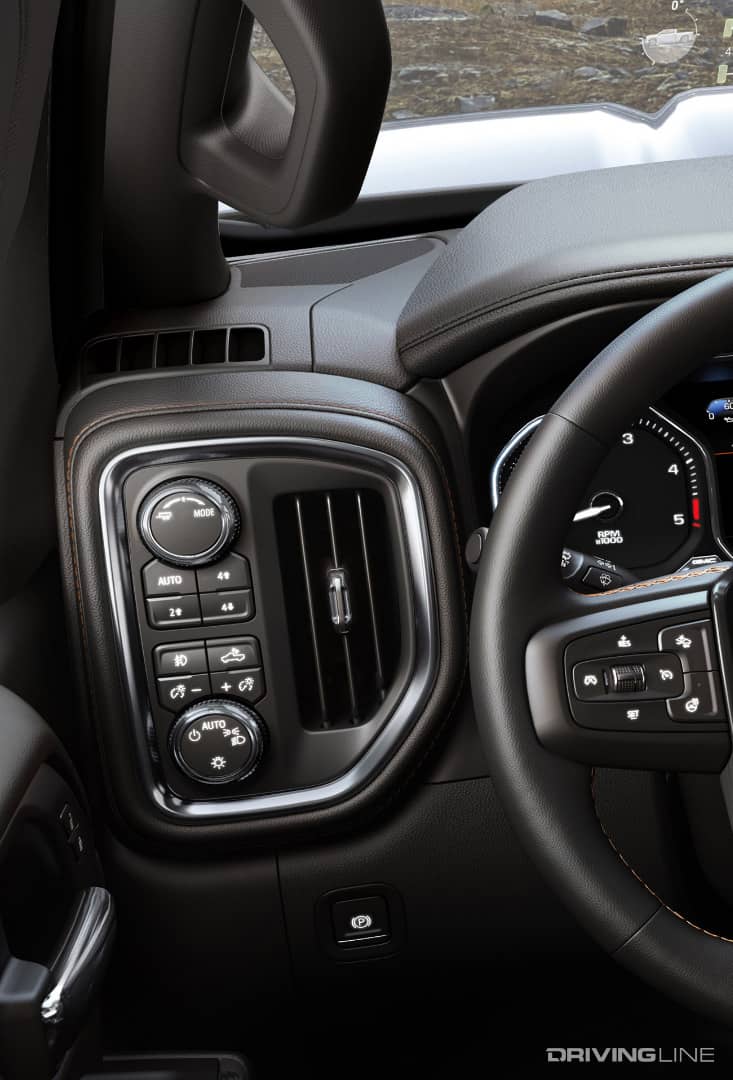 Unlike GM's ¾-ton and larger diesel trucks (with the 6.6L Duramax V8), where you're able to select the exhaust brake function independently (or in addition) to Tow/Haul mode, exhaust braking is only available on half-ton GM's with Tow/Haul mode on (it's the top knob to the left of the steering wheel). And also unlike the HD version, the 1500's variable geometry turbo has nothing to do with the truck's exhaust brake operation. Instead, the 10L80 transmission and its centrifugal pendulum absorber torque converter are called upon to semi-aggressively downshift and use engine speed to slow things up. While helpful in bringing any load to a quicker halt, the 1500's exhaust brake is nowhere near as effective as it is on on its bigger, diesel-powered brother.
No Grievance with the Interior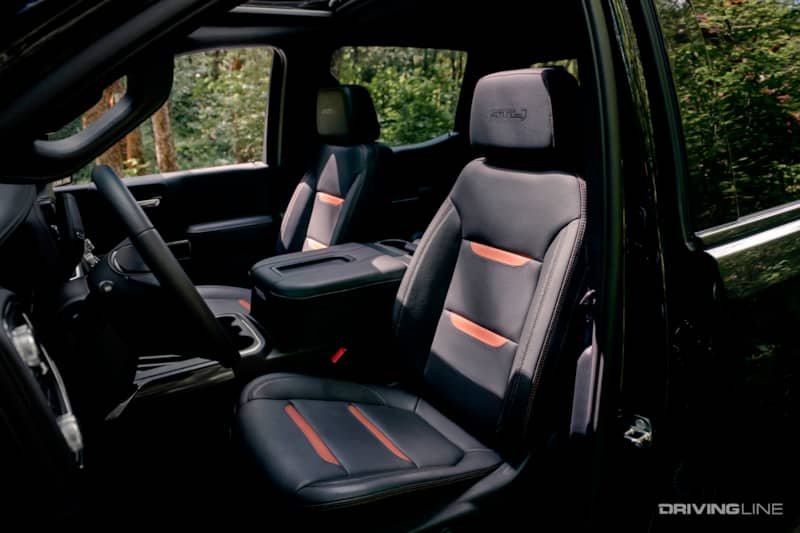 Yours truly doesn't spend a lot of time knit-picking manufacturer's interiors. Why? Certainly, you can argue that GM's interiors leave something to be desired, but GM faithful (the most likely buyers of these trucks) will appreciate the familiar surroundings in the cab—and the ability to make their truck its own rolling Wi-Fi hotspot doesn't hurt matters. In the AT4 trim Sierra we've spent time around, ride comfort was right on par with what Ford and Ram have to offer, and the storage compartments inside the rear seats are killer. Rear seat leg room is a notable concern on Double Cab model trucks, making the upcharge for the crew cab configuration well worth the money.
The Slickest Trim We've Found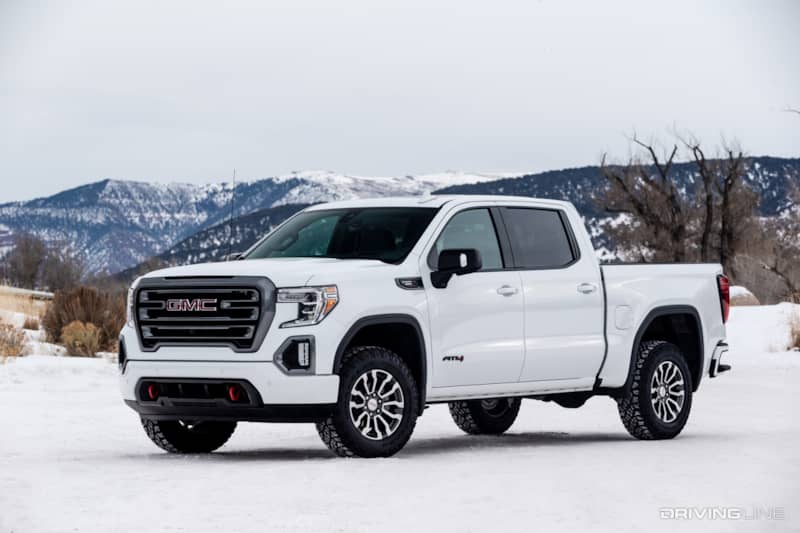 The AT4 trim GMC Sierra that was alluded to above comes with a 2-inch suspension lift, off-road tuned Rancho shocks and aggressive tires mounted on 18-inch wheels. However, the AT4 Carbon Pro Edition takes things a step further, with the only use of carbon fiber composite in a truck bed in the industry, black chrome grille surround, a six-function GMC MultiProTM tailgate and an available first-in-class 15-inch Heads-Up display and rear camera mirror.
33-MPG or Not, the 3.0L Duramax is the Most Efficient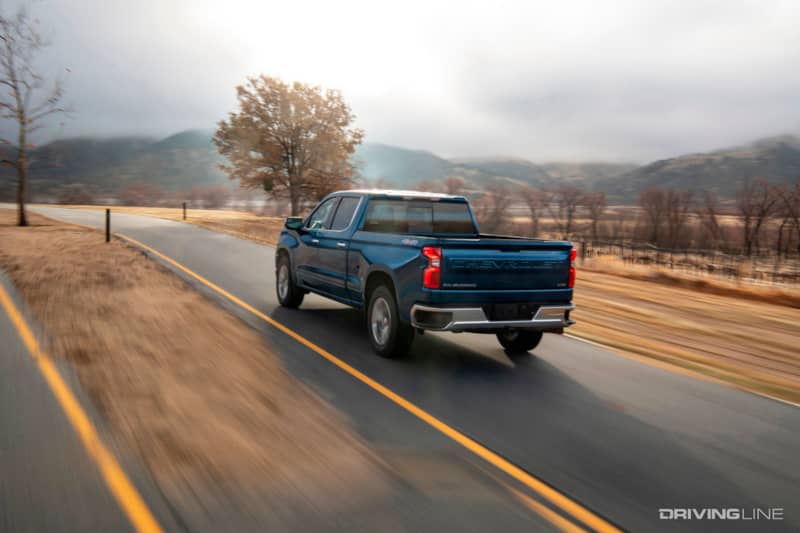 Your mileage may vary, but so far the 3.0L Duramax hasn't quite lived up to the 33-mpg hype. We've seen trucks come close in 99-percent, steady-state highway cruising, but most hand-calculated fuel economy numbers for 4x2 model Silverados range from 27-mpg to 31-mpg. In a 1,000-mile test, the editors at PickupTrucks.com hand-calculated 27.4-mpg in a double cab 4x2 model, although testing was conducted in slight elevation and with in-cab climate controls on. If you're willing to sweat it out, fold in the mirrors, max-out tire pressure or draft semis, who knows, 33-mpg might be possible. Maybe the EPA does that in its test cells… Either way, 27-plus miles per gallon is highly respectable for a truck approaching 3-tons in heft. Plus, in all the data we've seen the 3.0L Duramax beats the 3.0L Power Stroke's fuel economy figures. And there are certainly bragging rights in that.
More From

Driving Line
Back before the 3.0L EcoDiesel was revamped to supply Ram 1500's with 260 hp and a best-in-class 480 lb-ft of torque, we put this 3.0L diesel shootout together. It's worth the read when you get some time.