Cummins Is King (Again)
This game never gets old. It's the timeless battle where Ram and Ford perpetually one-up each other for all-out towing and powertrain supremacy. The byproduct from this never-ending form of automotive warfare is that the consumer is treated to a stronger, tougher and more powerful truck with each passing round. So what's the latest news? Ram's 3500 series DRW trucks have once again topped Ford's F-450 in the key category it's supposed to dominate: maximum towing. The second (and possibly bigger) blow comes in the form of Ram retaking the lead in the diesel torque war, its 6.7L Cummins now boasting a best-in-class 1,075 lb-ft to the 1,050 lb-ft figure produced by Ford's 6.7L Power Stroke.
Now, none of this should come as a surprise to anyone paying attention to America's heavy-duty pickup segment. In fact, it will be anything but the last time this sort of thing happens. With a lighter and stronger compacted graphite iron block as well as all-new internals, expect the engineers at Cummins to grow the 6.7L's torque figures an innumerable amount of times in the future before having to retire or upgrade the platform. At present, a select group of CMEP employees are likely testing a 6.7L Cummins in a dyno cell, strategically preparing for Ford's next move. In the meantime, we've got a class-leading engine to dissect and tow ratings that top the F-450 to talk about. Keep scrolling for all the details.
1,075 LB-FT From The Factory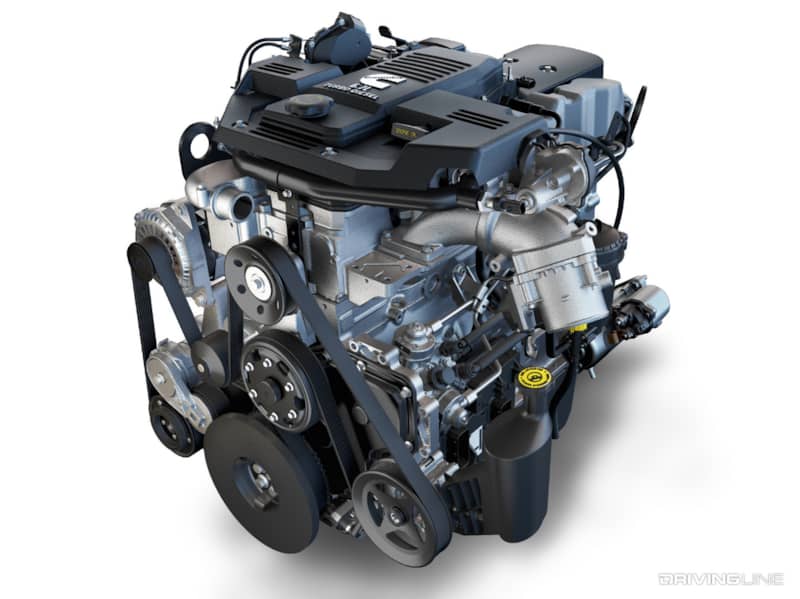 When Cummins and Ram introduced the all-new, 1,000 lb-ft 6.7L Cummins in January of 2019, everyone knew it was only the beginning of what would become a renewed torque war with crosstown rival, Ford. A CGI block, forged-steel connecting rods and higher peak injection pressures told us so. Now, less than two years after being the first to reach four-digit torque, Cummins has already added another 75 lb-ft of twist to the tally. For 2021, the high output 6.7L Cummins produces a best-in-class 1,075 lb-ft of torque, along with 420hp (up from 400hp).
Reverting Back To The CP3?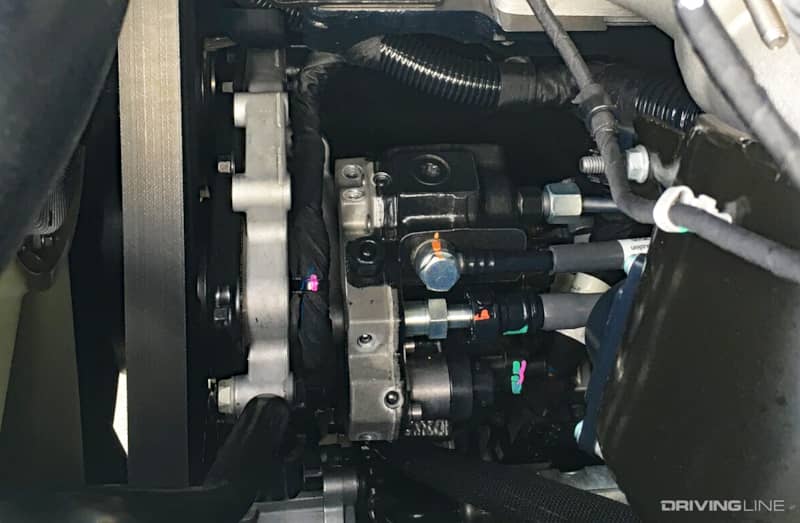 Despite the substantial gain that is adding another 75 lb-ft to the 6.7L Cummins' bottom line, very little likely would've had to have been changed in order to achieve it. However, rumor has it that the "fuel flow rate increase" Cummins' press release mentioned stemmed from engine builder reverting back to the tried and true Bosch CP3 high-pressure fuel pump. If you recall, beginning on 2019 models the 6.7L Cummins was fitted with a Bosch CP4.2. The CP4.2 is the same high-pressure fuel pump that has proven problematic and prone to premature failure in LML Duramax applications. This switch back to the CP3 is a highly welcomed move for Cummins fans, who will have peace of mind knowing that their injection pump will be just as reliable as the engine itself.
More Boost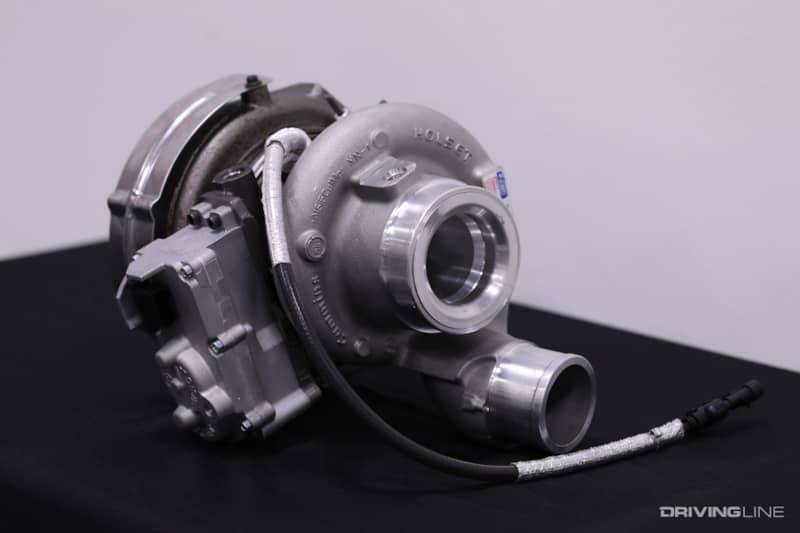 "Higher boost flow" through the Holset variable geometry turbo (VGT) that debuted in 2019 is said to have also contributed to the 6.7L Cummins' new power rating. Improved flow at high rpm would account for the 20hp increase, but how much boost are customers going to see from the factory now? You might remember that in 2019, 33-psi of boost was obtainable right off the showroom floor. On the other side of the power curve, creating more restriction at low rpm could easily have yielded the additional 75 lb-ft of torque. In today's high-tech, electronically controlled turbocharger world, this can be done with a simple calibration change.
What Can You Tow With The 2021 Ram?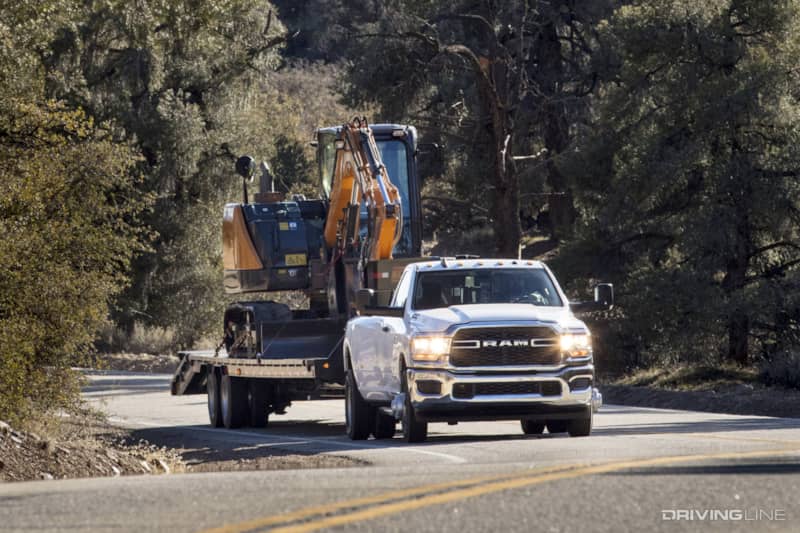 Short answer: anything you want! With a maximum tow rating of 37,100 pounds when properly equipped, even toting a mid-size excavator is entry-level work for Ram's latest 3500. If you're not impressed by that, you haven't been paying much attention to the heavy-duty pickup wars that've been raging for the past two decades. These trucks have come a very long way since the turn of the century in terms of capability, technology and performance.
The Fine Print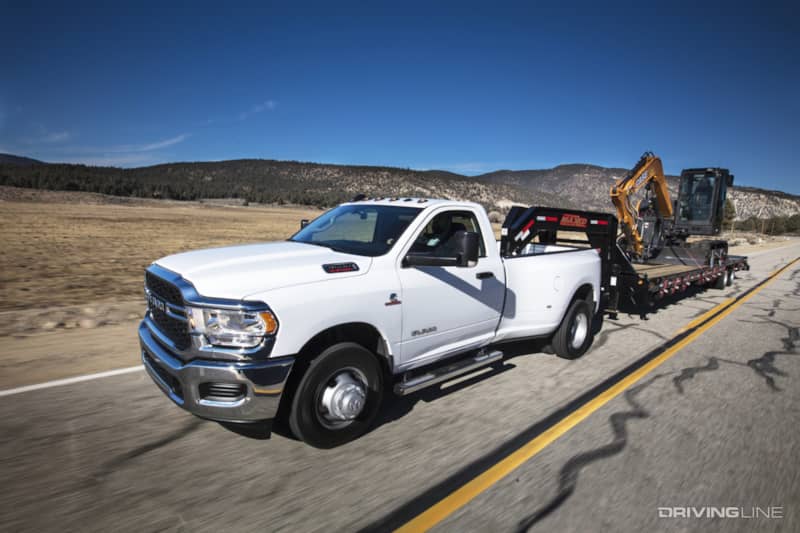 If you want to hook your 2021 Ram 3500 to 37,100-pounds of heft and be 100-percent legal doing it, this is the version you'll have to own: a 4x2 version with dual rear wheels, an 8-foot bed and in Tradesman trim. The regular cab configuration Ram heavy-duty will have to be equipped with the AS69RC six-speed automatic and 4.10 gears as well, but it will afford you a mountainous 45,000-pound GCWR (gross combined weight rating). Its gross vehicle weight rating (GVWR) checks in at a respectable 14,000 pounds, too, which with the truck's 7,430-pound curb weight means you can haul 6,570 pounds in the bed. The Mega Cab 4x4 version you see in the brochures can lug 33,200 pounds legally, and possesses a 43,000-pound GCWR.
Trailer Reverse Guidance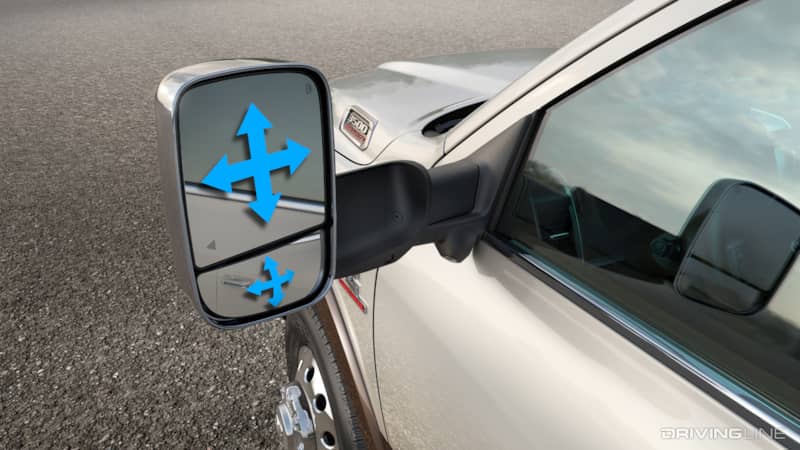 On top of giving its customers more towing capacity, Ram is making them safer while doing it. The truck maker's Trailer Reverse Guidance View system, available with power-fold tow mirrors, uses five cameras to give the driver a complete view of the truck's surroundings. Ram's optional Trailer Camera Prep package also allows for up to two auxiliary cameras to be mounted on or within your trailer. These extra sets of eyes are all instrumental in aligning your truck to a trailer and giving you as much visibility as possible throughout your work day.
Trailer Monitoring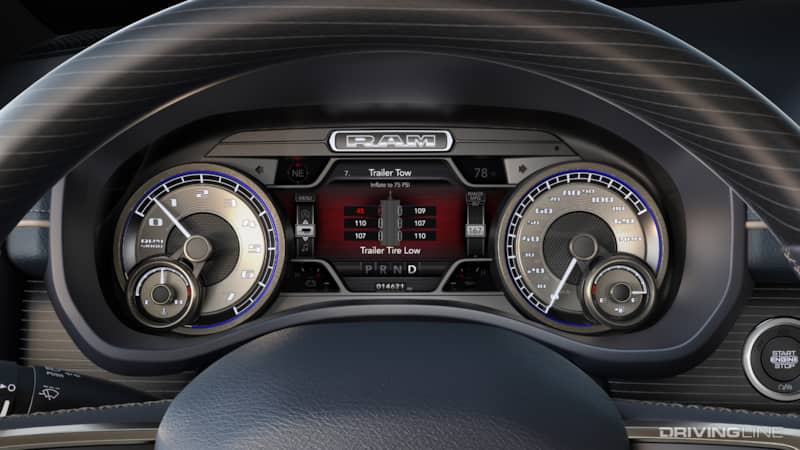 To keep tabs on the load you've got in tow, Ram's Trailer Light Check and Trailer Tire Pressure Monitoring system is at the ready. The system offers real-time air pressure readings for as many as four trailers (and up to 12 tires per trailer) and alerts you to any instances of low pressure.