Jeep Goals: PNW Couple Raises the Bar on Modern Jeep Builds
Whitney and Ryon Davis, from Seattle, WA, are the epitome of Jeep couple goals. They are both Jeep owners and involved not only in recreational wheeling, but also off-road racing. Whitney is the team manager of BOS Racing, an Ultra4 race team that competes all over the nation, and most notably in the King of the Hammers every year. Ryon took on co-driver responsibilities for the team for two years as well. Together, the couple has leveraged their knowledge of off-roading and 4x4s to build two of the cleanest, most capable rigs you can find in the Pacific Northwest.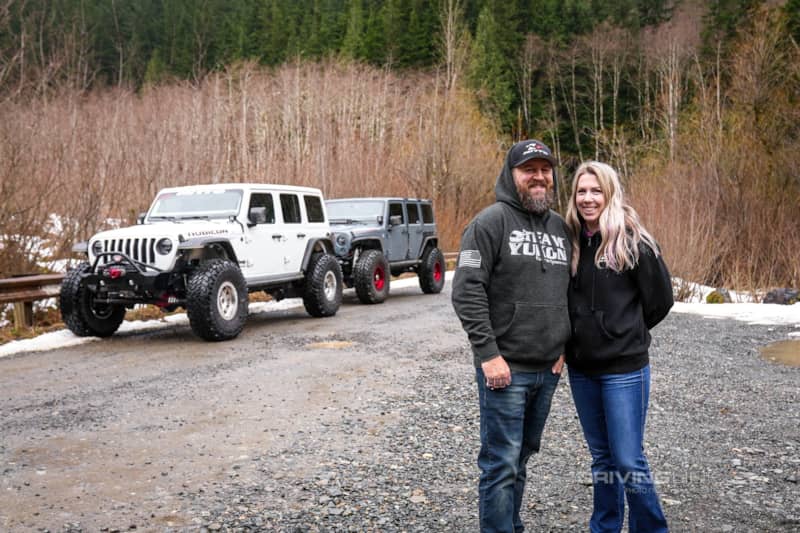 His & Hers
Ryon's Jeep is a 2013 Jeep Wrangler Unlimited Rubicon with the 10th Anniversary Edition package. Whitney's driving the more refined version of the Wrangler Unlimited—a 2019 JL Rubicon. Apart from each having 4-doors, Nitto 40 inch Trail Grapplers, and a few other similarities, the builds are actually quite a bit different from each other.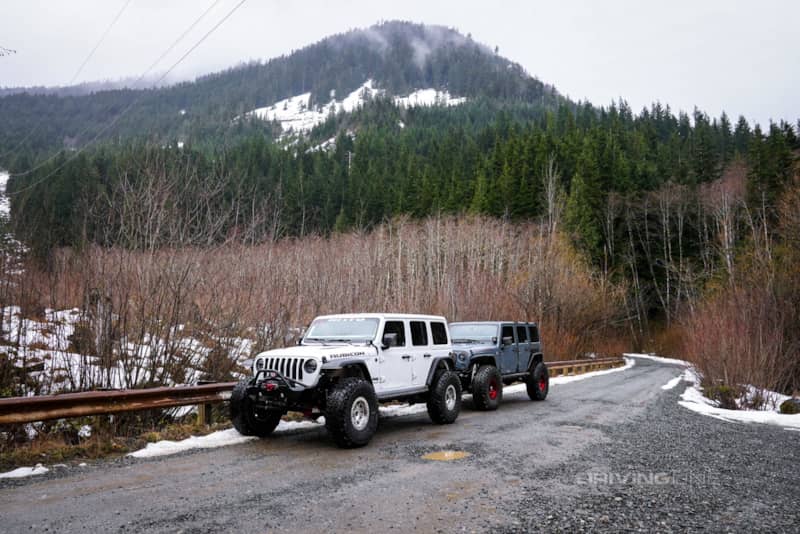 Trail Grapplin'
Living in the Pacific Northwest, Ryon and Whitney needed a tire that could do it all, and they chose to use 40x13.50R17 Nitto Trail Grappler tires on both rigs. The typical trail in this region of the U.S. includes its fair share of mud and rocks, which is where the Trail Grappler shines. But the couple spends a lot of time driving on the street between their commutes to work and the trail, and love that the Trail Grappler is relatively quiet on-road and smooth at speed. It's no secret that Seattle sees more than its fair share of rainy weather, so the deep central siping found in the Trail Grappler is a big help, as it's intended to decrease hydroplaning and increase traction in wet conditions.
Ryon mated his Nittos to a set of Pro Comp Vapor Pro2 beadlock wheels, while Whitney opted for a set of DirtyLife Roadkill beadlock wheels for hers. Both agreed that having beadlocks is the way to go, as it allows them to air down further and take advantage of the aggressive sidewall design in the 40" Trail Grappler. The trails in the PNW are both demanding and rugged, so having the extra surface area when aired down can make all the difference.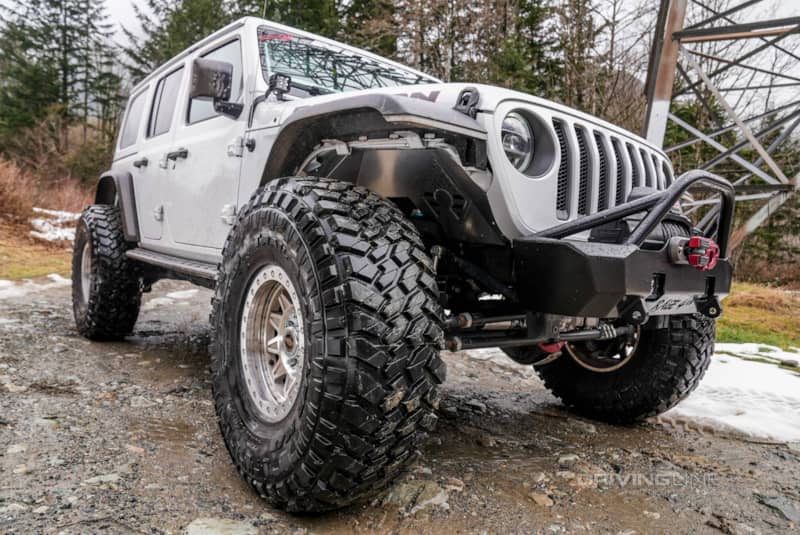 Heavy Duty Drivetrain
A large tire like the 40" Trail Grappler often strains the factory drivetrain of modern Wranglers, which is why both Ryon and Whitney decided to make substantial upgrades in this area of their builds. Ryon swapped in a set of Ultimate Dana60 Axles in both the front and rear each packed with 5.38 Gears and Eaton E-Lockers. Both axles join the factory 4:1 transfer case by way of 1350 series Adams Driveshafts. A big brake kit at all four corners and JK8 Master Cylinder helps provide the stopping power for the heavier wheel and tire combo.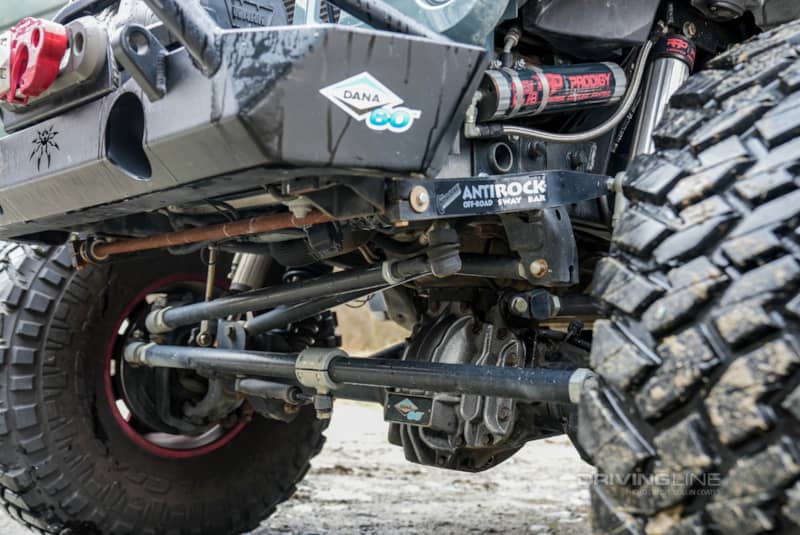 Whitney opted for Currie Extreme60 axles front and rear with 5.38 gears and ARB Air Lockers. She preferred the rotated differential featured in Currie's HD crate axle housings and has certainly put the hardened steel skid plates underneath the center sections through some solid use and abuse. Similar to Ryon, she runs a set of Adams 1350 series driveshafts to the factory 4:1 transfer case. Both builds feature Ultimate 9 EVC throttle controllers, which allow them to regain some of the power subdued by the heavier duty drivetrain components. Each build is sitting on a solid foundation and is up to the task of the toughest trails Washington has to offer.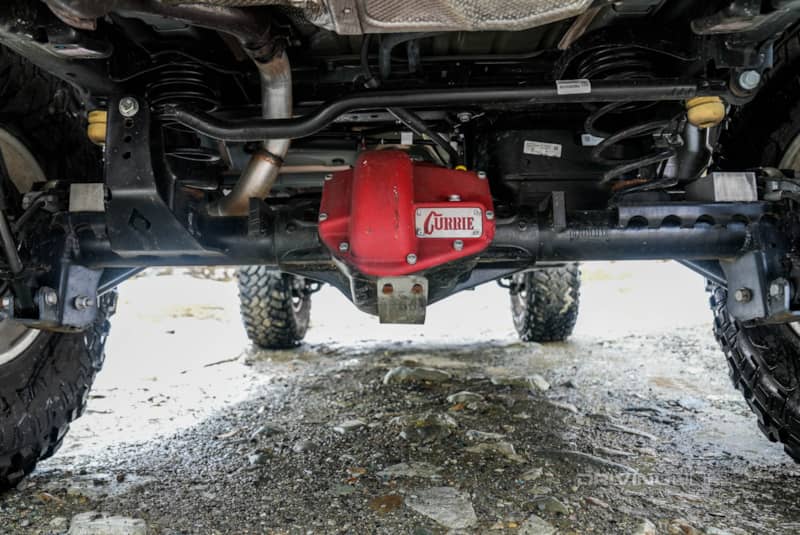 Suspension
Each of these Jeeps is sporting Rock Krawler suspension systems, which help to account for the lift required to effectively run a 40" tire and also provides a comfortable ride both on and off-road. Ryon's Wrangler Unlimited Rubicon is set up with their JK Front and Rear 3-Link kit, utilizing both a coilover and bypass shock up front with a standard coil spring and bypass shock in the rear. He also rounded off the suspension with RockJock 4x4 Antirock swaybars both front and rear, which allows him to take advantage of all the suspension travel his Rock Krawler kit has to offer without compromising the handling characteristics of his Jeep on road.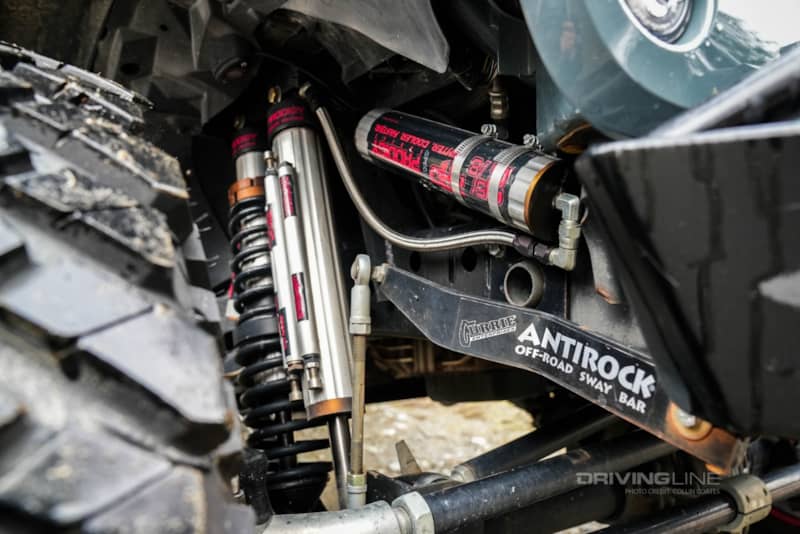 Whitney is running Rock Krawler's mid-arm 4-link suspension system with 2.5" triple rate springs and RK's RRD shocks at all four corners. She added a pair of King hydraulic bump stops up front to help smooth things out further as the suspension cycles to full bump, which makes for a more comfortable ride at higher speeds while off-road.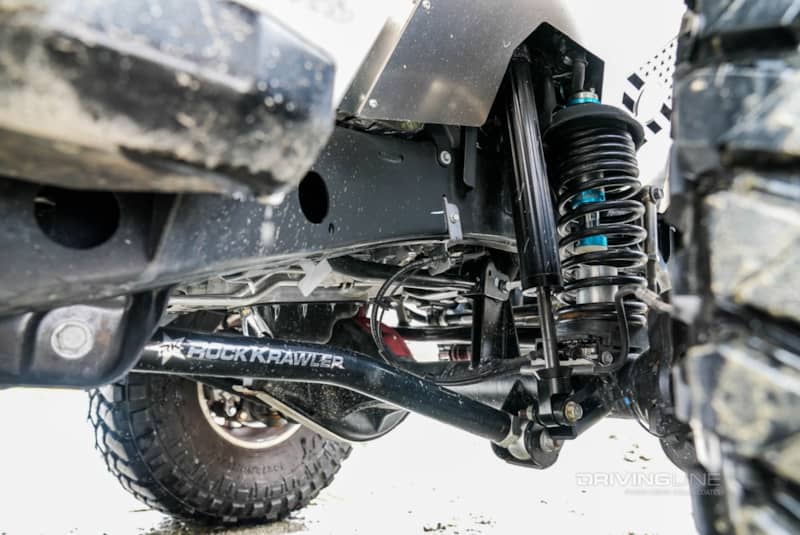 Exterior, Armor, & Recovery Gear
Ryon's 10th Anniversary JKU features an exterior armor wrap by Poison Spyder Customs. This includes PSC's Brawler Lite front Bumper and BFH2 rear bumper, which allow for increased approach and departure angles while crawling through the rocks. Ryon also runs PSC's crusher corners and fender flares, B-Pillar Guards, & Brawler Rockers. He ensured that all vulnerable areas of his rig are protected and ready for hard-core off-road trails when the opportunity arises.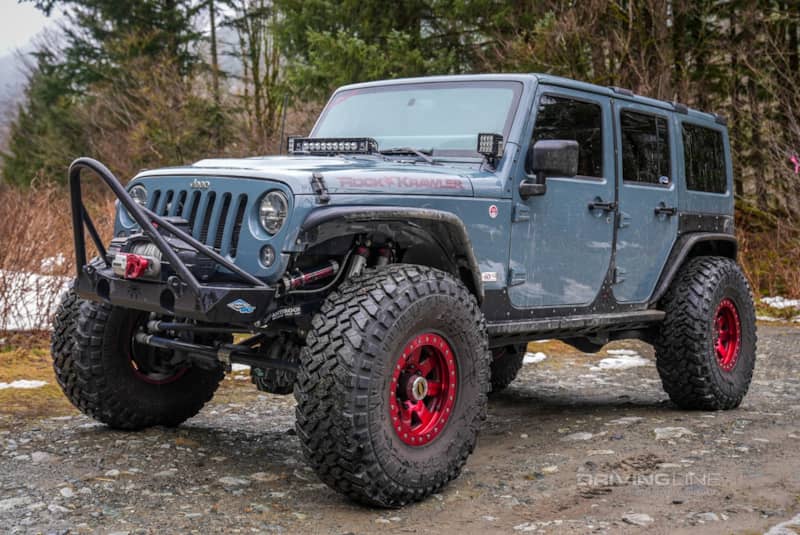 Whitney turned to Rage 4th for her armor needs. She is running their Pro76 front & rear bumper as well as their rock sliders on her 2019 JLU. Whitney likes the clean designs from Rage 4th and having the peace of mind that her Jeep is protected for hard core crawling. Speaking of protection, both Ryon and Whitney made sure to have the proper gear to protect their vehicles and their passengers in the event of a recovery. Each run a Warn Zeon Winch with Factor 55's Hawse Fairlead, UltraHook, and HitchLink.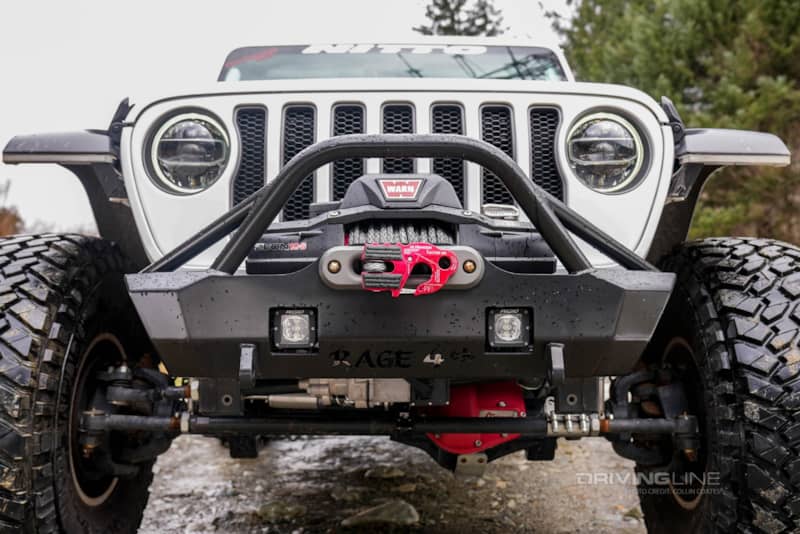 Accessories
Each of these builds contains the essentials needed for a successful wheeling trip. Communication is the key to the success of any relationship or trail run. Included in both vehicles is a Digital Radio and Intercom setup from Rugged Radios, making communication between the couple seamless. Both rigs are also equipped with LED Headlights and accessory lighting provided by Rigid Industries, so that they can hit the trail with confidence both day and night. Lastly, Whitney and Ryon each installed sport cages by Rock Hard 4x4 inside the cab to provide extra insurance and safety in the event of a rollover.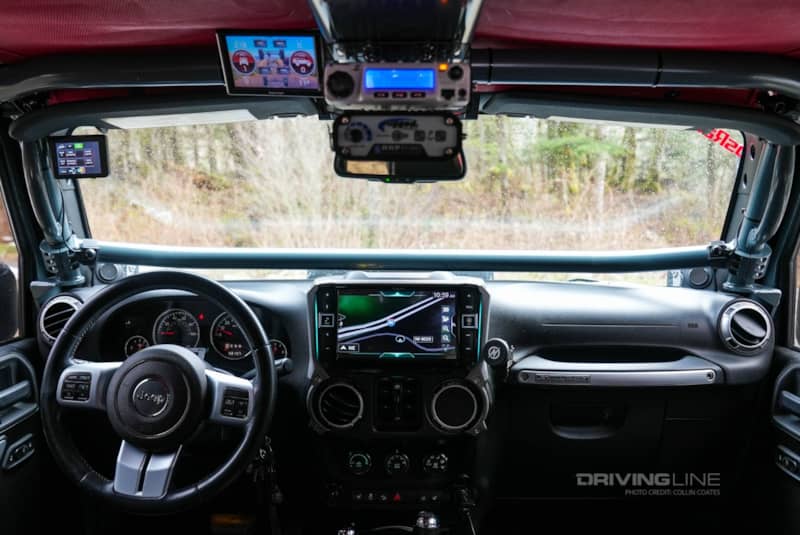 Couples Who Jeep Together, Stay Together
Through chatting with Whitney and Ryon about their Jeep builds, it's clear that the two share a passion for their jeeps and experiencing the outdoors together. As Whitney states, "it has brought us together more for sure. Our Jeeps have brought us so many opportunities we have gotten to experience together." The couple said they are always looking forward to their next adventure together in their Jeeps and enjoy getting off-grid as much as possible, where they can leave the hustle and bustle of their daily lives and connect with each other with much less distraction. Check out Whitney's Instagram @mrs.whitney_davis to see her and Ryon's latest adventures together in their epic Jeep builds!