Long-Term Tire Test: 20,000 Miles on Nitto Terra Grappler G2 All-Terrains
It's been three years since we first adorned our '18 F-250 with one of the most versatile all-terrains ever produced. So how have our 35x12.50R20LT Nitto Terra Grappler G2's fared over the last 36 months? For starters, we've racked up 20,000 trouble-free miles and thoroughly put the F load range all-terrains to the test, towing everything from skid steers and mini excavators and dump trailers to car haulers (and, of course, our weekend hotel-on-wheels. In fact, over the course of the past three years most of this Super Duty's forward movement has been performed with some sort of heavy load in tow.
This time, we're giving the G2s a quick once-over before we press on for another 20,000 miles. We're checking tread depth, continuing our 5,000-mile rotation regimen, keeping regular tabs on air pressure and also taking notes on how quiet and comfortable the all-terrains continue to be despite their ceaseless workload. Now in its ninth year of production, the Terra Grappler G2 remains one of the best all-around truck tires you can buy. Here's why.
Making A Formidable Workhorse Even More Capable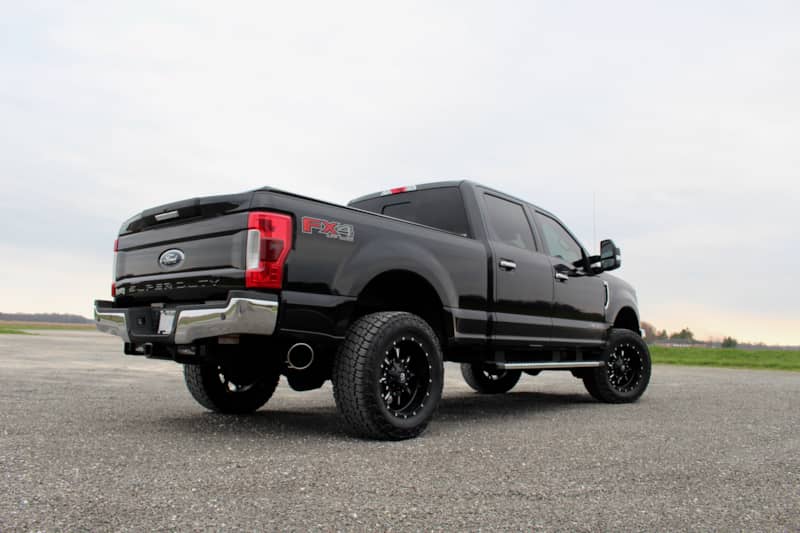 In a rare moment detached from a trailer, we snapped a few shots of our Terra Grappler G2 test mule following a quick wash and wax. Now three years into testing a set of 35x12.50R20LT tires, our '18 F-250 Super Duty has performed every job we've asked it to do without breaking a sweat. Better yet, the ride quality remains plush, road noise is quiet and the truck's mileage (empty) checks in higher than 18-mpg. We're also happy to report that their performance in inclement weather remains above-average—especially in rain and snow.
Just Breaking In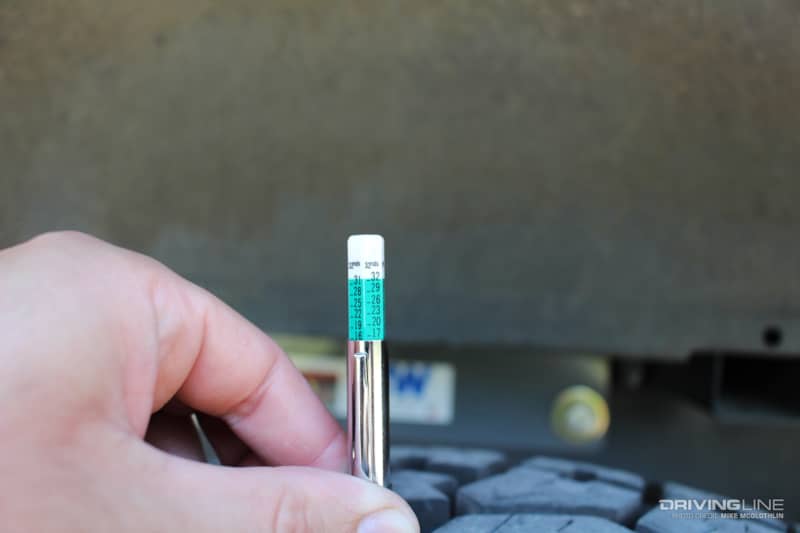 Despite being laden with hefty tongue weights most days, the Terra Grappler G2's tread has held up extremely well to the wear and tear they've seen so far. We attribute the friendly numbers we see on our tread depth gauge to the meticulous schedule we keep for tire rotations (5,000 miles), along with the weekly pressure checks and adjustments (if required) we perform. At the current rate, we're convinced we'll get at least 50,000 hard-earned miles out of them.
Full-Depth Sipes Still Holding Strong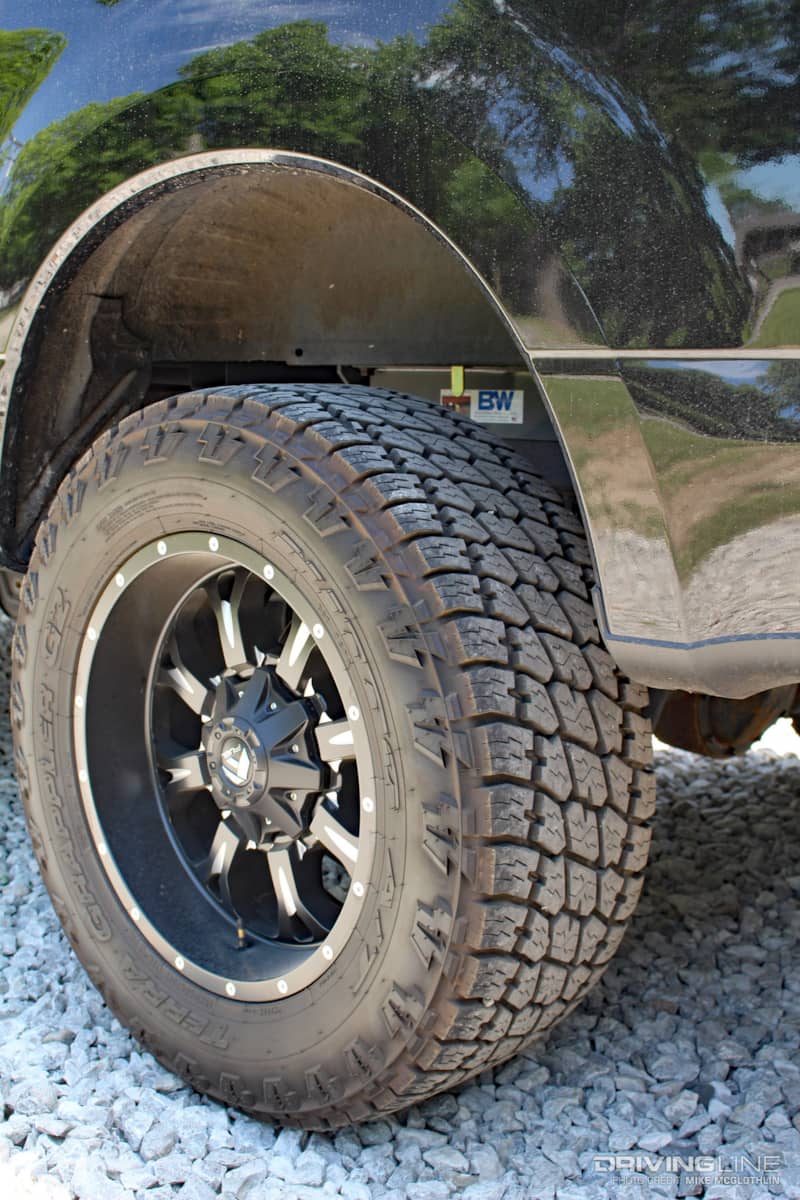 As advertised, the full-depth siping—which aids wet-weather performance—is still visible. This feature is big for anyone that likes their tires to retain their original look, even while they wear. What continues to blow us away is that even some of the tread blocks' stepped edges are still visible! To date, the Terra Grappler G2 is proving itself one of the hardest tires to kill, at least in terms of tread wear due to miles accumulated on the highway.
65-80 PSI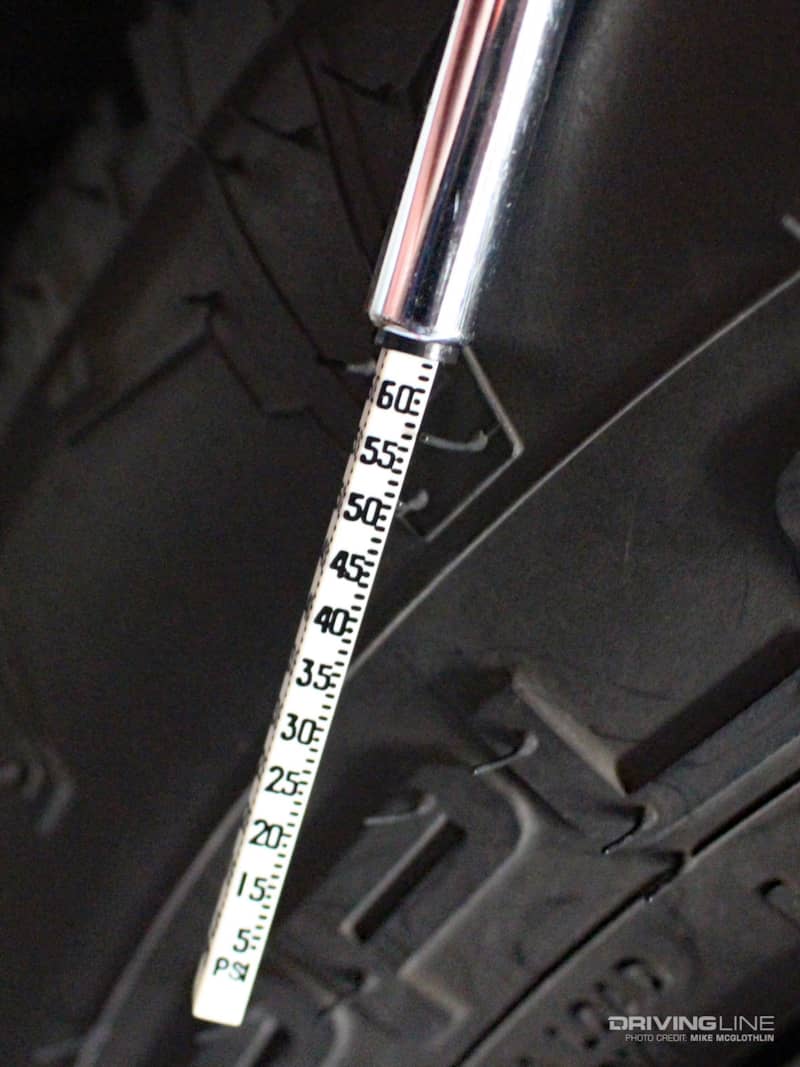 Thanks to the amount of overkill built into our 35x12.50R20LT "F" Terra Grappler G2s (which boast a 125 load index rating), we run 65-psi at all four corners most of the time. However, when pushing the F-250's towing capability to its factory limit, we bump up to 80-psi—where the G2's have a max load carrying capacity of 3,640 pounds apiece. In all of our travels and all of the trailers we've hooked onto, we've yet to notice a hint of sidewall sag. If you need to upgrade your late-model Super Duty's tires and still want to tow at max GCWR without any worries, the load range F Terra Grappler G2 is for you.
The Right Tools For The Job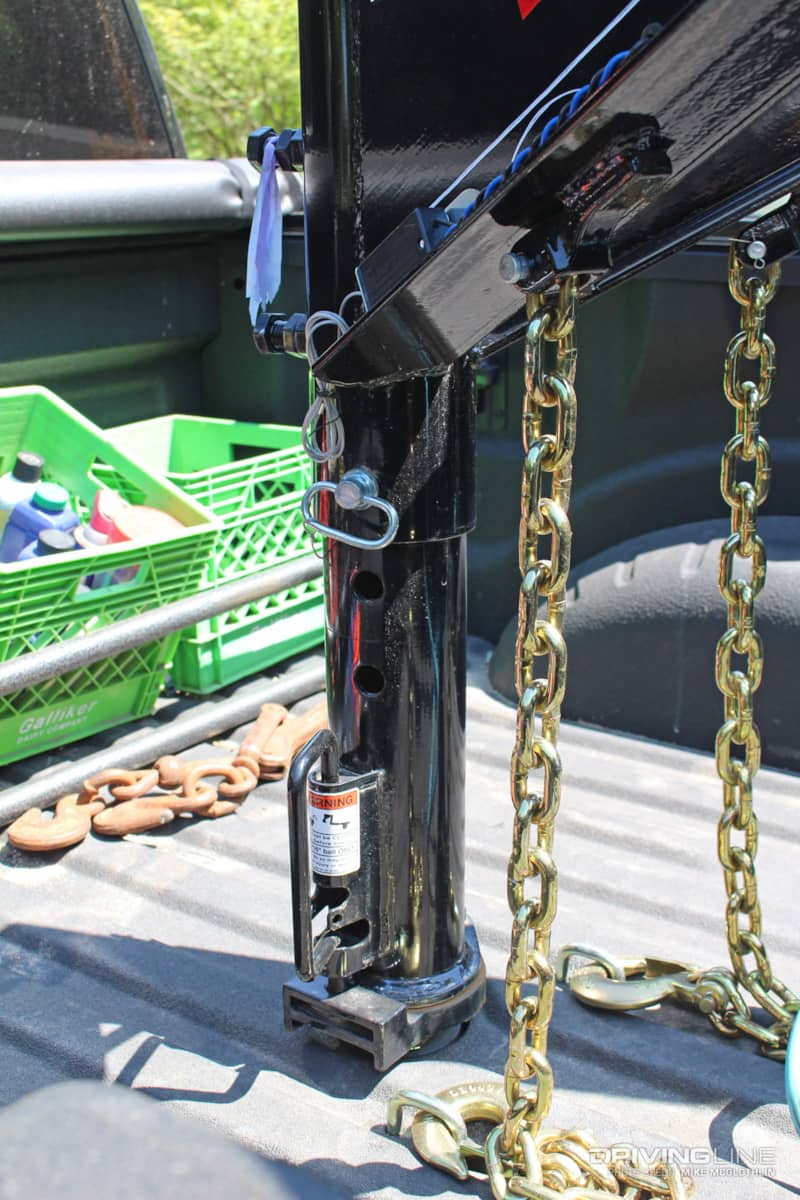 Like the Terra Grappler G2s, the B&W Turnover ball gooseneck hitch in the bed of our F-250 is another vital tool in our arsenal. Its 30,000-pound capacity means we'll never push it beyond its engineered capabilities and its underbed (and removable ball) design means no bed space is sacrificed when we're towing conventionally. As for stability when towing, the width of the G2's made a world of difference, the 35x12.50R20LT Nittos measure 12.52-inches vs. less than 11-inches of width with the stock rubber they replaced.
Conventional Towing Hardware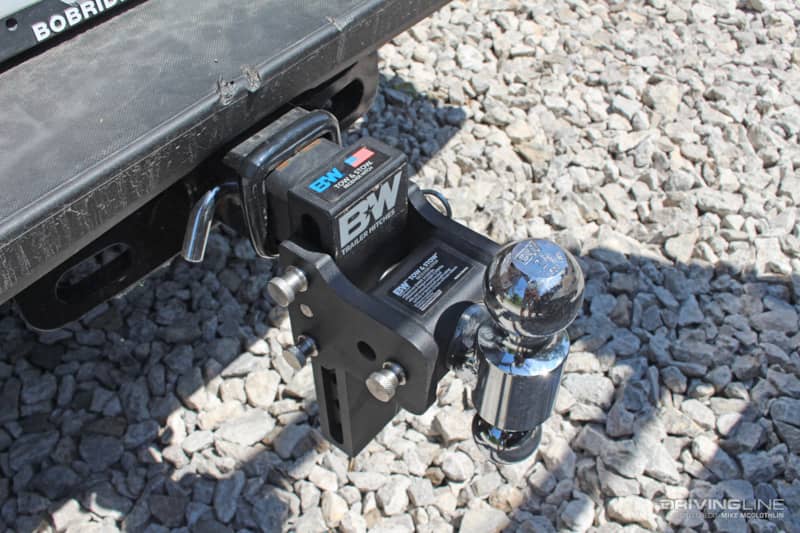 When we are towing conventionally, B&W gets the nod again. In this case, we rely on its 2-ball mount, Tow & Stow receiver hitch with the 2-5/16-inch ball seeing most of the action. The 2.5-inch hitch possesses a 5-inch drop, a 4.5-inch rise and is rated to handle 14,500 pounds, which all but matches the truck's factory conventional towing capacity. On these occasions the workload isn't exactly light, with our 22-foot, all-steel tandem axle car-hauler often being attached.
All The Toy Hauling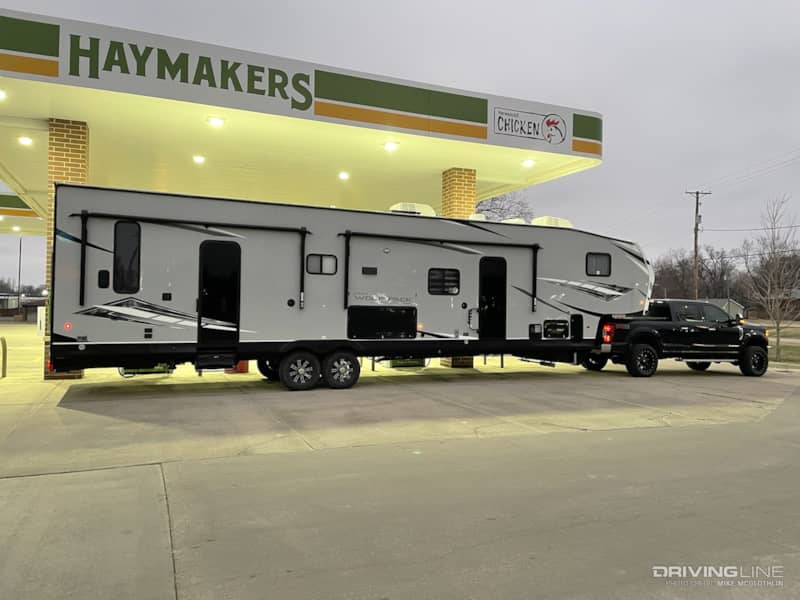 As you can see, even on the weekends our Super Duty isn't given a break. Though a fully loaded dump trailer registers higher numbers on the scales during the week, this 44-foot Cherokee Wolf Pack toy hauler presents its own challenges rolling down the highway. Unequivocally, the addition of the Terra Grappler G2s helped stabilize and smooth out the truck's towing experience with this gigantic wind sail behind it.
A Complete, Work-Dominating Package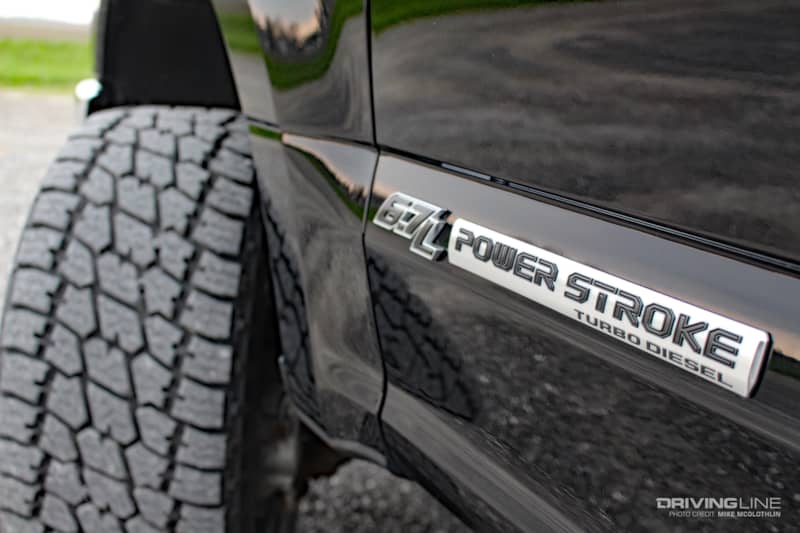 We would be remiss if we didn't mention the 6.7L Power Stroke engine's role in our '18 F-250's exceptional towing manners. Through three-plus years of hard labor, Ford's V8 diesel is yet to skip a beat and has required nothing other than regular oil and fuel filter changes. Combined with the Terra Grappler G2 tires, the truck's stout chassis, the tough-as-nails 6R140 TorqShift transmission and the factory exhaust brake function, we have to say that it's easily one of the best-performing tow rigs we've ever piloted.
More From

Driving Line
Full disclosure: Our F-250 does benefit from the use of aftermarket air springs—and they're worth every penny.