Making A Monster: Inside Wayland Campbell's All-New 4400 Ultra4 Car
In the wildly competitive 4400 class of Ultra4 Racing, drivers are constantly pushing the limits of man and machine. These four-wheel-drives are a breeding ground for innovation and have been the test bed for everything from cutting-edge suspension systems to new tire molds. Understanding your car's limits and teetering at the breaking point is all part of the game. This fact made it even more interesting when we learned that Team Nitto racing driver Wayland Campbell was stepping out of his championship-winning 4400 car for an all-new machine.
Despite having so much success from his single seat Monster Energy-sponsored 3AZ 3rd Gen Campbell Enterprises car, Wayland knew that in order to stay ahead in Ultra4 Racing, you must constantly evolve. While it can sometimes take close to a year to create a race car from scratch, Wayland's latest ride would go from a pile of chromoly tubing at the Campbell Enterprises compound to race-ready in just 37 days. Despite missing their goal for making the 2019 Ultra4 Nationals with the car, the long days and nights proved just how much can be accomplished by a talented team in just over a month's time.
Unlike some of the other top competitors on the Ultra4 circuit, Wayland's racing remains a hobby. Sure, having a sister and father racing in the same class makes the Campbell's unique in many respects. However, each go about racing in a way that best suits them. Moving to the 4th Generation Campbell Enterprises chassis has now enabled the racing team to all have very similar cars, which makes servicing and repairs more efficient across the board. Wayland however is quick to point out that his Turnkey LSX engine is the most powerful of the Campbell race cars. 
To the untrained eye, his latest single-seat racing machine may appear very similar to his last. It's still a single-seat, mid-engine car packing a long-travel IFS front and solid-axle rear. In fact, most of the changes are very subtle in appearance, but significant in the grand scheme of the car. So, we're digging into the details of what makes this car the pinnacle of the Campbell family's race evolution and the pieces that make it survive unrelenting race environments.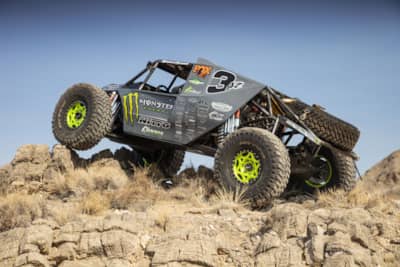 More Power
Wayland hinted that this Campbell car is the most powerful, but he was tight lipped about the actual power the 492ci Turn Key Engine Supply V8 was putting out. We know that his father Shannon's car is pumping out over 800 horsepower, so power is not going to be an issue for the 3AZ come race day. Helping this LSX breathe is a Holley intake manifold and Arrowlane headers. The heads come from Brodix, while the wiring harness was done courtesy of Gerald King at Finishline Racing.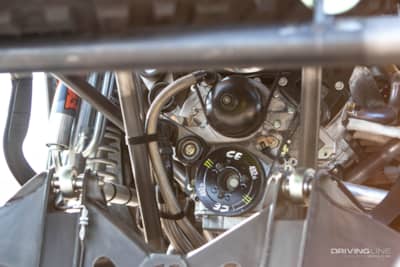 Trail Worthy
A fully built Turbo 400 transmission is paired with a Trail Worthy Fab Hero transfer case. The gear-driven T-case uses a 1.5:1 low range gearset, which is all the gear reduction necessary for the race environments this car is typically in. Getting the power to where it needs to go are drivelines from Arizona Driveshaft. Ensuring the rig has plenty of juice on race day are two Total Power racing batteries.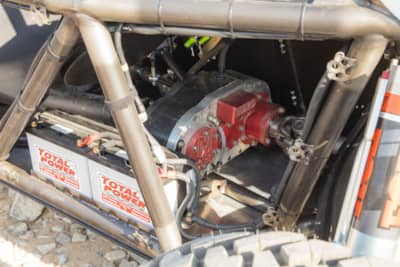 Independent Front
The Campbell team has been using a proven IFS setup for years. This system starts with a Currie Enterprises center section using 10-inch Motive Gears. This 5.43:1 gearset is mated with a 40-spline ARB Air Locker feeding RCV Performance axleshafts and ProAm hubs.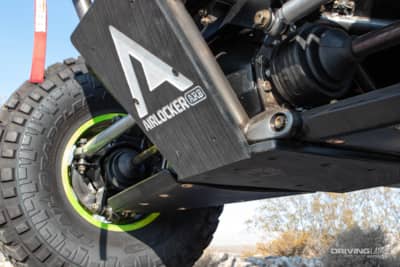 Big Travel
The 92-inch-wide long-travel A-arm car nets 18-inches of vertical wheel travel. Ensuring this IFS car can handle big hits in the desert are Fox 3.5, 6-tube bypass shocks running along side Fox 2.5 coilovers. Keeping it all under control is a Howe trophy truck rack-and-pinion setup.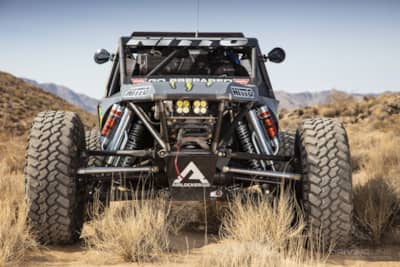 Covered With Currie
Out back, you'll find a very well trussed fabricated housing from Currie Enterprises. Like the front, it too is paired with an ARB Air Locker, 10-inch Motive gearset, and 40-spline ProAm hubs. Helping to add a bit of weight balance to the mid-engine car is a full-size spare.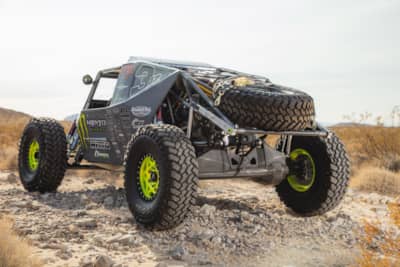 Trailing Travel
It's not uncommon for these cars to see triple-digit speeds in the desert and launch through the sky on massive jumps on the short course. In order to mange these extreme travel demands Campbell Enterprises uses trailing arm lowers with a triangulated upper suspension. Working with massive Fox 3.5, 7-tube bypasses and Fox 2.5 coilovers, Wayland's car is able to net 28 inches of finely tuned suspension travel. Dialing it in even more is a Branik Motorsports sway bar.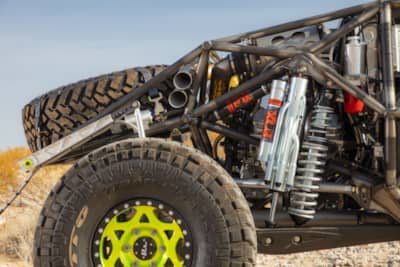 The Brakes
Adding serious stopping power are Wilwood six-piston calipers mounted at all four corners. Wayland also has two cutting-brake levers within reach for when he needs a little help maneuvering the car on the trail.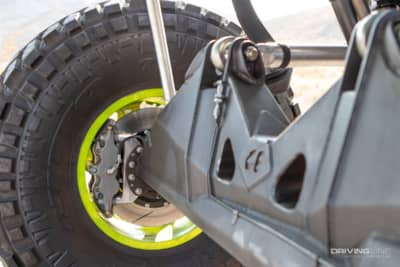 Trail Grapplers
There's no part of the car that takes as much punishment as the rubber hitting the ground. Wayland, along with the entire Campbell family, have found the winner circle consistently thanks in part to what's regarded by many as the most durable off-road tire on the market—the Nitto Trail Grappler. Ensuring that the 40x13.50R17 Trail Grapplers stays in place are 17-inch forged beadlock wheels from Walker Evans.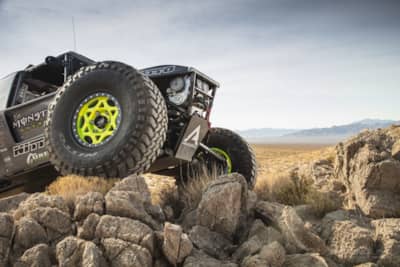 Seating For One
Since this is a single-seat machine, Wayland must play the role of navigator and driver. Giving him driving guidance is a Lowrance HDS7 GPS, while an EMtron management system works with the ECU Master PDU to keep him informed of the rig's vitals. The NRG steering wheel is removeable and allows for Wayland to easily slide into the Impact HS-1 carbon fiber seat. Finishing off the cabin is a Rugged Radio com system and Parker Pumper fresh-air setup.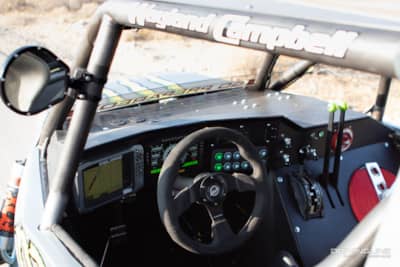 Fuel Of It
The seating position was moved forward in the new car partly to make room for the 55-gallon Pyrotec fuel cell. Regulating the flow and sending it on its way all comes thanks to performance fuel parts from Aeromotive. Just behind the cell you'll find the Ron Davis radiator, which uses the custom paneling to act as a funnel to get cooler air passing through.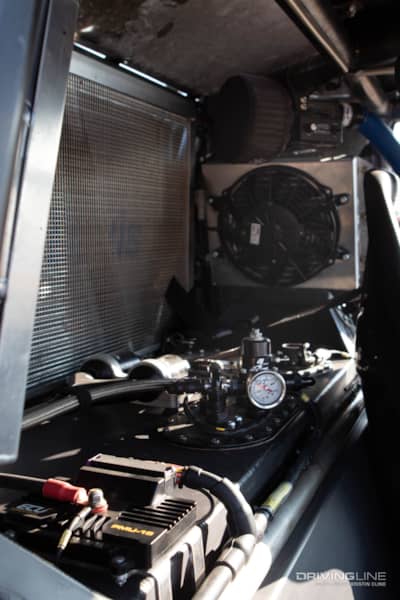 Go Prepared
Baja Designs was tapped for all of the necessary lighting on the car. It's fit with LP6 lights on the front bumper, Squadron Racer Edition lights (bumper and lightbar), and RTL (Rear Tail Light) bar out back. For times when power just isn't enough to get his car where it needs to be, there is a Warn 8274 winch to get the job done.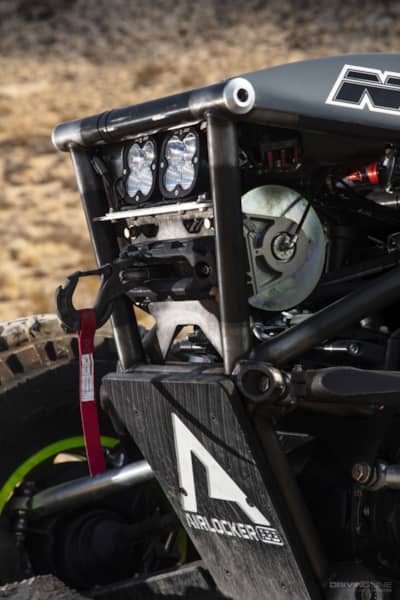 Covered
The new car weighs in around 4,800 pounds and boast a 118-inch wheelbase and 21-inch belly height. Very similar to a Pro4 car, fiberglass panels are used to give the car a more defined look. The gray gelcoat panels can be easily removed to allow the car to be rapidly serviced and inspected at the shop or on the trail.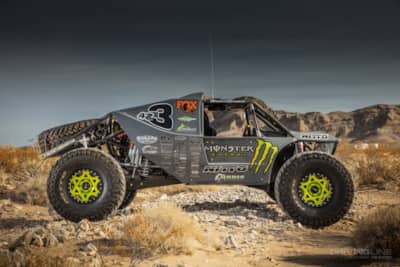 Chromoly- All Of It
Before the first piece of tubing was notched, the entire car was rendered thanks to American Standard Designs. The entire chassis of the car is comprised of TIG welded chromoly tubing. The main cabin portion of the car uses 2-inch tubing with aluminum slugs inserted into the high-impact areas. The rest of the car is 1¾-inch, 0.120-wall chromoly.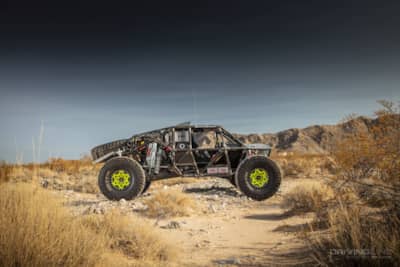 Hard Facts 
| | |
| --- | --- |
| VEHICLE | Campbell Enterprises Gen 4 Ultra4 Car |
| ENGINE | Turn Key Engine Supply 492ci LSX V8 |
| TRANSMISSION | Turbo 400 |
| TRANSFER CASE | Trail Worthy Fab Hero  |
| FRONT AXLE | Currie IFS housing w/10-in 3rd member, RCV Performance axleshafts, ProAm hubs, ARB Air Locker, 5:43:1 gears |
| REAR AXLE | Currie Fabricated solid-axle housing w/10-in 3rd member, 40-spline Currie axleshafts, ProAm hubs, ARB Air Locker, 5:43:1 gears |
| SUSPENSION (F/R) | Campbell Enterprises IFS, Fox 2.5 coilovers w/Fox 3.5 6-tube bypass shocks/4-link w/trailing arms, Fox 2.5 coilovers w/Fox 3.5 7-tube bypass shocks, Branik Motorsports sway bar |
| TIRES | 40x13.50R17 Nitto Trail Grappler |
| WHEELS | 17x9 Walker Evans Forged Racing Beadlock |
| MISC. | Fiberglass body panels, Baja Designs LED lighting, Impact HS-1 Carbon Fiber seat, NRG steering wheel, Warn 8274 winch, FK rod ends, Rugged Radios, MasterCraft Safety 5pt harness, Lowrance HDS7, Ron Davis radiator, Fishline Racing wiring harness, Arrowlane headers, Howe steering, Finishline Racing wiring harness, Holley MSD intake, Brodix heads, Winters shifter, Pyrotec 55-gal fuel cell, Total Power batteries, Wilwood Disc Brakes |
If you like this, then you are definitely going to dig Shannon Campbell's Dragon Slayer.