Man Cave Found: The Robert Judy Collection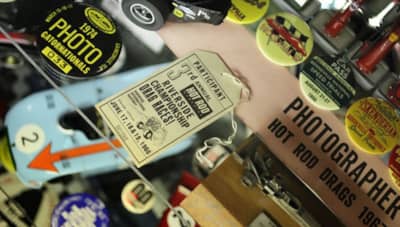 "Man Cave" is an overly used term these days.  A visit to Robert Judy's collection of racing memorabilia brings the moniker back to its roots and fuels the senses.  Good thing we found it before the DIY Network TV show did!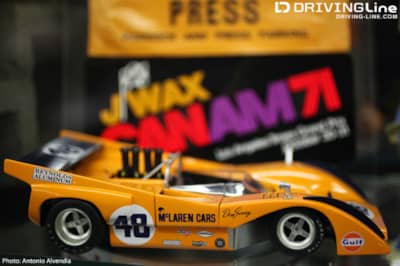 The Man Cave, like the examples featured on the DIY Network, have become just another non-exclusive recreation room in most houses.  However, for Southern Californian Robert Judy, the concept of Man Cave is almost clearly defined.  His private library and collection of memorabilia from 100-plus years of motor racing in the confines of a 400 square foot garage is chock full of testosterone-laden adrenaline.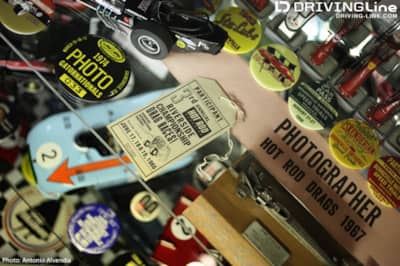 For 30 years, Robert has been collecting everything from track banners to used credential-passes to automotive books to die-cast models to racing films--and everything in between.  The beauty in this case, is truly in the presentation.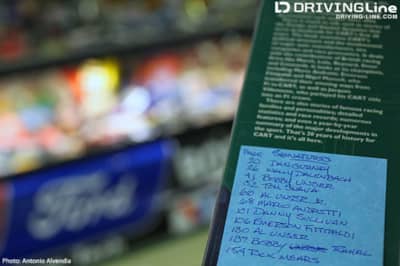 Judy, a laid back independent electrician, has built showcases, documented items and archived a collection so organized that he believes it will live on long after he is gone.  "I have labeled the books with page numbers where there are autographs just in case I get hit by a truck next week."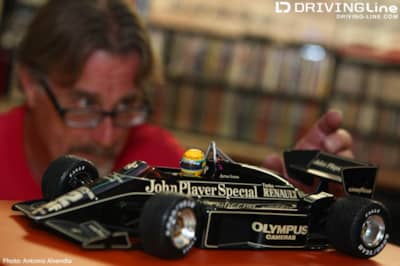 Judy's lifelong interest in motor racing began as a scale model-building hobby.  "I have been building models since I was a little kid," Robert comments.  "As I got better, I would buy books about the cars and add details that the model manufacturers themselves didn't include."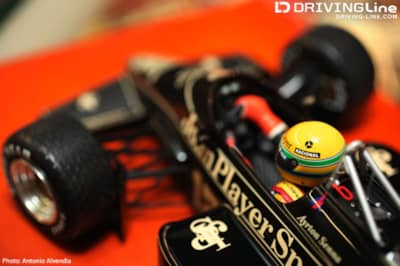 He continues to do that today, even on expensive, large scale die-casts: "I use grey chalk on the tires to make them look used and add brake lines. If the rims are a certain paint-scheme, I will reproduce those too. On my John Player Special F1 model, I modified Ayrton Senna's figurine by repainting the gloves, turning his head, turning the steering wheel and modifying his arms so that the car was turning. I even made the Sabelt racing harnesses more realistic by making them out of gaffer's tape, then painting them and adding the Sabelt logo afterward."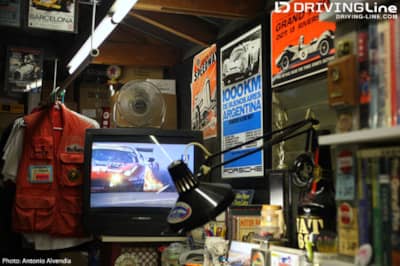 As Robert began to amass many books, he also began to video-tape races.  "I got my first VCR in 1983.  From that moment, I have recorded just about every televised road race since."  Judy's collection of Formula One, IMSA, CART and many other racing series is unprecedented. At a recent event of the Riverside International Automotive Museum, honoring road racing hero John Morton, Judy provided video of some of Morton's most significant Camel GT Prototype wins from the 1980's--archival material that would have been very difficult and expensive to source--simply cross referencing his documentation of 30 years of broadcast footage.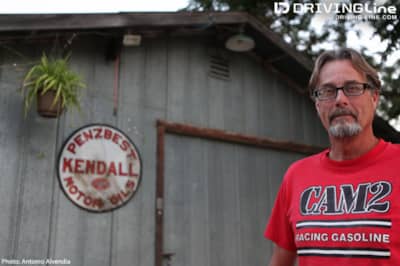 The detached, tin-roofed garage is very unassuming from the outside.  A simple building surrounded by gardens and orange groves on the property where his wife Denise grew up, entering this Man Cave is like stepping into an entirely different world.  The collection is a combination of books bought for modeling and event memorabilia from events he attended; he also scours eBay on a regular basis for interesting motorsports related items.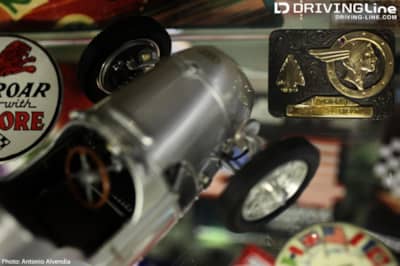 There is a belt-buckle, inscribed with "Chief Wauseon--Barney Oldfield" worn by America's first racing hero.  Judy explains, "Oldfield was born in Wauseon, Ohio  which was named for a Native American Tribe and I believe this buckle was presented to him as the town of Wauseon's favorite son."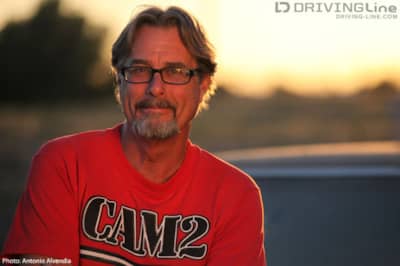 As a Southern Californian living in the Inland Empire, Judy attended many events at Riverside International Raceway and Ontario Motor Speedway--both long lost to the wrecking ball--and while many hold memories of these places in their hearts, Judy's collection includes many actual artifacts from the lost circuits.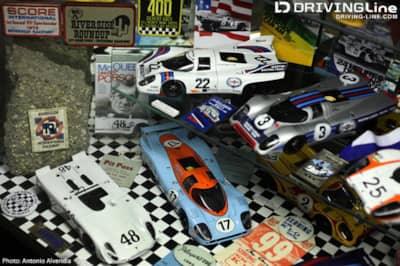 A piece of Riverside tarmac with an old, used Riverside patch sits quietly in a showcase--a remnant that won't feel the heat of tires again.  "After Riverside closed for good in 1989, it sat empty for a while and I was able to get in there and rescue a number of things," recalls Judy.  "There were dumpsters full of brand new souvenirs and memories everywhere you looked."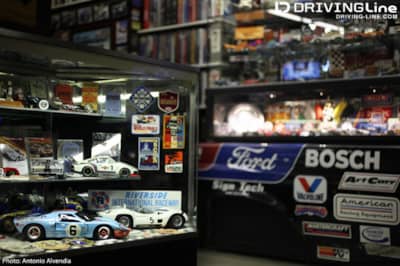 Inspired by the amount of items he collected, he was able to find showcases from a retail store that closed; he also used his carpentry skills to build book cases and make the very large and heavy showcases accessible.  The garage itself is air conditioned to counter the oppressive Inland Empire hot weather--to protect the many paper items.  Beyond the motoring swag, there is also a sizable collection of music from glam-rock to post modern punk--some of Judy's favorite genres.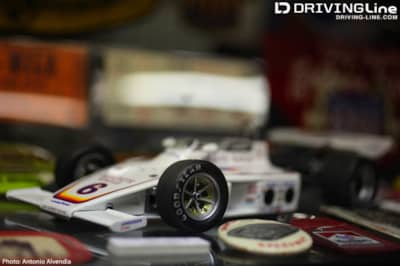 While Robert Judy's private collection is not open to the public, he loves to show it off.  Many Items from his collection reside in the Riverside International Automotive Museum, where the public can enjoy them.  His library is complete enough for the most seasoned historians to use this Man Cave as a great source of research.  For the rest, an invitation to visit this collection should be as coveted as a Wonka Golden Ticket. -Tom Stahler Bobbyfabi Motorsports : The Robert Judy Collection