The Legend of Riverside Raceway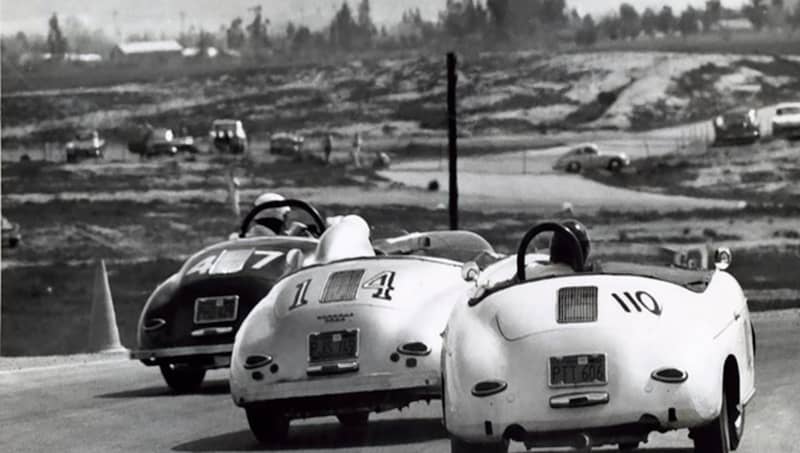 Legendary is an overly used word in this day and age. However, there are few other words to describe three decades of racing at Riverside International Raceway. Take this opportunity to indulge in stories of racing from an age when sex was safe and racing was dangerous...
When Riverside International Raceway (RIR) permanently closed its gates on July 2, 1989, this understated event could be viewed as one of the most tragic days in SoCal racing history. As bulldozers erased the track to make way for a burgeoning shopping center and housing to meet the migration of Southern California residents to the Inland Empire, 32 years of racing became a thing of legend like the fading thunderous echos of the cars off the surrounding mountains. Known to many as "The Track that Gurney Built" - a moniker for the local rookie hero who nearly won the ?rst major race at the track in November 1957 against a ?eld that included Masten Gregory, Ken Miles and Carroll Shelby. From there, Gurney went on to International fame, but always called Riverside home.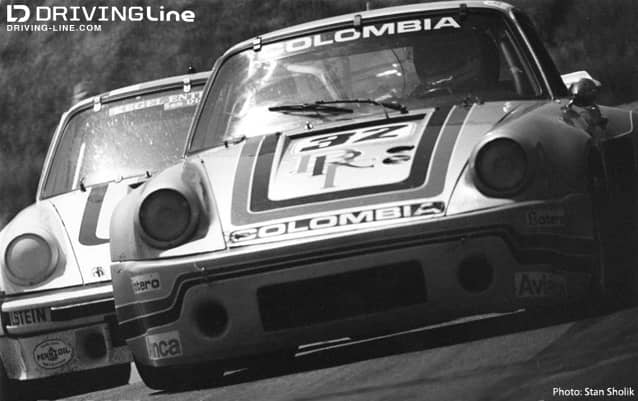 RIR played host to almost every major racing series in modern history. NASCAR to Can-Am to Cal Car Club to IndyCars to International Motor Sport Association (IMSA) to United States Road Racing Championship (USRRC) to The National Hot Rod Association (NHRA) and the AMA Superbikes all called the track home for high-pro?le annual events. In 1960, RIR hosted the Formula One United States Grand Prix. Take also into account that no other sports car race in the US was richer than the annual LA Times Grand Prix as notable drivers from all over the world descended on the black tarmac ribbons winding through dessert sands of Riverside.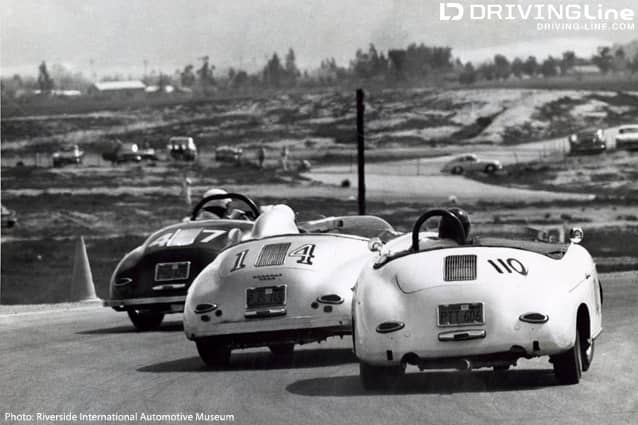 When RIR broke ground in January of 1957, there was a major transition happening for racing in America. Just over ten years earlier, GIs had come home from the European theater of World War II with small bore, nimble "Sports Cars." Needless to say, the late 1940s and early 1950s saw an emerging culture for these cars - racing Euro-style on public roads. Small resort towns embraced the phenomenon and places like Watkins Glen and Bridgehampton, New York, Palm Springs, California and Elkhart Lake, Wisconsin lined the streets in town with hay bales - separating throngs of spectators literally inches from the action. Needless to say, several mishaps and very sadly, an accident that killed a seven-year-old spectator in Watkins Glen, made this type of racing outlawed–including a congressional rebuke. For a short time following, the races continued, but were held on Strategic Air Command airbase runways - similar to British military airport courses like Silverstone. General Curtis LeMay, an enthusiast himself, and proud owner of an Allard 22 sports car, arranged use of the SAC air?elds for SCCA sanctioned road racing. Enter then the genius of a handful of entrepreneurs who saw a future in motorsport - and the toll that losing the races had on the sleepy resort towns. Men like Cameron Argetsinger, Cliff Tufte developed purpose built road racing tracks within the con?nes of these communities that became Watkins Glen International, Road America. Sears Point (In?neon Raceway), Laguna Seca (Mazda Raceway), Meadowdale International Raceways, Lime Rock, Bridgehampton and Riverside International sprung up soon after.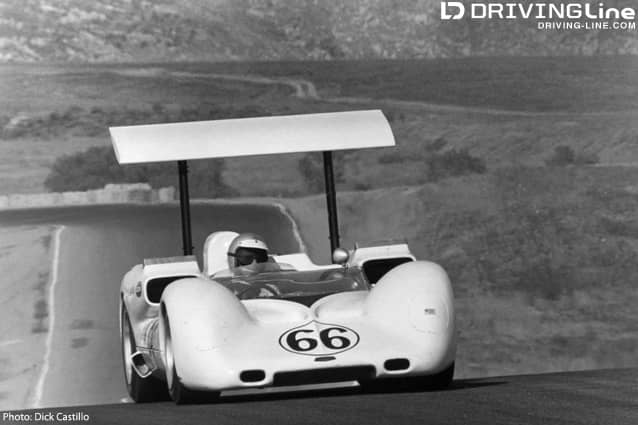 A gilded age of road racing in America began as the sport now had venues that rivaled the beautiful courses in Europe. These new tracks ?owed with the surrounding landscape, providing elevation changes, tricky corners and long top speed straightaways. Up until the late 1940s, cars were almost exclusively racing on ovals, which was, and in many cases remains the American racing mentality.  Guys like Jim Hall (above), Carroll Shelby and Dan Gurney would advance automotive technology to state-of-the-art in this amazing era.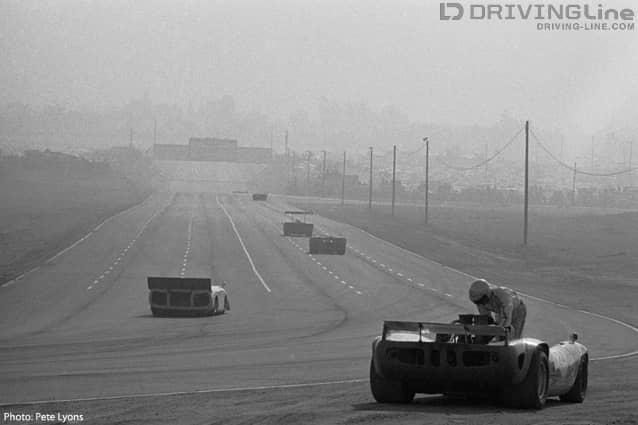 RIR had all of the features that made a road racing circuit great--and could be split up into six different variations for different types of racing. The tight 180 degree horseshoe corner at the end of a 1.5 mile back-straight, would gain a reputation as one of the most frightening curves in racing. The corner would be altered in 1969, adding a "dogleg" to the approach to ease stress on the brakes of the racing cars and ultimately to make it safer for drivers. The track opened its gates in September of 1957 for a Cal Club racing weekend. Sadly in this ?rst event, the track would take the ?rst of many lives as John Lawrence of Pasadena, California, driving an MG A, went straight off Turn 5 and up a sand embankment and turned over. He had no roll bar, and despite walking away from the scene, he died later in the day of brain damage. Former 1950s Los Angeles Rams football star, Les Richter, owned the track until the early 1980s. Richter was a marvelous promoter, who conceptualized the International Race of Champions (IROC), originally run in identically prepared Porsche 911s then Chevrolet Camaros.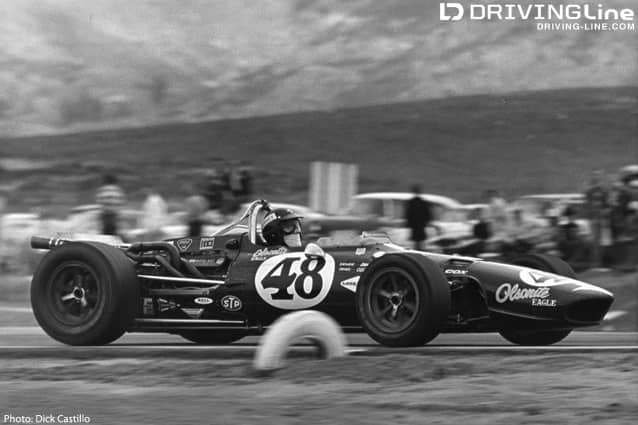 In the 1960s Richter saw Dan Gurney testing his Eagle Indy Car at RIR and decided to feature a USAC sanctioned IndyCar race at the track. It became a regular stop for the series throughout the life of the track. All the incarnations from USAC to CART raced on the 3.1 mile "long course" with a list of winners including Bobby Rahal, Rick Mears, Mario Andretti and Dan Gurney.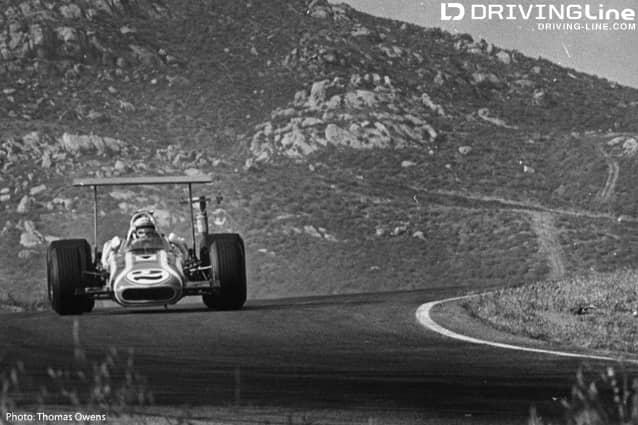 Formula One made only one appearance there in 1960. The USGP at RIR was won by Stirling Moss over Team mate Innes Ireland in the Lotus-Climax with Bruce McLaren in a Cooper-Climax rounding out the podium. Riverside was the last F1 race for the 2.5 liter formula and saw a host of greats from the period: Wolfgang Von Tripps, Joe Bonnier, Jim Clark, Graham Hill and Jack Brabham. Local Heroes Dan Gurney and Phil Hill, who would become the ?rst American F1 World Champion the following year, participated, but did not score well in the race. American Chuck Daigh drove the F1 incarnation of Lance Reventlow's Scarab.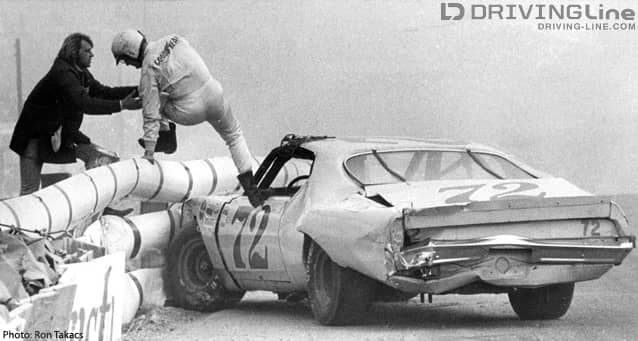 NASCAR called Riverside home in the West. Not surprising, again Gurney took 5 wins in the Cup series at RIR. Mark Donahue scored his only NASCAR win - but signi?cantly also Penske Racing's ?rst NASCAR win - in a 1973 AMC Matador. Notables who chalked up multiple victories at RIR were Darrell Waltrip, Bobby Allison, Richard Petty, Cale Yarborough and David Pearson. In many of these races the guardrail at the horseshoe corner would be marked up and bent by the end of the weekend from so many cars literally using it to navigate the tricky turn. The track's last major event was in June of 1988 when Rusty Wallace won in a Pontiac.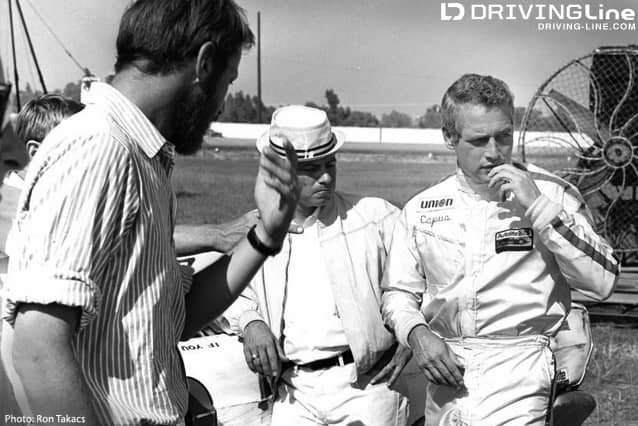 With such close proximity, Hollywood made good use of RIR, ?lming many classic movies and television episodes at the track. Elvis Presley ?lmed segments of both Speedway and Viva Las Vegas at RIR. Paul Newman (pictured above and below) filmed much of the racing movie Winning at RIR.  Television shows like CHiPs, Knight Rider, The Rockford Files and Simon and Simon all made good use of the track for car stunts. Even John Frankenheimer, while making the epic Grand Prix used Riverside - though not for the backdrop: in car footage of the drivers' footwork in the Monaco sequence was actually ?lmed at RIR on the back straight as hired guns, Dan Gurney and Phil Hill, executed a simulated lap of Monaco - entirely from memory!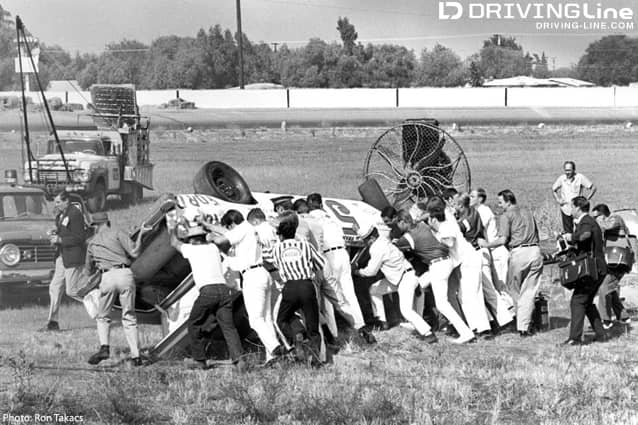 Like its neighbor, Ontario Motor Speedway, demolished in 1980, Riverside International Raceway met the wrecking ball, eliminating racing from the Inland Empire until ten years later when Roger Penske built California Speedway (Auto Club Speedway) a stone's throw from the two defunct tracks.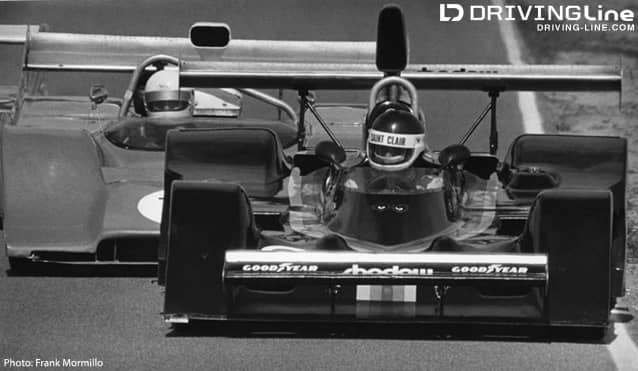 Riverside remains in the collective memories of racing fans everywhere - but none felt quite like the SoCal fans who continue to revere the dangerous and challenging road circuit. There is a place, and an annual event, that revives the spirit of RIR: The Riverside International Automotive Museum's "Legends of Riverside" that treats patrons to a weekend of stories and ?lms of the fabled circuit. The Riverside International Automotive Museum (RIAM) was founded to preserve the rich history of Road Racing in Southern California. It has many artifacts, documents and exhibits from both Riverside International Raceway and Ontario Motor Speedway. The museum also pays tribute to the Long Beach Grand Prix, racing at Dodger Stadium and the Paramount Ranch. - Tom Stahler Special thanks to photographers Pete Lyons, Frank Mormillo, Ron Takacs, Thomas Owens, Dick Castillo, Stan Sholik, and the Riverside International Automotive Museum.