New Product Spotlight: MSD Performance Coil Packs for Ford EcoBoost Engines
Since teaming up with Gearhead Automotive Performance — an aftermarket company that offers custom tuning for EcoBoost engines — we've learned that respectable performance can be unleashed from Ford's already-potent twin-turbo, direct-injection V6 mills. Our initial testing saw 80 hp gains realized on a 2.7L EcoBoost, as well as a 60 hp increase on the 3.5L version, all by way of a few simple ECU calibration changes. Now, in conjunction with both MSD Performance and Gearhead Automotive Performance, we're about to find out whether or not further gains can be had by running higher output coil packs.
With both a 2.7L EcoBoost-powered F-150 and a 3.5L EcoBoost Taurus SHO at our disposal, we reached out to MSD Performance for a set of its Red EcoBoost 6-Pack coil packs to try on each application. After gathering baseline chassis dyno data on both vehicles, we swapped in the direct replacement MSD units, re-dyno'd and then hit the street. On the rollers, high rpm horsepower gains were made and sustained throughout the power band. Out in the real world, throttle response was improved (most notably in the 3.5L), and both vehicles saw an increase in overall drivability.
Read on for an in-depth look at all of our findings.
Dynocom Chassis Dyno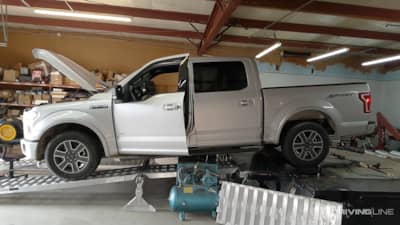 The first test mule to receive MSD Performance's EcoBoost coil packs was this 2.7L-powered, XLT trim '16 F-150 owned by Gearhead Automotive Performance. As was the case in our EcoBoosted series, the ECU in the company's F-150 had been custom tuned. Once the truck was strapped to Gearhead's Dynocom 15000 all-wheel-drive chassis dyno, a tuned baseline of 361-rwhp was achieved at 5,200 rpm.
Bolt-In Replacements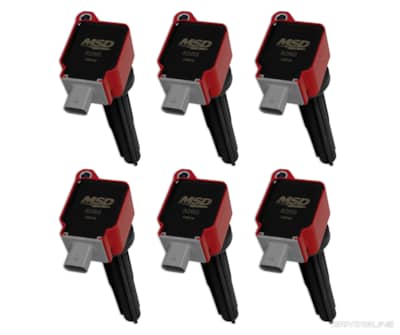 In business since 1970, MSD Performance is renowned for its high-quality ignition system components. For more than two decades, upgrading coil packs (coil on plug, or COP) on a gasoline power plant has been the norm rather than adding an aftermarket distributor and plug wires. If you want a hotter spark for your late model gasser, installing aftermarket coil packs like these is the only way to get you there. A stronger spark (i.e., more joules of energy) offers the potential to see improvements in throttle response, high-rpm performance, startups and even fuel economy. The coil packs shown for the 2.7L EcoBoost (PN 82606) retail for $247.95, are direct, bolt-in replacements for the OEM coil packs and can be installed in minutes.
Gains Across the Board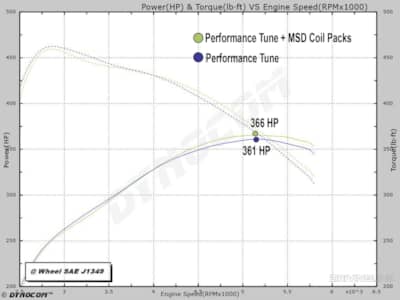 As mentioned, the F-150 test mule was uploaded with a custom performance tune from Gearhead — along with the factory recommended SP542 spark plugs with the gap set for 0.028-inch — at the time of testing. With just the tune on the truck, 361 hp was achieved at 5,200 rpm. Once the MSD coil packs were in the mix, the peak number jumped 5 horsepower to 366 hp. While that might seem marginal, those that study dyno graphs will note that an additional 5-to-8 hp is on tap from 4,300 to 5,800 rpm with the MSD coil packs onboard.
Seat of the Pants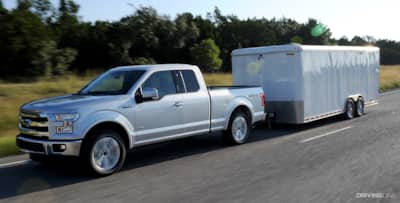 On the street, throttle response was subtly improved, but not as noticeably as what the folks at Gearhead find in older vehicles (due to the somewhat lazy throttle action from the drive-by-wire systems used in said older vehicles). However, power gains on the 2.7L EcoBoost are good enough to warrant adding the upgraded coils. And even though the gains found on the 2.7L seem small in comparison to the gains seen on first-generation 3.5L EcoBoost engines, it's mostly due to the fact that the 2.7L's factory coils have approximately 40-to-45 percent more energy than what is used on first-generation 3.5L EcoBoost engines. The same higher energy coil packs used on the 2.7L EcoBoost are now being employed on the second-generation 3.5L EcoBoost (on both the F-150 and Raptor), as well as on the EcoBoost Mustangs.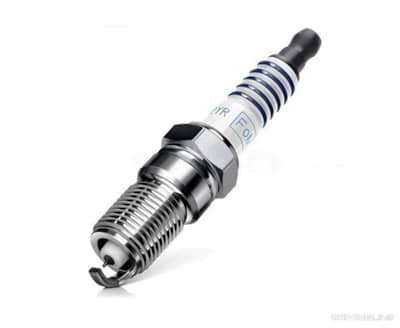 Higher energy coils open the 2.7L EcoBoost engine up to room for improvement in the fuel economy department as well. In theory, with more coil energy on tap, one can utilize a wider spark plug gap, which almost always nets better fuel efficiency. To find the best balance of performance and fuel economy, one would need to experiment and determine the widest plug gap possible (before power began to drop off) while testing on the dyno. Then once the optimum gap had been determined, the plug gap would need to be closed an additional thousandth or two to ensure that the amount of spark available would be adequate throughout the life of the platinum/iridium spark plugs.
SHO-Time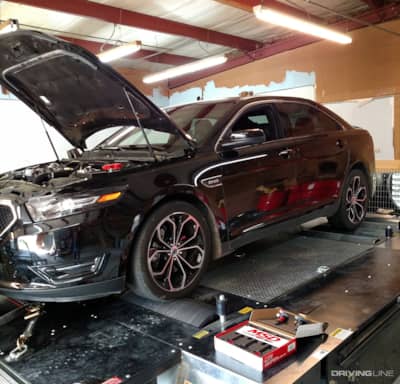 Our 3.5L EcoBoost testing would be conducted on this completely stock '16 Ford Taurus SHO, which was also equipped with a custom tune from Gearhead Automotive Performance. Making use of the Dynocom 15000's all-wheel drive functionality, the SHO would lay down 338 hp at 5,100 rpm. After a short cool-down period, we pulled the engine shroud and began removing the factory coil packs.
Cheaper Than a Cold Air Intake…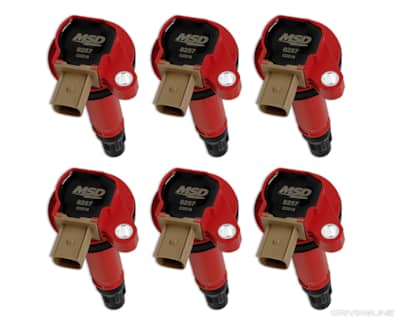 The red coil packs we tested on the 3.5L EcoBoost (PN 82576) fit the '11-'14 F-150, '13-'15 Explorer, '13-'16 Taurus SHO, '13-'16 Flex and '13-'14 Lincoln MKT. Like the units tested in the 2.7L EcoBoost, they're very affordable (with these specific packs retailing for $259.95), are direct, bolt-in replacements for the OEM coil packs and are a breeze to throw in.
Easy Install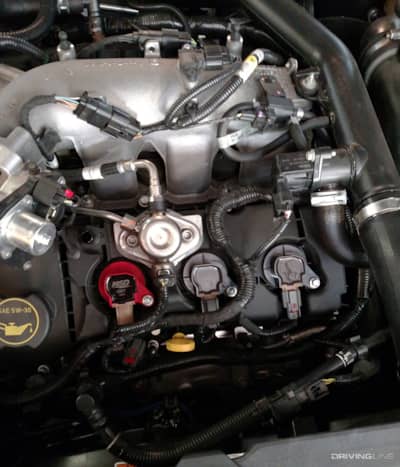 With a few basic hand tools (namely a ratchet, an extension and a few sockets), the MSD Performance coil packs can literally be installed in five minutes' time. We simply removed the engine cover, moved the red connector lock, disconnected the electrical plug and pulled the coil pack's retaining bolt to extract the stock packs, and then reversed the process when installing the MSD units.
We'll note that the SHO was already equipped with Gearhead's recommended SP542 spark plug (gapped to 0.028-inch), which has a heat range colder than the factory SP534 plugs. This was done (at an earlier date) to help ward off any pre-ignition concerns under high boost conditions.
More Top-End Pull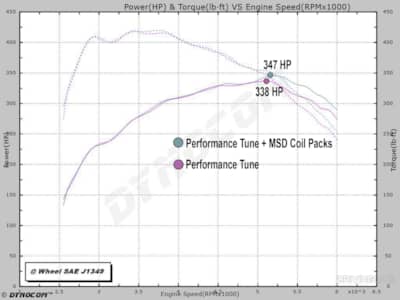 Picking up 9 horsepower at its peak (347 hp at 5,150 rpm vs. 338 hp at 5,100 rpm) thanks to the MSD coil packs, the Taurus SHO saw the majority of its gains above 5,000 rpm — and with an almost constant gain of 9 horsepower. These gains stem from better combustion at the existing 0.028-inch spark plug gap. Further gains may be on the table by going to an even tighter gap, but none were tested here (in an attempt to make an apples-to-apples comparison).
Better Drivability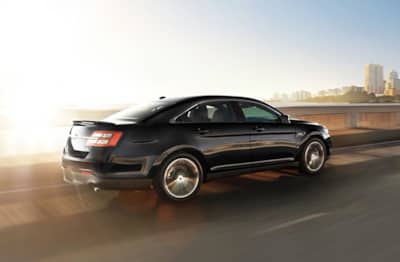 Driving on the street, the SHO was much more responsive under higher engine loads. Perceived engine response saw a night-and-day improvement, and it was evident that the extra power came from the MSD coils' ability to more reliably fire the existing 0.028-inch gap spark plugs under high demand.