Nitto Terra Grappler G2: Long-Term Review
Tires are all about performance, price and (to a certain extent) compromise—but they're also about longevity. No matter which brand of tire you prefer or what type of vehicle you drive, you're inevitably going to be spending anywhere from $600 to $1,700 on new tread every once in a while. But what if you could turn those "every once in a while's" into "every 60,000 to 80,000 miles" without ditching your all-terrains for some mild-mannered all-seasons? After conjuring up a brand-new, longer-lasting tire compound, Nitto is able to offer its Terra Grappler G2 all-terrain with a 65,000-mile limited treadwear warranty for hard metric sizes (50,000 miles for LT-metric and floatation sizes) without sacrificing any performance or versatility.
In a market where Jeep, truck, and even SUV owners purchase all-terrains expecting them to be true all-around performers, the Terra Grappler G2's deliver. On top of earning 4 out of 5 stars in dry performance, wet performance and quietness, they hold their own in tacky dirt, sand and snow, and outlast competing tires while doing it. We recently mounted a set of G2's under a late-model Toyota RAV4 to prove they're worth every penny. With more than 20,000 miles being racked up every year, the small family hauler is anything but garage-kept. Rain, sleet, snow, ice or sunshine, it's expected to report for duty each and every day—and the tread beneath it to last a while.
This time, we're mounting and balancing the G2's, translating the tire lingo that surrounds them into plain English and formulating our initial opinions. We'll check back in after the first 5,000 miles of our long-term test. It shouldn't take long. Stay tuned.
Nitto Terra Grappler G2 Specs
| | |
| --- | --- |
| Size | 245/65R17 |
| Inflated Diameter | 29.53 inches |
| Inflated Width | 9.76 inches |
| Approved Rim Width | 7.0-8.5 inches |
| Maximum Air Pressure | 50 psi |
| Load Index | 111 |
| Carrying Capacity | 2,403 lbs |
| Weight | 34.35 lbs |
| Factory Tread Depth | 12.6/32" |
| Current Tread Depth | 13/32" |
| Limited Treadwear Warranty | 65,000 miles |
The Test Mule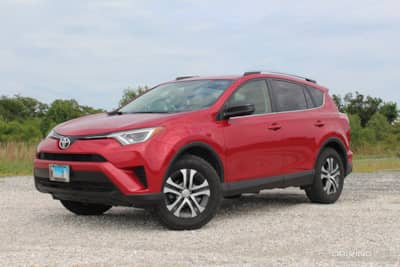 With 66,000 miles on the clock of this '16 all-wheel drive RAV4, we're going to find out if the Terra Grappler G2's can outlive the factory Michelins it came with. We have a hunch they will, and with the odometer piling on an extra 1,700 miles each month it shouldn't take long to find out. In addition to seeing the G2's last, we look forward to their navigating us through Illinois winters and mild off-road excursions on the weekends.
Treadwear Warranty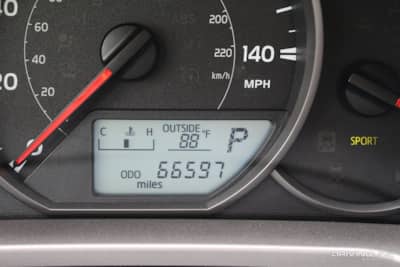 On top of being a highly capable all-terrain, a major selling point behind Nitto's Terra Grappler G2 is its treadwear warranty. On its hard metric size offerings, a limited treadwear warranty of 65,000 miles is on the table. LT metric and floatation sizes come with a 50,000-mile limited treadwear warranty. Designed and tested to yield a superior tread wear rate, the G2 receives a Uniform Tire Quality Grading (UTQG) of 600, which is exceptional.
Coupling Joints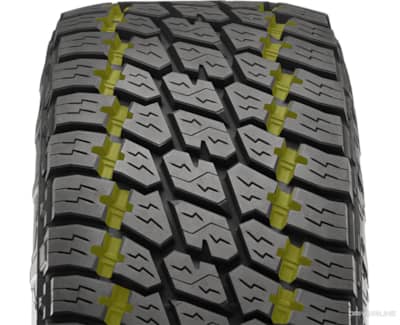 Improving on the original Terra Grappler's tread design, the Terra Grappler G2 features reinforced coupling joints. This strengthening measure connected the outermost tread blocks with the centrally located tread blocks. As a result, tread block edge rigidity was vastly improved.
Full Depth Sipes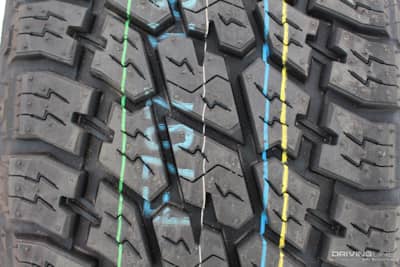 Siping and lateral voids help a tire resist hydroplaning by evacuating water. On the G2, its full depth siping is a big reason why it performs so well in wet conditions and also why it earned an A grade in traction (a UTQG test that measures a tire's straight line wet coefficient of traction, ranging from C to AA, bad to good). But not only do the deep sipes offer effective functionality, they help retain the original appearance of the tread design as the tires wear down.
Staggered Shoulder Lugs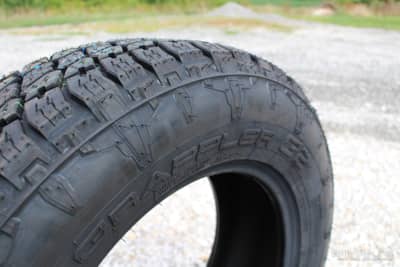 For added traction in off-road conditions, the G2's feature staggered shoulder lugs where the outermost tread blocks transition into the sidewall. This sidewall design effectively links the sidewall lugs from the shoulder block on down to the middle of the sidewall surface.
Variable Pitch Tread Blocks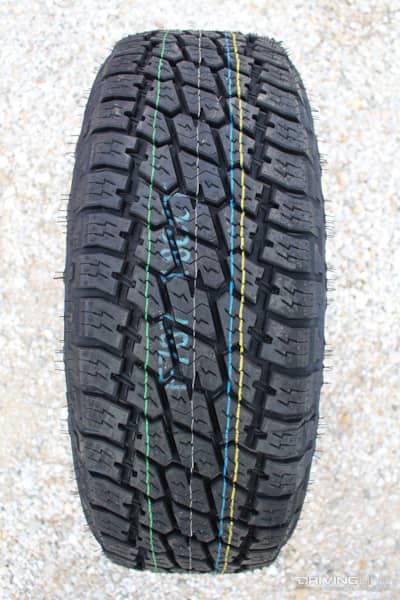 As is employed to perfection on the hybrid-terrain Ridge Grappler, Nitto uses a variable pitch tread block pattern on the Terra Grappler G2. This technology reduces the type of tire noise that's usually heard at highway speeds. While our G2's are slightly louder than the RAV4's factory tires at 75-80 mph, that was to be expected when switching from all season Michelins to the more aggressive all-terrains.
Dual Sidewall Designs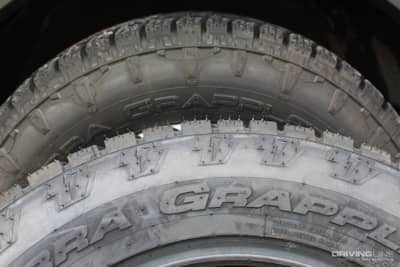 Two different sidewall designs exist on each Terra Grappler G2. One sidewall features a thunderbolt pattern similar to the sidewall used on the original Terra Grappler, though its pattern has been raised for a more aggressive appearance. The other sidewall entails a new, blade-style design with incorporated sidewall lugs spanning from the shoulder tread block to the sidewall.
245/65R17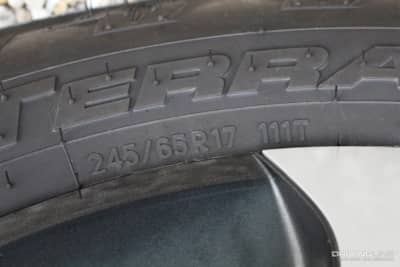 Affixed with 245/65R17 Terra Grappler G2's, our RAV4 will be running one of the smallest sizes Nitto offers (we'll note that it left the factory wearing smaller, 225/65R17 tread). Each tire's inflated overall diameter measures 29.53 inches, its overall width 9.76 inches and, per its load index of 111, a 2,403-pound maximum carrying capacity. Our G2's sit on the Toyota's factory 17x7-inch wheels, which fits the tire's approved rim width of 7.0 to 8.5 inches. From 17-inch to 24-inch wheels, 68 different sizes of the G2 are currently available.
Tracking Tread Depth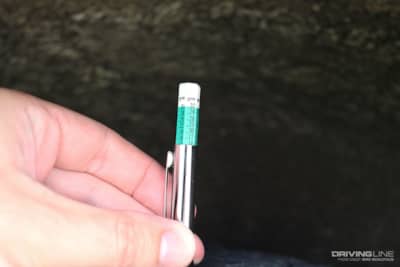 Using our trusty Godeson gauge, tread depth on our G2's checked in a smidge higher than the factory specification of 12.6/32". For a few bucks at your local parts house, a tread depth gauge is a great way to keep tabs on your tires' rate of wear. With a baseline of roughly 13/32" to work with, we'll highlight where tread stands in Part 2.
50 PSI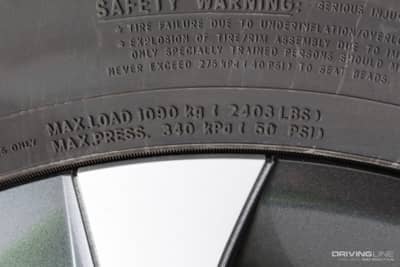 The maximum tire pressure of our 245/65R17 G2's checks in at 50 psi, but most LT metric sizes are rated for either 80 psi or 65 psi (and some E load range versions even come with a 4,080-pound load capacity). As for temperature resistance, the G2 earned a B grade (100 to 115 mph) whereas most all-terrains receive a grade of C (85 to 100 mph).
Looking for a long-lasting tire with more off-road capability? Check out our long-term test of Nitto's Ridge Grappler hybrid-terrain here.