Soft-Roading a Toyota RAV4 on Nitto Terra Grappler G2 Tires
Crossovers are everywhere in America. For years, they've been outselling the sedan market, even forcing automakers to kill entire car programs in some cases, while expanding their compact SUV lineups at the same time. As of 2018, compact crossover sales accounted for one in every four new vehicles. And as more and more folks find themselves leaving sedans in favor of crossovers, many are noticing the capability—or at least the potential—of an all-wheel drive, uni-body platform. A growing portion of these weekend warriors are even leaving the pavement.
The compact crossover segment boasts more than 40 different models at the present time and, surprise, we're in one, too. Our horse is a Toyota RAV4, a vehicle that outsells Toyota's mainstay Camry by a considerable margin each year. It commutes to work every day, grabs the groceries once a week and gets generally approvable fuel economy (24-27 mpg). But we're quickly finding that on weekends, we don't have to abandon it if a few small obstacles are all that stand in the way of our Saturday/Sunday adventures. In reality, it's kind of becoming the family's full-size all-terrain vehicle.
We recently threw a set of Nitto Terra Grappler G2 tires on our grocery-getter and hit the trail for some light off-roading—or what is better known these days as "soft-roading." Here's what we've learned about the soft-roading movement and our own vehicle's capabilities so far.
Hold The Adventure, We're Getting Our Feet Wet in A Base Model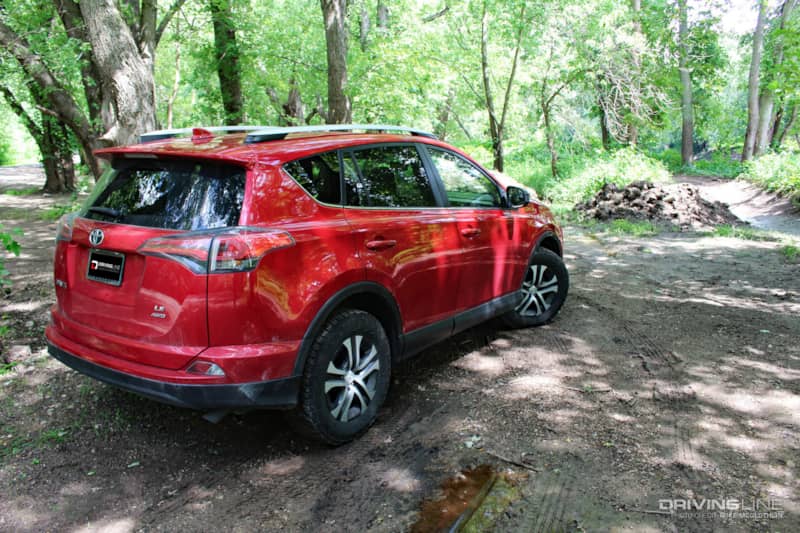 Yours truly never would've thought of driving the family hauler, a Toyota RAV4, anywhere other than on the highway just a couple years ago. However, with the soft-roading phenomenon growing in popularity seemingly by the day, I recently started venturing off the beaten path in our compact crossover for some light off-roading. It's not quite the RAV4 Adventure, but our lack of larger over-fenders and bigger roof rails can be addressed if we decide to take things deeper into the timber at some point. For now, we're OK with our base model LE, especially after complementing its fairly capable AWD with the right tread.
The Soft-Roader's Rite of Passage: Tires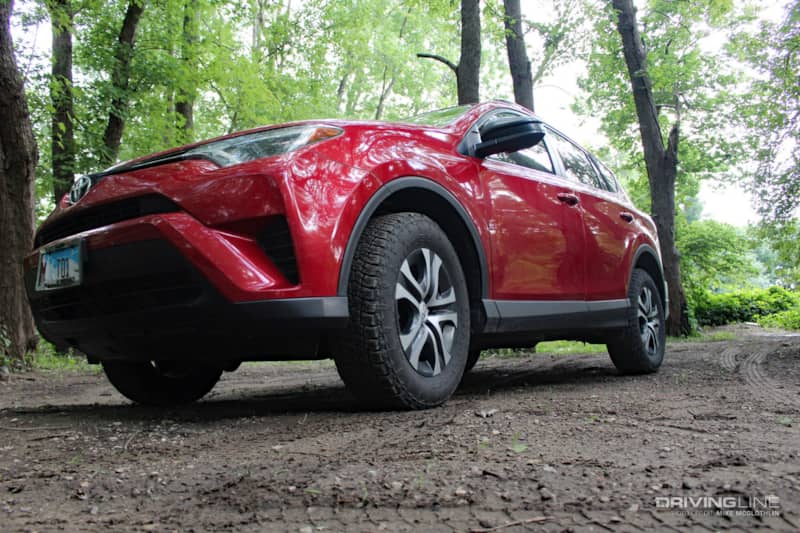 The first mod every soft-roader makes (and is sometimes the deciding factor in going all-in with their AWD crossover or leaving it on the pavement) is a tire upgrade. A more aggressive tread pattern is the initial step in testing the waters as to what your soft-roader of choice is capable of. Our RAV4 is fitted with Nitto's Terra Grappler G2 all-terrain, which although aggressive by some crossover tire standards, provides a quiet ride, solid wet weather handling and peace of mind in the winter months when snow, ice and slush are commonly encountered.
Terrain Grappling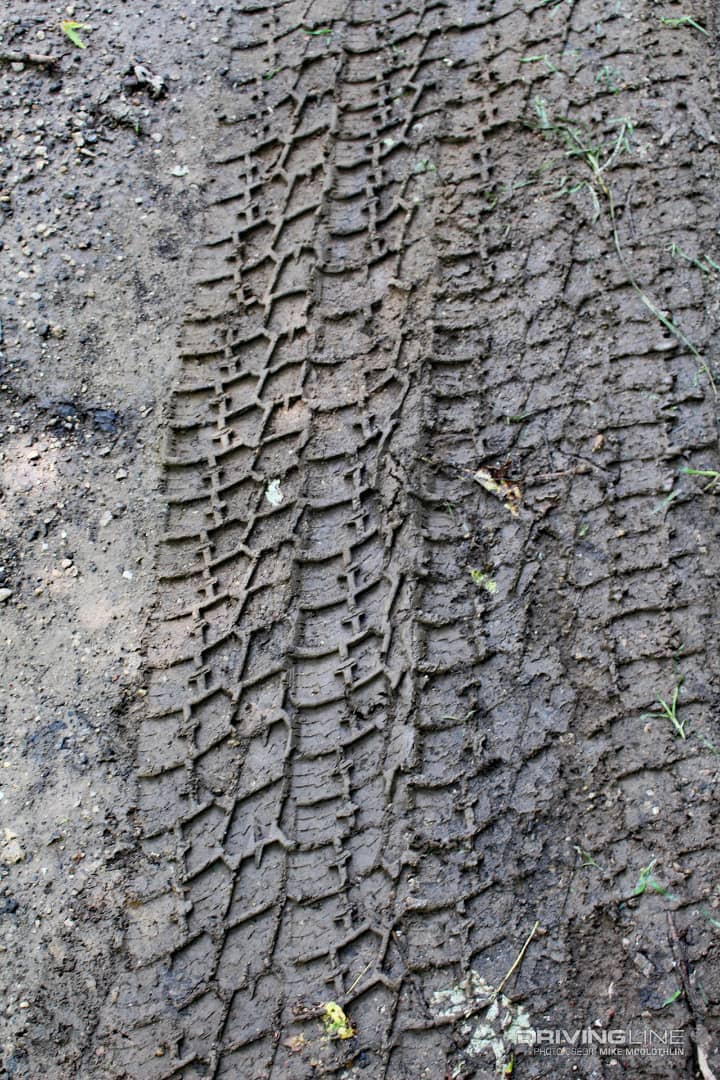 Through tacky dirt, light mud and over small rocks, the G2 all-terrain performs flawlessly. Upsizing from the original 225/65R17 Michelin all seasons to a 245/65R17 set of G2's provided us a larger foot print (9.76 inches vs. 8.9 inches before) and more ride height (29.53 inches vs. 28.5 inches before) without causing any tire rub during lock-to-lock turns. It goes without saying that the more aggressive tread pattern and increased tread depth of the G2's has played a major role in our RAV4's soft-roading successes thus far.
"Light" Trail Running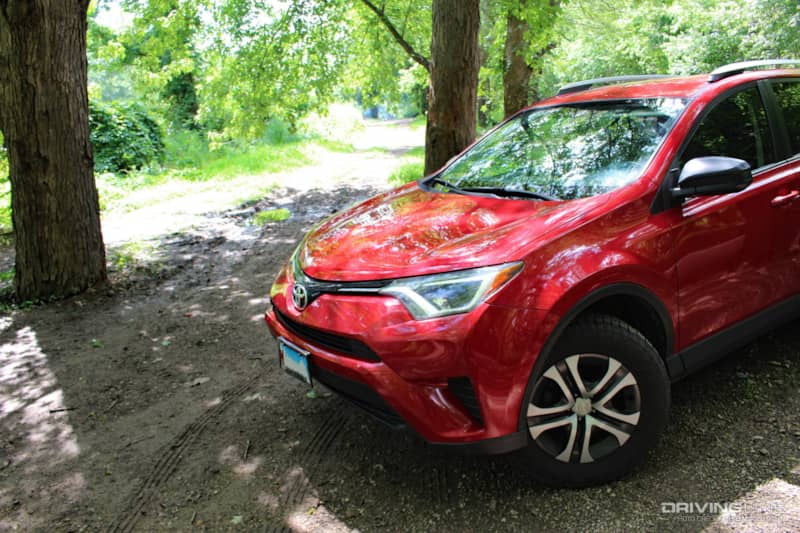 Who would've ever thought the Camry platform could be found on the trail? Granted, we aren't navigating the rugged, rough or technical paths that traditional 4x4's are, but we're subtly impressed by the RAV4 each time we take it on one of our journeys. We're also not camping on the RAV4's roof quite yet, but as we continue to discover more and more of the crossover's capabilities our weekend adventures are taking us further and further away from civilization, so we wouldn't say it's off the table.
AWD Lock On, Traction Control Off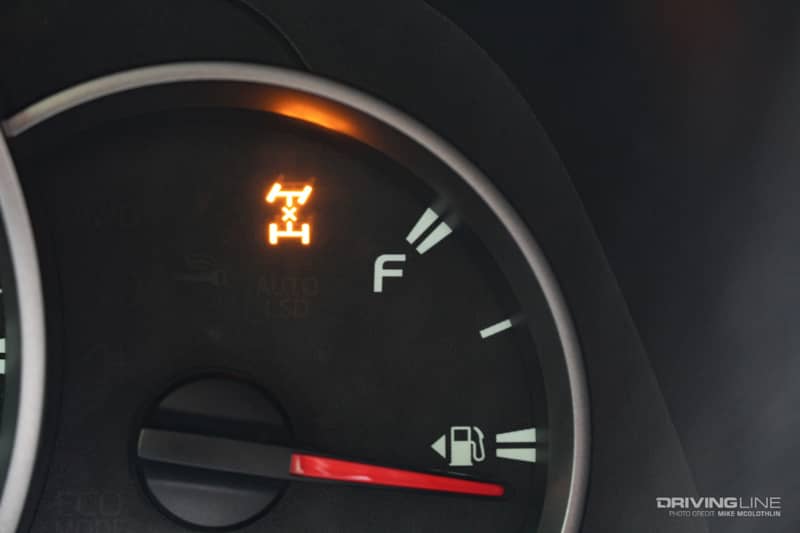 The RAV4 is equipped with Toyota's Dynamic Torque Control AWD, which is to say that we can lock the center differential and split power 50/50 between the front and rear axles with the push of a button. Toyota specifically states its AWD lockout is intended for mud, but we've used it on loose dirt inclines and during rocky, low-speed maneuvers with good results. In addition to the AWD lock switch, and in order to keep power from being limited to the wheels, we always make sure traction control is disabled during our soft-road outings.
"Light" Rock Crawling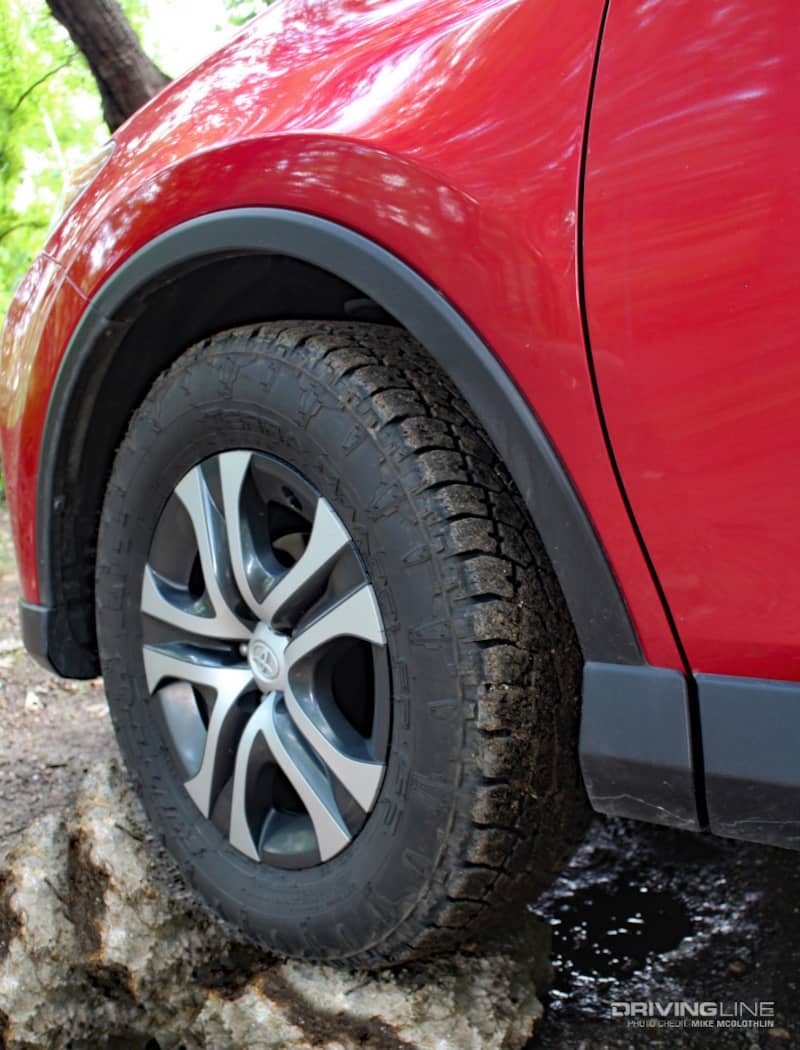 The RAV4's AWD lockout functionality was extremely helpful when traversing a small section of rocks we couldn't turn away from. In negotiating this portion of the trail, we were more worried about the front bumper trim dragging than the Toyota's ability to crawl over anything. However, rock crawling is definitely a fine-balance to indulge in for us, as anytime you crest one rock and hit the brakes in order to roll slowly onto another the AWD lockout function cancels out. The same thing happens once the RAV4's vehicle speed exceeds 25 mph.
It's No Mud Machine, So We Pick Our Battles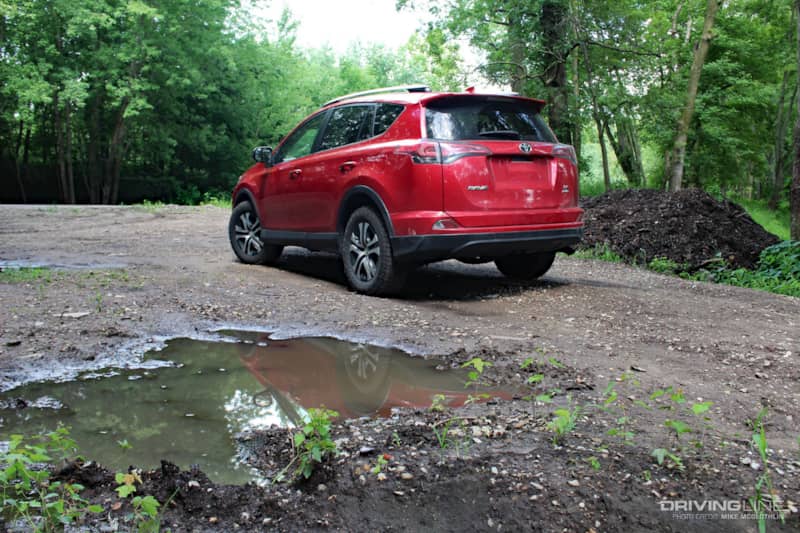 In our particular arrangement, we don't intend to try to dig through mud holes with our soft-roader (even though we think the G2's are up to the task), but if it's between us reaching our favorite semi-remote camping spot and turning back, we're giving it a shot. We've only experienced this once in our weekend excursions, and yes, we made it through—but there were a few measurements taken of the depth of the mud before committing.
For a closer look at one of the best all-terrains in the tire industry, check out our long-term Terra Grappler G2 review here.