NMRA Heats Up Spring Break
As the first of six races in the 2017 NMRA Keystone Automotive Ford Nationals Series, the 23rd Annual Nitto NMRA Spring Break Shootout presented by Muscle Mustangs & Fast Fords promised to pack a lot of punch, and it did.
In addition to cars cruising with naturally aspirated, turbo, blower and nitrous combinations in highly competitive categories, the event, held at Bradenton Motorsports Park in Florida, featured grudge racing between Bobby Ducote and his nitrous-sipping Mustang and Boosted GT and his turbocharged Mustang from the television series, "Street Outlaws", as well as the UPR Products All-Ford Car Show and a massive manufacturers' midway.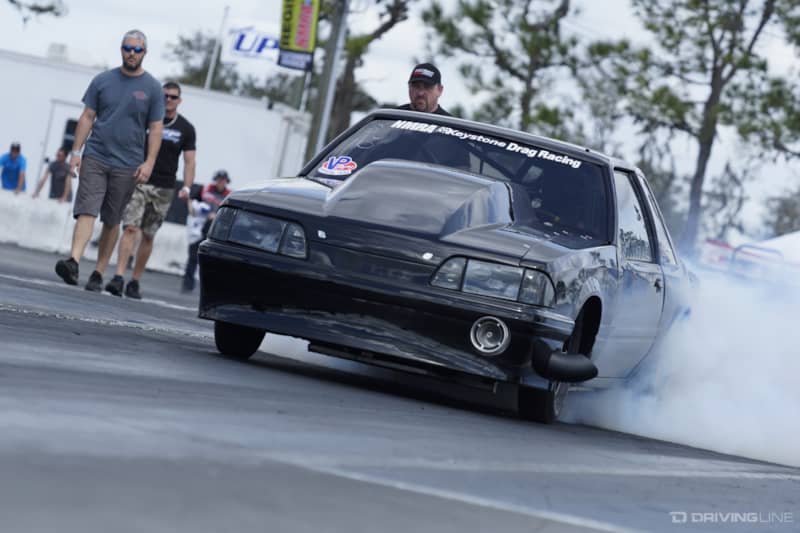 When the last pair of vehicles powered down the track that had been professionally prepared all weekend for street tires, slick tires and drag radial tires, winners were welcomed to the Aerospace Components Winner's Circle.
The category with the quickest and fastest vehicles, VP Racing Fuels Street Outlaw, saw legendary and longtime NMRA driver Manny Buginga lead qualifying after laying down a 4.33 in his 1991 Mustang, which is slightly quicker than the 4.34 Joel Greathouse claimed as a record in the class last year. Buginga stayed between 4.36 and 4.39 in eliminations on his way to the final, where he took his place alongside Charlie Cooper and his PTP Racing-tuned 1991 Mustang. Cooper, whose small-block Ford was recently freshened by MCRP and is fronted by a Precision turbo, had Buginga at the starting line and the finish line, and earned his first win in the series he's been running for four years with a 4.36 to Buginga's off-the-throttle 8.69.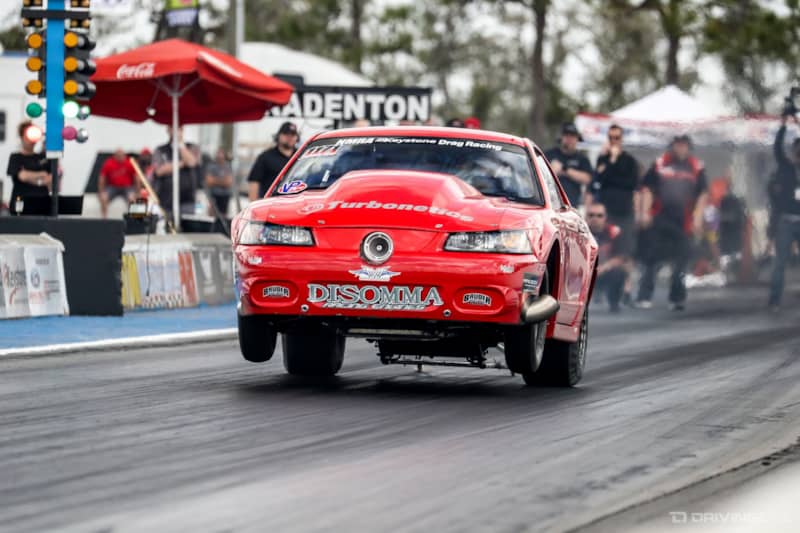 In Edelbrock Renegade action, former class champion Frank Varela led qualifying with a 7.41 in his 1990 Mustang and advanced all the way to the final to face Dom DiDonato, who had qualified twelfth after turning in an off-pace 9.40 in his 2008 Shelby GT500. When the tree came down, Varela's Mustang hesitated before going through the traps at 7.50, and that hesitation allowed DiDonato to take the win despite a slower 7.65.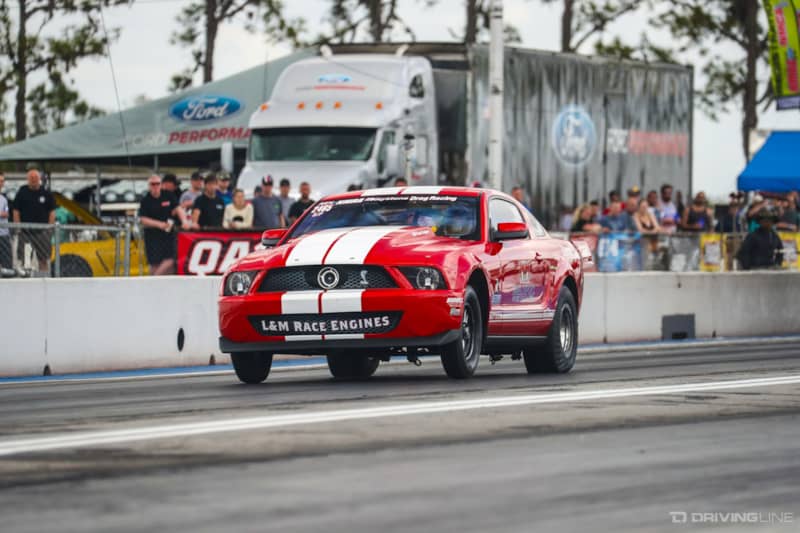 ProCharger Coyote Modified put the spotlight on John Kauderer, who led qualifying with a 7.74 in his 2014 Mustang Cobra wearing Gotta Have It Green paint and then defeated David Witt and his 2013 Mustang in the final with a 7.82.
"We had set a class record at the last race of 2016 with a 7.81 and then we set a class record at this first race of 2017 with a 7.82," said Kauderer. "How's that for consistency? It was just one of those weekends where everything worked. I and Eric Holliday of Justin's Performance Center, who pulls all the strings on the car and tunes, had set some goals for this year, and with the win and the record, we can cross two of those goals off of our list. Now, we're going after the championship."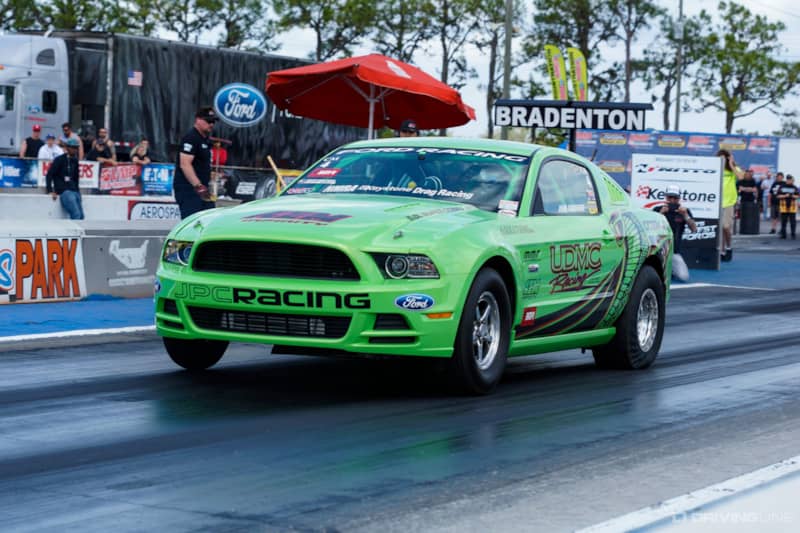 In G-Force Racing Coyote Stock, Darin Hendricks led qualifying after piloting his 1993 Mustang Cobra to a 10.07, and while he had hoped to take a trip to the always-inviting Aerospace Components Winner's Circle, reigning class champion Drew Lyons took the win in his 1988 Mustang after a 10.11 to 10.15 fight in the final.
"All of the off-season work really paid off," said Lyons. "The biggest thing was a complete new cage done by Pro Tree Racecars. I also put a lot of attention on some key suspension pieces. I couldn't have asked for a better start to the season."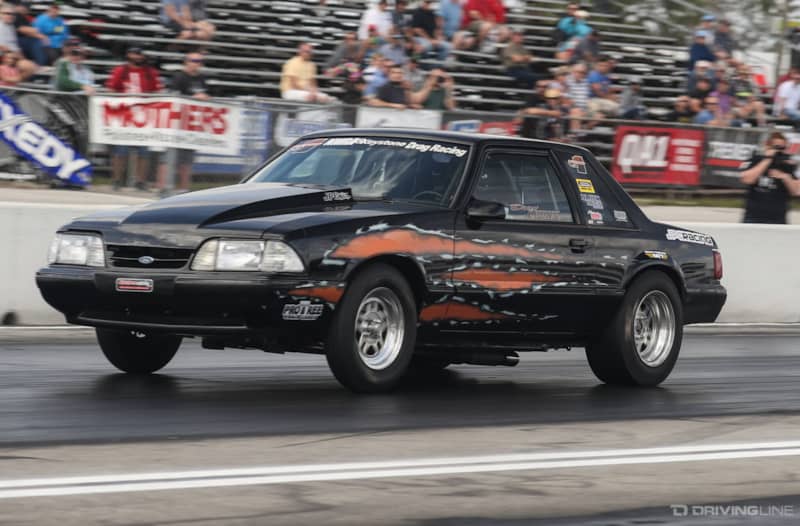 John Leslie, Jr., whose 1989 Mustang is almost always wheels-up when it leaves the starting line, stopped the clocks with an incredible 10.51 to lead qualifying in Richmond Gear Factory Stock, but after exiting competition in the second round of eliminations, he left the door open for a final round featuring Dan Ryntz and his 1989 Mustang and reigning class champion James Meredith and his 2003 Mustang Mach 1. While Meredith had a quicker elapsed-time, Ryntz had a quicker reaction time, and earned the holeshot win after the 10.70 to 10.64 race.
In Hellion Turbo Coyote Shootout, Justin Jordan flat-footed his 2014 Mustang to a 7.89 for the quickest pass in qualifying, but the last drivers down track in the class were Sai Li and Chris Holmes. Li lapped up the win with an 8.35 in his 2012 Mustang while Holmes couldn't complete his pass in his wheelstanding 2012 Mustang.
Stephanie Davies saw her name on the top of the list of qualified entrants in Race Pages Ford Muscle after driving her popular Roush Fox Mustang to a 10.51, but Danny Towe, whose 1970 Mustang trapped an 11.92 in the final round, got the win as soon as Bryan Parker turned on the red light in his 1967 Fairlane.
The ever-exciting Exedy Racing Clutch Modular Muscle saw a 25-car field, but Susan Roush McClenaghan showed she was ready for the competition, as she motored her liquid propane-fueled 2010 Mustang to a 9.34 and the win after her teammate, Donnie Bowles, was a tick too quick off the line and turned on the red light in his 2005 Mustang.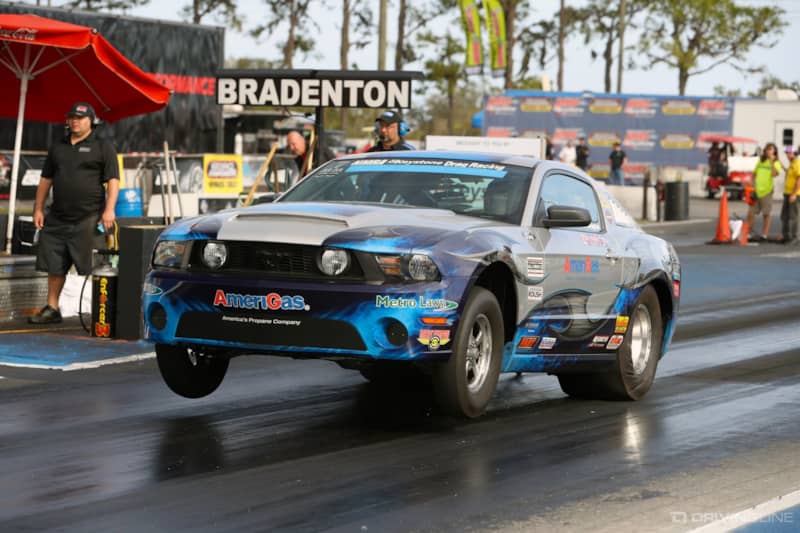 "I was very excited and grateful to start the year off with a win," said Roush McClenaghan. "There are quite a few accomplished racers in Mod Muscle. Donnie and I are very fortunate to enjoy as many wins, runners-up and top qualifying positions as we have. Donnie and I race each other very hard when we're paired up. I'm always thankful when it's in the final and not an earlier round."
The Aerospace Components Open Comp final pitted Mel White and his 1966 Mustang against Gordon Harlow and his 1989 Mustang, and White wrangled up the win with a 10.39 to Harlow's 9.95.
In Detroit Locker Truck and Lightning, reigning class champion Randy Conway proved that he's working toward backing up his championship by recording an .011 reaction time and driving his 1984 Ranger to a 10.58 and the win over Jimmy Cantrell, who wasn't quite as quick at the hit and recoded a 9.67 in his 1994 Ranger.
Kent Nine is no stranger to the Roush Performance Super Stang winner's circle, so his fans weren't surprised to see him there again after driving his 2016 Mustang to a 10.40 and a win over Levi Wendel, who cruised to a 12.83 in his 2006 Mustang.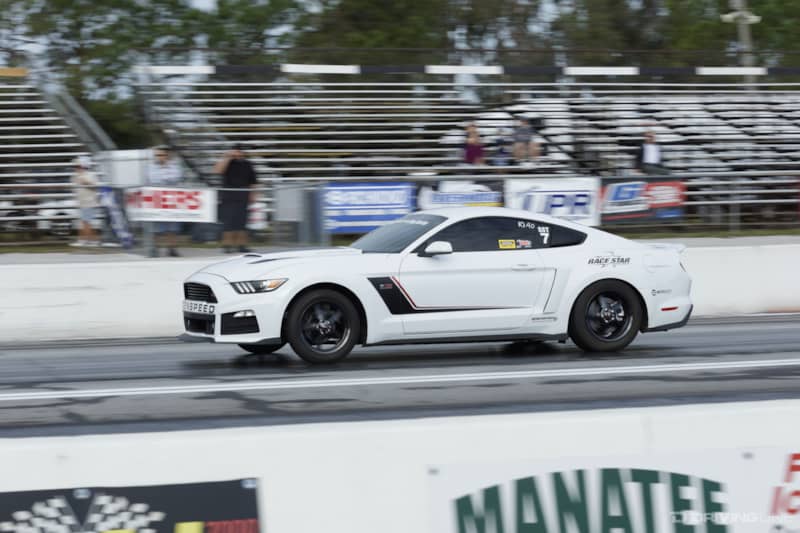 "This is my first win in a Brenspeed shop car, and it was a great finish to a rough weekend," said Nine, an engine-builder for Brenspeed, a Ford performance parts supplier and installer based in Indiana. "We had two really good hits on Thursday morning, but then it went downhill. We struggled with traction, but Chris from Mickey Thompson got us going in the right direction. We had another issue that persisted through eliminations, but we'll get it straight for the Atlanta NMRA race (in April). I'd like to offer a big congratulations to (runner-up) Levi Wendel. It was his very first NMRA event."
In the Ford Performance Cobra Jet Showdown presented by Watson Racing, Michelle Bongiovanni cruised to an 8.67 and the win over Paul Roderick, who was no slouch with an 8.95, and in UPR Products Modular Xtreme, Brian Devilbiss drove his 2013 Shelby Mustang to a 4.84 for the win while Mark Duber drove his 2013 Shelby to a lifting 8.35 for the runner-up. Speaking of Devilbiss, the savvy driver also drove to 7.38 and a win in VMP Performance Terminator vs. GT500 Shootout, while Randy Thomas took the runner-up in his 2010 Shelby with an 8.72.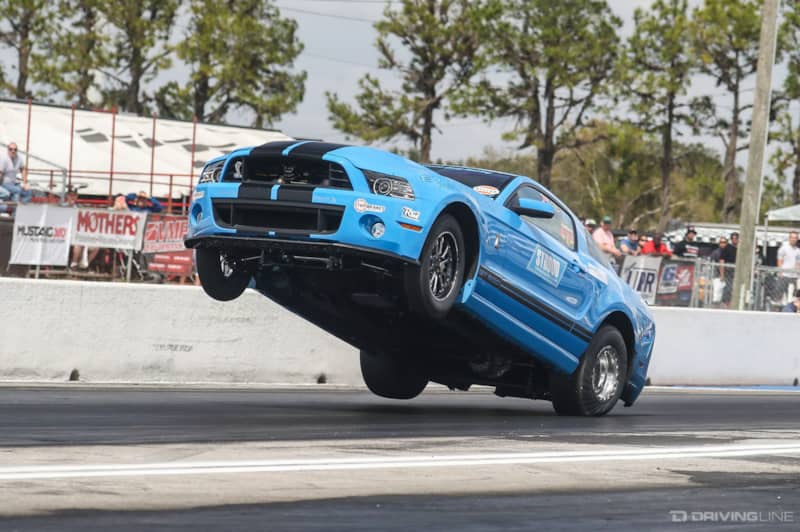 Bill Putnam earned another win in the Livernois Motorsports EcoBoost Battle after driving his  2015 Mustang to a 9.51 while his opponent, Alexis Fruggiero flew to a 10.29, also in a 2015 Mustang, and in other shootout-style racing, the JLT Performance Spring Break Shootout saw Cal Hayward motor his 1991 Mustang to a 7.32 for the win and Jeff Bloem motor his 1988 Mustang to a 7.87 for the runner-up.
In the Tremec Stick Shift Shootout, Anthony Heard rowed the gears of the manual transmission in his 1999 Mustang to a 9.19 to find victory over Harrison Cumbie, who posted a 10.47 in his 1987 Mustang, and in ididit Outlaw True Street, Mark Duber and his 2013 Shelby Mustang outran Jon Anderson and his 1991 Mustang.
QA1 True Street presented by Muscle Mustangs & Fast Fords is always a crowd-pleaser, and for this event, that crowd saw 127 competitors in the field. When it was all said and done, Cal Hayward earned the overall win with a 7.94 average in his 1991 Mustang and Jeff Bloem earned the runner-up with an 8.32 average in his 1988 Mustang.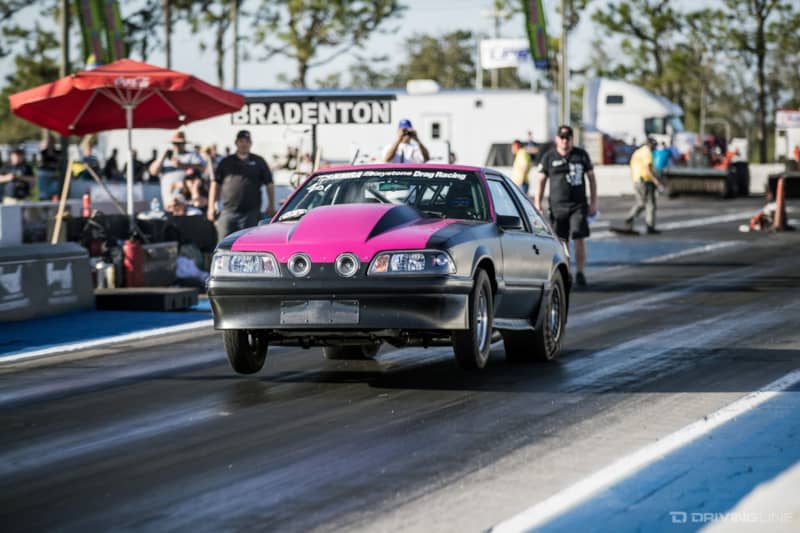 Other winners in the class were William Lujan with a 9-second average, Bill Dudley with a 10-second average, Bill Lee, Jr. with an 11-second average, Mike Baker with a 12-second average, Carlos Mendes with a 13-second average, Mary Mamen with a 14-second average, and Gary Clempa with a 15-second average. Larry Meray won in Race Pages Bracket 1, and Manny Sousa took the win in Race Pages Bracket 2.
Catch more action by the drivers of the NMRA as they mix it up with drivers of sister-series NMCA during the 9th Annual NMCA/NMRA All-Star Nationals, April 6-9, 2017 at Atlanta Dragway. For information, visit www.nmradigital.com or www.nmcadigital.com.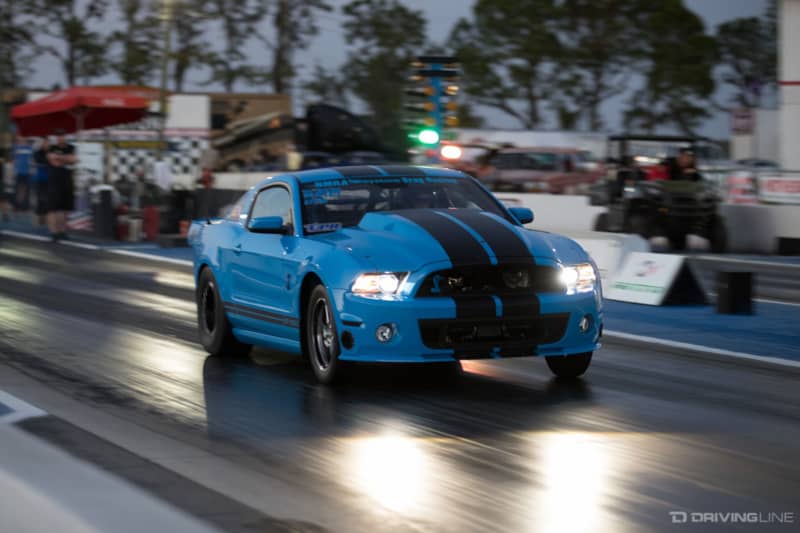 (Photos courtesy of NMRA)