Off-Road Essentials: Choosing the Right Upgrades for your Crossover SUV
Modern crossover SUVs have proven that you don't need a big truck or SUV to explore the great outdoors. While modern technology often makes older gearheads weary, it has brought us some of the most advance terrain control systems we've ever seen. From the Subaru Outback to the Ford Bronco Sport, the aftermarket for these vehicles is constantly growing and improving. If you're looking to get going on your crossover SUV upgrades, you're in luck.
In this article, we'll go over the top worthwhile mods that will give any crossover SUV a solid foundation for off-road exploration.

All-Terrain Tires  
All-season tires are typically the standard on CUV's. Unlike an all-terrain tire that's designed to handle a variety on and off-road conditions, all-season tires are built with the highway in mind. Moving from an all-season to an all-terrain is an easy way to ensure your CUV won't be spinning in place as soon as the rubber leaves the road. A great upgrade from a standard all-season would be the Nitto Nomad Grappler. It's an all-terrain tire that's designed specifically for Crossovers. This means you'll have the load rating you need without sacrificing performance by going with a tire that's simply too heavy for the vehicle. The Nomad will still provide all of the on-road benefits as an all-season tire, but give you the more aggressive tread you need off-the-road. As an added bonus, the Nomad's are 3-Peak Mountain Snowflake rated.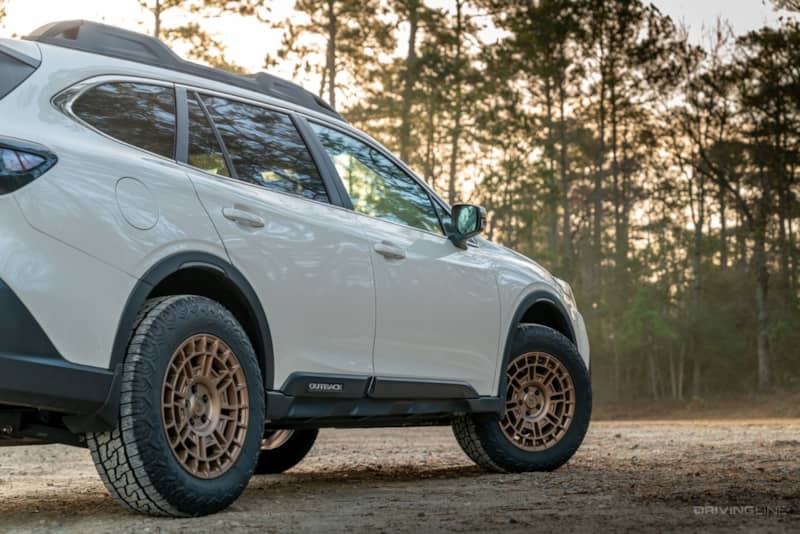 The Right Wheels
We see many CUV's fit with large 18- and even 20-inch wheels from the factory. The larger wheel sizes are more susceptible to damage and limit the amount of sidewall on the tire, which can make for an unpleasant ride off-road. Going with a smaller ratio wheel (when applicable) will help you on the trail. It will also open up tire options as well. You'll need to do your research as offset and backspacing are critical. An easy tip to remember is that the lower the backspacing number, the farther outside of the vehicle the wheel will be. (So, 4 inches will poke out from the fender more than 6 inches of backspacing). We recommend cast aluminum for cost and weight savings benefits. Also, look for wheels that protect the valve stem as it's something that can be easily damaged if it hangs out past the wheel.
Rack It 
Many modern CUV's come with roof-rack options from the factory. If yours did not, don't fret it as there is a wide variety of aftermarket ones available. What is important here is to find one that will fit your needs now and later. If you think you'll be swapping between bike racks and a roof-top tent, be sure to get one that can handle both. Thule and Yakima are well known rack companies, but there are a host of vehicle-specific brands making racks specific to crossover platforms.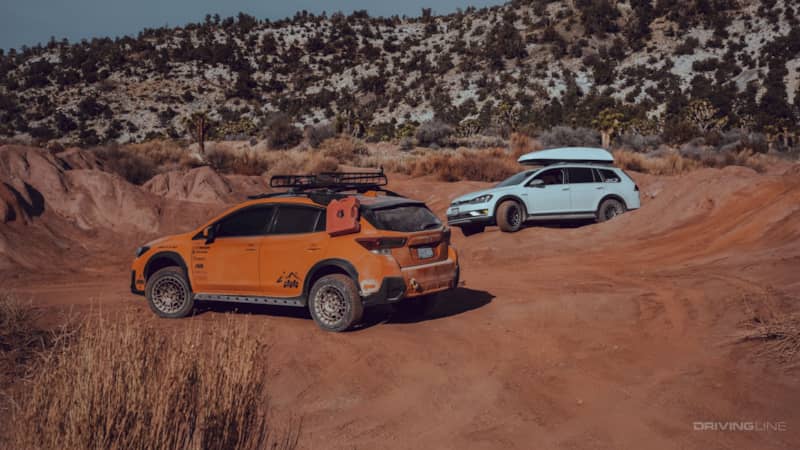 Get Hitched 
CUV's are hit and miss when it comes to receiver hitches, but companies such as Draw-Tite and CURT make affordable aftermarket options that you can easily install at home. While a receiver hitch will be great for hauling bikes and extra gear for the trail, it also opens you up to a tire carrier. This is important as many CUV's only allow for a stock-size spare tire. Upsizing your tires will create the need to home your full-size spare. Luckily, companies such as Rigid Armor make tire carriers that use your vehicles receiver to act as a base.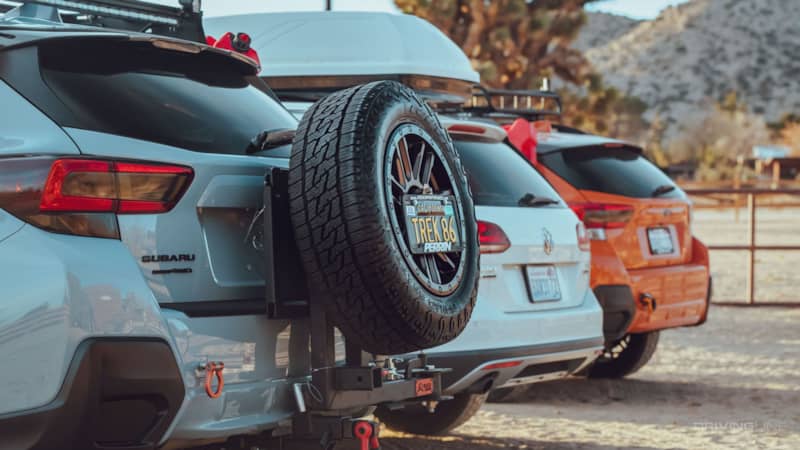 Recovery Points 
CUV's, unlike trucks and larger SUV's often have their recovery points hidden behind a plastic bumper cover. Before you hit the dirt, but sure to install yours. Most CUV's only come with one thread-in recovery point, so you'll need to order a second one for the rear if you do not have a receiver hitch. Make sure you have a shackle that can fit the provided recovery eyelet and a rope that can work with said shackle. If you plan on adventuring solo often, invest in a winch. Companies such as Warn offer winches and mounts suited for CUV's.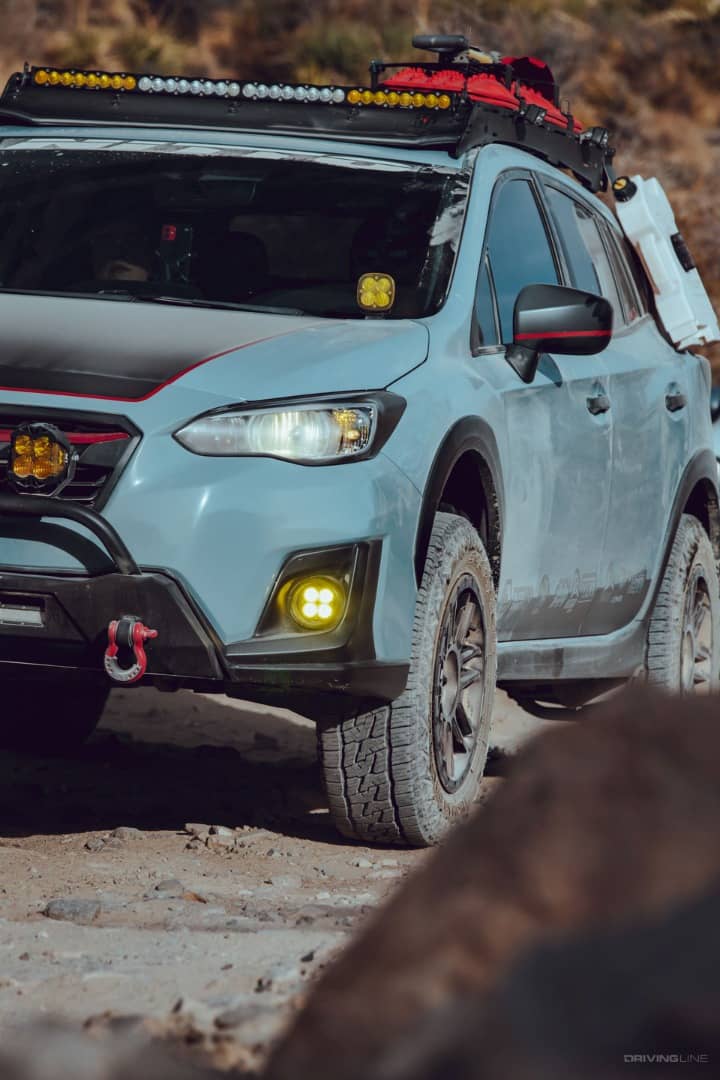 Lifts 
In the world of CUV's, a little goes a long way. A modest spacer lift is often just enough to not only provide room for larger tires but keep the underside of your vehicle out of harm's way. Like many things automotive, you can drop some serious money in the suspension department, but we recommend starting with the basics and learning what you need from there.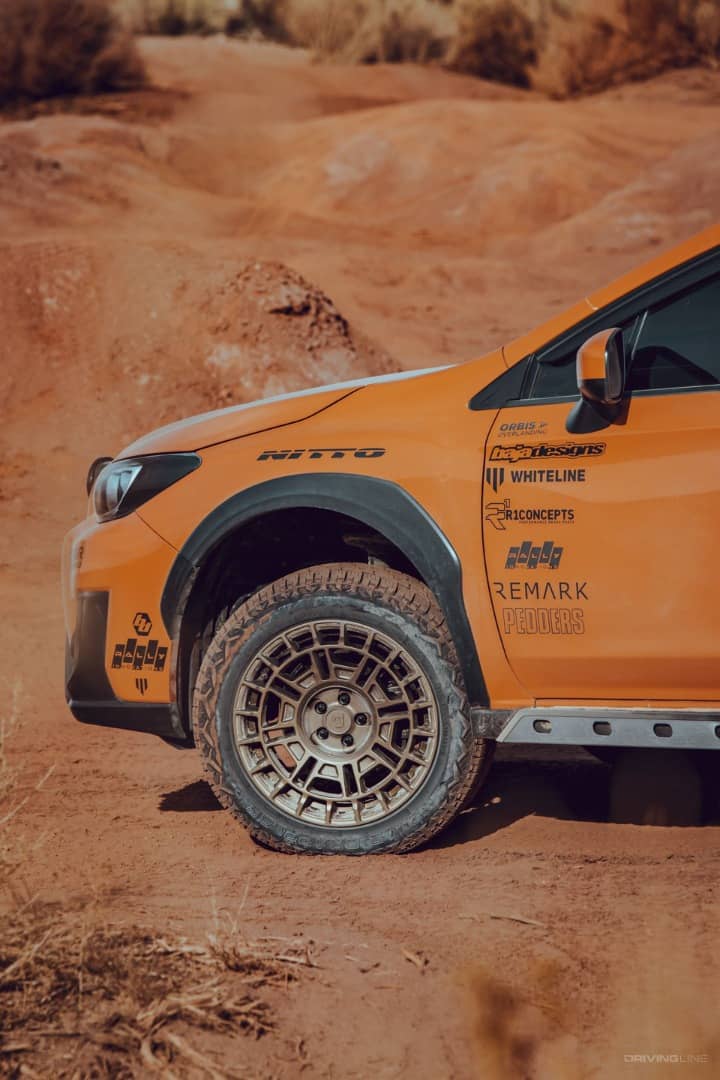 Light It Up
Exploring off-road isn't always done in the sun. A few smartly placed auxiliary lights will not only allow you to see better but keep you safe. Amber lenes actually helps cut through fog and dust a bit better than a standard clear cover. Adding an amber light to the back of your vehicle will also help those behind you spot you more easily, thus reducing the potential for accidents on the trail. In terms of lightings brands there are many (KC, Baja Designs, Hella, PIAA, Rigid, etc.).