Off-Road Porsche: 380 Industries Adventure-Ready Cayenne
As the import enthusiasts of the '90s and 2000s have entered adulthood and parenthood, some of their attention has shifted away from the sports cars or sport compacts of their youth into other vehicles that allow for fun for the whole family. Naturally, off-roading was an easy avenue that allowed for customization, modification, and aggressive wheeling, which while different from their street-based roots, wasn't all that much of a departure from the original hobby.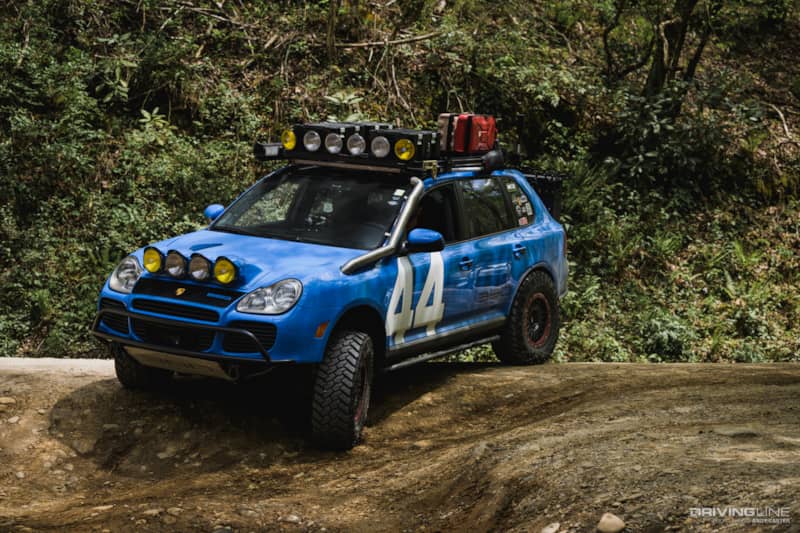 While some went the soft-roader route, working to add capability to vehicles that weren't necessarily designed for wheeling, others searched their favorite brand's line-ups for capable 4x4's that had finally depreciated to a point of feasible enthusiast ownership.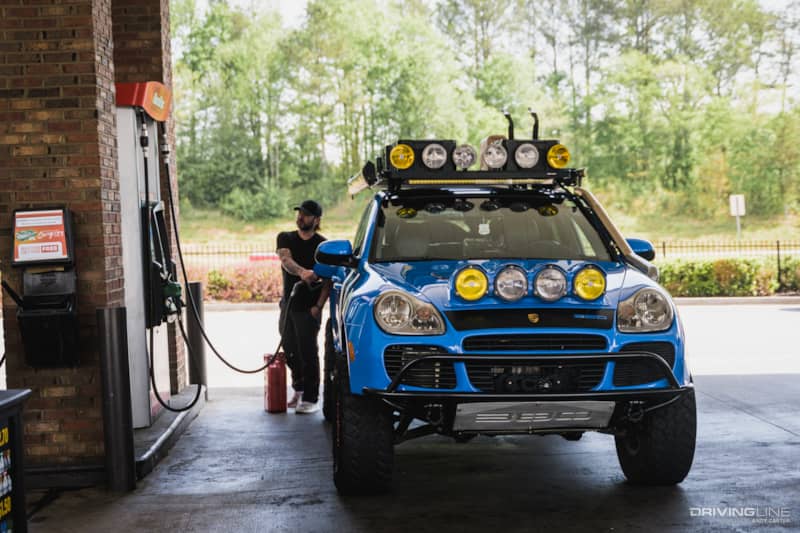 A long time Volkswagen group enthusiast, Bryson Richards originally picked up a first generation Porsche Cayenne as a support rig to run with the modified Keen Project safari-style 911's he was doing paint and fabrication for.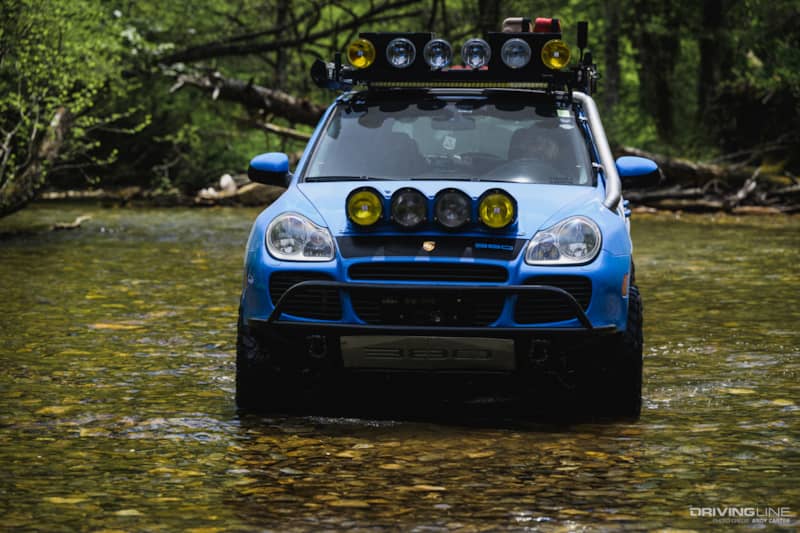 Starting with a Good Platform
Far more than just a luxury crossover, the original Cayenne represented an honest effort by Porsche to build an SUV for what had been a traditionally rugged space. Available with a low-range case, a locking differential, and height-adjustable off-road suspension, the Cayenne more than looked the part. Enthusiasts recognized that this vehicle had true wheeling potential.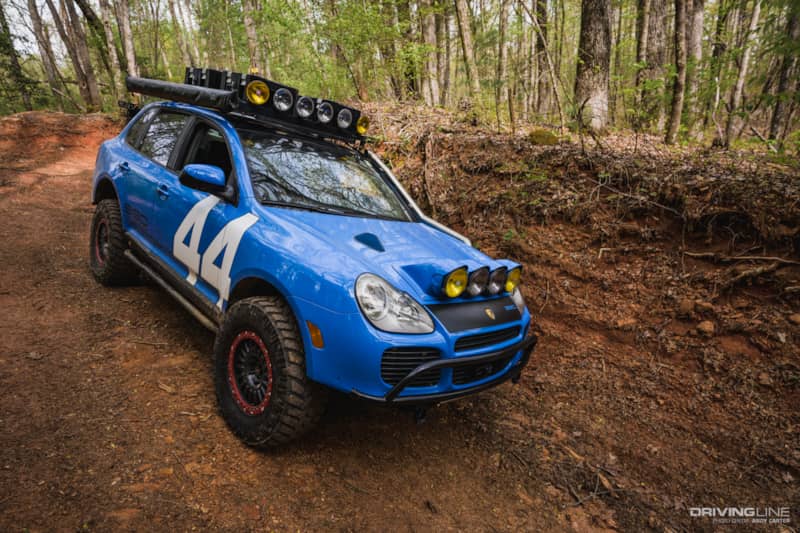 Although the V8 models were the Cayennes with the rear locker, Bryson chose to start with one of the base model V6 units. Featuring a VW-derived 3.2L VR6, the motor has been tuned to 260hp, a modest gain over the 247hp stock unit. Bryson would argue, however, that reliability is the key here rather than raw power.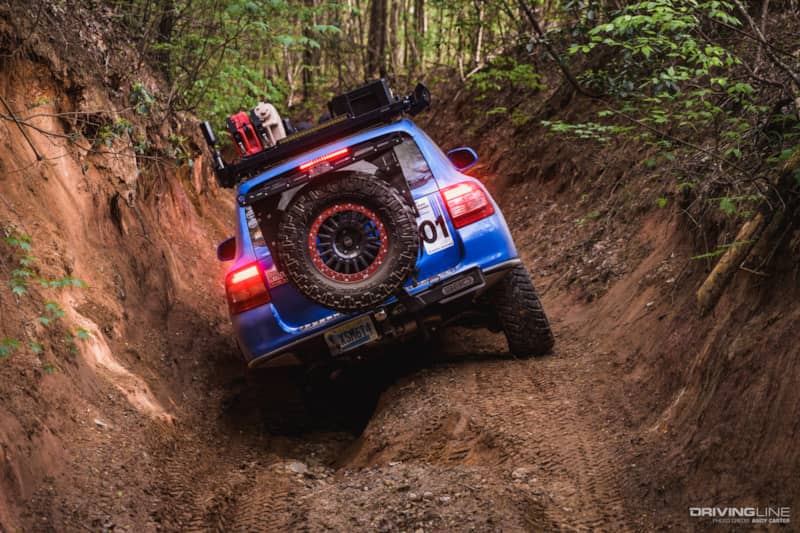 Designing an Off-Road Suspension
The biggest hurdle for the Cayenne build was the suspension. While there were a few kits available, Bryson wanted something that was designed from the ground up to work with the Cayenne's inherent strength as an off-roader.
He remembers, "Being independent front and rear suspension there were no options to get more travel before we came to the table with Motion Control Suspension. There were spacer kits but nothing to utilize the full stroke of what was already limited travel because of the Cayenne being independent."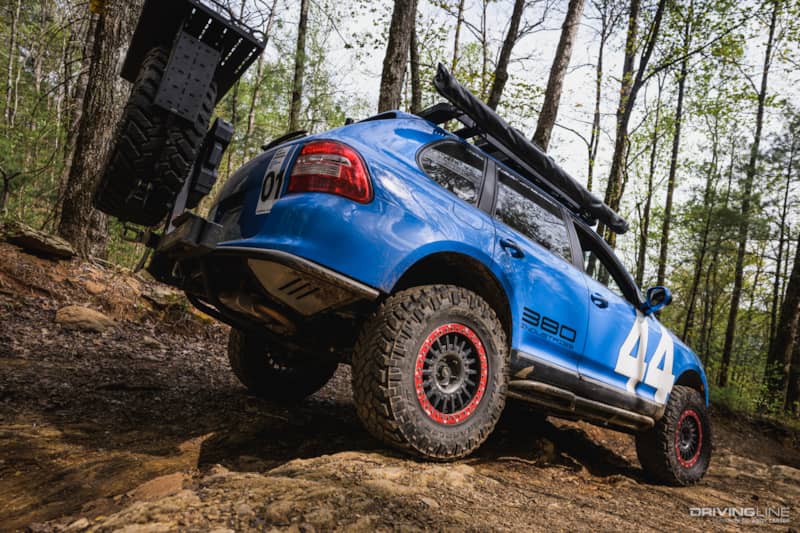 Another advantage of the MCS relationship is that the suspension design isn't confined to a single application. In the past few years, high angle axles, bushings, control arms, and more are all available now for the Cayenne platform. Bryson can make whatever length and option he wants for a shock that works with supporting mods.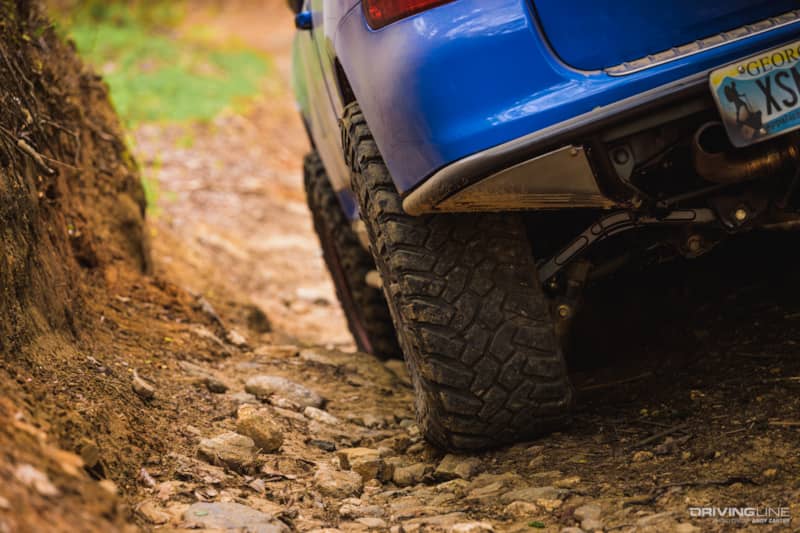 Looking the Part
Looking at the SUV from the front, the Cayenne has more than just a passing resemblance to the iconic 911 Safari cars. Pulling from his work on the Keen Project cars, this original style of bumper has become the go-to for other off-road Cayenne builds around the globe.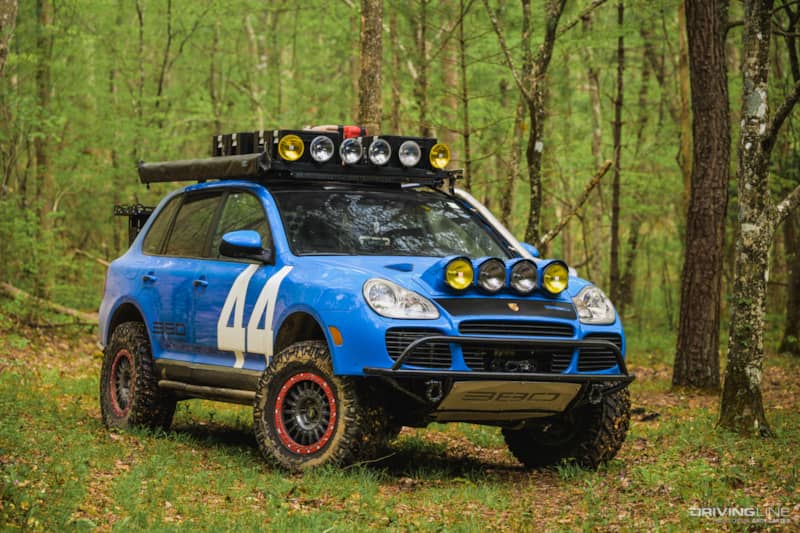 Similarly, the light pod on the front is a direct transplant from a 911 Safari car. With an extra lying around the shop, Bryson used his fabrication skills to match the line of the Cayenne hood, ultimately looking like a near OEM unit.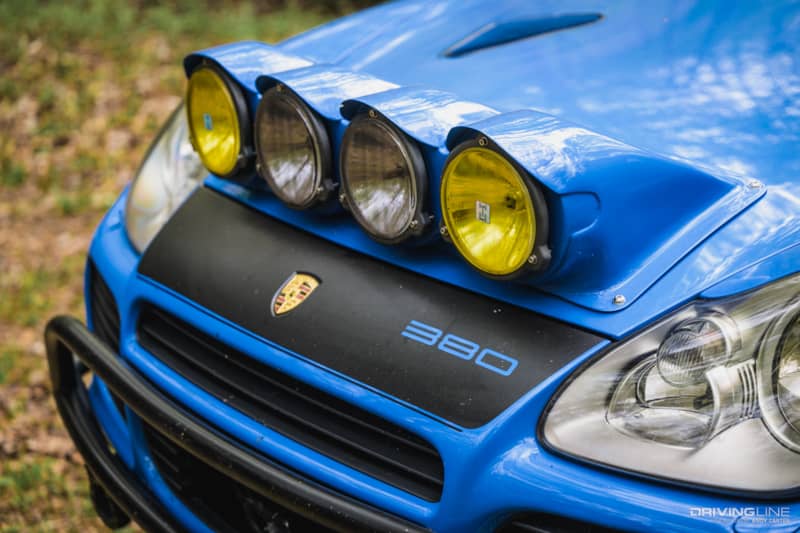 Harkening back to the lack of rear locker in the base model, Bryson borrowed the unit from the upmarket cars to retrofit his 3.2 with the OEM unit. "Mine is one of only two 3.2 Cayennes with a rear locker in the USA. People are always surprised when they find out [the Cayenne] is equipped with low range and center and rear lockers."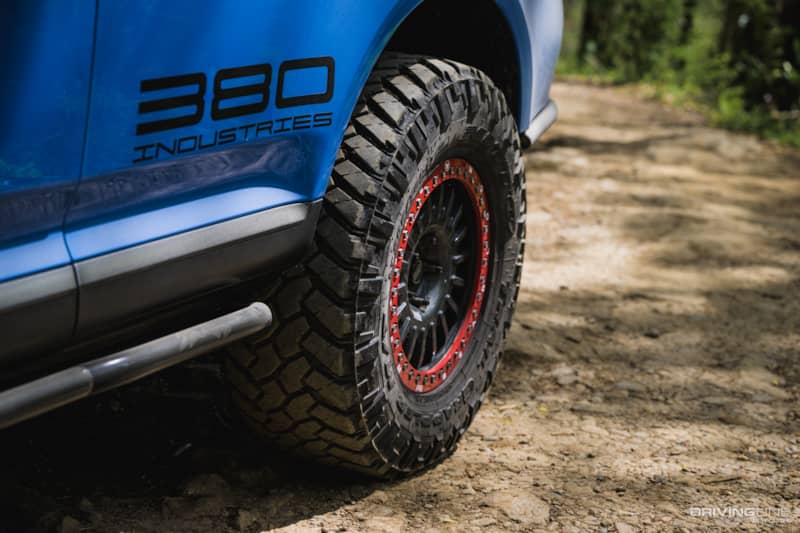 Mud Tires on a Porsche?
All that grip, however, would be a waste without the right set of tires. Having tried a number of different brands and models, Bryson has landed on a set of Nitto Trail Grappler mud terrain tires in LT295/70/17 sizing. Extremely capable off-road, the true shock came on the ride over to the trail where the combination of German engineering and Nitto's carefully designed tread pattern lead to a smooth and quiet on-road experience.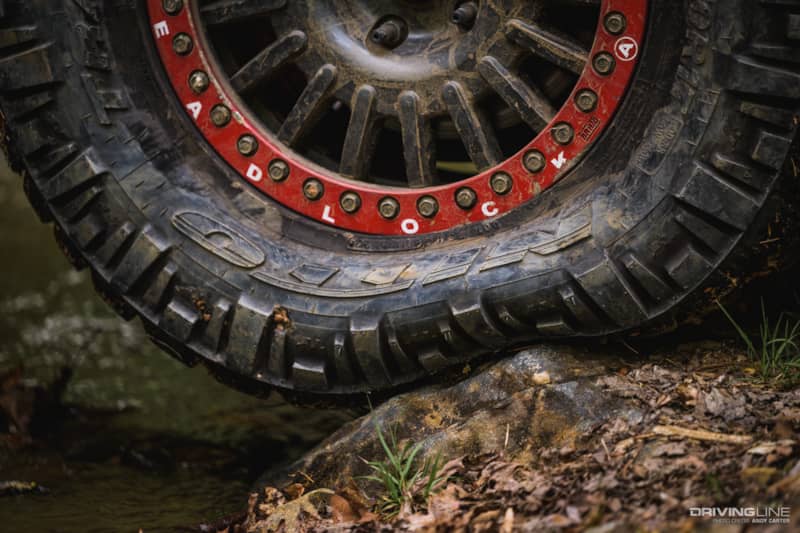 As odd as it is for many to see a Cayenne on the trails, Bryson insists that it's not just a novelty. "It's become a platform for a lot of beginners to get into but there's a good small group of us who go further," he said. "I'm a certified wilderness first responder and have been on more than a couple recoveries. Drivers are always surprised when we pull up in a Cayenne to recover them."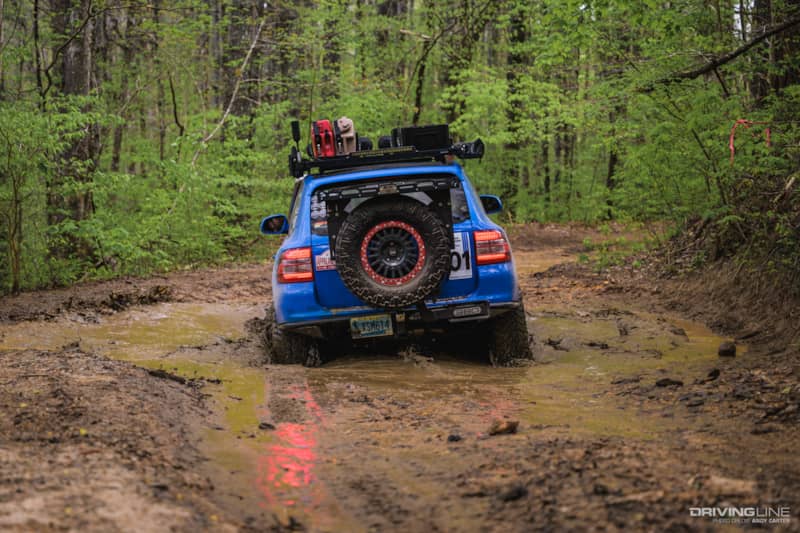 380 Industries Test Bed
Looking forward, this particular build will continue to serve as the "catalog car" for 380 Industries, Bryson's company that does full Cayenne adventure and overland builds for clients. While he stands by the reliability and durability of the V6, he admits, "The 3.2 and 3.6 equipped Cayennes are bar none the best off-road rig choice, but will leave the on road performance a little lacking."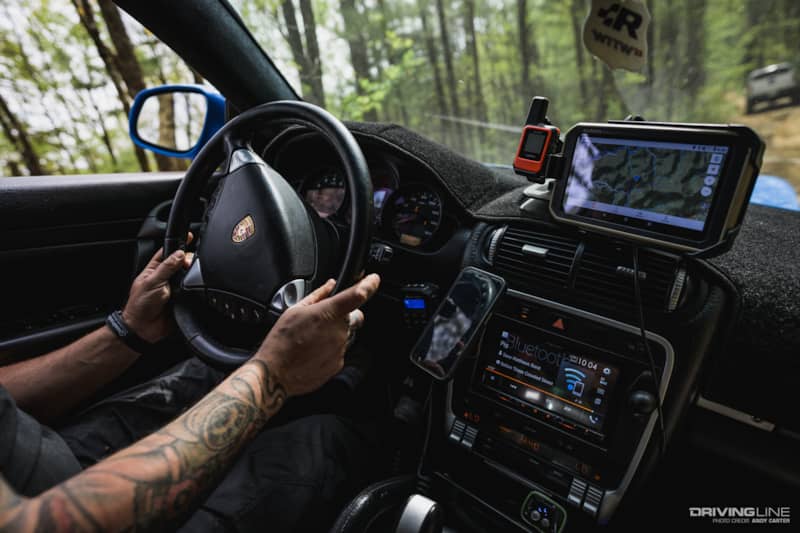 He continued, "They are still faster than Jeeps and Toyotas of the same years, but they are not "Porsche" fast. The non-turbo V8 engine in both the 955 and 957's are good options if you can find a healthy one." So perhaps a non-turbo V8 Cayenne project is in the future?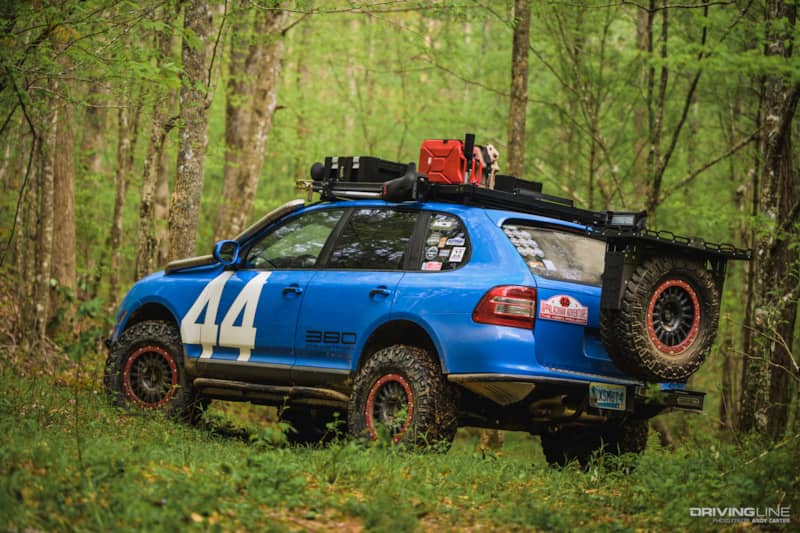 A Different Entry Point into Off-Road Adventuring
While there are certainly tons of articles on the development of non-traditional platforms for off-roading, the Cayenne isn't really an outlier for sake of OEM platform capability. Although Porsche is known for its on road-prowess, the Cayenne, and specifically Bryson's 380 Industries Cayenne, is a vehicle that can hold its own against any other traditional unibody platform, especially with independent suspension.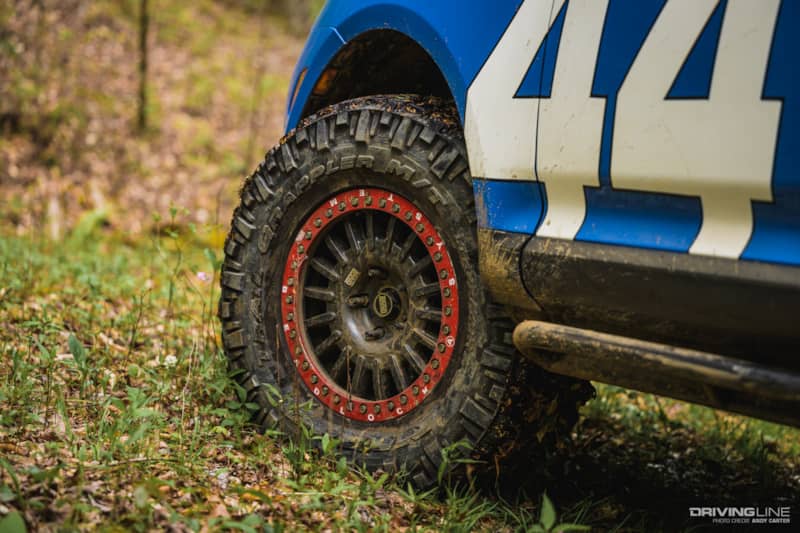 That being said, Bryson's goals aren't to climb the tallest boulder, or to pull its way out of the deepest puddle. "The Cayenne has opened doors for us to be on trips, meet people, have new adventures, world travels, push for new things," he said. "The biggest thing, though, is my family gets to enjoy it."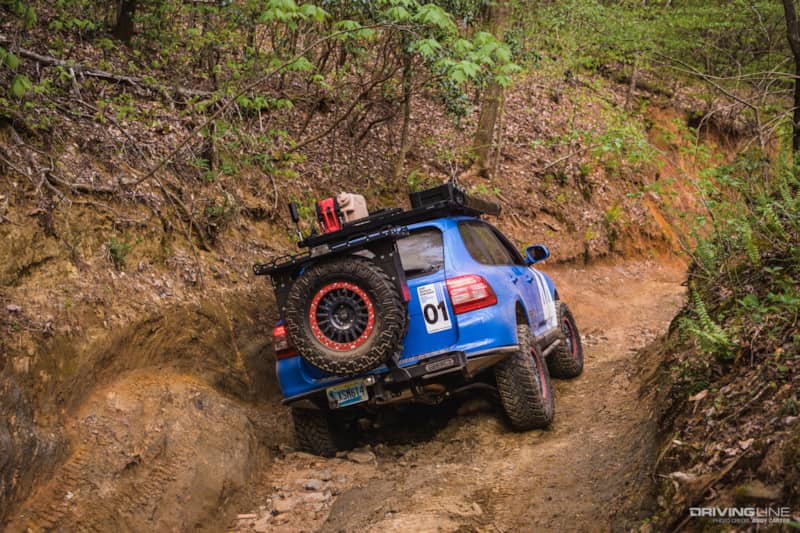 Pulling more platforms, and owners, into the off-road community makes the hobby more accessible, and hopefully, more sustainable. Whether an owner's preference is domestic, Japanese, or European, there's opportunity for everyone to respectfully enjoy the great outdoors.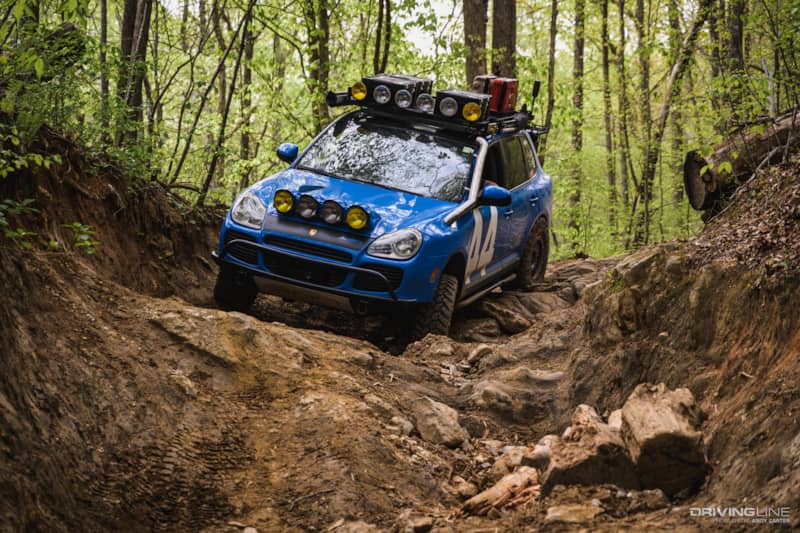 More From

Driving Line
Don't miss this deep dive into what makes the Porsche Cayenne a 4x4 bargain.