Old Blue: Simple, Yet Stunning, Slammed '68 Ford F100 Pickup Truck
Working on vehicles together creates bonds that are unlike any other. Whether it's friends or family members that build together, the feeling is the same. Sharing the struggles and victories during a build will only strengthen relationships. So, when Karleigh told her dad, Stacey, that she wanted to create a custom truck for herself, he was fully onboard. Some of Karleigh's earliest memories are of her riding alongside her father in a classic F100 and it only made sense that she wanted a custom a truck of her own.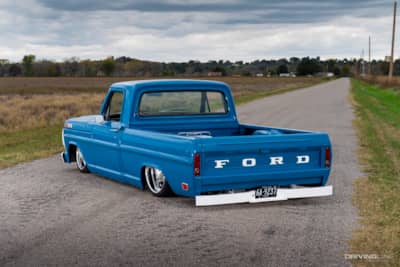 Getting Started
Stacey runs Sketchy's Speed Shop in Magnolia, TX and Karleigh is no stranger to lending a helping hand there. Being around custom vehicles only added fuel to her desire of owning a modified truck of her own. Once Karleigh was of driving age, her father decided it was time to make her dreams a reality. After finding the perfect project, a 1968 Ford F100, the two got started by stripping the truck down and removing the factory suspension.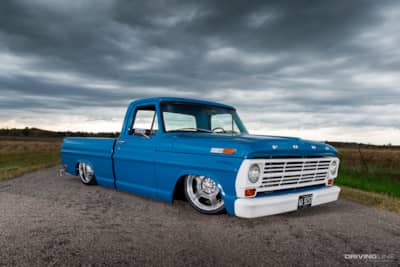 Making it Modern
Things started to get serious with an independent front suspension system from Fatman Fabrication. This Mustang II style conversion comes with front cross member, and upper and lower control arms engineered for modern drivability. Further improvement of this front kit includes the ability to run a rack and pinion steering unit that makes turning the wheels effortless. The kit was also coupled with a set of drop spindles to help the truck get low.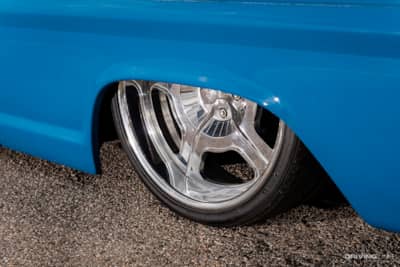 Making Room for Improvement
In the rear, the frame was notched and a 2-link with track bar was custom made to hold the Ford 9-inch rearend in place. The truck now has KYB shocks on all four corners and Firestone airbags to let it drop to the pavement when desired. The chassis was also equipped with a set of Wilwood disc brakes for improved braking power. With the foundation set, Karleigh ordered up a set of 20x.85 and 22x10 Raceline Fugitive billet wheels. They were covered in 255/30ZR20 and 275/30R22 Nitto Invo tires, which provide ultra-high performance in staggered sizes to fit applications like on this truck.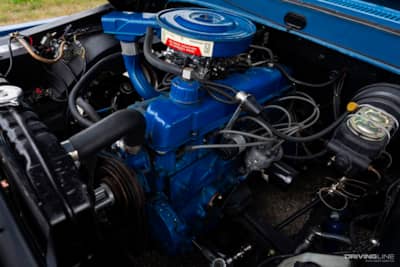 Old School Power
Keeping with the classic theme of this truck is the original 240ci inline-six that was built at the Cleveland engine plant in Brook Park, Ohio. Though this engine only produces 150hp, but it's the perfect amount of power for a teenager to get this truck rolling. For better reliability and efficiency, it was upgraded from a single-barrel carburetor to Holley's Sniper EFI system. The six-banger was also freshened up by Alan Harvey who notched the oil pan in order for it to clear the new Fatman cross member.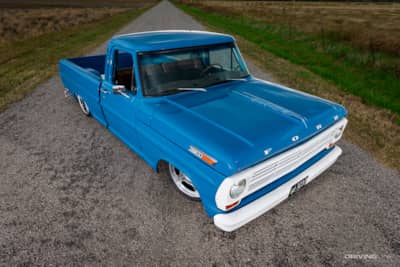 Becoming Old Blue
Continuing with the simplistic style, the exterior doesn't stray away from the original look. You'll notice that this truck has all the original pieces including the front and rear bumpers. As for the body itself, it was repaired of rust and worked smooth before getting painted in Harbor Blue, which is a Ford color of the same era as the truck.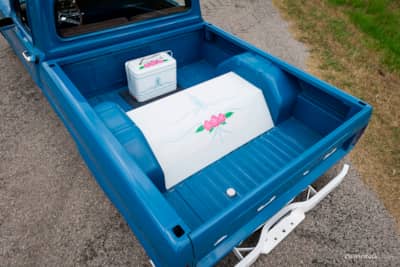 Minding the Gap
Out back, the bed floor was cut in order for the axle and wheels to travel up when the airbags are deflated. To button up everything here, the wheel tubs were extended, and a cover was made to fill the gap made for the frame notch. At the front of the bed is a cooler that's in place as a storage box. These pieces were painted white with custom "aloha" artwork, which includes pinstriping and hibiscus flowers laid down by hand.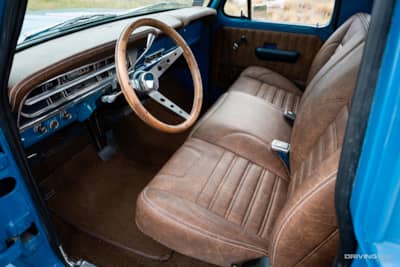 Looks and Comfort
The interior is just as clean as the rest of the truck with a blend of original style and the addition of a few modern pieces. As you can see, all the steel parts of the inside were painted to match the exterior. To further utilize the factory styling, the original gauge cluster was restored and put back into use. To upgrade the inside of the cab for looks and comfort, a complete TMI Products interior kit was installed. This includes the dash cover, door panels and bench seat. Topping it all off is a custom steering wheel with wood grip.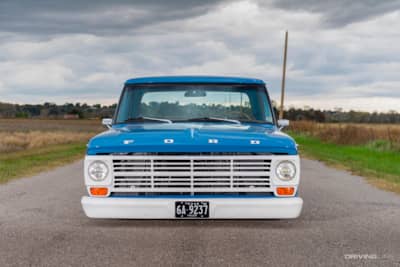 The Results
Enhanced with modern aspects, this classic truck has plenty of features that make it easy to cruise and show others how it's done. This F100 was built so well that Karleigh and her father drove it to a Goodguys event in Fort Worth the day after it was finished and snagged the "Young Guns" award during the inaugural outing. Not only is this truck a clean example of a modern restomod, it is a testament to the success of this father-daughter build team.