On-Point, '68-'71 Ford Bumpside High-Boy with an 450RWHP 6.0L
Steve Burris has done it again. The '67-'79 Ford truck hobbyist has built yet another one-of-one ride, in this case a bumpside body sitting on an '05 Super Duty frame, suspension, axles and with a 6.0L Power Stroke stuffed in the engine bay. But his creation is much more than a body swap. It was a ground-up build that called for sourcing the major pieces from '68 and a '71 model year donors, stretching the frame, integrating the Super Duty firewall and floorboard, replacing the upper A-pillars and roof, and bringing various modern luxuries into the cab.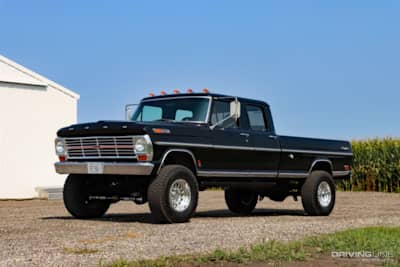 Proficient in auto body, electrical, fabricating and mechanical work, Steve handled the project, from start to finish, inside his home shop. By performing all of the work himself, he achieved exactly what he was after: a classic Ford rocking perfect paint, an industrial strength chassis, modern day solid axle ride quality thanks to the coil spring, radius arm front suspension, a 6.0L Power Stroke and TorqShift transmission combo that facilitates 450rwhp and 850 lb-ft at the wheels and Harley Davidson power leather seats. Of course, there's much more to the story than that. Keep reading for the full tour.
Bulletproofed 6.0L Power Stroke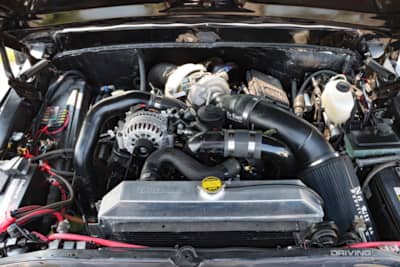 With a half-century old firewall that was beyond salvaging, Steve turned to his '05 F-350 donor for a rust-free replacement. In the end, the Super Duty firewall helped to accommodate the 6.0L Power Stroke's turbo downpipe and up-pipes much better than the original one would've. As for the 6.0L Power Stroke, it's been treated to all the normal reliability (i.e. "bulletproofing") measures, including new head gaskets and ARP head studs. With limited real estate available between the core support and the engine, Steve scrapped the 6.0L's clutch fan and radiator arrangement in favor of an aftermarket aluminum radiator and Derale electric fans.
TorqShift Transmission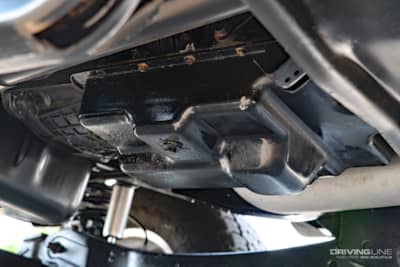 Backing up the 6.0L Power Stroke, which is graced with a larger (61mm) VGT from KC Turbos and PCM tuning from Warren Diesel, is the 5R110W TorqShift automatic transmission. The five-speed slushbox carried over from the '05 donor is known for its ability to handle nearly twice the power a factory 6.0L produces—and custom TCM tuning (also from Warren) will help ensure this is the case in Steve's application. Along with the 5R110W, the manually-shifted NV271 transfer case was retained and, with the frame stretched an additional eight inches, the rear driveshaft was lengthened and the brake lines extended.
Coil Spring, Radius Arm Front Suspension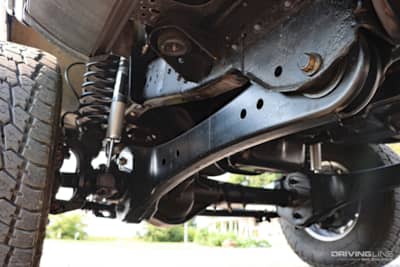 Excellent solid axle ride quality, superb strength and, thanks to the '05 steering system redesign, a tight turning radius made retaining the coil spring, radius arm front suspension a no-brainer. The one difference here is that Steve replaced the '05 radius arms with a cleaner, rust-free set off of a '12 Super Duty he had sitting in his inventory. Then to get rid of the truck's rake, three inches of additional ride height was added up front—which came in the form of 2-inch longer Skyjacker coil springs and 1-inch blocks.
Rebuilt Axles And Steering System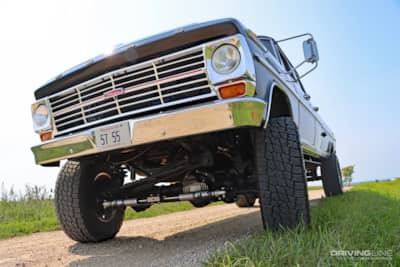 The front Dana 60 was gone through end-to-end with new brakes, bearings and seals, then hit with fresh paint and topped off with a Mag-Hytec diff cover (and the rear 10.5-inch underwent the same exact treatment). All factory steering components were freshened up as well, with a BDS Suspension dual steering stabilizer added to dampen steering wheel feedback from the 35-inch Nitto Terra Grappler G2 all-terrains.
Rockcrushers And Terra Grappler G2's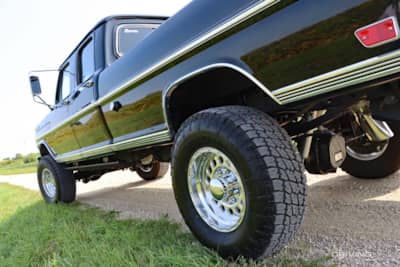 Old-school, 17x9-inch Rockcrushers from Raceline Wheels join with the aforementioned Terra Grappler G2 tires, tread that measures 35x12.50R17. It's a combination that both plays the part cosmetically yet is ready for anything Steve's daily driving duties throw at the truck. That's right, Steve built his classic Ford to drive not sit—and there is even a Class V receiver hitch out back and a gooseneck plate in the bed that proves he also tows with it..
The Perfect Mix Of Old And New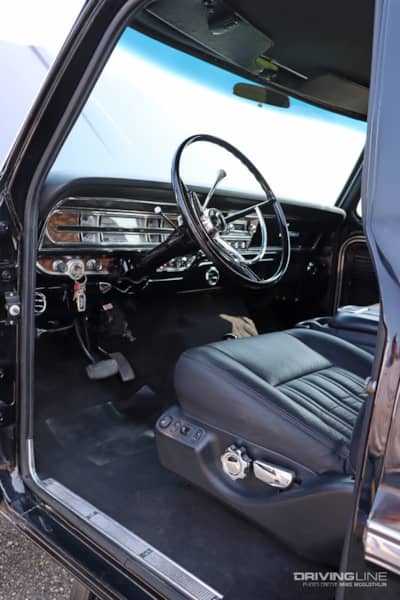 Adding a bit of comfort within the 50-year-old cab is a full set of Harley Davidson power-leather seats out of an '04 Super Duty. Like the firewall, the cab's original floor had fallen victim to the "swiss cheese" effect, which led Steve to replace it with the floor out of the '05 donor F-350. In turn, it made installing the Harley seats a piece of cake. Although barely visible here, Steve also added a pair of Amp Research retractable PowerSteps for easy cab entry.
New-Age Creature Comforts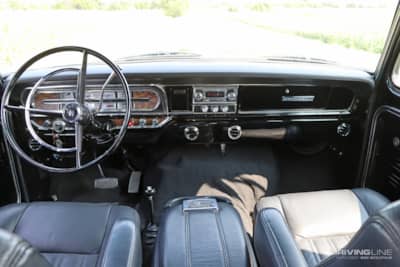 A factory bumpside dash accommodates a RetroSound radio, a Restomod A/C system and a Dakota Digital instrument cluster. Essentially plug-and-play, the Dakota Digital cluster provides extensive parameter monitoring such as transmission temp, odometer, high speed recall, various performance readings and gear position, all displayed digitally. And while the dash confirms you're behind the wheel of a classic, there is no mistaking the fact that you're sitting in what are arguably the most comfortable seats ever offered in a late-model Super Duty.
Show-Worthy, Work-Ready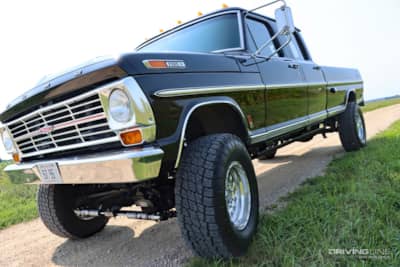 No, it's not a High-Boy in the true sense of the term, but according to Steve (and confirmed by us) his bumpside F-350 is even better. "I don't build trucks for anyone but myself, so it's built exactly the way I want it," he tells us. With a mix of '68, '69 and '71 body, cab and exterior parts intertwined with the rugged running gear of an '05 Super Duty, Steve's F-350 is both easy on the eyes yet ready to work. It's the type of well-executed build that could haul a classic Mustang or Camaro to the car show yet—without even being entered in the contest or awarded a trophy—drive away the show favorite.
More From

Driving Line
Need more diesel-powered High-Boys in your life? 

This

 

collection of 7.3L Power Stroke and 5.9L Cummins-swapped candidates might just scratch your itch.