On the Trail in Uwharrie National Forest with Ali Mansour and Kristine Fischer
Uwharrie National Forest is home to some terrific off-road terrain but back when the U.S. was a mere infant, people tackled its dirt for a totally different reason: making that money. In 1799 the first significant gold strike in the country took place here. There was even a mini-gold rush in these parts during the Great Depression. Intrepid adventurers still hunt gold in the area but others come to Uwharrie just for the sheer fun of it. The place offers versatile off-roading, kayaking, and good fishing, too. In this episode of On the Trail, Ali Mansour, Driving Line's Senior Off-Road Editor, shows us just how fun the Uwharrie National Forest in North Carolina can be, even if just for a day.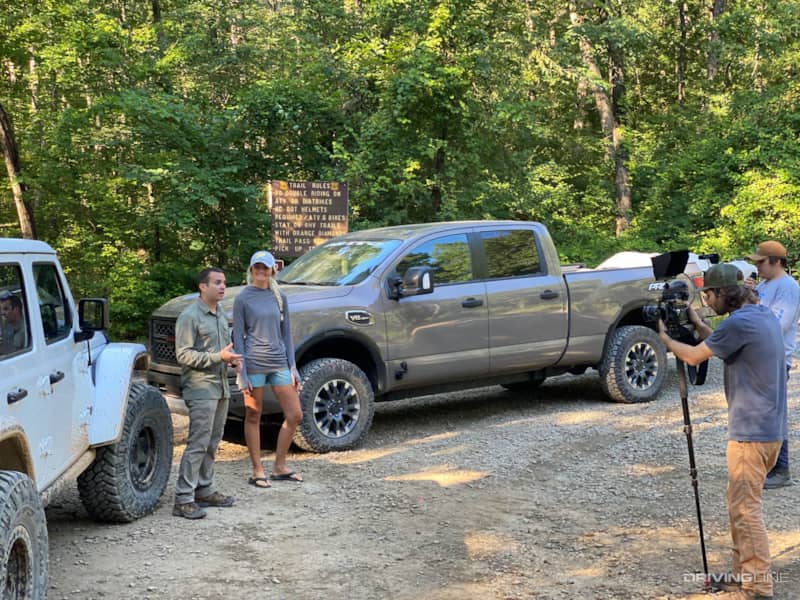 Professional Angler, Kristine Fischer, joined us and brought her Hobie kayak for some fishing in Baldin Lake. Click here to go straight to the video itself.

Let's Meet Our Contestants...
Such a versatile trail system lends itself well to a gamut of vehicles. The ones we took on this trip were pretty different. Ali ran his 2018 Jeep Unlimited Wrangler Rubicon on 37-inch Nitto Trail Grapplers.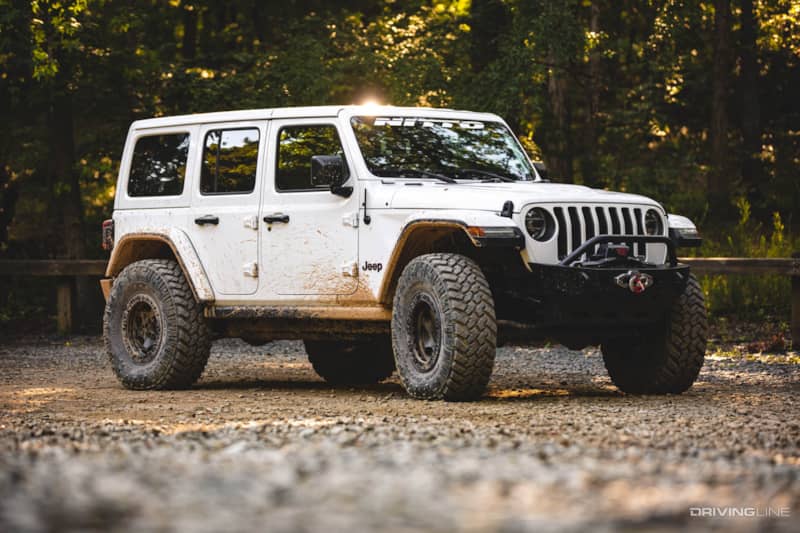 Kristine, at the opposite end of the spectrum, brought her full-size Nissan Titan on Nitto Ridge Grapplers (with a kayak in the bed, naturally).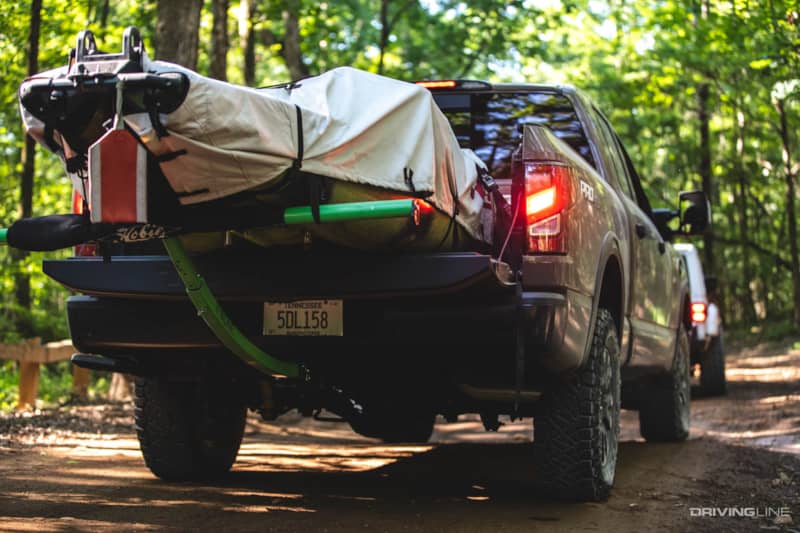 Rounding out the excursion was a Ford Ranger on Nitto Terra Grappler G2s.

Hungry Like the Wolf
Wolf Den OHV Trailhead was our starting point and we were hungry for some trail. It's a good place to start and while you're here, pick up a Uwharrie Trail pass, map, and off-road recovery card. If you're running a stocker like Kristine's Nissan Titan and you value your running boards, do them a solid and remove them as the trail will destroy them. This is also where you'll want to air down your tires; our Nittos had secondary advantage in that regard, acting as a secondary suspension.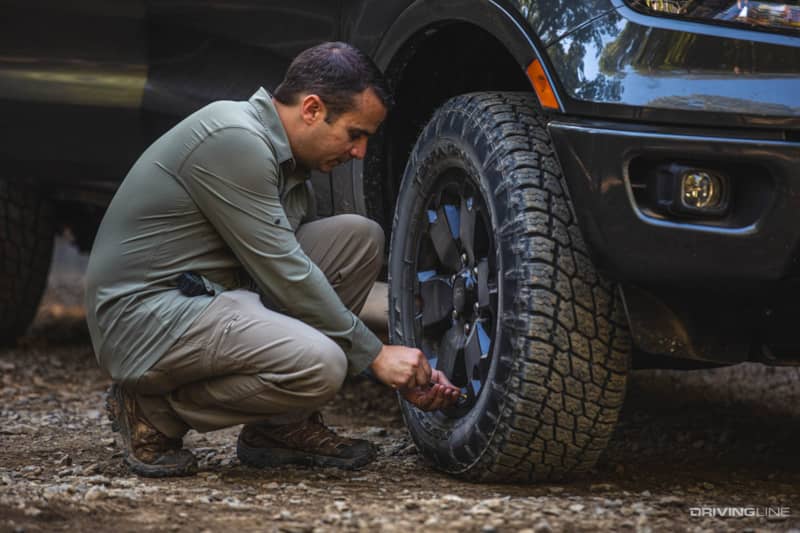 Their good grip was a vital asset too. Bear in mind that the trail has some ridges and a bit of rock crawling to it. We were there on a Friday so we ran into some trail traffic. In that situation you want to give right-of-way to vehicles heading downhill because it's harder for them to stop for you than it is for you to stop going for them as you go uphill.
Battle of Midway
As we made our way toward Falls Dam, we encountered increasing elevations midway through the trail. Remember those running boards we talked about? Here's where that gets important. The elevation changes and rocks lead to scraped frame rails for Kristine's Titan at this point.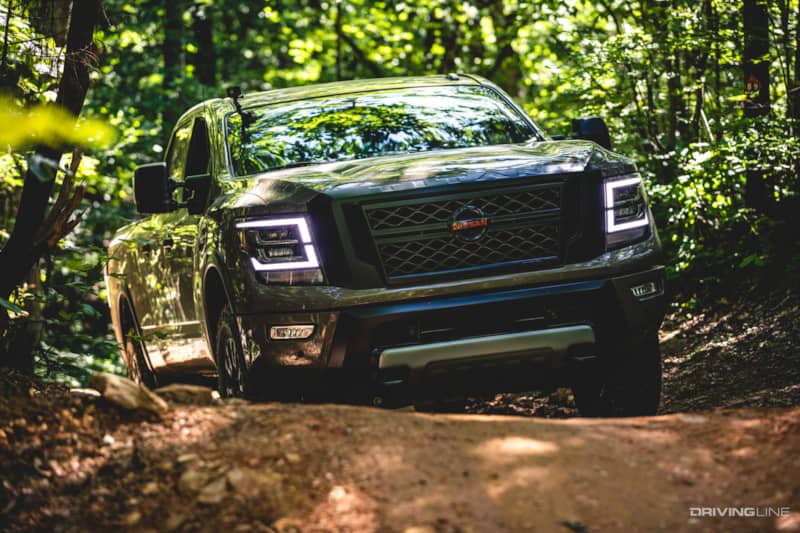 Navigating the rocks here takes some planning and strategy. You don't want to tackle just the rock in front of you; think at least one step beyond it so you're not winging it from obstacle to obstacle. Having a buddy who can scout ahead of you can be helpful for that.
Get Fishy with It
Having conquered the rock and elevation, we ran into smooth sailing for the next leg of the trip. A lot of the trails lead to Baldin Lake's Fall's Dam. We took the main road to the Fall's Dam Parking Lot at this point. From there we cut down to the cove where Kristine put her Hobie kayak right in the water and ventured out to catch some fish.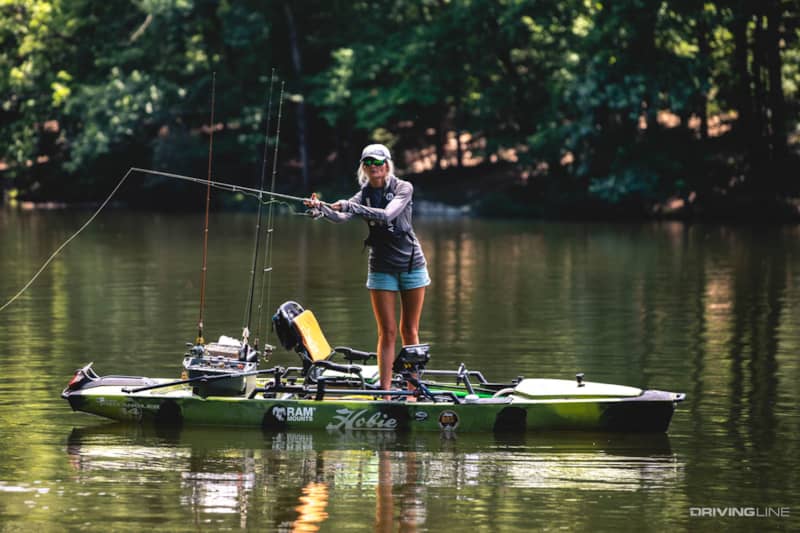 The fish weren't into biting at first with the bright sun overhead but when cloud cover floated in, they started biting.
For Whom the Bell Tolls
Kristine schooled us in the finer arts of angling and then Ali returned the favor. Part of the beauty of Uwharrie National Forest for off-roading is its varying terrain for honing your skillset. Dickey Bell trail was our next leg and it's got a little of everything: a cool rock garden, lots of scenery, and a fair amount of wildlife.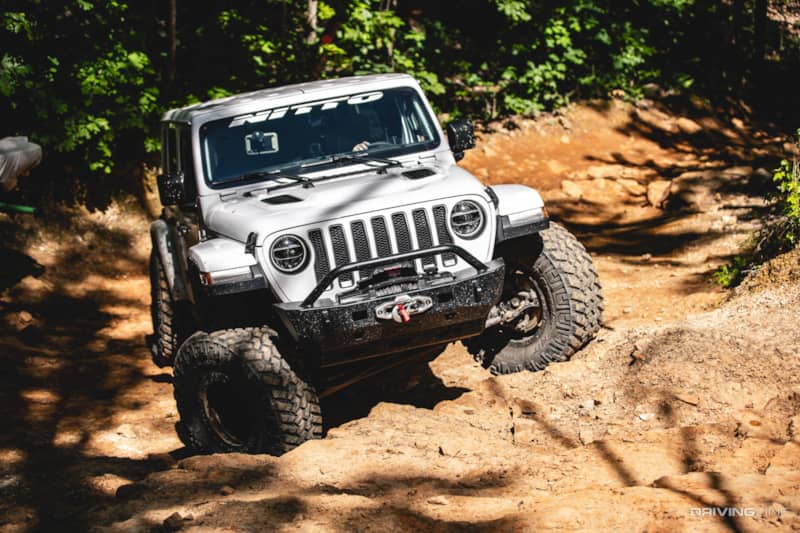 It also gave Kristine a chance to up her off-road game and she didn't hesitate to take the wheel of Ali's Jeep instead of her truck. As Ali noted in the video, the rocks are loose here so picking your line is a priority. Our Nittos gave us great traction over not just the loose rock but the larger ones too. Beyond that, they also build confidence in situations like this, as Kristine found out, noting that the tires did a lot of the work along the way.
That's a Wrap
Day's end found us at the Eldorado Outpost for the post-game wrap-up. We had three different types of vehicles with as many different types of tires. Traditional all-terrain in the Grappler G2, a hybrid tire in the Ridge Grappler on Kristine's truck, and the mud terrain rubber of the Trail Grappler on our Jeep.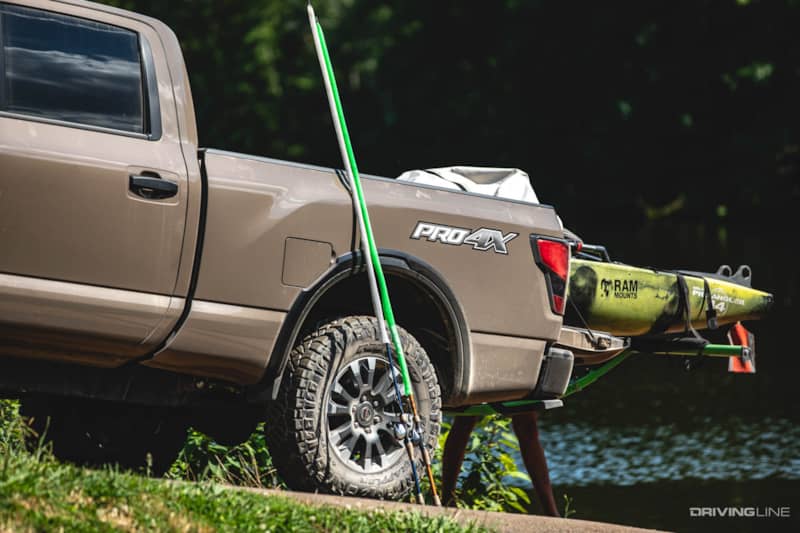 It only seemed right to run a wide range of tires on such a diverse trail system. If you want to see how well they performed, watch the full video here and see for yourself.