How Important Is Tire Noise to Truck Owners?
If the majority of your truck's miles are accumulated in the rough, this article doesn't apply to you. But if you're like most pavement-pounding pickup owners these days, tire noise—at least to some extent—weighs on your mind when you're on the hunt for new tread. Online search inquiry statistics show that most truck owners search for "quiet tires" and tires with "aggressive tread" simultaneously. As you might've already guessed, all-terrain tires are the big winner here, thanks in large part to their ability to check several boxes off at once. Today's all-terrains are quieter and more capable off road than ever before. And if you pick the right A/T, ride comfort, tread wear and even fuel economy doesn't have to be sacrificed.
With few compromises present with all-terrains, it stands to reason why they enjoy so much popularity. But just because low tire noise is one of an A/T's primary enticers (and one of the main objectives for many prospective tire buyers), does that rule mud terrains out of the equation completely? Not exactly. Over the past decade, mud terrains have become more well-mannered than ever before thanks to different rubber compounds, well-engineered tread patterns and cutting-edge sound equipment all being used during development. In recent years, one tire manufacturer has even blurred the lines between A/T and M/T tread patterns in what's been called a hybrid terrain. It's quiet yet highly capable off road—and it's seen tremendous success so far.
So what is the average truck owner's expectation for tire noise? Do they even care? And if they do, where do they draw the line? After speaking with a handful of truck owners that've all owned their fair share of all-terrains and mud terrains over the years, this is what we found.
A Little Background…
All-Terrains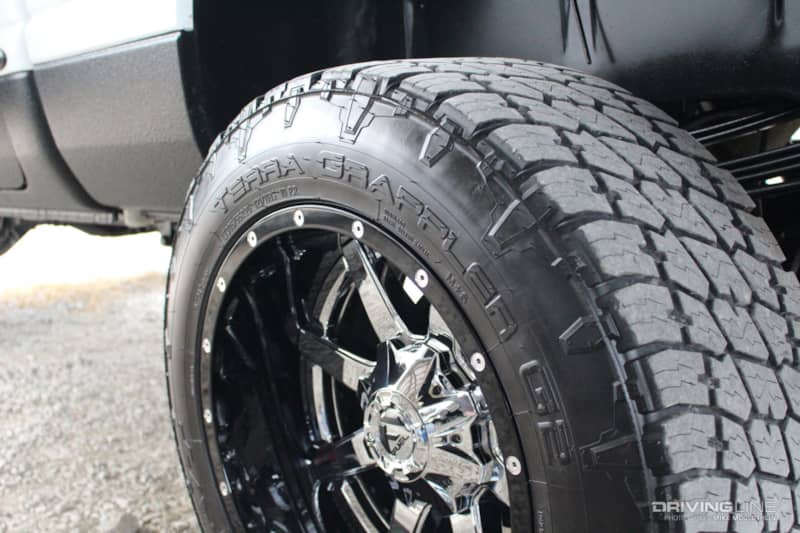 If you want a tire that performs above average in virtually every category that matters to truck owners, it's hard to beat an all-terrain. For pickups that are expected to do a little bit of everything, the age-old A/T is simply the safest bet. Quiet on pavement yet capable off-road and with great drivability on both dry and wet surfaces, it's no wonder all-terrains are the go-to tread for truck owners. Throw in a satisfactory comfort rating and favorable tread life and an A/T practically sells itself. Nitto's Terra Grappler G2 is one such all-terrain that checks all of those boxes—not to mention the fact that all hard metric sizes it comes in feature a 65,000-mile limited tread wear warranty.
Mud Terrains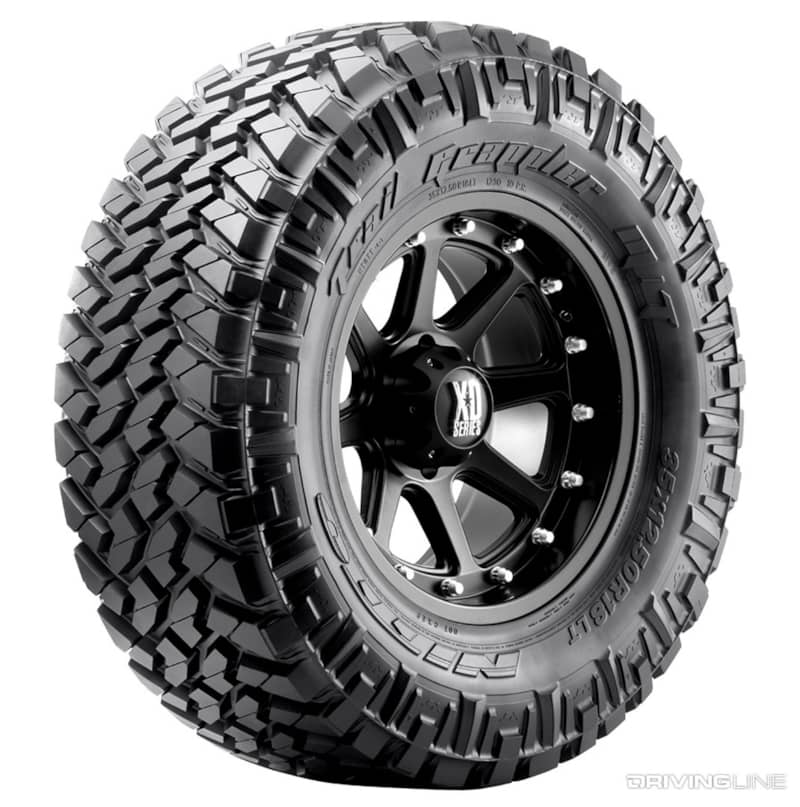 Aggressive looks and considerably better grip than an all-terrain make the mud terrain a common purchase for today's truck owners. The trade-off is more tire noise (namely at highway speed), but many tire manufacturers have gone to great lengths to turn down the volume when traveling on pavement. While developing its Trail Grappler, Nitto's engineers were able to arrange the tread blocks' size, shape and position in a way that decreased tire noise by 34-percent at street speeds and 36-percent at highway speeds when compared to the extreme terrain Mud Grappler. The Trail Grappler may not be as quiet as its all-terrain and hybrid terrain brethren, but it is one of the tamer mud terrain options in the light truck tire market.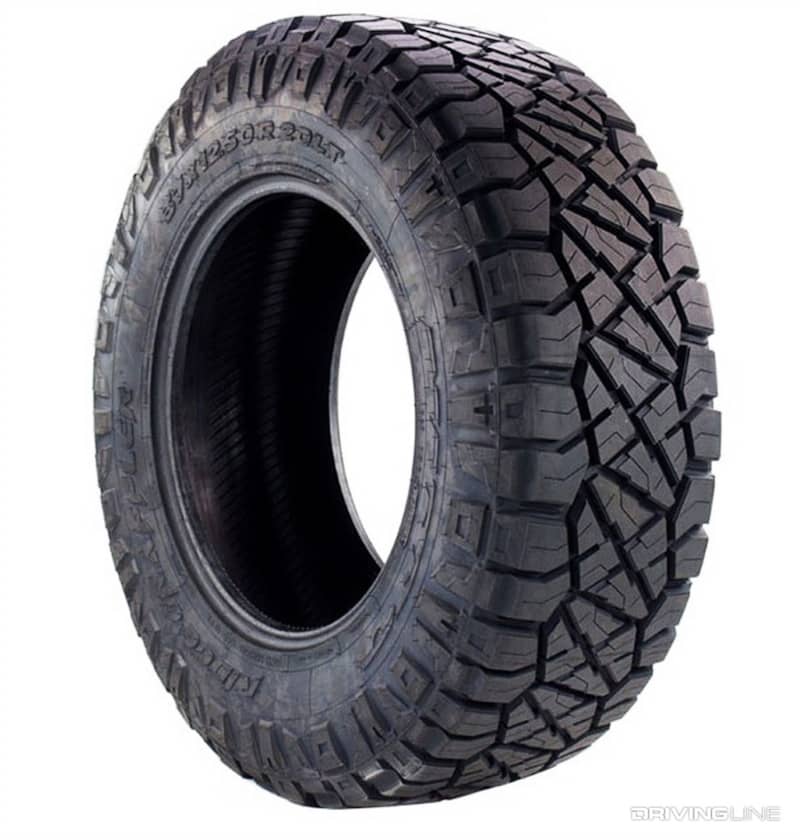 For a little more bite than what the aforementioned Terra Grappler G2 and the original Terra Grappler offer, Nitto designed the Ridge Grappler: a hybrid terrain that's more aggressive than an all-terrain but that possesses far better road manners than a mud terrain. This tire's variable pitch tread pattern keeps it quiet at highway speeds, its shoulder grooves are positioned in varying lengths and widths to help clean out the voids (and preserve traction) and reinforced tread block foundations reduce flex. Aesthetically, its physical appearance is also considerably different than pretty much anything else in the tire industry.
Load Capacities Fit For Today's Heavy-Duty Trucks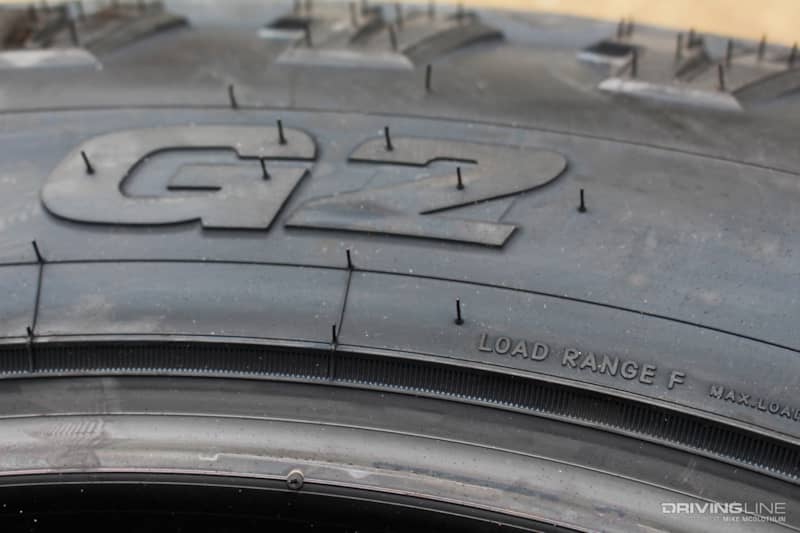 With the towing and payload capabilities of today's ¾-ton and larger trucks inching higher and higher each new model year, it's important to have tires that allow you to use your truck to its full capacity. E load range tires have long been a necessity for drivers whose trucks live at the GCWR or GVWR mark, but with current 1-tons now capable of towing more than 30,000 pounds F load range tires are becoming more desirable by the day. This version of the Terra Grappler G2, a 35x12.50R20, comes with a hefty 3,640-pound load capacity. An F-rated version of the Ridge Grappler and Terra Grappler G2 is also available in this same, popular size.
Now About That Tire Noise…
Today's Soundproof Cabs Definitely Help Muffle Tire Noise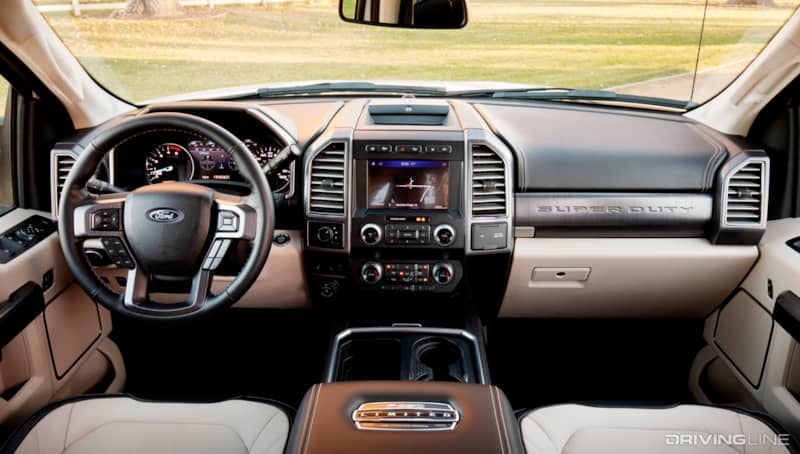 One thing to keep in mind when coping with road noise from aggressive or semi-aggressive tires is that today's late-model trucks have the quietest cabs they've ever had. They're tightly sealed, insulated and isolated so well from the noise of the engine (think diesel) and the rest of the chassis that the average tire hum that used to put you to sleep is barely audible. Thanks to the automakers pouring so much R&D into NVH reduction, driving a late-model truck makes slight to moderate tire noise a non-issue for most people.
Realistic Expectations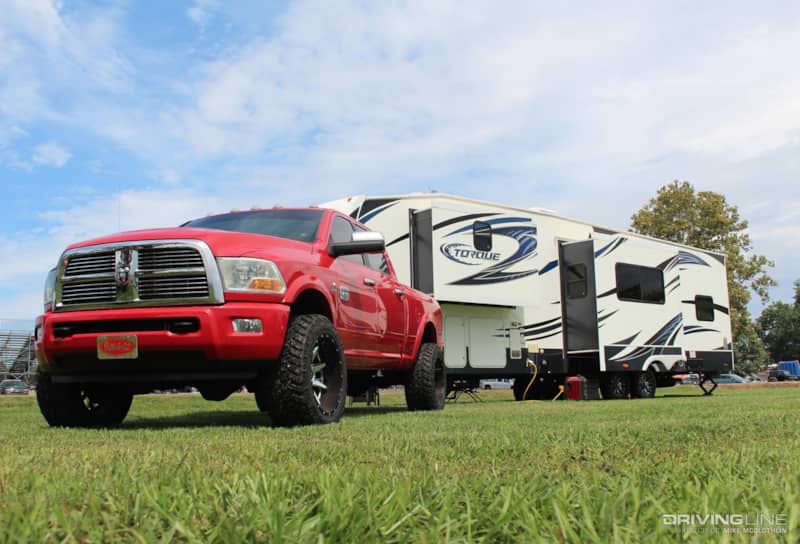 Most truck owners know that no tire is perfect, so the majority of them have realistic expectations. Many of the die-hard diesel guys we've spoken with don't seem to mind road noise, but this is only true to a degree. They aren't thrilled about the audible increases that come with the more aggressive mud terrains on the tire market, but they can cope with some high speed audibility so long as it's relatively negligible and comes without sacrificing ride quality, tread wear rate and especially off-road performance.
Mud Terrains According to J.D.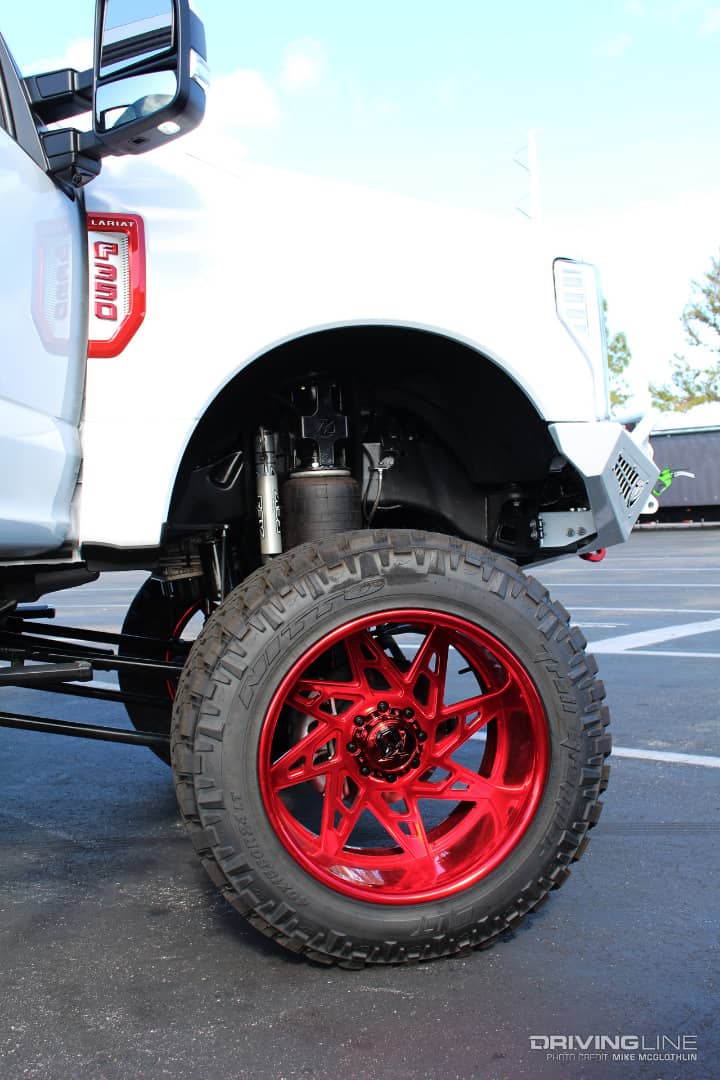 J.D. racks up more than 40,000 miles a year on both his personal and work vehicles, not to mention the fact that he spends most weekends tearing across the desert, so he eats through his fair share of tires. For him, having a mud terrain that is capable of getting him through the sand, dirt and rock he encounters is worth putting up with a tolerable amount of road noise. "For me, I can deal with a little bit of noise, but with the new cabs being so quiet on trucks these days you can't hear a noisy tire nearly as much," he told us. "Of course, on my OBS Ford you couldn't hear the tires on it if they were made of concrete thanks to the noise from the 7.3L Power Stroke."
Hybrid Terrains According to Jake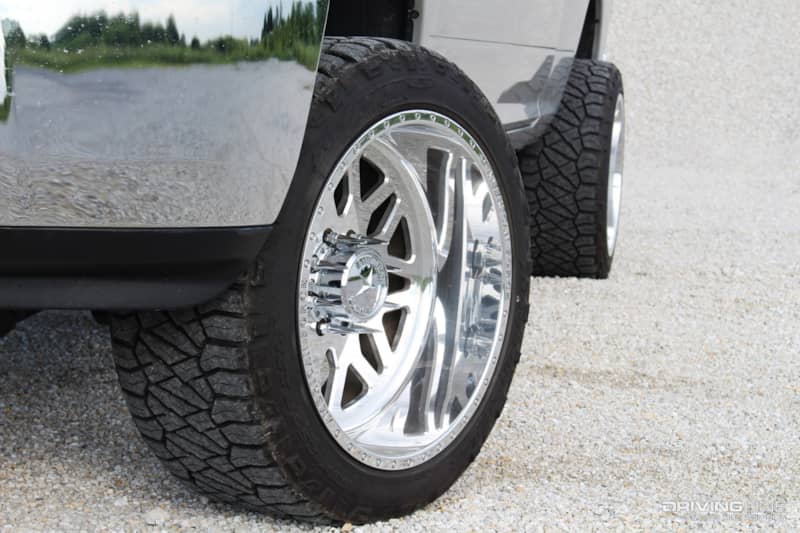 They don't come more die-hard Cummins than Jake. On his third Cummins-powered Ram now, he's accumulated a boat load of miles on the set of 33-inch Ridge Grapplers aboard his fourth-gen ¾-ton. And even though he admits the tires are making a little more noise now that they've reached 50-percent wear, he affirms it's very subtle. "A slight tire noise doesn't bother me at all," he said. "It only bothers me if I can hear it over the exhaust on the interstate—but I've never had a set of Nittos that've done that."
All-Terrains According to Brian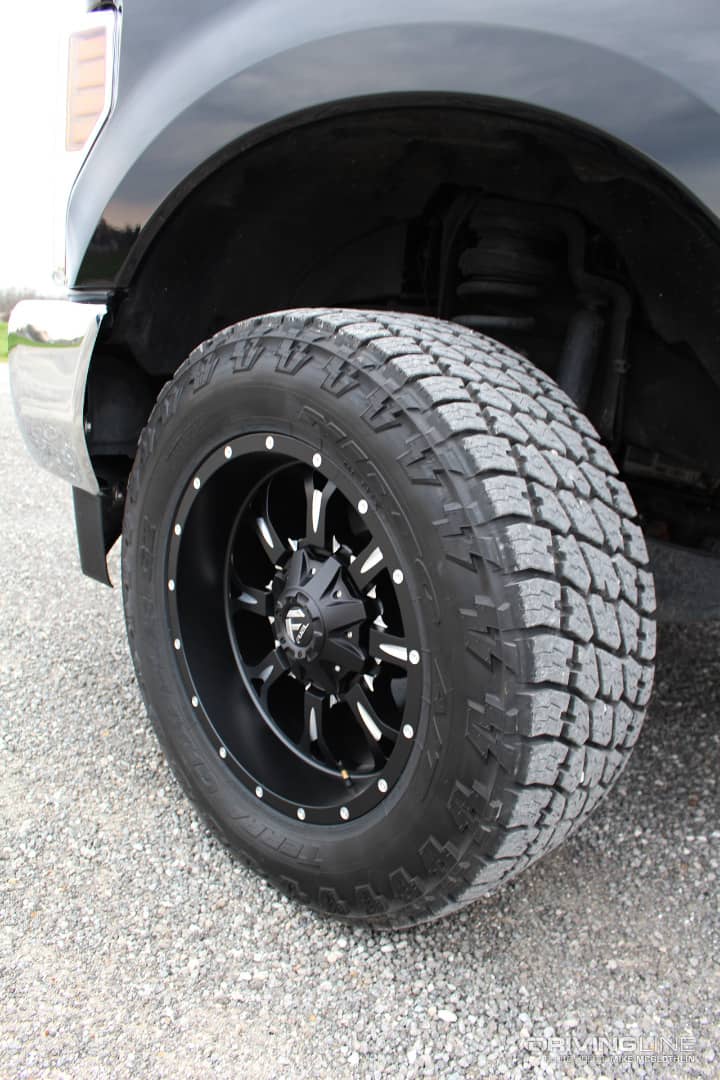 Brian is a diesel owner who's run all-terrains on four different trucks over the years. His latest ride, an aluminum bodied Ford Super Duty, has shown him just how advanced the sound deadening has become on newer trucks. Because it's so quiet in the cab, he's willing to tolerate more tire noise than he used to be—although he's currently running a set of Terra Grappler G2's which he says he's extremely happy with. "I definitely think the cabs are quieter. I would attribute a lot of the quietness to the new cabs." He then added: "But I don't mind a little tire noise at all. They [the G2's] do have a little more noise than the factory tires, but that was to be expected being that they're more aggressive and noticeably bigger." Brian also told us that if noise was his primary concern he would start with the truck's 5-inch aftermarket exhaust system, not the tires.
Want to know more about Nitto's hybrid terrain Ridge Grappler? Check out our long-term review series right here.