Avoiding Traffic: Jimahajer's Overland Toyota Tacoma
The builders of this truck are Felixx Cho and Chris Oi, co-owner/operators of Jimahajer Garage (JH Garage) located in La Habra, California. There is little that's unusual about how their shop performs a variety of services, from regular maintenance to aftermarket installations and wiring on off-road/overland vehicles with a Toyota vehicle specialty. There is, however, a bit of a story behind the name of their shop, Jimahajer. Felixx Cho broke it down for us, "We certainly don't know of a Jim A. Hajer, if he even exists. Did a cat run over a keyboard to create our name? Maybe. 'HAJIMA' is the Korean word for DON'T. It's something that is embedded into everyone's brains growing up: Don't touch this, don't shout, don't jump, don't run, don't go wandering, don't do this or that... all sorts of limits and barriers are implemented from the moment we are born." Cho continued, "But the world is a vast place and possibilities are out there. Jimahajer is a word we formed by flipping 'Hajima,' which now means a 'DOER.' Our goal is to do things and do things right. It's a little hard to pronounce and a mouthful to explain, so we generally shorten the name to JH Garage." Building overland trucks seems like a natural avenue for the shop to pursue because of what overlanding is—self-sufficiency, freedom and the ability to go nearly everywhere.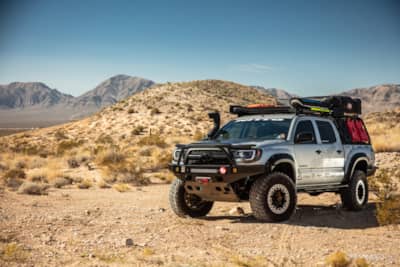 Ready for SEMA
After seeing the 2011 Toyota Tacoma they built for SEMA 2018, we had to learn more about them, like how they were chosen to build something for the event. "We first got involved with SEMA with a 2016 Toyota Tacoma designated for DECKED Storage Systems booth. It was supposed to be our only SEMA build. Next thing we knew, our 2011 Toyota Tacoma was also registered as a feature vehicle with Sondpex, and we had five other builds contact us from various companies as well. We had total seven builds at SEMA 2018," Cho said. It's obvious that the shop has their collective fingers on the pulse of the current overlanding phenomenon and aftermarket parts manufacturers know it.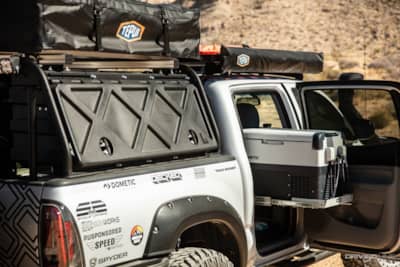 Made for Them
Their 2011 Tacoma was born from their desire to have an overland build of their own. "We'd built them for others, but we had a 2WD Toyota RAV4 and a 4WD Honda CR-V that were only capable of fire roads as opposed to the tougher terrains. We wanted something better for overlanding," Cho said.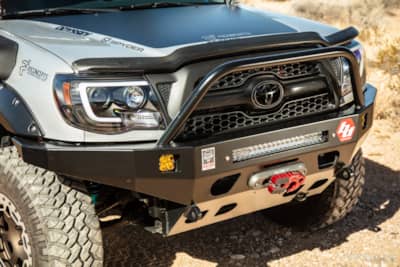 What could be better for overlanding than a 2011 Tacoma? Not much, and they didn't have to try hard to get it. "We found our 2011 Tacoma by accident. We'd wanted a truck that was more capable than the RAV4 and the CR-V, but we weren't actively looking. One day Chris and I were driving back home from Las Vegas, but there was a bunch of traffic and we got bored sitting there doing nothing. We started looking up used car lots on my phone while he drove and stumbled across an ad for a 2011 Toyota Tacoma TRD Off-Road that was very close to where we were sitting in traffic. We pulled off the freeway to go look at it and kill some time until traffic died down. We didn't expect to instantly fall in love as soon as we saw the truck, but we certainly did. What was supposed to be a time-killing stop turned into an instant purchase," Cho said.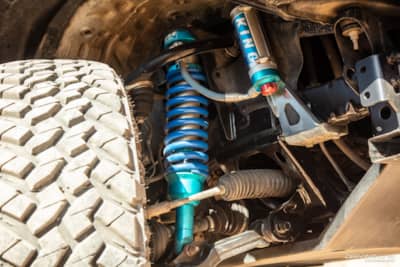 All the Right Gear
Tacomas are capable, but they wanted the ability to go far off the trails without problems, meaning the suspension needed to be upgraded. King 2.5 coilovers with remote reservoir and extended travel were secured to the front of the vehicle with Special Product Company adjustable upper control arms. A Deaver Springs custom leaf spring pack (with a 900lbs static weight rating) works with a complementary pair of King 2.5 remote reservoir shocks with extended travel bolted to the rear.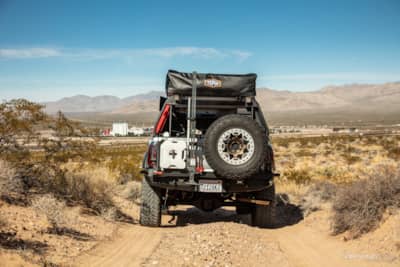 Perfectly complementing the upgraded suspension components are the durable tires they chose. "One of the perks of owning and operating a shop is that we get to test a variety of products, tires included. We were on the fence between two different tires for the 2011 Toyota Tacoma, but when we saw how the Nitto Trail Grapplers performed on our 2016 Toyota Tacoma, we were sold on putting them on our personal overland build," Cho continued. "They held on every terrain we went through, whether it was dirt, rocks, snow or sand. Even when we changed our wheels and tire size, we picked up Nitto Trail Grapplers again. We had no reason to look for any other tire."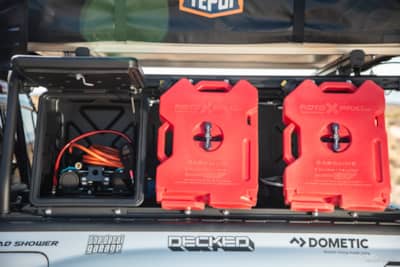 There are about a million alterations to the interior and exterior of the Tacoma, but the engine compartment didn't receive any notable modifications. Cho explained why: "We found the 4.0L V6 engine in the Toyota Tacoma sufficient as is and highly reliable. We didn't put a supercharger in it because the purpose of the truck isn't to go fast, but to overland."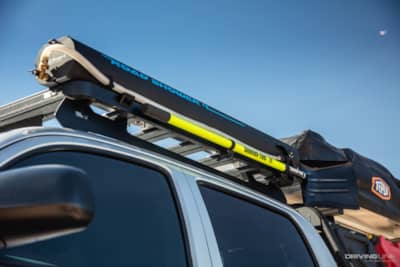 In the midst of building overland vehicles for customers, they make sure to take the Tacoma out in the dirt every once in a while. "We try to go out at least once or twice a month to camp. The trips are usually on a whim, whenever it fits our schedule, but we plan on taking it to King of the Hammers," Cho said. The trips are usually relaxing, but they serve other purposes as well. "When we're out camping we use the truck to asses products before offering them to our customers so we can see how they hold up in the real world and test the quality of the products."
Overland Gear Specs
Suspension:
King 2.5 Front Remote Reservior Coilovers w/ Extended Travel and Adjuster and 

2.5 Rear Remote Reservior Shocks w/ Extended Travel and Adjuster, 

Special Products Company Adjustable Upper Control Arms and 

Deaver Springs custom Rear Leaf Spring Pack (900 lb Static Weight Rating)

 
Bumpers and Skid Plates:
Mobtown Offroad Front Plate Bumper, Rear High-Clearance Plate Bumper with Swing-out, Rock Sliders, Reinforced Transfer Case and Transmission Skid Plate, Reinforced Front IFS Skid Plate, Hi-Lift Rock Slider Adapter and Locking Storage Door
 
 
Battery:
Odyssey 34R-PC1500 and 25-PC1400 Batteries
 
 
Lights:
Switch-Pros 9100 Bezel Style 8-Switch Panel and Power Tray, Baja Designs Squadron Sport Fog, Ditch, Rear, Bumper and Bed Lights, Rigid Industirs 20" LED Light Bar, Hard Korr Lighting Full Color LED Rock Light Kit, Spyder Auto V2 Projector Headlights and Spyder Auto LED Tail Lights
 
 
Bed Modifications:
Leitner Designs Bed Rack, Gear Pod and Gear Pod XL, Decked Truck Bed Storage System w/ Locking Drawers, Mountain Hatch Tail Gate Cover
 
 
Roof Modifications:
Front Runner Slimline II Roof Rack, Ratcheting Shovel Mount, Rack Mounted Bottle Opener, Tie Downs, Stratchits, Awning Brackets, Tepui Explorer Series Kukanam 3 Tent, Tepui 4ft Awning
 
 
Exterior Modifications:
Bushwacker Fender Flares and Beyond Wraps Gen 2 Hood Stamp
 
 
Winch:
Smittybuilt X20 10K Waterproof Winch w/ Synthetic Rope and Factor 55 Flatlink
 
 
Other Gear:
Rotopax, Hi-Lift Jack Extreme 60" Shoveltec Yellow Shovel, Rago Fabrication Quick Release Fire Extinguisher Mount, Dometic CFX-50 Portable Refigerator/Freezer and Slide, Mixed Metal Work Custom Seat Delete Fridge Mount, Smittybuilt G.E.A.R. Seat Cover, Trasharoo, Roadshower 4 and Gibson Performance Exhaust
 
 
Electronics:
Kenwood Ham Radio TM-281A, Whistler XP3000i Power Inverter, D23RS Dash Camera with GPS and WiFi
 
 
Wheels and Tires:
VTX Custom Prototype Beadlocks, 285/70R17 Nitto Trail Grapplers
 
 
Watch a full feature of Jimahajer Garage and their awesome overland builds!