How to Camp Off-Road: Which Setup Is Best for You?
Without a doubt, one of the best parts of an off-road adventure in some remote destination is the opportunity to spend a night in nature. Whether you're in the desert, mountains, forests or along the coast, camping and off-roading go hand in hand. But how you camp can have a significant impact on what equipment you'll need to bring with you, how much space your rig has and more than likely, how comfortable you'll be. In this article, we break down some of the most popular ways to camp while out on the trail, describing the pros and cons of each and why they may be the best choice for your next adventure.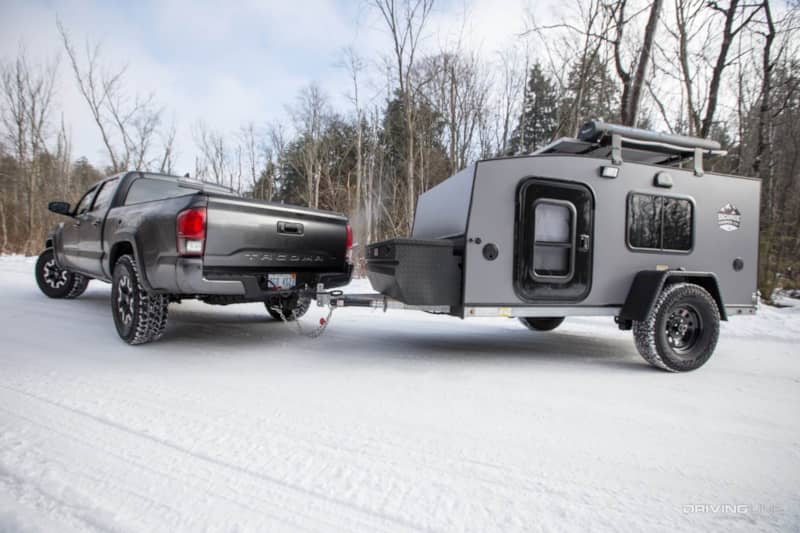 Sleeping Under the Stars
The first method on our list is by far the most primitive, but extremely effective for light-packers and those who don't mind the elements. Simply placing a sleeping pad on the ground near your firepit and cozying up in a proper temperature-rated sleeping bag is a great option for many who are really in touch with their wild side. In addition to getting as close to nature as you can while you dream away, this method saves the most amount of space, and virtually requires no extra equipment. If you've got a smaller, bare-bones rig without much storage space, this may be the best option for you. Obviously, this method of camping isn't ideal for many people who prefer to have a solid barrier between them and the elements (and the creatures who thrive there), but it truly is the only way to "sleep under the stars." We can guarantee the views are unmatched.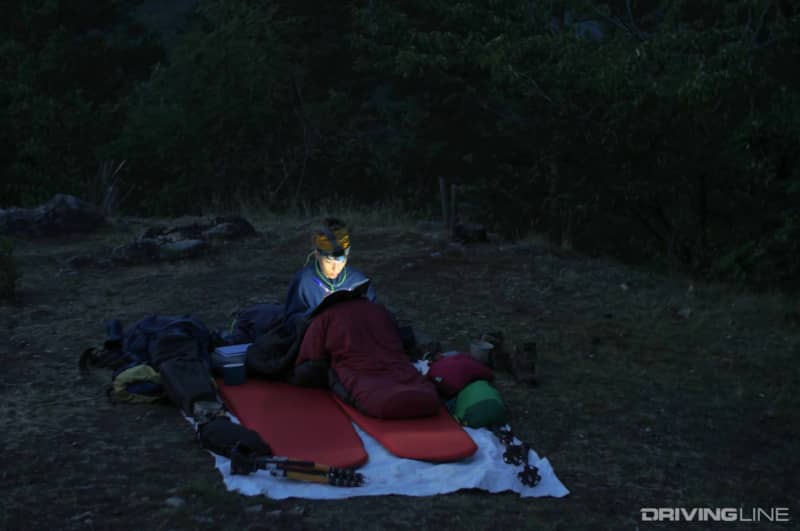 Ground Tent
Perhaps the most widely used form of camping, a simple tent on the ground remains a favorite for many, and for good reason. Modern tents are lightweight, easy to set up and often fit in small carrying bags. While not the most comfortable way to spend a few nights in the wild, it certainly gets the job done for most people who are privy to the outdoors. With modern advancements in tent technology, camping on the ground has never been more convenient, even in inclement weather. But tents do have their drawbacks. Windy weather can keep you up all night, setting up and tearing down a tent in rain is a hassle and staying warm in cold weather can be challenging. Despite the cons of ground tenting, it's undoubtedly the image that pops into anyone's head when you tell them you're going camping for the weekend.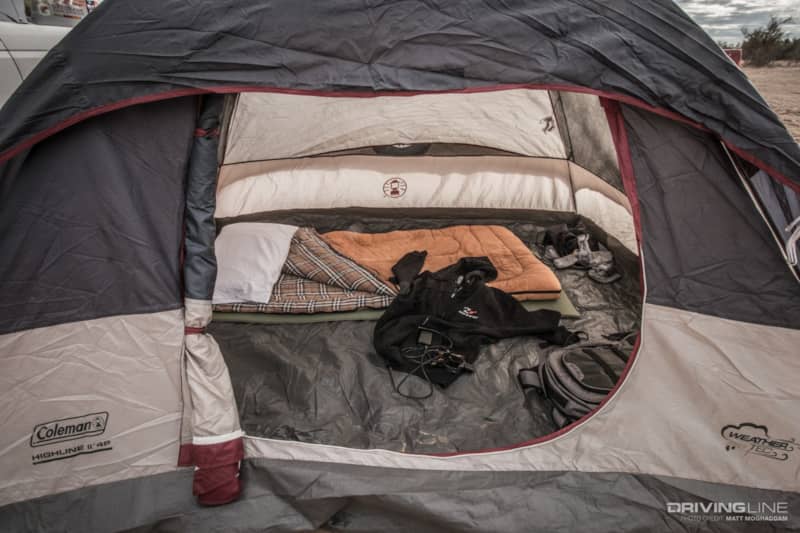 Roof Top Tent
Next on our list is a form of camping that has recently seen an explosion in popularity and led to an entire lifestyle all its own. Roof top tents have been around for many years, but due to the recent popularization of overlanding and new technology letting people to easily take their camping supplies to the ends of the earth, they're becoming a household item that are now being mounted on all kinds of vehicles, not just off-road rigs. While the roof top tent has many advantages, such as being self-contained, easy to set up and tear down, stored above the vehicle and relatively comfortable, it shares many of the cons of sleeping in a normal ground tent. You'll also need to have some way of mounting it to the vehicle, which can get costly if you don't have factory roof rails on your rig.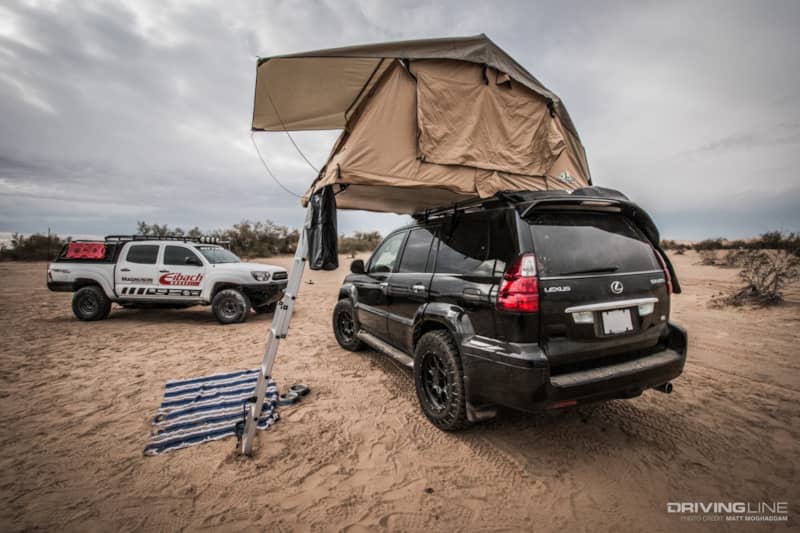 Additionally, you'll need to park on level ground in order to make sure you don't roll into the corner of the tent while you sleep, and climbing a seven foot ladder to get in and out isn't exactly fun to do for those middle-of-the-night bathroom breaks. Another thing to consider is the cost. While ground tents can be bought for under $100, even the most modest roof top tent will still run you about $700. Although these tents have relatively simple designs, new features and add-ons are becoming available all the time, so we'll be keeping our eye on how these tents progress over the years.
Awning Rooms
Somewhat of a hybrid between ground tents and roof top tents, awning rooms are another great option for a vehicle-mounted camping solution. Companies such as ARB 4x4 Accessories have been manufacturing and selling vehicle awnings for years, and now they offer additional parts to convert your shady spot into a room. Convenient during the day to keep the bugs out, the walls and floor of the awning rooms can be closed completely to turn them into a tent to sleep in. These awning rooms are often spacious and stable, allowing for a comfortable night's sleep.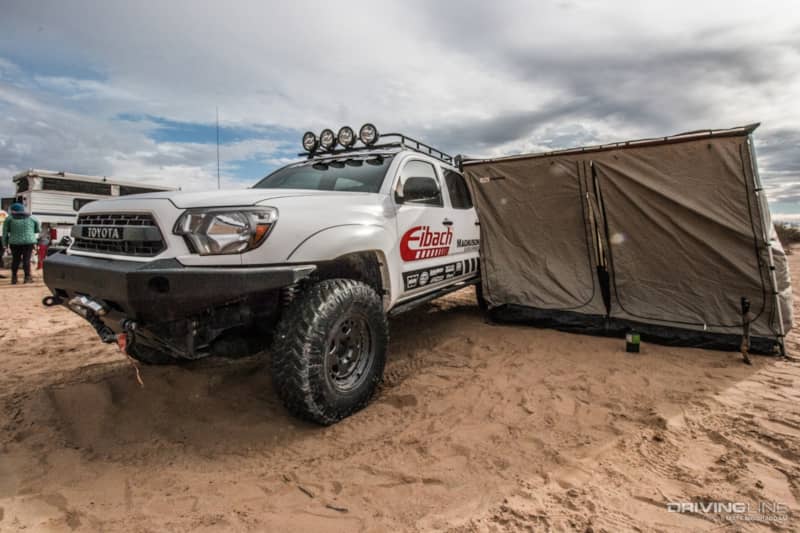 A few disadvantages include a rather tedious setup and teardown compared to roof top tents, and depending on where the awning is mounted, they can block your vehicle's doors, making it cumbersome to grab something out of the cab. Just as with the roof top tents, these products are a bit on the pricey side. Nevertheless, their modular nature makes them a great option for those who love camping in the summertime.
Camper Shell
Pickup trucks and camper shells have been a popular camping combo for decades. Loved for their versatility and added security, camper shells have held a steady place near the top of any pickup truck owner's list of add-ons since they first hit the market over 50 years ago. Not only do they allow you to keep any items in your truck bed secure and out of the elements, they also provide a place to crash for the night. For years, the best way to camp in your pickup truck was with a camper shell that had a "carpet kit," or a carpeted sleeping platform with storage drawers beneath it installed in your bed. While still an option today, other methods have come about to sleep comfortably in your truck bed. Air mattress companies now offer their products shaped to fit your truck bed, with cutouts for the wheel wells.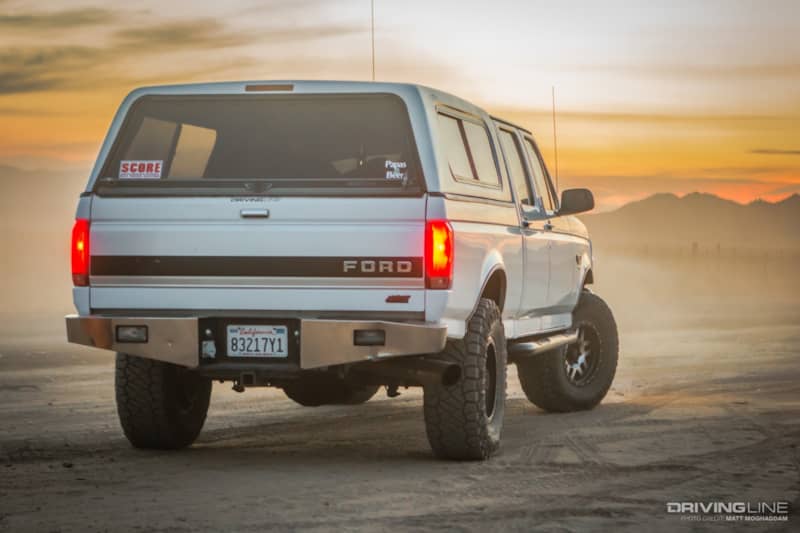 While sleeping in the bed of your truck seems like a rather easy solution for a night outdoors, it doesn't go without its drawbacks. If you're carrying any gear in the bed on your excursion, it will need to be removed and placed elsewhere while you snooze. Truck beds also get very cold at night, due to their steel construction, so keeping warm can be an issue on those winter trips. But despite some of the nuances of sleeping in the bed of your truck, this method of camping seems to be a popular option for the truck crowd, as it's so easy to setup and serves multiple purposes.
Cabover/Truck Camper
About the same time people started sleeping in their camper shells, other companies saw the opportunity to manufacture a more recreational style of shell, one with all the amenities of a traditional RV, placed in the bed of your pickup truck. Thus, the cabover, or truck camper, was born. These types of campers normally offer full standing room, a queen sized bed, stove top, fridge, sink and running water, heater and sometimes even a built-in bathroom. The ability to carry all the creature comforts of an RV in the bed of your pickup, while maintaining the ability to tow a boat, race car or off-road toys behind the truck appealed to many weekend warriors, and still does to this day. In fact, truck camper technology has gotten so advanced that almost any sized pickup can haul one around these days. Different variations such as pop-up campers, ones with slide-outs and off-road oriented campers are now available, reaching all corners of the truck market.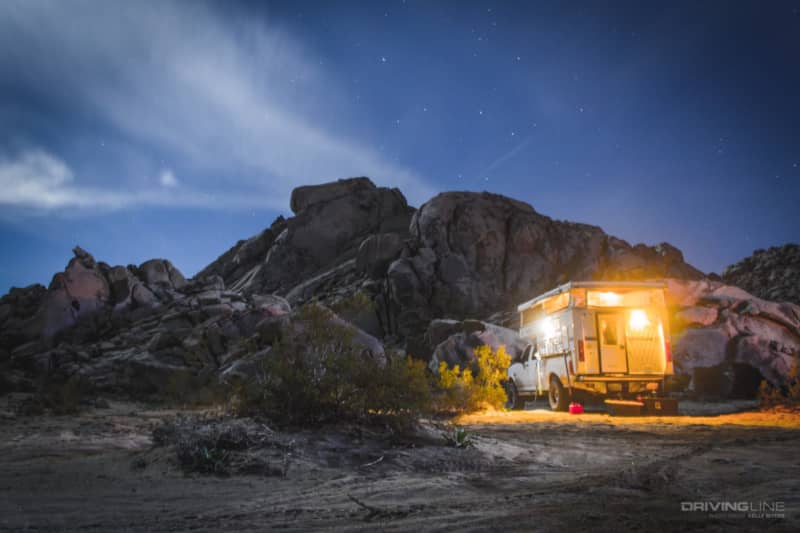 While certainly more comfortable than sleeping outside, on the ground or in a tent, these campers come at with a cost. In addition to the hefty price tag for a new one, truck campers require some extra equipment to be installed prior to mounting on in your bed. These modifications themselves aren't cheap. More obviously, you lose the utility of your pickup bed, making it a bit more difficult to haul items such as firewood, tools, equipment, bikes and other things you'd normally throw in the bed. Still, truck campers make camping much more enjoyable for many, as their self-contained nature and versatility matches the taste of many truck owners.
Off-Road Trailer 
Last but not least is the off-road trailer. Originally starting out as home-built setups, often sourced from retired military M101 trailers, off-road enthusiasts began outfitting them with larger off-road tires, off-road suspension and utilizing their storage space for spare parts, tools, recovery gear and other items that would otherwise not fit in the Jeep or truck. Later, these trailers evolved to hold overland gear, such as fridge freezers, stoves, propane tanks, bathrooms, sinks and other gear you'd need for a longer excursion. The popularity of roof top tents led to people installing them on top of the trailer, making it a fully self-contained camping unit. The same methodologies applied to older teardrop trailers, outfitting them with suspension lifts and larger tires, and fortifying them with stronger materials that can handle the abuse of off-road driving.
The advantages of having this type of trailer behind you are quite obvious. The extra space, easy access and convenience of bringing that gear anywhere you want is a major selling point. Perhaps more obvious, the drawbacks of having to lug around a trailer behind your rig and the cost associated with building or buying a pre-built one prohibit many off-roaders from taking this route. With that said, there are plenty of these trailers out there, and many people wouldn't camp any other way.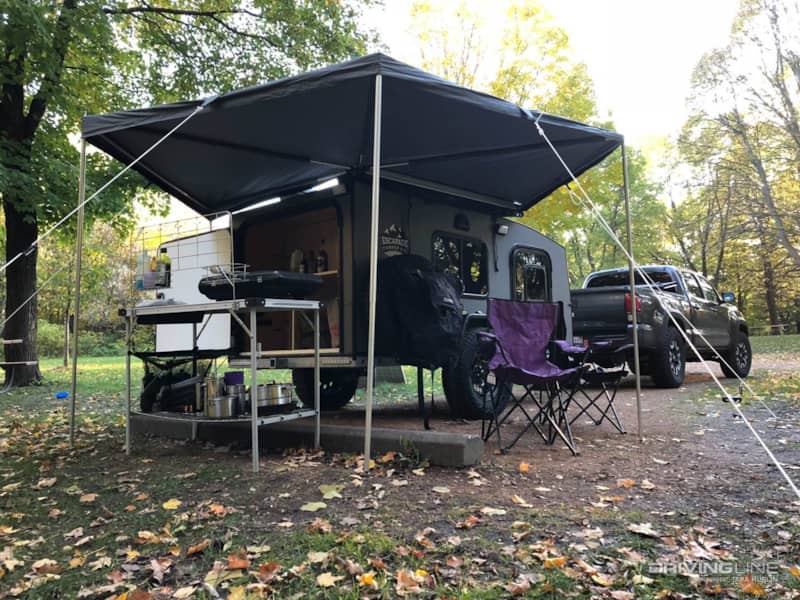 For those of us who enjoy the off-road lifestyle, there can be nothing more relaxing than a weekend away from the city life, taking in all that nature has to offer. As our tastes evolve and change over the years, we're sometimes prompted to reevaluate of the best way to camp in the outdoors. Whether you've never camped off the grid in anything other than a tent, or you're looking to upgrade your outdoor-living quarters, we hope this comparison provided you with some insight to the different ways spend an evening away from it all.
Did the off-road trailers pique your interest? Here are even more reasons why people love them.