Race Car Spotting: A Home-Built V12-powered Datsun 280Z
As race cars filed into Michigan's Empire Hill Climb, an aggressive, distinct rumble echoed through the town, which was easily distinguished over the other various revving engines. We gravitated toward the sound without much of a thought, as if the car emitting the soul-tickling sound was magnetic and we were made of steel. Within moments, the source became apparent, and a deep orange '78 Datsun 280z rolled into the parc expose. It certainly did not sound stock. We came in for a closer look, and the engine peeking from under cut-outs on the hood became clearer. We had to find out more.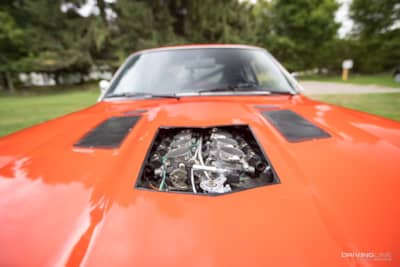 We first met Jordan Easter at last year's Empire Hill Climb, where she got her first taste of ripping up the hill in her then mostly-stock 280z. Little did we know, her original plan was to build a street-legal track car that would be competitive, but still comfortable enough for daily driving.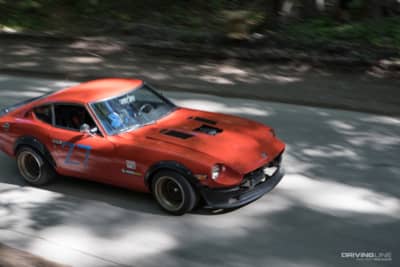 "I was originally planning to go for a sort of solid resto-mod by swapping in a Nissan RB26," she began, but fate had other plans. Her boyfriend, Michael Tung, purchased a V12 out of a '93 Mercedes-Benz SL 600 on a whim with plans to stuff it in his FD RX-7. "Around this time, I also moved from my house, which had a garage, to his house, so we were down to a one-car garage," she continued. "Ironically, Michael determined that the V12 wouldn't fit in his RX-7, but we quickly reached the conclusion that it would be awesome in the Z."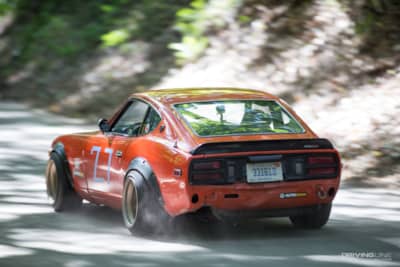 They envisioned the end result to be a competitive E-type-esque car on a budget, and soon the build was in full swing. Jordan maintained her career as an Advanced Powertrain Systems Engineer by day and then transformed into a race car builder during her free time.   
To share the workload, Jordan and Michael made a list of tasks on a whiteboard and divvied it up between themselves. Jordan took on the custom driveshaft, wiring, sensors, the fuel system including injectors, pump and lines, the ignition system, cooling and installing and tuning the Megasquirt Pro EVO Series 3 ECU. Michael fabricated the transmission adapter, engine mount, intake, exhaust, steering re-location and throttle linkage. 
On install day, Jordan's friends lent a hand (and a hoist) to get the 6-liter engine shoehorned into the car. The naturally-aspirated setup achieves 400-hp and packs a punch with 420 ft-lb torque. "The exhaust is just a custom hack job," she smiled. "But it does the job."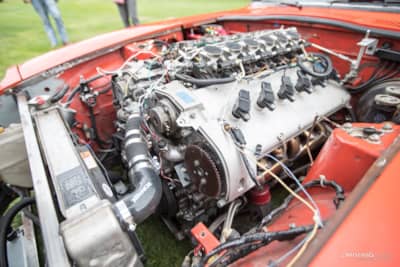 Jordan said that the most challenges arose when it was time to mate the T56 Magnum transmission to the V12. "I've got to give Michael credit. This part would have ended the build for a lot of people. Going from the M120 to a different transmission is difficult given the rarity of the engine and the fact it only came in sedans and coupes with automatic transmissions. It required months of research, several prototype concepts and tedious parts machining."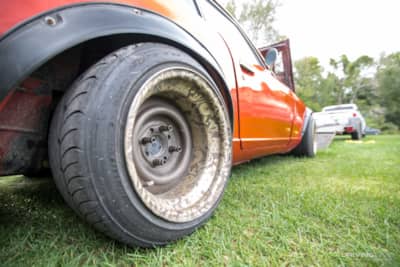 For stopping power, the original front discs remain in place, and the rear was swapped from drum to discs by swapping parts from a 240SX and 300ZX. Grey steelie wheels came on the car when Jordan bought it, so she kept them and added flair by spray painting over a lace pattern that she found on Etsy.com. The wheels are wrapped with Nitto Neo Gen tires for maximum traction in competition and on the street. "I've been thrilled with these tires," she gushed. "I drive the car a lot on the street, and I even daily-drove the car while I was swapping the engine in my Subaru right before winter hit. I love to drive it on public roads, but I also use it for a few autocross and track days during the year."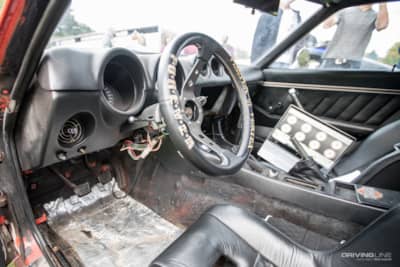 A peek inside the car reveals a vintage Vertex Racing steering wheel, a bolt-in half cage, and leather-wrapped Tillett race seats with a five-point harness.
"The car is a joy to drive. It has a lot of character, from the unique wheels to the deep sounds that only a V12 could make," she said. Future plans include equal length exhaust runners and reinforcing the missing floor pans and frame rails that salt has robbed from the car.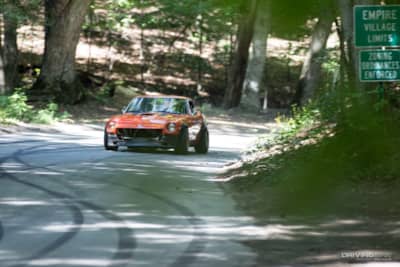 Jordan recently started competing a couple of years ago in a variety of events, including autocross, a couple of track days, an ice racing event, and of course, the Empire Hill Climb.  Her growing love for driving competitively is due partly to the thrill and partly the process. "I love the adrenaline involved with going fast. I also love the technique and growth as I learn how to read the response of the car and the best way to keep speed and flow with the track."

"I also love the racing culture, like at the Empire Hill Climb: it is such an incredible event. I love the variety of cars that run the hill, from wacky Frankenstein junkyard builds to professional level race cars. I love that it has a lot of friendships and history and that it's family-friendly and fun for spectators. It's real grassroots racing at its finest, and it has me hooked." 
Click here to see our favorite hill climbers from this year's race.