Red Hot: High Speeds & 100 Degrees at 2017 Ultra4 Fallon 250
The Red Dragon is breathing fire once again! After an unsettling amount of time off the top spot, perennial powerhouse and Team Nitto driver Loren Healy leaned back into his dominance and led the Ultra4 PCI Radios Fallon 250 from flag to flag. Fallon gave us a few more treats, such as fellow Team Nitto driver Nick Nelson showing up in his 4WD trophy truck to run the Unlimited class, a new West Series champion in Levi Shirley and a tightening of the National points — sure to be an epic battle in the season finale in Reno.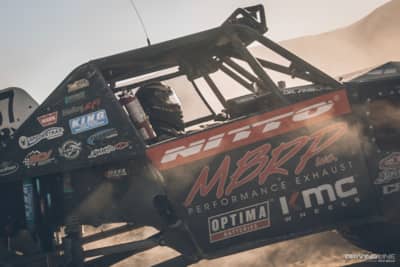 Ultra4 Racing once again teamed with VORRA to host a wide range of vehicles in the fast and dusty desert 75 miles southeast of Reno, Nevada. The "Burners" only 125 north, in Black Rock City, weren't the only ones setting the desert on fire this past weekend. Cars get faster, drivers get more experienced, and this year's Fallon 250 was the fastest and dustiest to date. The course was the same as last year's event, but Dave Cole threw the drivers a twist and ran the course counter-clockwise, allowing horsepower to run wild down canyons and through washes as they sped out to the open desert. A mix of ruts, tight turns and long dusty stretches, the Fallon 250 is the only "true desert race" in the season mix, with no rock climbs, but 250 miles of grueling abuse, scorching heat and whoops.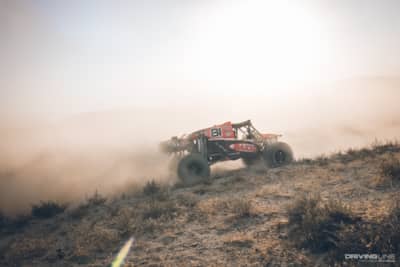 A big part of what makes Ultra4 unique is that the cars (and drivers) have to be ready to conquer anything and everything. In Oklahoma this year, it was the mud. At the Badlands and Kentucky, it was trees and creeks. Texas had a tough little rock section and an awesome sheriff, while the Stampede brought the short course action.
The Fallon 250 provided the high-speed desert and ever-present dust with high temps endurance desert racing element. The big daddy of them all, the King of The Hammers, brings it all together. The same cars and same racers, but with radically different terrain and setup. Putting this endurance race at the end of a long and grinding season that has crisscrossed the U.S., it was almost mean. Easily 10 to 15 degrees hotter than previous years, the 100-degree temps took their toll on drivers, cars and the media alike.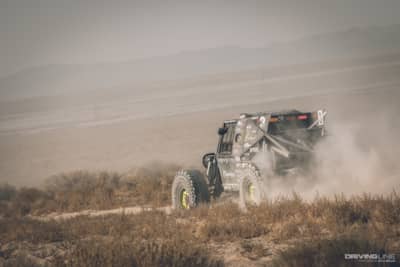 Qualifying 
Qualifying consisted of a 1-mile sprint through a small canyon and desert 2 track. Every second mattered. A stumble with the gas, and you dropped from 5th to 17th before you knew it. In a long race with poor visibility, clean air is king. The 4400 Unlimited class would run by themselves in the afternoon race, while all the other classes (except 4600 Stock class, who would start their day at 6 a.m. Saturday) would be racing their own class, but starting in a blended fashion based on whoever was the fastest, regardless of class. You might only be two positions behind your class rival, but there could be 25 cars between you and those in the morning race.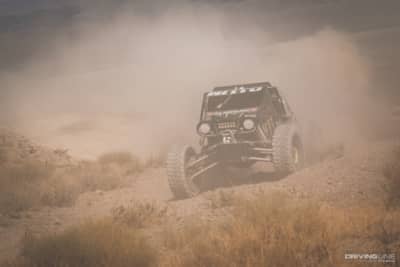 The 4400 Unlimited class qualifying read like a high school reunion of Ultra4 Kings. A pair of two-time Kings, Loren Healy and Randy Slawson, took the top two spots. The "Next Gen Elite" — Wayland Campbell and Levi Shirley — were 3rd and 4th, with former Ultra4 points champ Nick Nelson making a rare appearance and qualifying 5th with his 4WD trophy truck. Less than one second separated the top three spots, and the top 11 spots were all within four seconds of each other.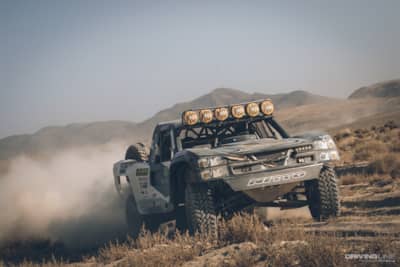 The Underclassmen would be led by white-hot Bailey Cole, followed by Cade Rodd and the always competitive Jordan Pellegrino. It's always a debate about who is faster — the 4800 Legend or the 4500 Modified class — and the top 10 was evenly split with five each, although the top two spots went to Legends.
The 4400 Unlimited Class Main 
The morning race was 250 miles, as was the afternoon's main event, the 4400 Unlimited class. The course was well burned in after 68 cars raced six laps each in the morning. Rutted and gutted with no wind, visibility was almost non-existent that first lap due to dust. Trusting your GPS, your co-driver and your instincts are the only way to survive the first 100 miles. Loren Healy blasted off the line and never looked back. Clear air, a fast car and an experienced driver on a mission meant that the race was never really in doubt.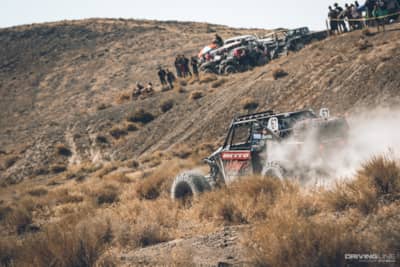 As the race wore on, six laps total, tensions rose. Loren had been leading early at this year's KOH when his car caught fire on the first lap. Snake bit. He also had a strong lead in Texas, only to have a steering issue issues within 10 miles of the checkered flag. Snake bit. Would Loren get another snake bite in the desert? No way. Not this time. Not Loren.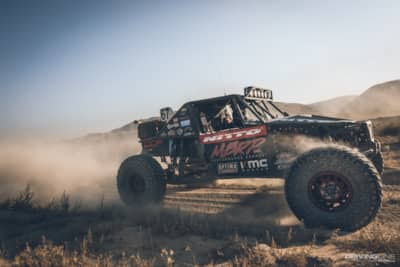 Loren and his Nitto Tires and Jimmy's 4x4 machine got faster as the day wore on and delivered a long overdue victory, his first of the year, winning by almost seven minutes after adjusted time and displaying the dominance one associates with Loren Healy. Checkered flags and champagne couldn't hide the smile — or relief — on Loren's face.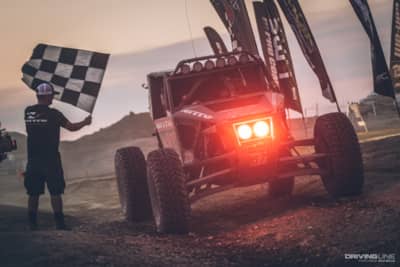 Meanwhile, another member of Team Nitto, Nick Nelson, showed why he's such a phenomenal driver, throwing his truck through the desert and showcasing the incredible build. Nick will be rejoining Ultra4 for the 2018 season, and this was his chance to secure a King of The Hammers qualifying spot for next year.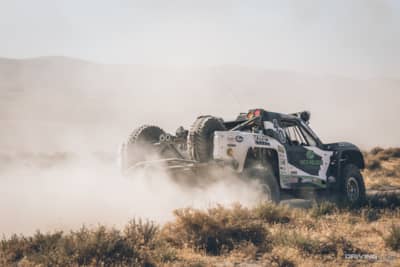 Randy Slawson, who has run the full West Series this year after typically only participating in KOH, continued to show why his skills and Bomber chassis are so competitive — even outside of Johnson Valley. While these two veterans demonstrated how they have built such a legacy of winning, most eyes were on the battle between Levi and Wayland. Neck and neck, these two have battled back and forth all year — Wayland with two wins, and Levi with two wins. With the edge in national points, Wayland had just locked up the East Championship in Kentucky. Could he take the West and possibly win three of the four major trophies this year? The Fallon 250 was the final race in the West.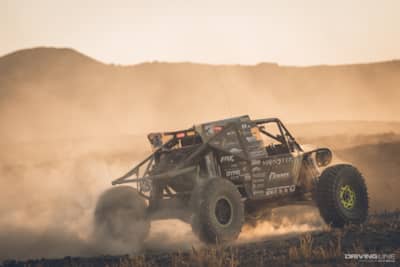 Levi drove like a man possessed and a man who knew he was a single pit stop removed from being the East champion. In another example of Ultra4 sportsmanship, Levi needed a coil after damaging one in pre-running. After he sent an S.O.S. out via social media, the Offroad Community pulled together and brought him the right size to the race course. He made the most of it and pulled away from the pack fairly early. Wayland, on the other hand, had his first bad day of the season. Troubles on lap 1 and 2 finally culminated in him calling it a day on lap 3 with more mechanical issues. If Levi knew Wayland was out, he didn't show it, as he pushed his car and almost took the victory, coming in 2nd place and earning the West Championship.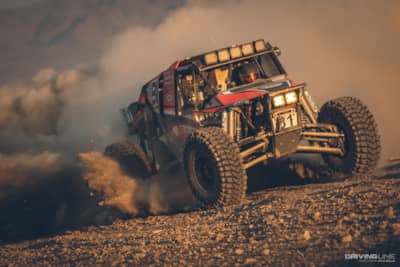 With 11 miles left to go in this 250-mile marathon, Randy Slawson was still in 2nd place. For 240 miles, he had held off Levi and defended 2nd place while chasing Loren. With only 10 miles to go, a pulley gave up the ghost and left Randy on the side of the course — hot, dirty and frustrated. Outside assistance will get you disqualified, but racers can help racers. That goes back to the origins of Ultra4, with trail wheelers and the "leave no man behind" mindset. Lap traffic came upon Randy, and in a show of sportsmanship, towed him close to the finish, where Randy got out and pushed the car across the line to finish and stay on the podium in 3rd place.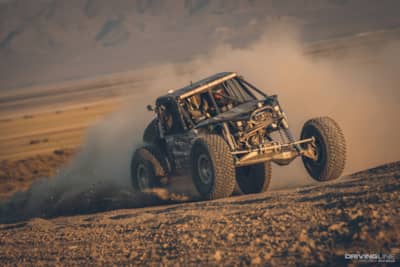 Nick Nelson took home 4th, earning his KOH spot in the process, with fellow Team Nitto driver Bailey Campbell rounding out the top five.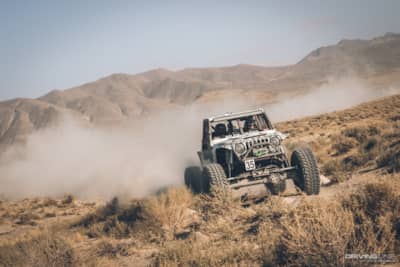 Congratulations to Loren Healy for getting back on the top spot and to Levi Shirley for locking up the West Series Championship! Nationals in Reno will once again determine the National Points champion; every heat race matters, as Erik Miller and Jason Scherer can tell you from last year. You don't want to miss that event.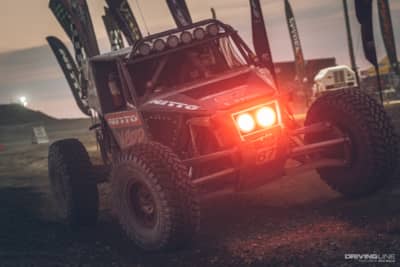 (Photos: Kyle Wells)