Renaissance Ride: "Pinky" the Honda Civic EK Show Stopper
We've heard it countless times from builders of the most prolific performance-oriented show winners and cover feature cars: "Yeah, I'm planning to take it to the track …" And I'm sure we're also all too familiar with how that story ends, more often than not.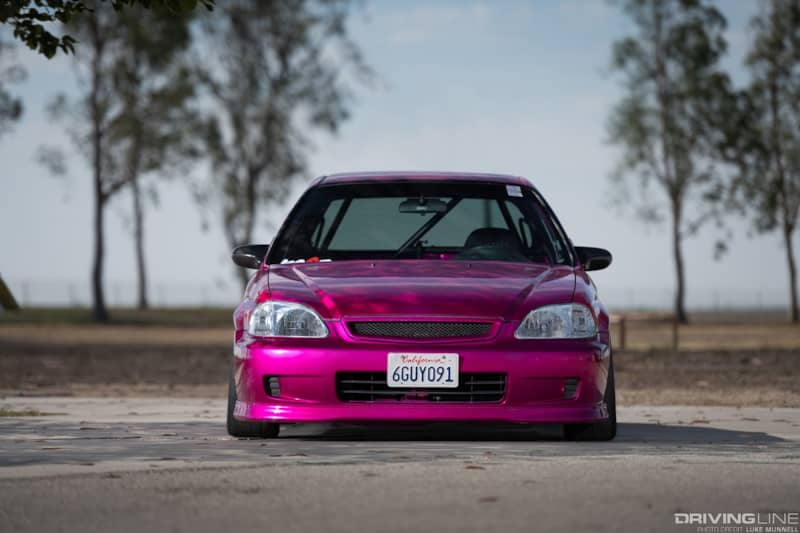 It's always been a sad fact of the scene that few of the craziest cars ever see any real track time. On one hand this is understandable. Who wants to put their sometimes six-figure creation to risk in an arena where cleanliness (often physical cleanliness) is the currency of success? On the other hand, the thought of never enjoying a build like that at it's true performance limits seems mind-blowingly absurd. But sometimes, in rare instances, there's a happy medium.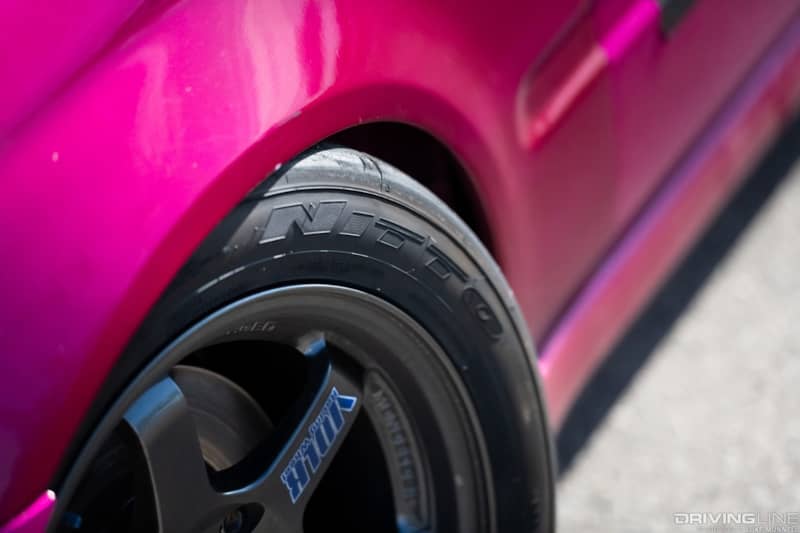 Show Stopper
If Christian Dumlao's House of Kolor Kandy Pink EK Civic hatch seems familiar, it should. Back in August of 2007, it graced the cover of Super Street magazine as one of the most radically performance-built show cars of its day, with a full cage and spartan interior, some tall side skirts and an ITB'd K24 VTEC engine under-hood. Predating the Wekfest craze that popped off in 2009, it soaked up Best of Show wins and recognition at shows like HIN, Battle of the Imports and Nisei Fest better than a Shamwow on late-night TV. And that wasn't even its first trip to the spotlight. 
That honor arrived way back in 2004 with its first Super Street cover, back when it was painted a DuPont shade of baby blue and rocked a simple GSR engine and red Work wheels. And before that it was Phoenix Yellow, tearing up the streets of the Bay area at the hand of Leonard Yee, the man responsible for the car in all its renowned iterations. That is, when Leonard wasn't driving his other car, a turbocharged EM1 Civic coupe that also grabbed some Super Street ink at one point.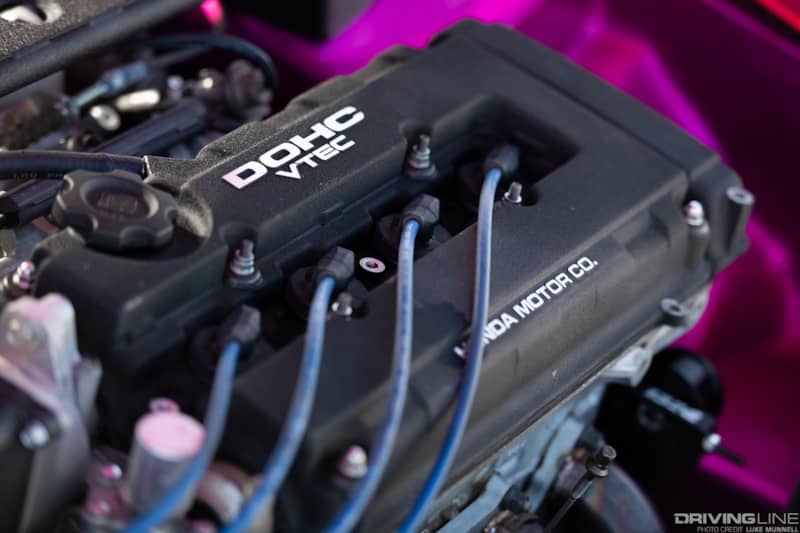 At every stage of its evolution, this car was just begging to hit the track. But wanting to chase down as many show wins as possible, and needing to keep his build partners happy in doing so, Leonard and "Pinky" (as she affectionately became known in the scene) never made it there. Until today.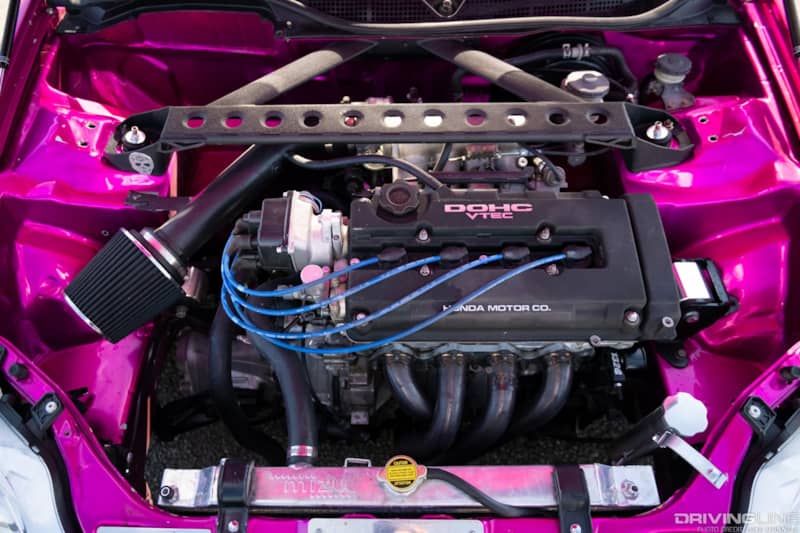 Pinky Reborn
Enter Christian Dumlao. When one of his track-obsessed friends name Mike found the dismantled and forgotten Pink shell of the car listed for sale, Christian wasted no time in scooping it up and fulfilling its ultimate destiny: building it into a stout performer he could enjoy on track with his friends.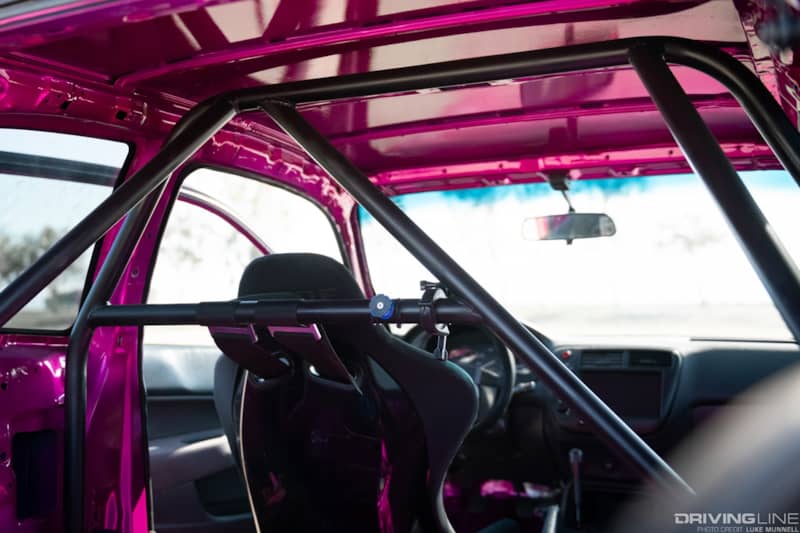 Pinky's cage had remained, but there was little else bolted to her unibody monocoque. In true home-built fashion, Christian and Mike sourced a proven LS/VTEC engine, mated it to a B16A trans and installed it in the Civic's bay all from within Mike's home garage. After that, it was off to Christian's.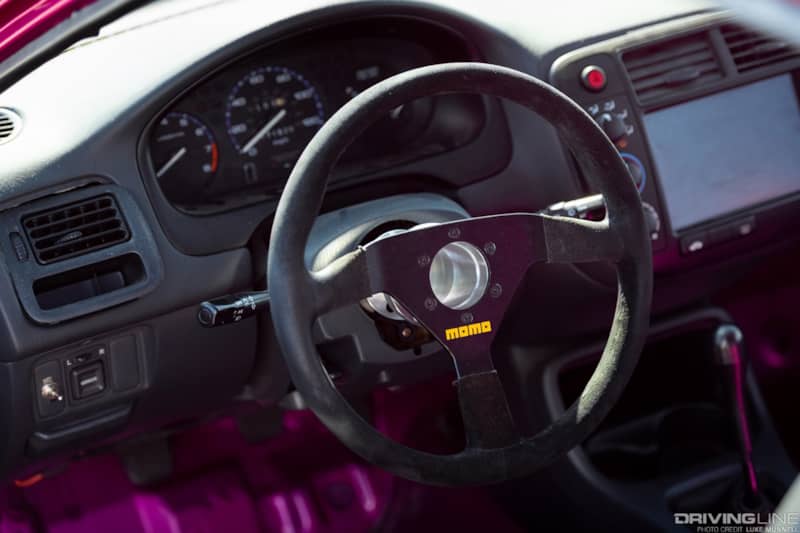 Under his own roof, Christian installed a custom wiring harness, four-lug hubs, basic suspension, wheels and tires, and just what he needed inside to get out on track: a Momo steering wheel, single Bride racing bucket with Crow harness, factory Civic dash and door panels, and not much else.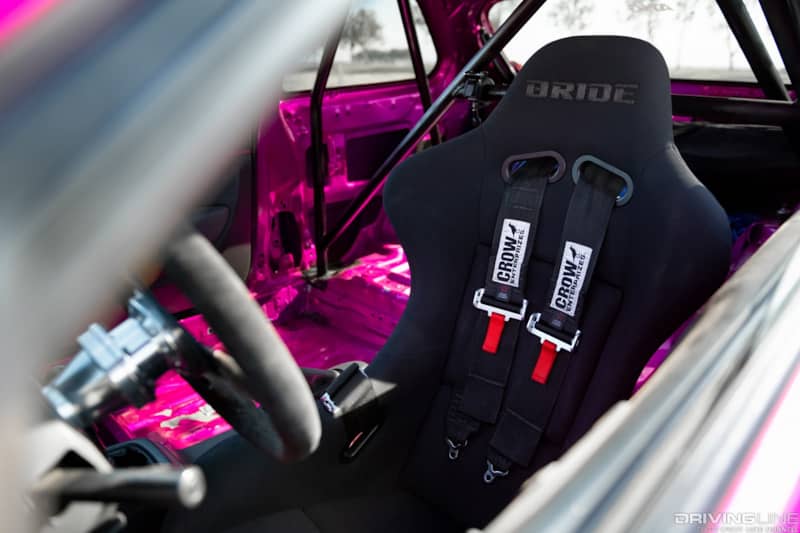 His first time on track came just four months after initially buying the shell, and the refinements came soon after. That basic suspension was ditched in favor of full suspension from Progress Technologies, Hardrace and ASC. A five-lug conversion allowed the use of concave Volk Racing OG TE37 wheels in wide 15x8-inch sizes, wrapped in ultra-sticky Nitto NT01 rubber. The LS/VTEC engine stayed, as well as the close-ratio B16 gearset, but was stuffed into a proper DB8 GSR hydraulic transmission case.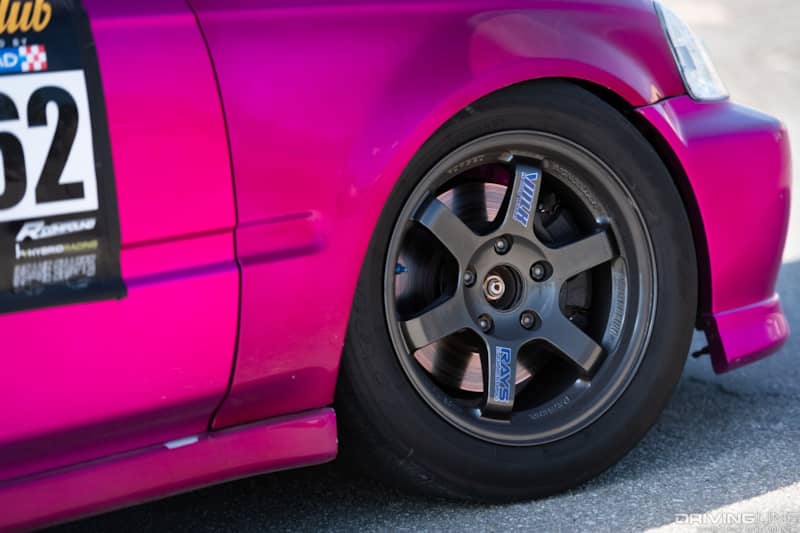 Spotted on the Track
When we caught up with Christian at a VTEC Club competition round at Buttonwillow not long ago, we immediately recognized Pinky. It's not often that a former famed show car makes its way to the track, and even rarer that one previously stripped down to its shell is resurrected into a potent performer. But that's exactly what Christian did with Pinky, and we can't think of a more fitting homage to one of the import scene's most well-known builds than enjoying it in the sun with friends, all over again. This time at the track!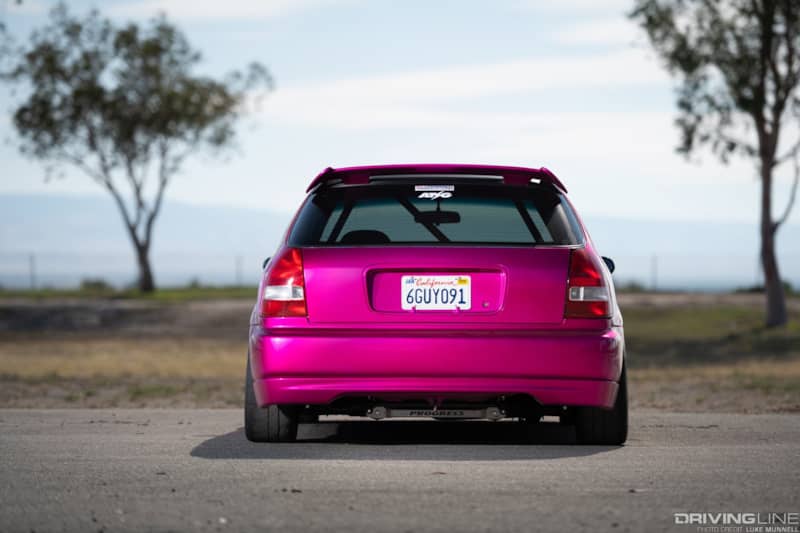 "Pinky" 1999 Honda Civic CX Specs
| | |
| --- | --- |
| Engine: | Honda LS/VTEC (B18B block, B16 cylinder head); 1320 Performance headers, timing belt tensioner; AEM Short Ram Intake; Mizu aluminum radiator, dual electric fans; custom tucked engine harness; JB Tuned fuel line tuck; NGK spark plug wires |
| Transmission/Driveline: | Honda B16 gearset, DB8 GS-R transmission;1320 Performance aluminum solid shift linkage bushings; Exedy clutch |
| Suspension:  | Progress Technology CS2 Coilovers, rear subframe brace, three-point 22mm adjustable rear sway bar; EM1 Honda Civic SI front sway bar; Hardrace front and rear camber kits, rear trailing arm bushings; ASC front upper strut bar |
| Brakes: | EK9 Honda Civic Type R 32mm five-lug hubs, front and rear brake calipers; Brembo front and rear brake rotors; Hawk Street/Race front and rear brake pads; StopTech front and rear braided stainless steel brake lines |
| Wheels/tires: | 15x8-inch, +32mm Diamond Black Volk Racing OG TE37 wheels; 225/45-15 Nitto NT01 tires |
| Interior: | Bride Zeta 3 Sport racing bucket seat; PCI seat mount and bracket; Crow five-point camlock harness; Momo Mod78 steering wheel; Checkered Sports Tear Drop shift knob; custom four-point roll cage |
| Exterior: | EK9 Honda Civic Type R OEM front lip spoiler, grille, rear lip, deck-lid wing; House of Kolor Kandy Pink paint |
| Gratitude: | "Tiffany Nguyen for supporting The Build; Mike Estebar for selling the shell and getting me back into a Honda! Eugene Lagman for actually getting me onto the track, Jojo Espejo, Marvin Sinnung, Ayrick Tejada, Larry Fong, and Peter Heu for helping me with specific parts of the build, Robert Luis and Justin Cone at SCCA Track Night In America for getting me comfortable at HPD events! All the folks at VTEC Club for putting on great events all over Southern California!" |