Stand-Out Parts, Vehicles and Diesel Swaps from Scheid Diesel Extravaganza 2018
Despite its three-day duration, with hundreds of competition, show-ready and hot-running daily driven diesels present, it's hard to take everything in at the Scheid Diesel Extravaganza. You can literally spend hours weaving through the maze of vehicles entered in the show 'n shine competition, talking to other enthusiasts, perusing the pits at the drag strip, walking the oval track's infield to pore over the nation's top pulling trucks and watching truck after truck put up strong numbers on the chassis dyno. You can even entertain yourself by simply walking through the parking lots, where dozens of high horsepower, show-worthy and well-executed swap projects sit.
Each year, numerous vehicles, engine swaps and cutting edge products stay in our minds after the Extravaganza concludes. This year, we made a mental note of everything we needed to follow up on. Now, our post-show homework having been completed, we present to you the coolest parts, the wildest rides and the most intriguing engine swaps we came across at SDX '18. From a Duramax-swapped '72 Suburban to a Cummins-powered Gremlin, a 1,000hp HEUI-fired 7.3L Power Stroke to a 4,000hp-capable, 146mm turbocharger and Scheid Diesel's all-new billet-aluminum Cummins cylinder head, we've got a lot to talk about. For the lowdown on all of the above and more, keep scrolling.
Cummins-Powered IH Farmall 706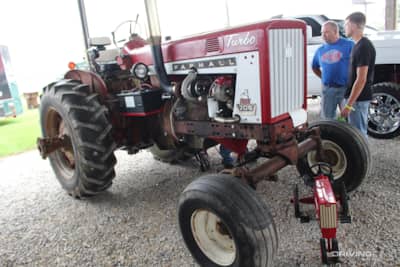 Tractor collectors are everywhere in the Midwest. When they're not buying, selling, showing or restoring them, they're usually upgrading them in some way—hence the '65 Farmall 706 shown here, stuffed with a 5.9L Cummins. Prior to late 1966, these tractors left the factory powered by a 282 ci diesel that produced just 89hp. Needless to say, a 5.9L Cummins making between 160 to 215hp (and with a few tweaks, much more than that) is a substantial upgrade. Swapping the 6BT into place entailed a custom adapter plate, custom flywheel, customized motor mounts and a few other odds and ends, but other than that the project was pulled off on a relatively small budget.
Cummins Gremlin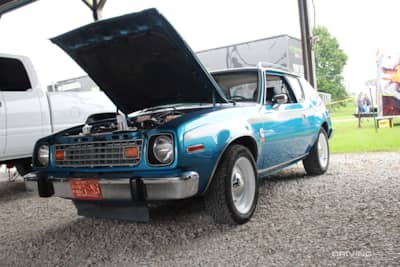 While Cummins' new R2.8 crate engine is beginning to pop up in various off-road builds, the last place we expected to see one was under the hood of an AMC Gremlin—but that's exactly what we found at SDX '18. We've seen big, thumping V8s shoehorned into these 96-inch wheel base, Detroit-born minis on many occasions, but this is the first Cummins-powered version we've seen in person.
Ultimate Small Package Cummins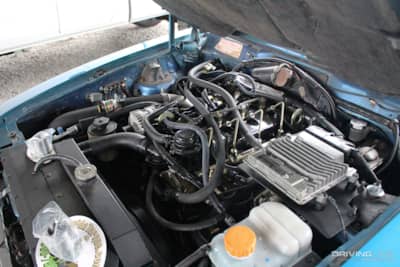 The 2.8L common-rail Cummins looked right at home in the Gremlin's engine bay—and it's no coincidence. By design, the R2.8 engine is compact and all-inclusive in order to make installation and integration as seamless as possible. While it's a bit spendy for some, at $8,999 you get the engine, complete front-end accessory drive, flywheel, cam-driven vacuum pump, remote oil filter, remote fuel filter and a starter. You also get an ECM, engine wiring harness, a universal vehicle wiring harness, J1939 CAN dash display and even a throttle pedal. No eBay shopping or salvage yard browsing is required.
'72 Duramax Suburban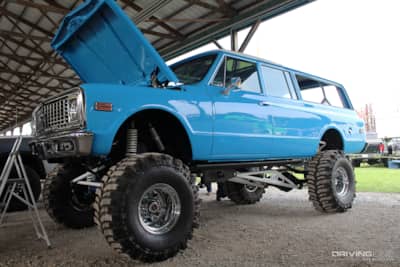 We've seen countless Duramax Suburban projects over the years, but this jaw-dropper is our new favorite. Built by LinCo Diesel Performance of Troy, Missouri, the '72 Suburban is powered by an LBZ Duramax that's been tuned by PPEI and is backed by an Allison 1000. There's just something about the C10/C20 styling that made this generation Suburban so recognizable—and the folks at LinCo Diesel Performance hit it out of the park with this build.
All the Right Parts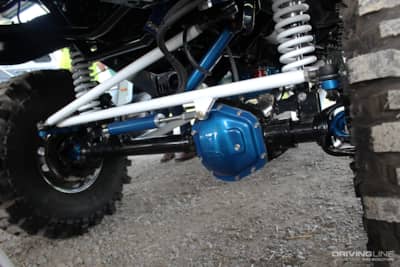 Already graced with arguably the best version of the Duramax ever produced (and some of the best aftermarket tuning available), the classic 'Burb sports a King Pin Dana 60, coil overs and a four-link suspension system up front. Leaf springs are utilized in the rear, along with a stout set of ladder-bar-style traction bars. We're told the crew at LinCo Diesel Performance had to thrash to get the project finished in time for the Extravaganza, but you couldn't tell it by looking at it. It turned out perfect.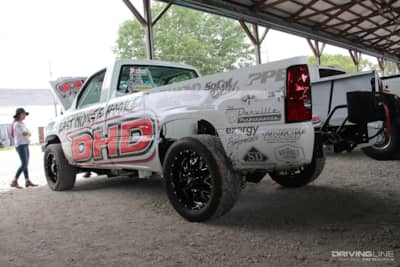 For a glimpse at a truck built to do it all (drag race, sled pull and kill the dyno), Dirty Hooker Diesel owner Tony Burkhard had the company's Ultimate Callout Challenge truck on display in the show 'n shine pavilion. To excel both in the dirt and the quarter-mile, the front end was reinforced with parts right out of the Kryptonite catalog, while the Chevy's rear suspension consists of a leaf spring, coilover setup, along with custom drive shafts from CCI Driveline.
2,000HP Capable Duramax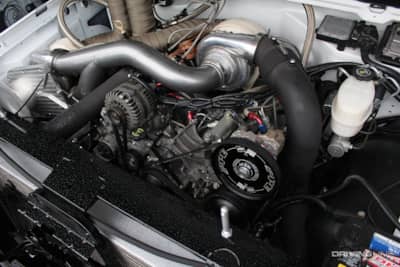 The fire-breathing Duramax under the hood was made possible using the best hard parts available from SoCal Diesel, injectors and CP3's from Exergy Performance, low-pressure fuel supplied by FASS, Stainless Diesel compound turbochargers in an arrangement built by Wehrli Custom Fabrication and tuning from Danville Performance. To ensure the Allison transmission always performs flawlessly, Limitless Diesel Performance had a hand in the full-billet build. At U.C.C. 2018, Burkhard finished third in the sled pull, ran a low 11 on the drag strip, made 1,673rwhp on the dyno and took 12th place overall thanks to this engine combination.
Single Turbo, Same Power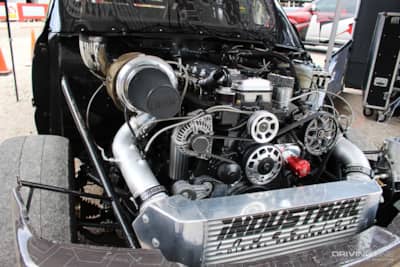 When we spotted Industrial Injection's Cummins-powered Pro Street Chevrolet Silverado, the first thing we noticed was the engine's new lack of turbochargers. Rather than utilizing the triple-turbo arrangement it used to, a big Garrett single is now bolted to the Shredder series engine that powers the company's eight-second ride known as "DeMaxed." The switch to a single charger may have been done in an effort to afford its engines more longevity (lower boost and drive pressure). On the track, the turbo change proved to have zero effect on the truck's performance. According to its trap speeds, it's still sending 2,000hp to the pavement.
Hide the Children!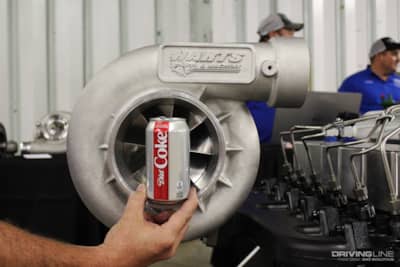 Size matters. Trust us. This massive Pro Stock tractor turbo from Hart's Diesel stopped event-goers dead in their tracks in the exhibition hall—and we can't blame them. The compressor wheel measures a whopping 5.75 inches at the inducer! That's nearly 150mm. We're not sure if the Scheid Diesel deck plate Cummins it's bolted to will make it into a Super Stock truck or not, but we definitely want to know how much power this combination makes on the dyno.
The Game-Changer: Scheid's Billet-Aluminum Head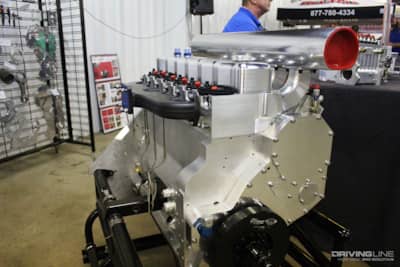 Thanks to its new machine shop and all of its capabilities, Scheid Diesel can essentially design, machine and conduct all R&D required on its competition engines under one roof. Now, the same company that debuted the first Cummins-based billet-aluminum block chose to unveil its all-new, yet-to-be-released aluminum cylinder head at the Extravaganza. Mark our words, for the upper echelon of truck pulling and drag racing, Scheid's billet head masterpiece will be a game-changer in the years to come. Also notice the billet-aluminum individual runner intake manifold, one-piece valve cover and front cover.
'98.5-'02 Cummins Love: Gone but Not Forgotten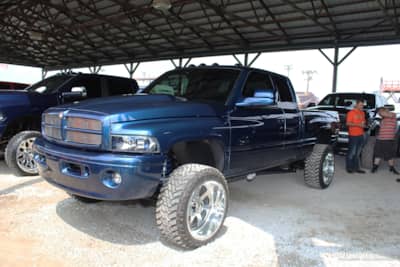 They may not get the kind of love the 12-valve trucks do, but there is still a sizeable following for the often-forgotten '98.5-'02 24-valves fitted with the VP44 injection pump. Amid all the neglect, die-hard 24-valve fans are making considerable horsepower with them these days—thanks in large part to modern turbocharger and tuning technology. Case in point, Jacob Bair's freshly-painted, 240,000-mile '00 Dodge makes more than 600rwhp with what we consider to be fairly mild mods.
Fleece S463, Scheid Fuel, Edge Tuning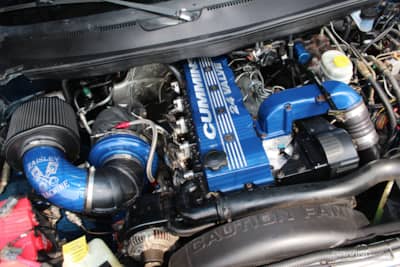 The 24-valve 5.9L breathes easier thanks to an S463 turbocharger from Fleece Performance Engineering and Stainless Diesel T4 exhaust manifold. The ECM is tuned courtesy of Edge Products' new Competition Juice with Attitude, which provides full-fueling up to 3,600 rpm (previous race files fueled to roughly 3,200). Fuel system hard parts consist of one of Scheid Diesel's Lightning VP44s and a set of its 150hp injectors. The pumped up 24-valve is backed by a Haisley Machine street dual disc clutch and an NV5600 six-speed transmission.
Investment Protection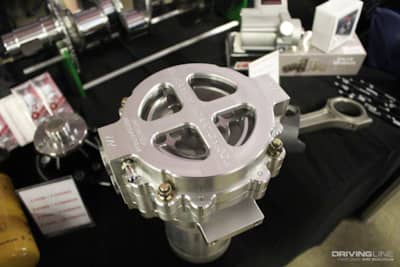 It goes without saying that mega-horsepower diesel engines are huge investments. The last thing you want to see is an engine scatter in the midst of a long season of competition. To keep tabs on engine oil and offer added peace of mind, Billet Connection offers see-through, high-flow oil filter assemblies. We stopped by the Unlimited Diesel Performance booth to see exactly how these units work. A transparent lid affords the ability to observe the oil's condition as it pumps through the assembly and oil can be rapidly drained using an air chuck and a shot of compressed air. Within seconds, the reusable filter element and any debris or contaminants are visible.
That Was Fast!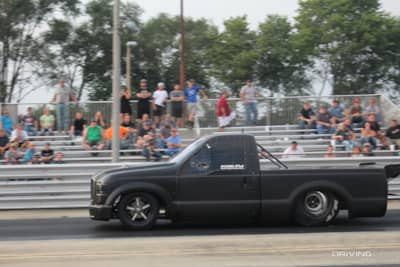 Fresh out of the body shop, we were pleasantly surprised to see the Rudy's Performance Parts Pro Mod F-250 back on the ODSS circuit. If you recall, this truck tagged the wall at the Rocky Top Diesel Shootout just four weeks before the Scheid Diesel Extravaganza. While we're sure the truck will eventually be wrapped or painted, the important thing is that it's back in action—and staying in the points race.
Big Power, Oil-Fired 7.3L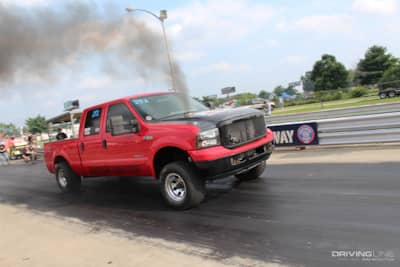 Who says you have to have a Cummins to build a 10-second beast? Don't look now, but Zack Pierce has put together a consistent 6.70 Index truck using a 7.3L Power Stroke—a HEUI-injected 7.3L Power Stroke. Pierce's single turbo'd, nitrous-assisted F-250 runs 6.70s at more than 104 mph, which means more than 1,000hp is being applied to the track. And it's not a spray-it-to-the-moon nitrous show, either. This four-door Super Duty can knock down 7.0s in the eighth on fuel. Pierce is quietly holding down the seventh spot (of 46 competitors) in the six-race ODSS points chase.
Want to see more from the Sheid Diesel Extravaganza? We put together a video of all out favorite moments and builds!