Rocky Top Diesel Shootout 2018
The last weekend in July brought the Outlaw Diesel Super Series to Crossville, Tennessee. As expected, the highly anticipated Round 3 of ODSS eighth-mile drag racing action attracted the usual suspects, along with some new and soon-to-be heavy hitters. Firepunk Diesel hauled its juggernaut of a drag racing team down from Ohio, Industrial Injection lugged its DeMaxed Pro Street truck all the way from Utah and U.C.C. competitor Donavan Harris made the 2,200-mile (3,500 km) journey from Alberta, Canada to compete. Judging by the strong turnout in all "Pro" classes, ODSS drivers—who had just had nearly a two-month hiatus—were more than ready to get back to racing.
On Saturday morning, nine trucks were signed up in Pro Street, along with a seven-truck showing in the growing 5.90 Index category. There were also seven vehicles listed in Pro Mod, although two unfortunately had to bow out due to breakage and/or electronic gremlins. Good turnouts were also observed in 6.70 Index, 7.70 Index and especially in the E.T. Bracket class. By the end of the day, Dustin Jackson took the win in Pro Street, effectively giving him back-to-back event wins in Rounds 2 and 3. The story was the same for Ben Shadday, the only difference being he earned his back-to-back victories in the Pro Mod category. Firepunk Diesel's Rick Fox nabbed the win in 5.90 Index, Susan Soga's first place finish mixed up the points chase in 6.70 and a tight Pro Dragster final was won on the tree.
For the complete rundown on all the Rocky Top details, keep scrolling—and make sure you tune in for our coverage of Round 4 from the Scheid Diesel Extravaganza (August 24-26).
Pro Street Winner: Dustin Jackson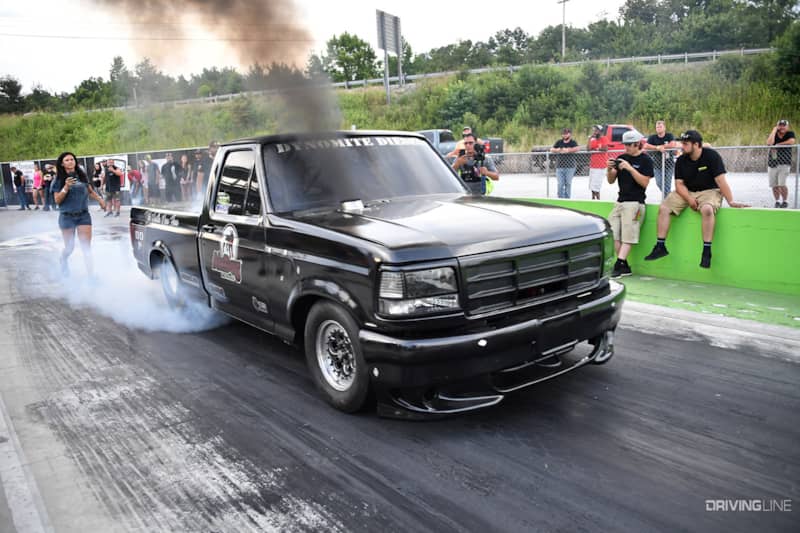 Dustin Jackson picked up right where he left off after the TS Performance Shootout back in June: persevering and winning races. After discovering and then fixing a few issues just before eliminations, Jackson's triple-turbo Cummins-powered first-gen Lightning (called "Old Hustle New Flow") took him to the finals against Firepunk Diesel's Lavon Miller. No question, Jackson was locked in. With the better reaction time (.0414 vs. .1556) and a nasty launch off of the trans brake, Jackson catapulted to a 1.20-second 60-foot and never looked back. The wheels-up pass culminated in a 5.09-second elapsed time at nearly 145 mph.
Watch the Rocky Top Pro Street final round here.
Pro Mod Winner: Ben Shadday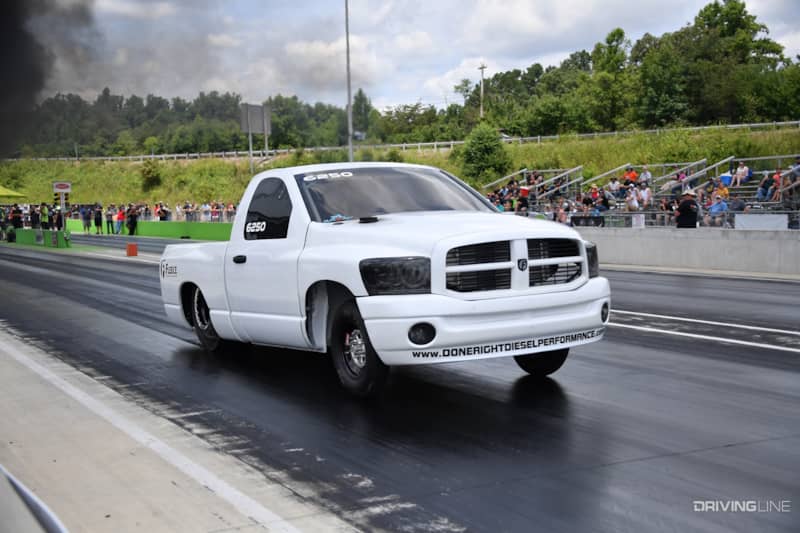 Now regularly making passes in the 4s, Ben Shadday's '06 Dodge may be the most consistent in the Pro Mod class—and he's got the 2018 points lead to show for it. Like the aforementioned Dustin Jackson, Shadday too won his class at the TS event back in June. With this being his second consecutive series win, and after the truck sitting in the number two spot for points had an unfortunate brush with the wall, Shadday has now pulled comfortably ahead of the rest of the Pro Mod field. Now halfway through the racing season, the rest of the class has their work cut out for them in catching him.
5.90 Index Winner: Rick Fox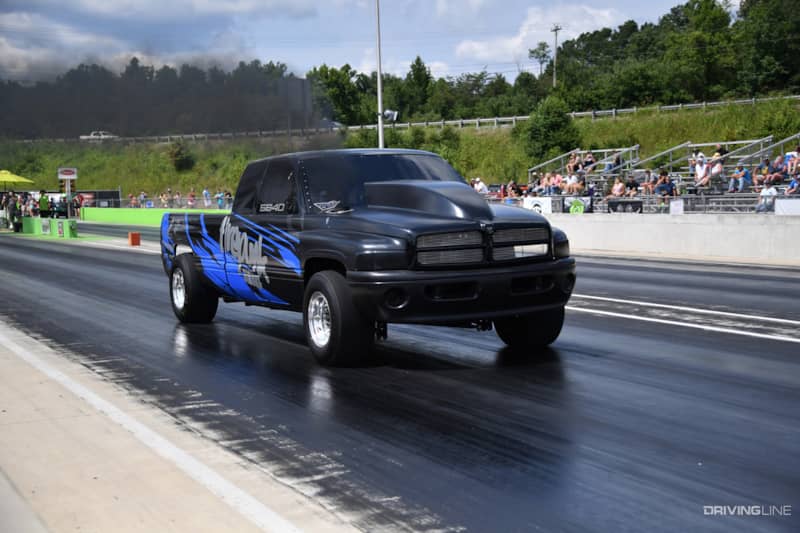 Blasting onto the 5.90 Index scene in his revamped '00 Dodge (it was previously a 6.70 truck), Rick Fox ran spot-on all weekend. During qualifying, he turned in a 5.92-second effort and earned a first round bye in the process. A 5.93-second pass in his bye run proved the 5.92 was no fluke. In the second round of eliminations, Fox ousted DNR Customs' Derek Rose with a 5.97. Then in the finals—and up against another talented Index racer, Seth Higgins—Fox took the win when Higgins red lit. It was especially unfortunate for Higgins, as Fox broke out with a 5.86-second run.
Pro Dragster Winner: Scheid Diesel/Jared Jones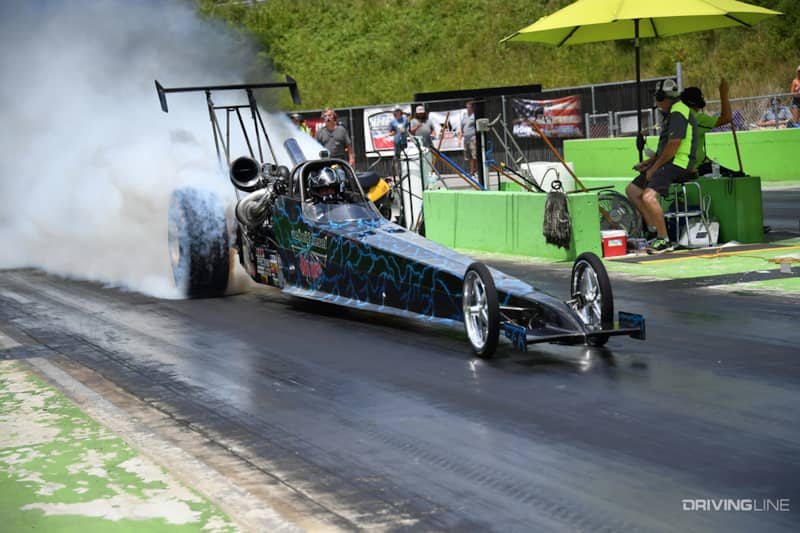 After running a 4.54 at 172 mph earlier in the day, Jared Jones landed the Scheid Diesel rail in the winner's circle, piloting the compound turbo'd, billet blocked, Cummins-powered, Spitzer chassis dragster to a 4.26 at 176 mph. In the quarter-mile, this kind of performance through the '660 could easily have sent the rail well on its way to a sub-6.50-second pass at somewhere between 220-225 mph. By taking the win at Rocky Top, the Scheid team has pulled dead-even with Wade Moody's Duramax-powered dragster for first place in points.
Pro Dragster Runner-Up: Wade Moody
Wade Moody's Flo-Pro/Industrial Injection-sponsored rail has become the primary adversary for the Scheid Diesel team in recent years. Over the past three racing seasons, Moody has achieved what many folks once thought couldn't be done in building a Duramax-powered dragster that could defeat Scheid's iconic rail.
Reaction Time Win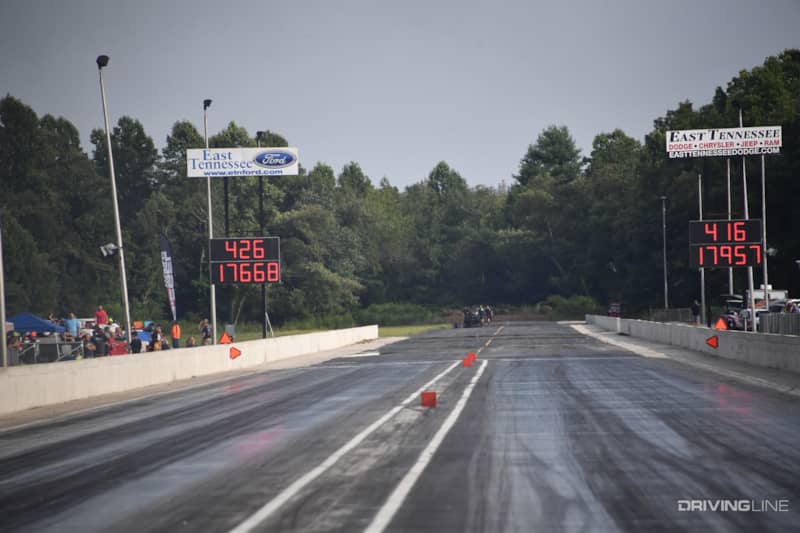 When the two heavyweights met in the final round of Pro Dragster, spectators were treated to one heck of a race. While Moody's dragster has been the winner of this head-to-matchup more often in recent years, in Tennessee it wasn't meant to be. Although Moody would run a faster 4.16 at 179 mph, the race was lost at the tree, where Scheid driver Jared Jones nabbed a lightning-quick reaction time and took the wire-to-wire win.
Industrial Injection's Fire-Breathing Pro Street Chevy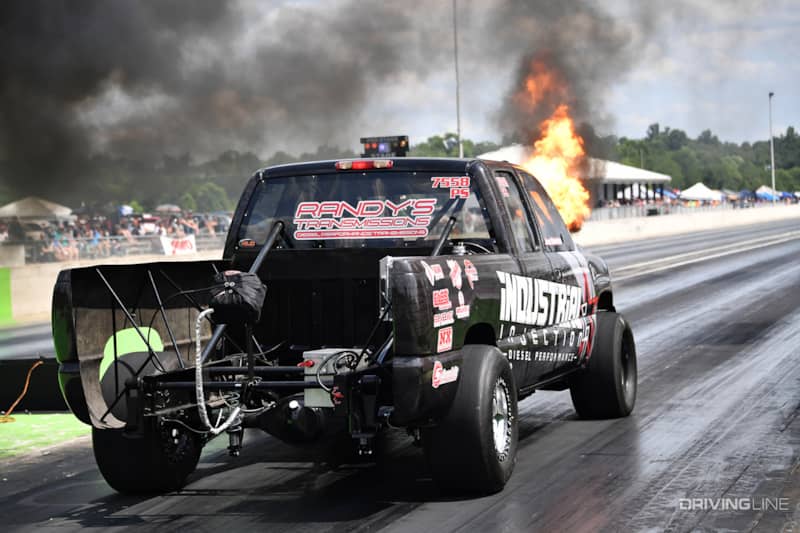 Demaxed—the once-abandoned shop truck owned by Industrial Injection, powered by a triple-turbo Cummins and driven by Jared Delekta—was hauled out from Salt Lake City to try its hand in Pro Street. In diesel drag racing, it's common to employ nitrous to help get big turbos where they need to be for take-off, and this is commonly achieved using spool jets. Occasionally, the spooling stage is a little heavy on the added oxygen and onlookers are treated to a bit of a fireball out the exhaust. Once the flames shown above subsided, Delekta took the Cummins-powered Silverado for a 5.4-second ride at 136 mph.
The Wild Card of 5.90
Although it has yet to pull out a win, the truck on the left should soon be a forced to be reckoned with. Built to compete in 5.90 Index, Paul Cato's Maverick Diesel/HP Tuners wrapped, common-rail Cummins-powered second-gen Dodge continues to make progress and improve its consistency at each event. After earning the number two qualifier position thanks to a 5.94 at 120 mph, Cato put up a 6.02 at 116 mph in the quarter finals. Then in the semi-finals he decided to leave the nitrous spool jet on for the launch and ended up leaving too hard, which unsettled the rear suspension, induced some nasty hopping and cost him the win.
Worth the Trip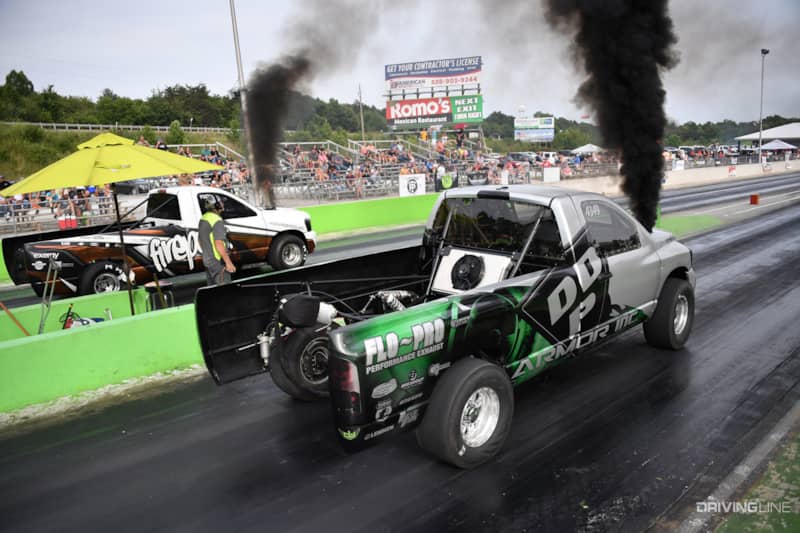 Ultimate Callout Challenge competitor Donavan Harris trekked all the way from Ponoka, Alberta, Canada to catch Round 3 of the ODSS action. Competing in Pro Street, he and his 1,800rwhp Cummins-powered Ram ran their best pass to date: a 5.37 at 139 mph. Look for Harris' truck to run low 8s in the quarter-mile and (once again) be a top contender at the next Ultimate Callout Challenge.
6.70 Index Winner: Susan Soga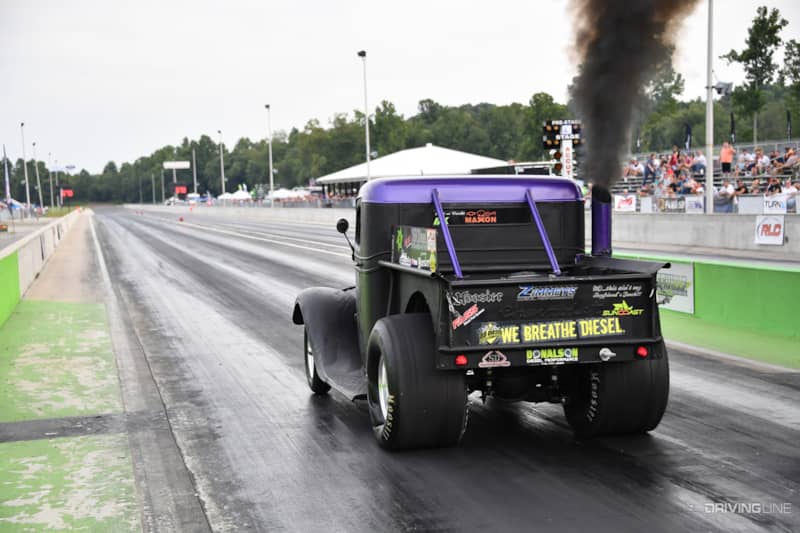 Fresh off a new personal best the weekend prior (a 10.46 at 127 mph in the quarter), Susan Soga and the Diesel Life team brought one of the fastest diesel rat rods in existence to Tennessee. In the driver seat, Soga was completely in the zone, earning the number two qualifier position in 6.70 Index and showing everyone that reaction time is everything in drag racing. Her '34 Chevy pickup continues to show that going the lightweight, two-wheel drive route is conducive to consistency, reliability and (ultimately) winning.
The Hometown Team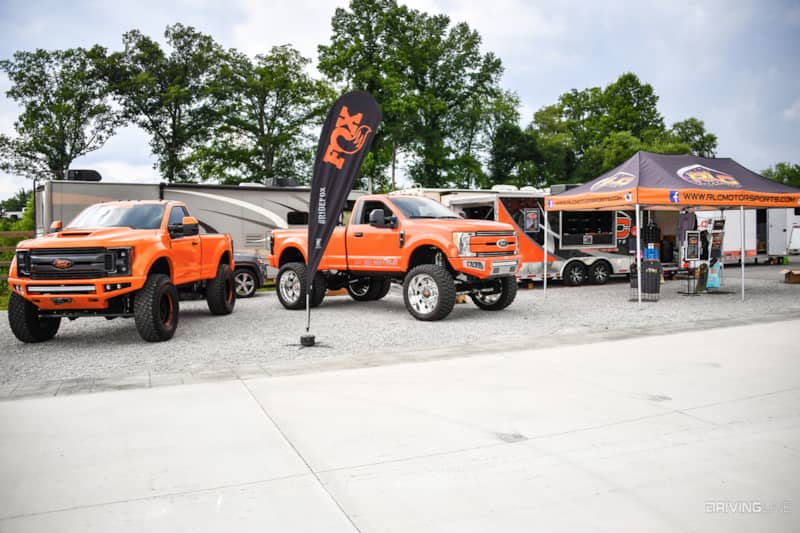 In addition to campaigning a truck in the Pro Mod class, RLC Motorsports is a major local sponsor behind the Rocky Top Diesel Shootout, with the event practically taking place in their backyard. A company that specializes in virtually all things off-road and diesel performance, the RLC crew had a wide array of products and vehicles on display in their booth along the manufacturer's midway.
Photography provided by Amy Gilbert of Stainless Diesel
Even though the 7.3L Power Stroke may be the underdog in diesel motorsports, we found 5 of the craziest that show what it can do!