Stung by a Sharp Kia Stinger
Rarely is Korea's automotive prowess mentioned with the word "performance" associated with it, but Kia is doing what it can to change that reputation with the Kia Stinger. The 2018 all-wheel drive fastback GT2's engine bay is stuffed with a twin-turbo 3.3L DOHC V6 that produces 365hp and 376 lb-ft of torque. Kia claims the stinger achieves 0-60 mph in a mere 4.7 seconds. That's damn fast.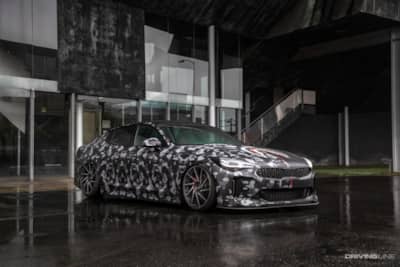 Significant speed was one of the reasons Abe Choe picked this vehicle as his daily driver. The other reason he chose it is because it's an attractive vehicle. It's the proof of what Kia is trying to do, and we appreciate that they are trying and succeeding in a market where the Stinger's competitors are resting on their laurels, injecting excitement into the segment.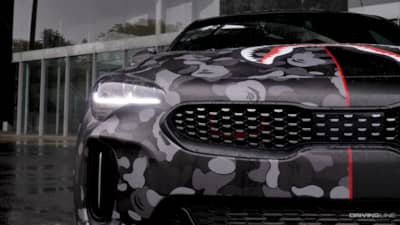 The Perfect Platform
It's the perfect platform for encouraging a new group of Korean vehicle enthusiasts, which is why Abe Choe, sales director for KEENDESIGN, picked this vehicle to showcase the numerous carbon fiber goodies that they manufacture for the car. "I'm a big fan of the emerging Korean performance car scene and I created a Stinger community page: @StungbyStinger. We've got a healthy following and it's growing all the time," Abe said.
It's clear that he's an enthusiast, too, and didn't just buy the car for marketing purposes. "It's my daily driver, and I still take the Stinger to car meets and events like Cars and Coffee, and I've had it at the drag strip twice—so far," Abe said.
Upgraded Engine
Other manufacturers are starting to notice the growth of the following that has developed for the car. Performance mods were first on Abe's list changes. William at Concept 3 Performance in Santa Fe Springs installed the Turbo XS blow-off valve, Jonny Tig hand-built air intake, Velossa Tech air ram, LAP3 Pro Tuner and Stillen exhaust found their respective homes under the hood of the Stinger.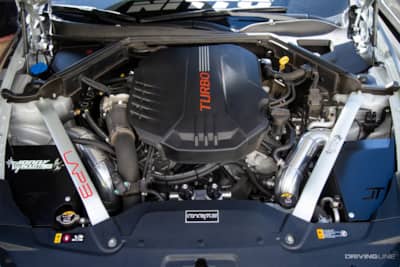 Nittos and Suspension Upgrades
Speaking of tires, Abe procured a set of Fittipaldi FSF24 mono-block forged wheels measuring 20x8.5-inch in the front and 20x10-inch in the rear. Then he ensconced the wheels with wide and sticky Nitto NT555 G2 tires, 255/30R20 in the front and 255/30R20 in the rear. Ride height and stance were also modified with Jun Fitted Air Suspension, a five-gallon air tank, Air Zenith air compressor and air lift V2 management—allowing ride height to be adjusted as the need arises.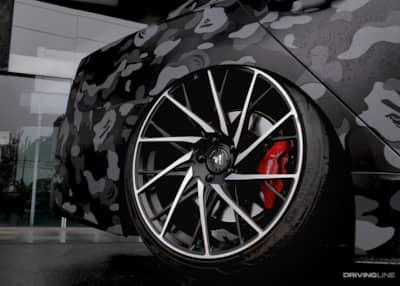 Carbon and Aero
He moved on to the exterior upgrades next. Of course, Abe installed KEENDESIGN by SPREEK carbon fiber aero at the car—designed and made in Korea. First, he installed a carbon fiber front lip followed by flowing side skirts and a subtle, but effective, trunk spoiler. Then, a Stillen rear diffuser was secured under the rear bumper to round out the aero bits. Finally, a Bape custom wrap job by OC Wraps concluded the exterior modifications and aesthetics.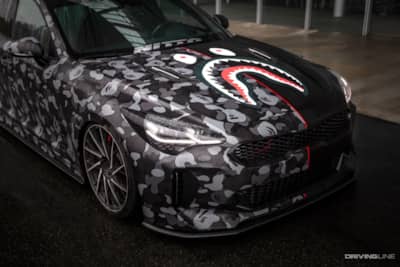 Interior Mods
A custom car isn't complete without interior improvements as well. Abe replaced the stock steering wheel with a SoCal Garage Works carbon fiber unit to match the other carbon fiber parts of the car. Corona Concepts designed the custom seats and roof liner along with the shift knob and arm rest with Alcantara microfiber material for a unique look.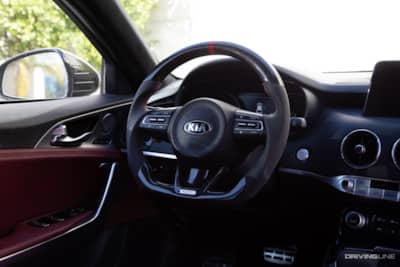 Expect more go-fast modifications in the near future—as Abe was not satisfied with the time slip he's currently holding. "With the upgrades I've made so far, I've run a 13.2 second in the quarter mile. I was running stock tires at the time, so I know I'd be quicker with my new Nittos plus all the changes I'm planning for," Abe said. Unfortunately, if people really like how the Stinger looks now, they're going to be very disappointed in the future—or maybe they'll like it even more. "The Stinger will see new iterations each year. New wheels, new wraps, new parts. It's always going to be changing…"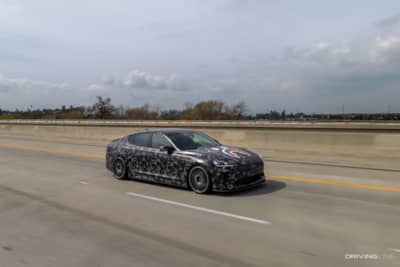 Photos by @lupelupi