Surprise Performer: Classic, Lowered 1978 GMC Jimmy
Even though Cynthia Pierce of Springtown, Texas didn't expect to find a 1978 GMC Jimmy parked underneath the Christmas tree, her husband Eric surprised her with one anyway. Soon after the reveal of the vehicle, the Pierces wasted no time, and started working on getting this vintage SUV ready to hit the show circuit.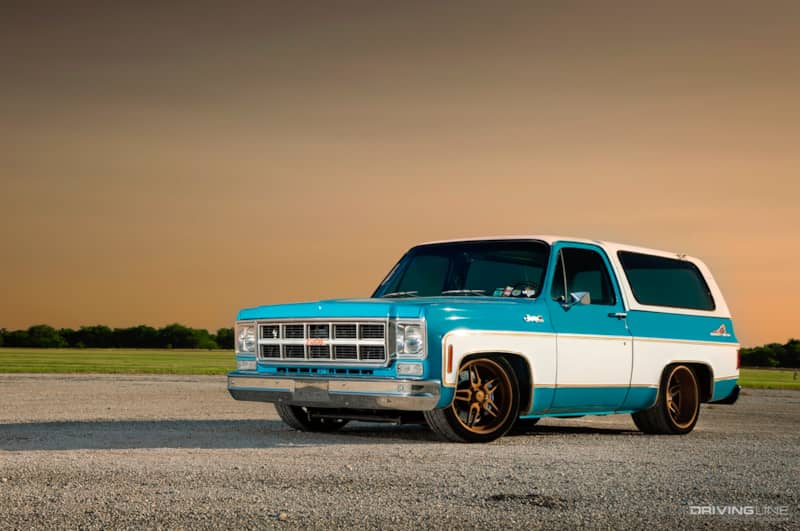 Born to Ride
Mind you, this was no unwarranted gift—Cynthia has always been into cool modes of transportation thanks to her awesome folks. "I've been into this kind of stuff since birth. I even came home from the hospital as a newborn baby in my mom's 1969 GTO that my dad still owns and takes out on the Power Tour every year," she said. "My parents were always wrenching or racing, and I have so many childhood memories of cruising and spending time at the local drag strips, street races, and car shows with my family."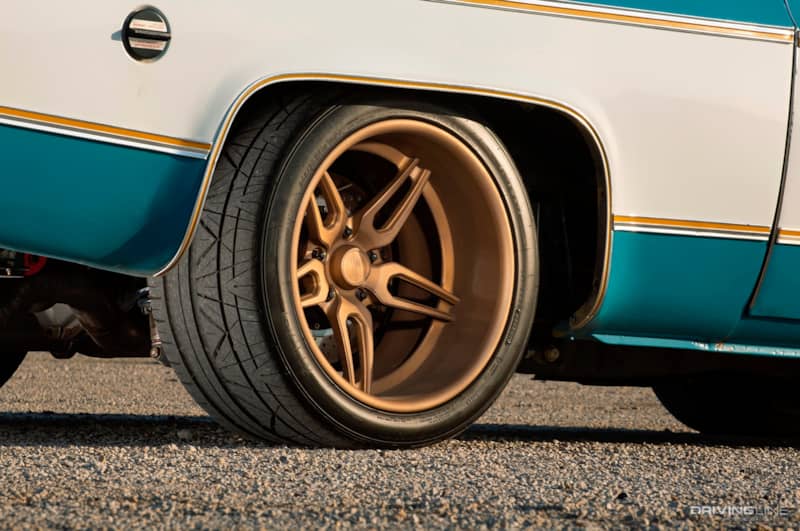 It's no wonder then, why Cynthia's husband would make the grand gesture of surprising her with a 43-year-old GMC SUV without feeling there would be a backlash of some sort. It's a beautiful thing to see two loving gearheads enter holy matrimony together, and even better to see what kind of awesome vehicles sprout from that union. "Ultimately, we planned on blowing the Jimmy apart completely and start building it to match a 1977 Chevy C10 dubbed 'Sorority Girl' that Pro Touring Texas had built."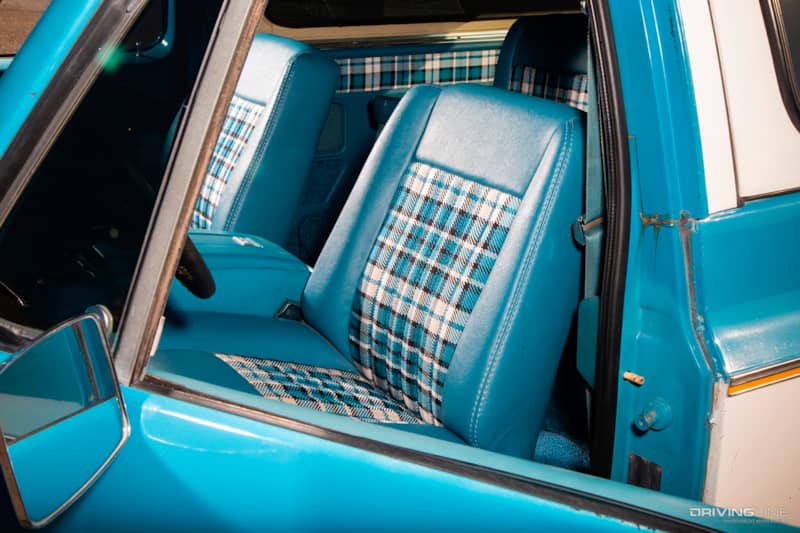 Altitude Adjustment
Once the GMC was at the Pro Touring Texas' headquarters, it was time to get the Jimmy closer to the ground. The front of the chassis was given Ridetech tubular arms and coil-overs for a cushy yet responsive ride quality. The lower arms had to be modified somewhat in order to create more turning radius for the upcoming wheel selection, but it wasn't anything that the crew couldn't handle.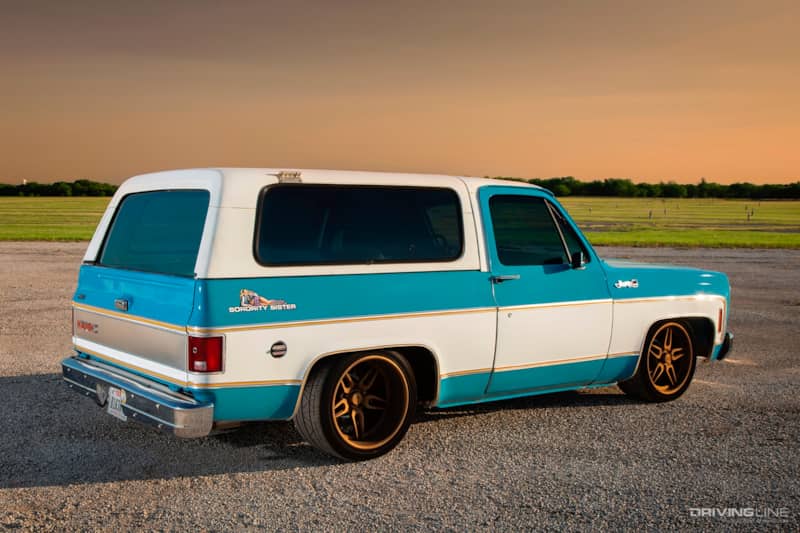 In fact, they had to modify the rear Ridetech parallel four-link system fit as well. "One of the toughest portions of the build was having to reengineer the Ridetech parts for the Jimmy as they were designed to work correctly on a C10," Cynthia said. Once the suspension components were successfully customized and installed, stopping power was upgraded with Baer Pro+ 6-piston 14-inch brake kits with the American flag etched in.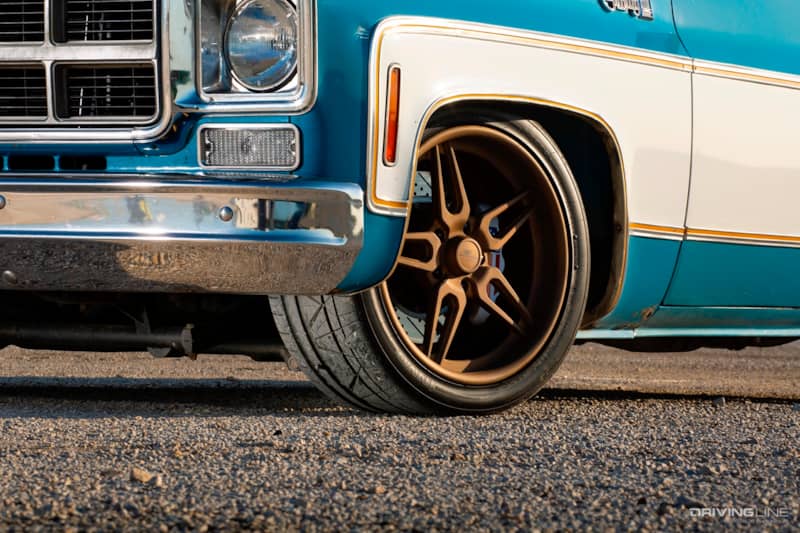 Rolling On
A staggered set of 19x10 and 19x12 Billet Specialties Razor wheels was then bolted into position. Now, it if wasn't for the modification of the front lower arms and the five inches of shortening of the Chevy 12-bolt rearend, there would be no way to squeeze in wheels of these widths, but that's just the type of thing the guys at Pro Touring Texas do day in and day out. To significantly increase the Jimmy's traction, 285/35ZR19 and 345/30ZR19 ultra high performance Nitto Invo tires were slung over the big billet hoops for excellent street performance with ride comfort.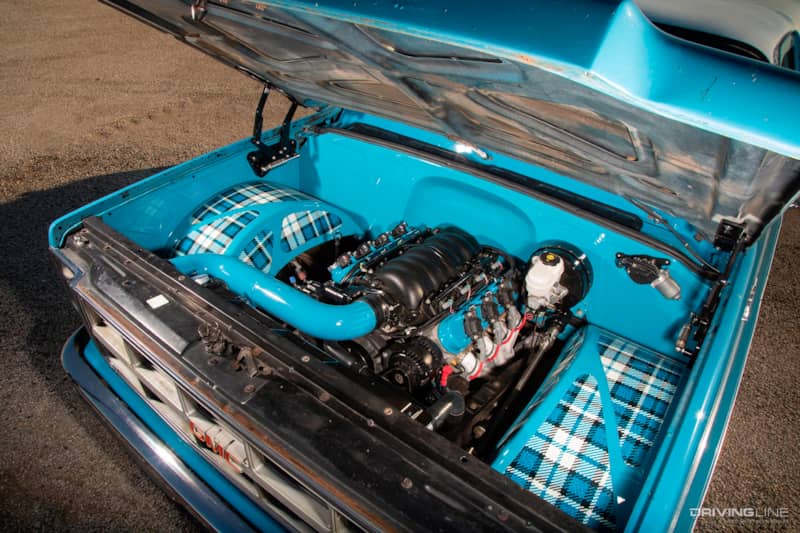 Heart of a Beast
The Jimmy's original small block and trans were replaced with a GM Performance LS3 power plant and a matching 6L90E 6-speed automatic. The new engine was soon outfitted with a Texas Speed camshaft, a Holley mid-mount accessory drive and valve covers, as well as a custom 4-inch aluminum air intake, 1 7/8-inch Ultimate Headers tubes, and Magnaflow mufflers to promote a heavy dose of melodic sounds.
Old School Kool
As far as styling went, the factory paint was in great shape and seemed fitting for this build. On the inside, SMS plaid fabric was sewn up by PG Auto Upholstery and matching plaid graphics were made on the Josh Hart wheel tubs inside the engine compartment. Giving insight to what is going on with the engine, a set of Dakota Digital gauges were wired up and placed into the dash.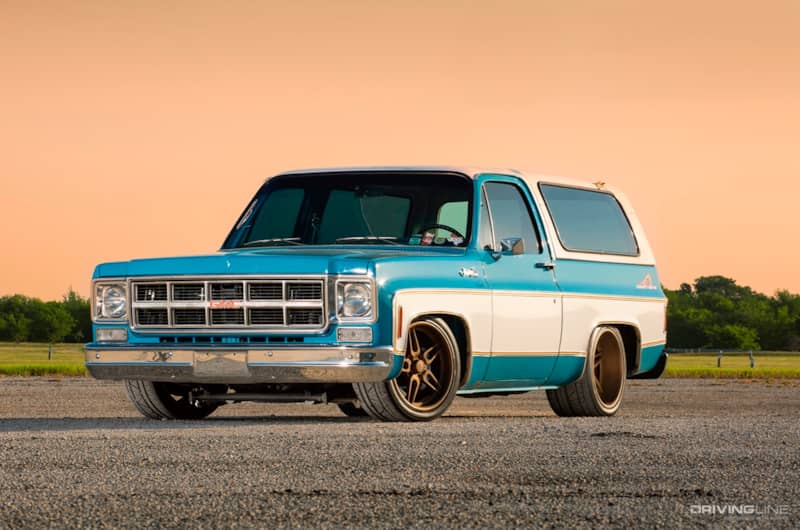 The Final Act
Once Pro Touring Texas set the Jimmy (now known as "Sorority Sister") free into Cynthia's care, her and Eric hit the road from Texas to show it off during last year's installment of Dino's Git Down in Arizona. "On the way out to Phoenix, we stopped at a buddy's place for a get-together in Amarillo. Turns out a gentleman there remembered our Jimmy when it was brand new in Amarillo, and he confirmed that it was originally white and blue like we suspected, and that the top had never been taken off. The stories we traded and the memories he had of the Jimmy will forever be in my heart and part of the story."