Synergy In Motion: 1971 Jeepster Commando
If you're a Jeep enthusiast, you likely recognize the rarity of seeing a '71 Jeepster Commando in the wild. This fact was not overlooked by the Jeep parts builders at Synergy Manufacturing, where this incredible build went from concept to reality in just six short months. Synergy Mfg.'s CEO Dave Schlossberg knew he wanted something to stand out from the sea of Jeep Wrangler builds, but still showcase a host of parts his company offers.
To achieve his dream goal of catalog parts and retro styling, his Synergy crew married a '71 Jeepster body to a chassis from a 2017 Jeep Wrangler Unlimited. While this may sound like a simple enough conversion, there were over 2,000 man hours put into the build to make it happen. We got a chance to check out the build up close during the 52nd Annual Easter Jeep Safari. While the video above proves that this Jeep is more than just a show vehicle, we're breaking down everything that makes this ride so special in the feature breakdown below.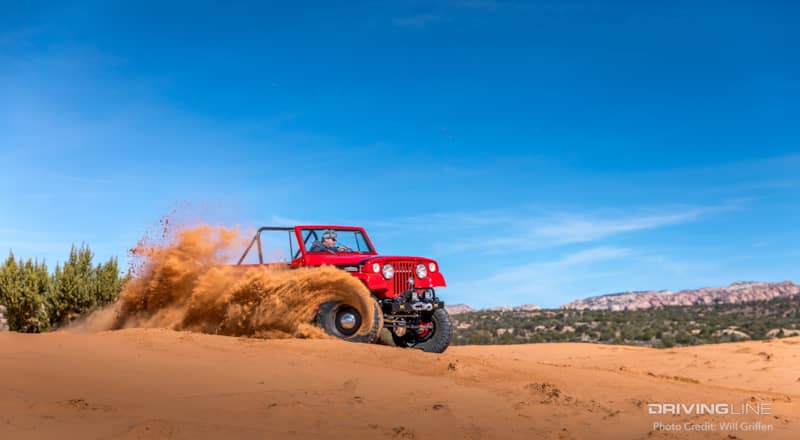 LS-Powered
Under the hood, you'll find a GM 6.0L LQ4 engine that's received machine work from Roslan's Performance, Tooley Racing cam and valve springs, and heads from Texas Speed. A set of Hooker Headers feeds a custom exhaust, while a BE Cool radiator keeps engine temps in check. To ensure the electrical would be up-to-date and trouble free, a harness from Painless was used, along with an Optima RedTop Battery and Mechman alternator.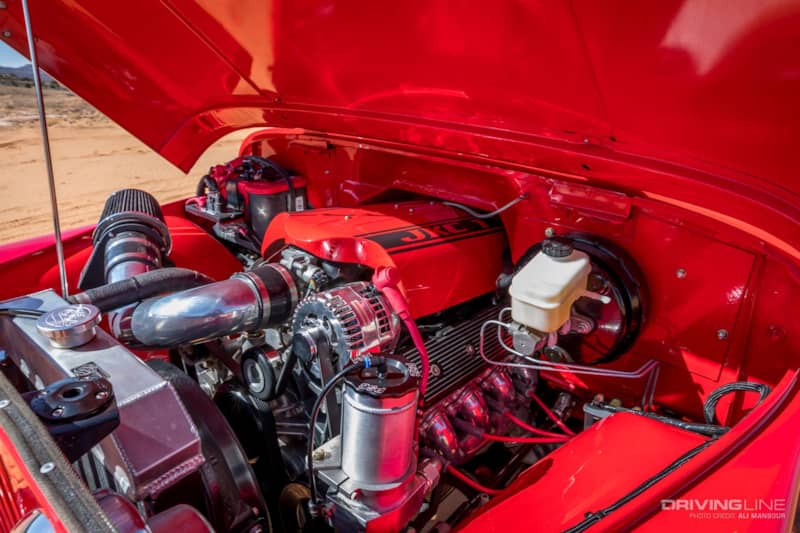 Atlas II Transfer Case
Backing the GM V8 is a 4L80e transmission from Gearstar. It's hooked to an Atlas II transfer case from Advance Adapters. This 3.8:1 gear-driven t-case drives a set of JE Reel driveshafts, which are fixed with 1350 series u-joints.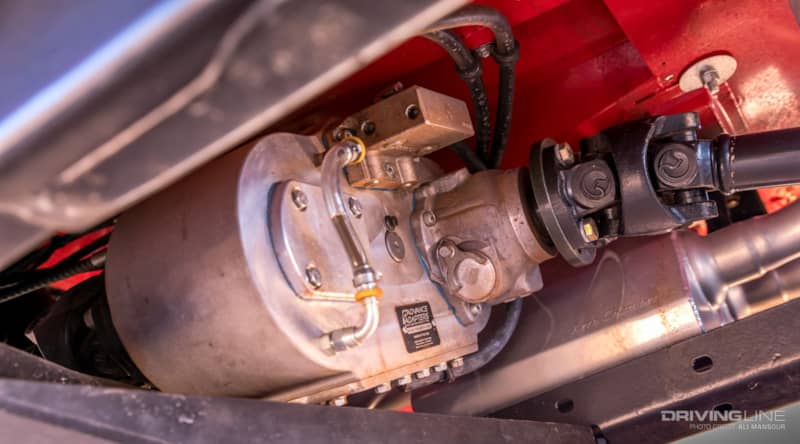 Strengthened Axles
The axle set was plucked from a Jeep Wrangler Rubicon and retains the stock E-lockers, along with the factory 4.10 gears. To increase the overall strength of the JK takeouts, each has been trussed and upgraded with a stronger set of axleshafts from RCV Performance.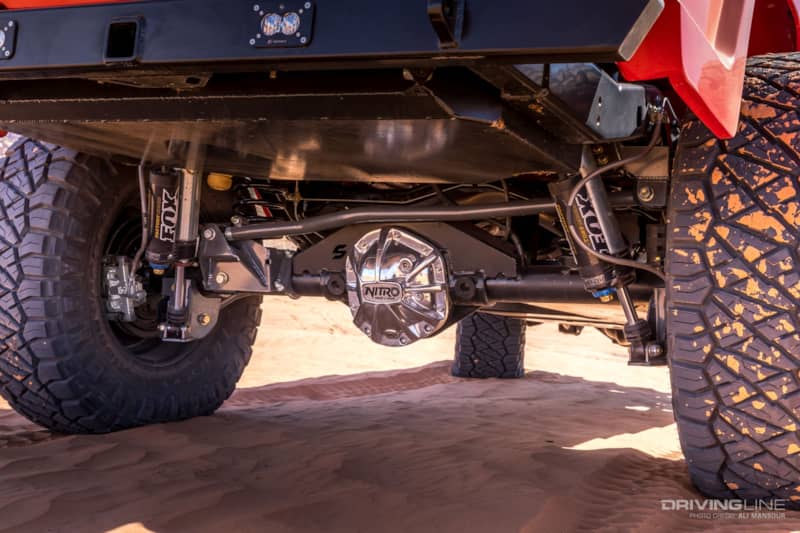 Warn Winch Included
Up front, you'll find an 8,000-pound Warn Zeon 8-S winch, which is surround by an assortment of LED lighting from Baja Designs. The steering system has been enhanced thanks to a Synergy HD draglink and tie rod kit. This works in conjunction with a cooler and steering pumping from PSC Motorsports.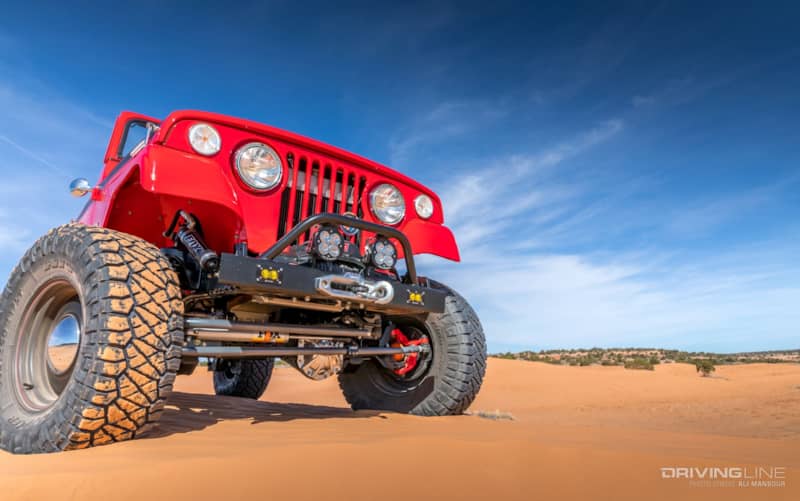 Synergy Suspension Underneath
Supporting the Jeepster is a stage 3 Synergy suspension system, which uses Fox 2.5 series shocks with dual speed compression adjusters. This setup allows for a foot of suspension travel. To protect the undercarriage, a full host of Synergy JK skidplates run from the Tilden Motorsports engine oil pan all the way to the backside of the transfer case.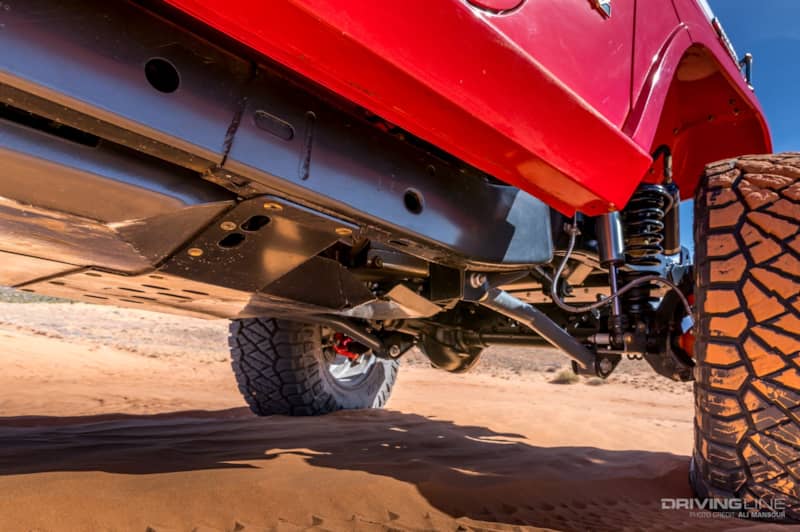 Nittos and Classic Wheels
When it came time to get a set of treads for Jeepster, not just any old tire and wheelset would do. To achieve that classic look, a set of 17-inch Smoothie wheels from Wheel Vintiques were paired with one of the most dynamic light-truck tires on the market—the Nitto Ridge Grappler. The 35x12.50 Ridge Grapplers fit nicely into the wheelwell thanks to a bit of clever body work.
To achieve the 101-inch wheelbase, the Jeep Wrangler Unlimited JK's frame was shortened. With the LS under the hood and other unique fitment challenges, the crew spent hours reworking the firewall and making subtle modifications like the exhaust opening in the rocker panels. Thankfully, the well-executed work blends seamlessly and the only thing most people get an eyeful of is the Fire Cracker Red paint job from San Luis Autobody.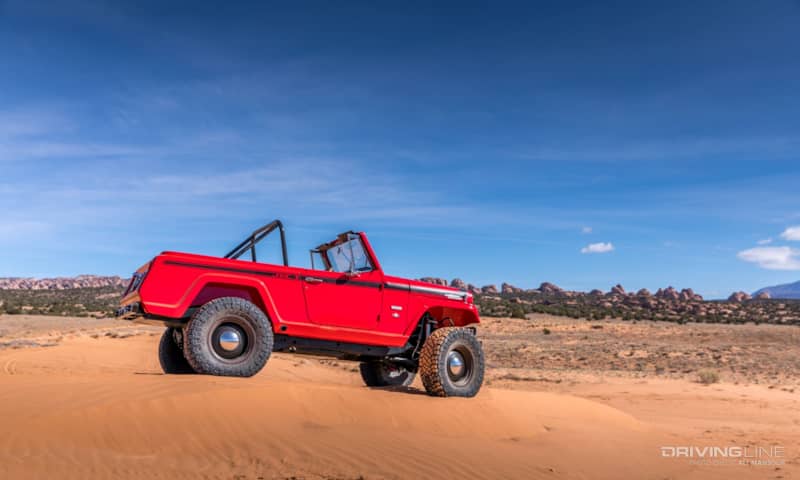 Gorgeous Interior
Of course, with a build of this level, the interior wasn't going to be overlooked. The stock seats were given new life thanks to San Luis Auto Interiors, who helped complete the rest of the Jeepster's interior. The wooded-rimed steering wheel comes from Grant, while the gauges were sourced from Auto Meter.
Made for Off-Road
Despite the immense amount of man hours and money in the build, this Jeepster gets plenty of off-road use. In fact, after the company's Moab trip, they hit the Rubicon for another 'wheeling excursion. While there are plenty of JK bits and modern touches, the classic styling of the Jeepster Commando still remains. Be sure to check out even more shots of the Jeepster in the gallery below.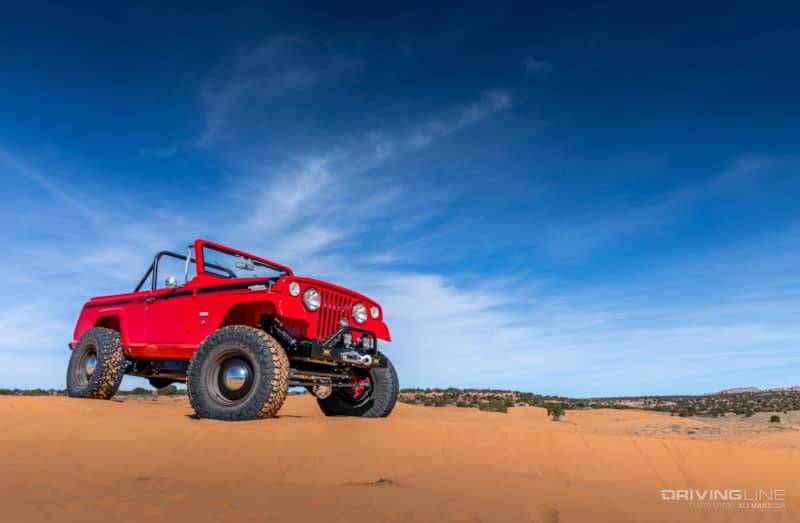 Hard Facts
| | |
| --- | --- |
| VEHICLE | 1971 Jeepster Commando |
| ENGINE | 6.0L LQ4 GM V8 |
| TRANSMISSION | Gearstar 4l80e |
| TRANSFER CASE | 3.8:1 Atlas II |
| AXLES | JK Next Gen Dana 44, Tru-Loks, 4.10 gears, RCV Performance axleshafts  |
| SUSPENSION | Synergy Mfg. Stage 3 |
| WHEELS | 17x9 Wheel Vintique Smoothie |
| TIRES | 35x12.50R17 Nitto Ridge Grappler |
| MISC | Synergy Mfg. skidplates, Warn ZEON 8-S winch, Baja Designs LED lights, JE Reel driveshafts, custom fuel cell |
This wasn't the only awesome Jeep build we saw at Easter Jeep Safari. We also found an epic Jeep Gladiator J200!