Test Drive Review: 5 Things We Liked About The 2022 Mercedes-Benz EQS EV Flagship Sedan (And Two Things We Didn't)
The 2022 Mercedes-Benz EQS takes the German brand's flagship in a full-electric direction, aiming to harness the prestige, power, and luxury of the S-Class sedan and yoke it to an all-new EV platform. It's a necessary gambit in a world where Tesla has established itself as the market leader, and where rivals like BMW (the i7) and Audi (the e-tron GT) are heading in the same battery-powered direction.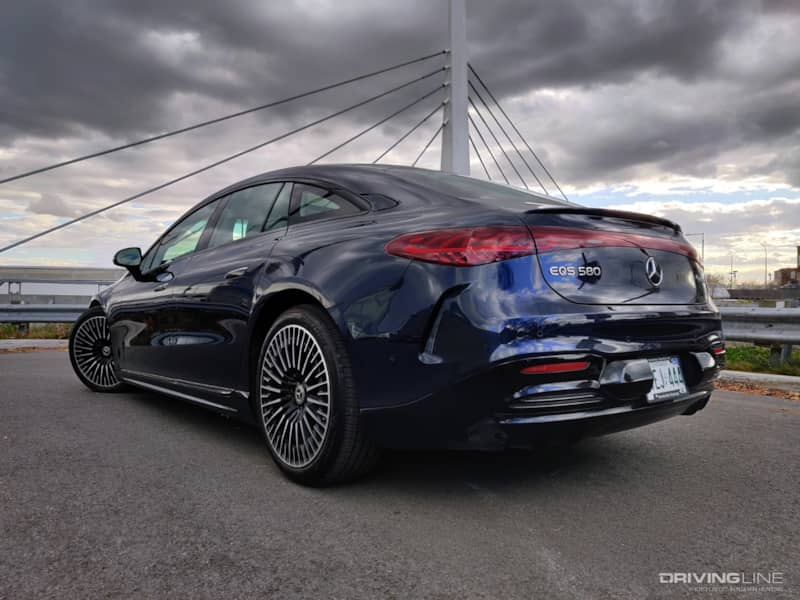 What's it like to live with the new EQS in mid-range 580 trim for a week? Here's what we enjoyed the most about the new Mercedes-Benz electric sedan (and a couple of things we think could have been better).
Awesomely Smooth Ride
Full-size luxury vehicles don't need to deliver the same level of precise handling and road feel as a sports car, a fact that seems to have been occasionally forgotten after sampling the suspension setups of recent high end SUVs and sedans. Fortunately, the Mercedes-Benz EQS 580 serves as a welcome respite from the shuddering shocks and over-stiff springs asked to control too much weight by similarly-large six-figure automobiles.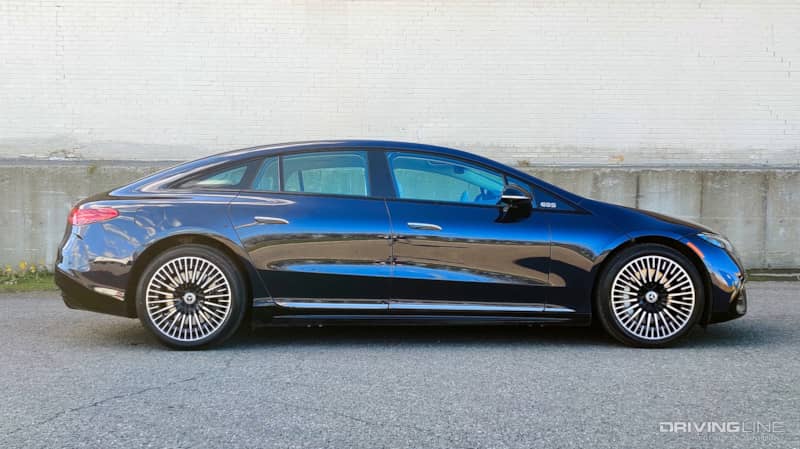 The EQS makes use of an air suspension to quell body movement, but like most EVs is also keeps its enormous battery pack mounted low in the chassis to help drop the car's center of gravity as close to the pavement as possible. Steering is relaxed, and the car's length disappears when parking thanks to up to 10 degrees of turn from the rear wheels. It's an insulated, pillow-top experience, and while there's already an AMG version of the EQS that subverts the vehicle's low-key commute, the 580's attenuation of the outside world is a welcome break from the hi-po status quo.
Power Through It
That being said, don't discount the EQS 580's 516 horsepower, dual-motor setup when it comes to motivating the sedan's 5,700 pounds of curb weight. The all-wheel drive model sits in the middle of the three available EQS trims, and also generates an astounding 631 lb-ft of torque that are available at all times with a simple press of the pedal.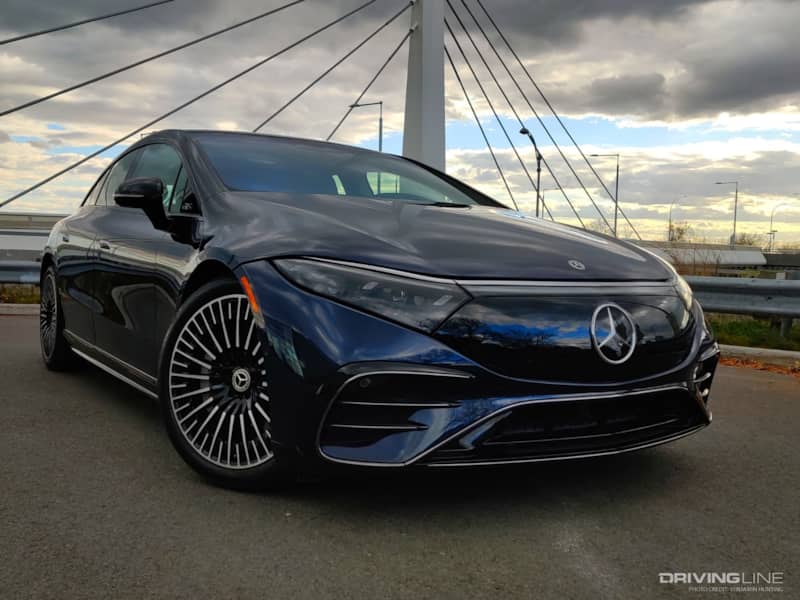 Designed to hold its own with autobahn rockets featuring turbocharged V10s and V8s, the Mercedes-Benz EQS 580 puts on a clinic every time its asked to surge ahead in traffic, building speed well past lose-your-license levels with a relentless confidence rarely seen in gas-powered vehicles. You can opt for a synthesized soundtrack to score the vehicle's 4.1 second sprint to 60-mph, or you can simply sit back and enjoy the silence, interrupted by only a slight rising whine as the four-door punches a whole through whatever interstate atmosphere provides you with enough room to test the upper limits of the EQS' electrons.
Bright Lights, Big Cabin
There are two distinct components to the EQS 580's interior experience. The first is the craftsmanship and care that has gone into assembling the seats, door panels, center console, and any area where your fingers might encounter the materials used in the cabin's construction. Blindfolded, even the most casual car fan would able to tell by soft-touch Braille alone that this automobile has been put together to the highest standard, setting it apart in many crucial areas from the more casually-built, yet similarly-priced Tesla Model S.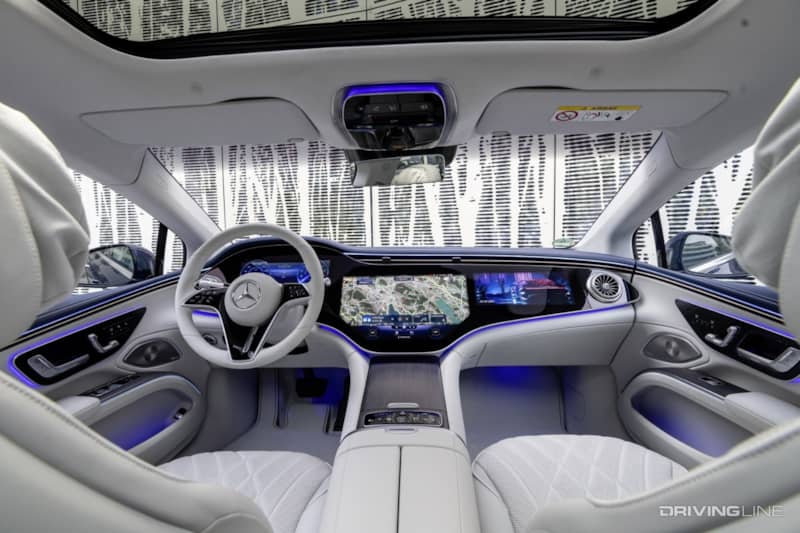 With the blindfold off, it's time to squint at the sheer amount of light emanating from seemingly every corner of the Mercedes-Benz's passenger compartment. The vehicle's wall-to-wall Hyperscreen dashboard, which links three screens under the MBUX infotainment system (with even the passenger getting their own touch panel to play with) is a lot to take in, and while hard buttons are missed, it's certainly impressive to behold (especially if you happen to be a fan of configurable gauge clusters and immersive mapping displays).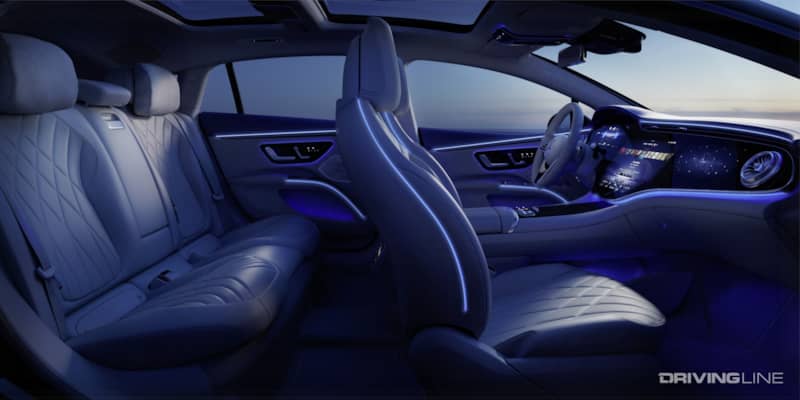 Alongside the Hyperscreen, Mercedes-Benz has stuffed the EQS interior with enough LED yardage to fence off Tron's car corral. There must be a mile of driver-controllable, color-swapping illuminated rope embedded in nearly every inside surface of the automobile, calling to mind a cross between an EDM festival light show and a Chihuly exhibition.
Take The Long Way Home
With its 108-kWh battery, the EQS 580 has plenty of juice to tackle the driving needs of the vast majority of its owners. Mercedes-Benz is claiming an EPA-certified 350 miles of driving range, and in my experience with the car it was quite easy to keep energy consumption modest when tooling around town, thanks to a very efficient regenerative braking system. I didn't find the one-pedal regen mode to be as comfortable to use as the mid-tier 'moderate' setting, but even without dipping into maximum regen the battery stayed relatively topped-up in stop and go driving.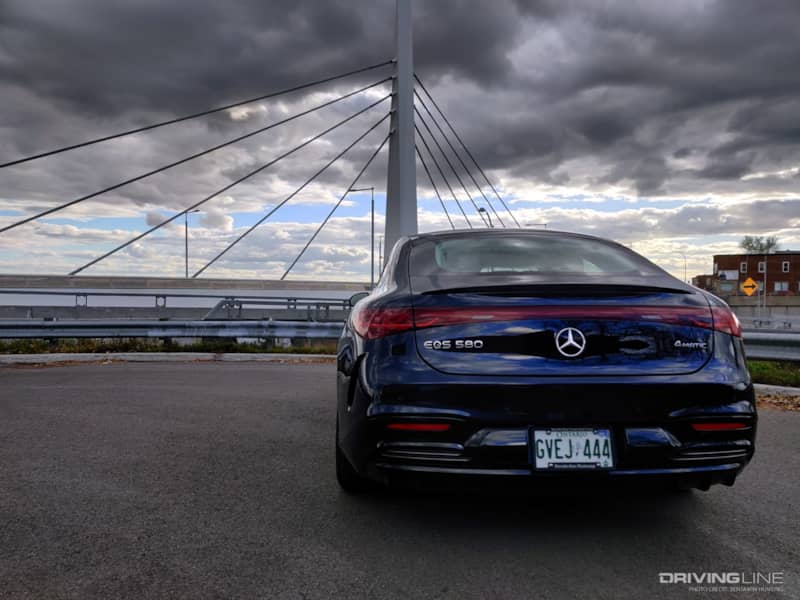 Charging speeds can reach 200 kW, which is a solid number, albeit a bit behind a few of its six-figure rivals. On my home charger I was able to go from half-empty to completely full in just over six hours, which is respectable performance for a level 2 plug.
More Big Hatches, Please
The prevalence of curved rooflines and plunging C-pillars on today's sedan market means there's no excuse for not taking advantage of the hatchback potential offered by larger models.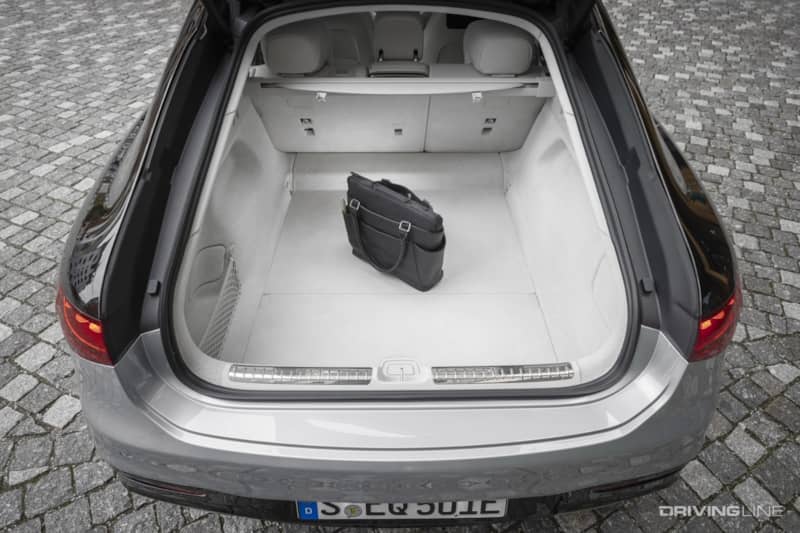 The Mercedes-Benz EQS 580 is in full agreement, as its cavernous rear cargo compartment delivers 22 cubic feet of well-proportioned storage space, a number that increases to a whopping 63 cubes with the rear seats folded flat.
About That Design…
If the Mercedes-Benz EQS 580 has a weak spot, it's in the styling department. There's nothing interesting about the sedan's shape, which was whittled down by aero engineers until it achieved a 0.20 coefficient of drag to help boost its range at highway speeds.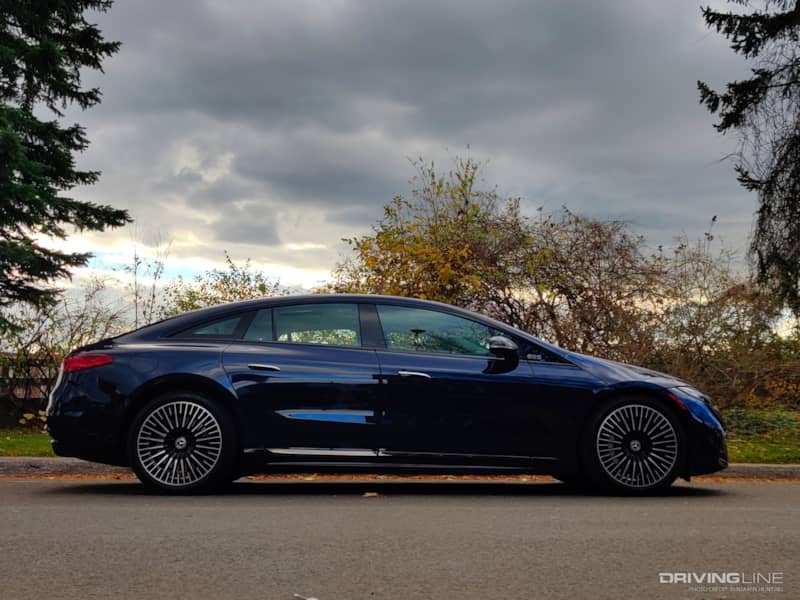 With so much attention paid to the quantitative measure of its sheet metal, the qualitative character of its overall look has distinctly suffered, as the sedan doesn't come close to backing up its $126,000 starting price in terms of looks. This is especially true at the front end, where the sloped shape calls to mind the Chrysler 'cloud cars' of the late '90s–innovative for their time, but dated in a modern context.
Dude, Where's My Frunk?
Despite its relatively long nose, the EQS 580 doesn't balance out its generous hatch/trunk space with an equally useful 'frunk.' In fact, there's nothing accessible ahead of the windshield at all, with the under-hood acreage off limits to owners.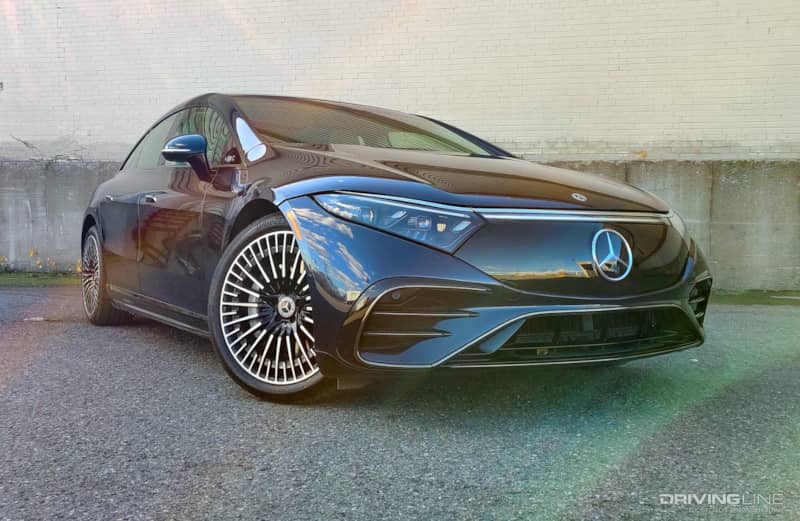 There's likely an aero-related reason for this missing feature as well (as the lack of opening reduces seams and lines that disrupt air flow around the vehicle), but it unfortunately limits the Mercedes-Benz's practicality in the face of most of its rivals.