Test Drive Review: The 2023 Kia Sportage X-Line AWD Aims To Take Down The RAV4 and CR-V
It would be difficult to accuse Kia of following in the footsteps of compact crossover class leaders like the Toyota RAV4 and the Honda CR-V. Whereas those two sales giants have gradually diluted their styling and driving profile to please the widest possible swathe of customers, the newly redesigned Sportage indicates that Kia has a more specific image in mind for one of its most popular models.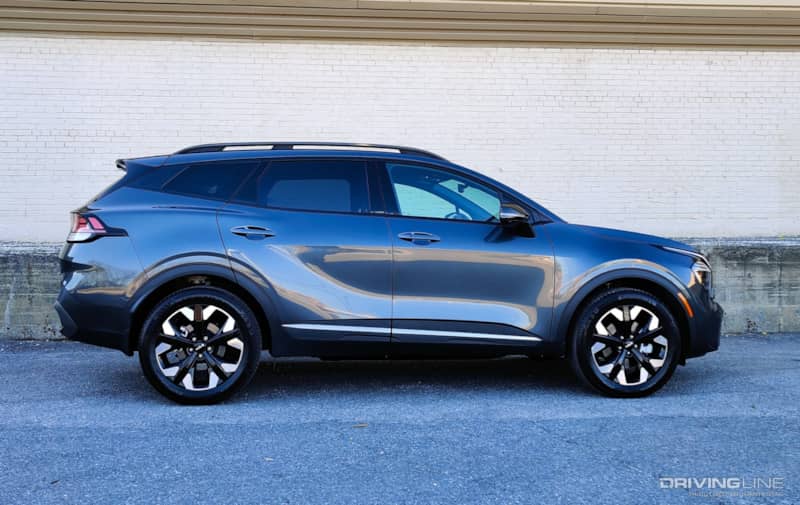 Bigger, and pushing a more upscale attitude than before, the 2023 Kia Sportage keeps value on the menu with both standard and hybrid models available under $28,000. For those who are willing to spend a little more cash—and really, at $31,000 the X-Line AWD model is a very manageable stretch—the Sportage also introduces additional design flair inside and out that is harder to achieve when shopping one of its more austere antagonists. Not quite luxury, but far from basic, the Kia Sportage aims to satisfy those seeking a small SUV that's not afraid to be 'extra.'
Big Ups All Around
The 2023 model takes the word 'extra' literally when it comes to the Sportage's fresh platform. Featuring the same underpinnings as the mid-size Sorento, Kia has pushed the compact's wheelbase out to the point where rear seat room feels of a piece with a class-above automobile. Cargo space is equally generous, matching the also-new CR-V for 'trunk' space with 40 cubic feet and almost equaling it with the rear accommodations folded flat.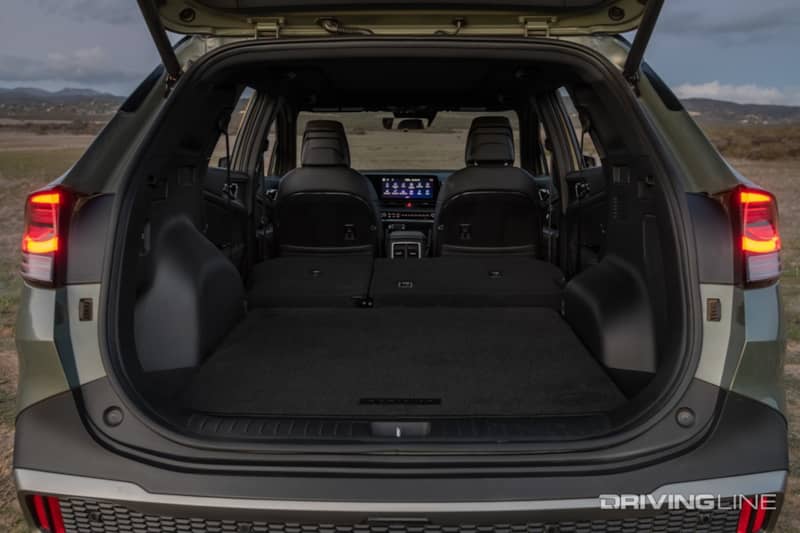 Although larger than before, the Kia Sportage doesn't overwhelm with its exterior proportions. Instead, it offers up an angular design that features a pronounced jutting chin flanked by forward-pointing LED arrowheads and a chiseled bulkiness that quickly separates itself from more anonymous efforts in the segment. The X-Line AWD model I drove further adds 19-inch, blacked-out wheels, similarly-hued trim, a small suspension lift over front-wheel drive models (to give it 8.3 inches of total ground clearance), and a serrated lower lip (presumably for mowing down wayward shrubs that might cross its path).
Not-Quite Soft-Roader
The X-Line AWD is the baby sibling of Kia's X-Pro soft-road trim, with the latter introducing 17-inch wheels, all-terrain rubber, multi-terrain drive modes, and a lockable center differential that manages a 50/50 torque split between the front and rear axles. If memory serves, this all-wheel drive lock used to be available on more than just Kia's special models, which makes it a little disappointing to see it now become the exclusive province of the more expensive X-Pro.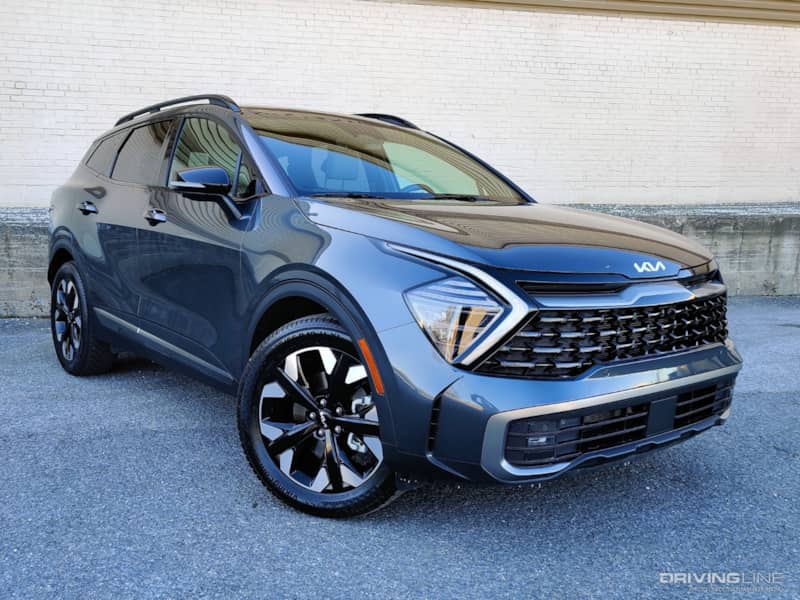 No matter: the X-Line I tested wasn't seriously suggesting that I guide it towards the nearest trail and let 'er rip. Rather, the real benefits of this faux-roader trim are found back inside the cabin, where in addition to a generous environment the vehicle is loaded with the kind of near-posh look and feel that's often missing from reserved rivals like the CR-V and the RAV4.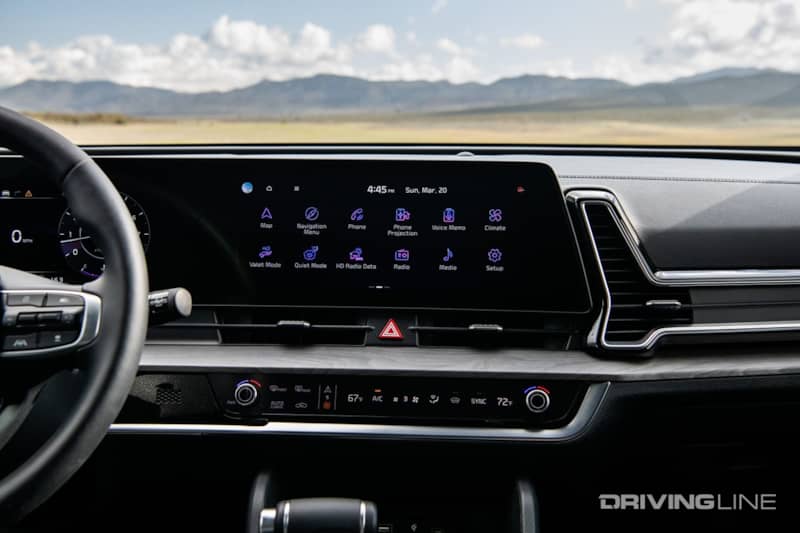 Leading lights inside the Sportage include a welcoming infotainment presentation in the form of a pair of 12.3-inch screens that together make up a near-solid LCD panel that's canted ever so slightly towards the driver. It's functional, surprisingly warm, and decidedly higher rent than what one would expect given the vehicle's price point. Do I wish that Kia hadn't played the incredible shrinking control set game by making the range of touch sensors and dials situated just below it context-sensitive, requiring extra fiddling before I could up the cabin temp or use the volume dial? Definitely, but it's my only complaint about how the entire dashboard is laid out.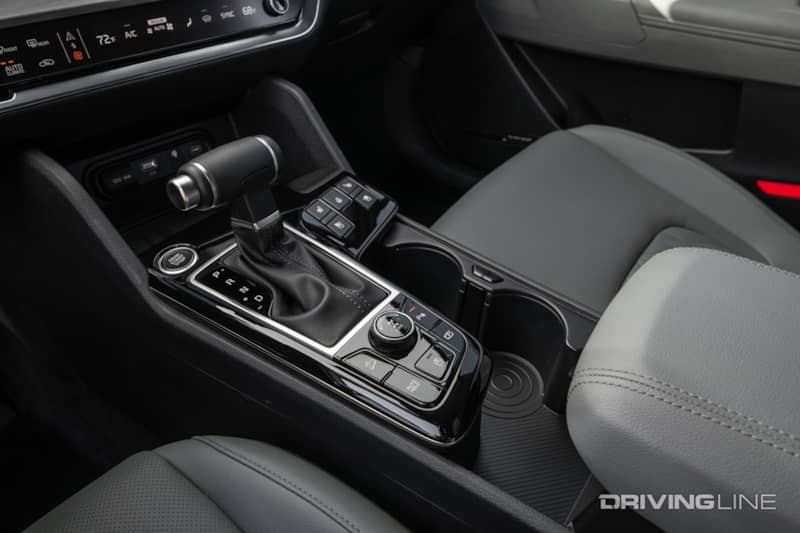 The center console itself is stacked with hard buttons for seat and steering wheel heaters, seat cooling, and a variety of driver assists. The X-Line I drove came with a sturdy shift lever rather than the more common button or dial setup, but there was still plenty of storage to be found for my phone and gloves. The entire effort is capped off with eye-pleasing metal trim and sorta-kinda-probably leather coverings for the dash and doors, with soft-touch upholstery also included on the seats.
Meek Under The Hood
All gas-powered versions of the Sportage are set up with a 187 hp, 2.5L four-cylinder engine, (with the X-Line AWD including all-wheel drive as standard equipment). With 178 lb-ft of torque on tap, the engine's efforts are adequate, but mid-pack among compact SUVs (alongside its similarly-positioned 23-mpg city/28 mpg highway fuel economy rating). An upgrade is offered in the form of a plug-in hybrid that adds an electric motor and a modest battery to deliver 226 hp and a modicum of EV-only cruising capability.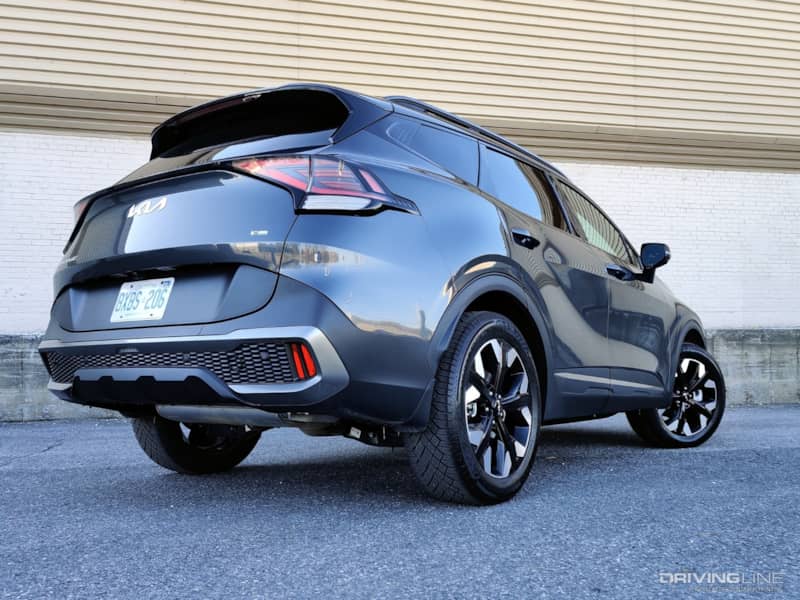 With an eight-speed automatic gearbox handling the shifting duties, the Sportage X-Line avoids the buzzy character that's often associated with continuously-variable automatics at its price point. It's safe to say, however, that taken together the drivetrain doesn't make much of a mark from behind the wheel: the Kia is just quick enough to feel capable in traffic, but nowhere near noteworthy by any other seat-of-the-pants acceleration metric.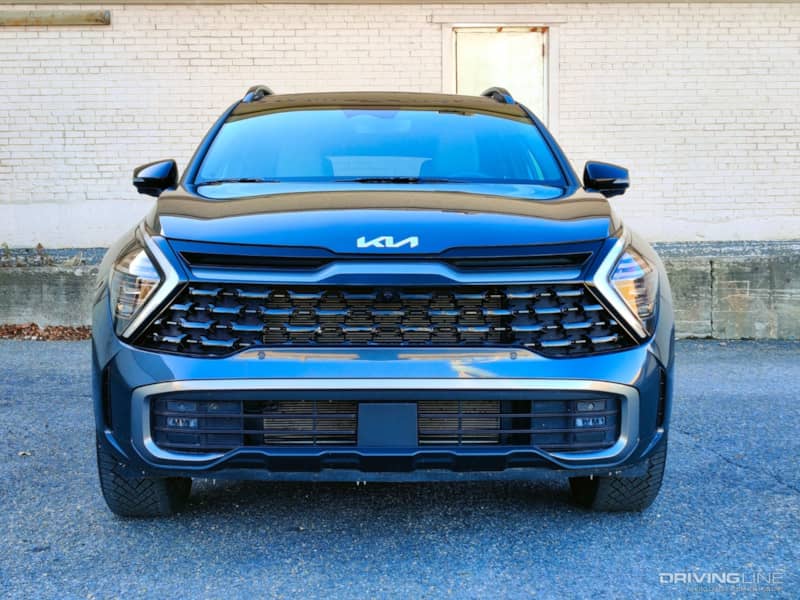 The same can be said for its carefully within the confines of comfort handling characteristics, making the Sportage a fine commuter that is disinterested in drifting out of that particular lane. In the cold and slippery conditions I faced during my week with the X-Line, however, it had no qualms about quashing snowy roads and icy alleys, even without the additional X-Pro off-road equipment in place.
Money Play
The 2023 Kia Sportage X-Line is a worthy step-up over past versions of the vehicle. In particular, it's refreshing to see an automaker push past expectations with a nicer-than-it-has-to-be set of features and interior accommodations in what is still a very affordable SUV.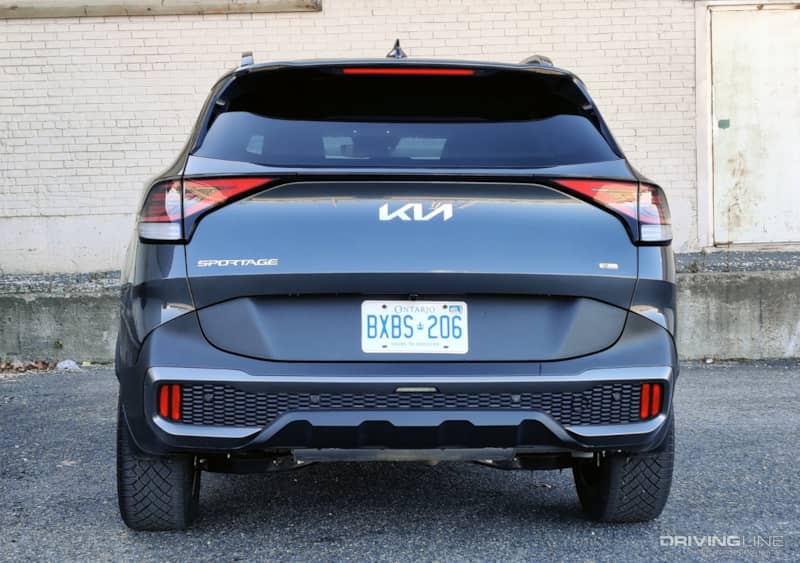 It's hard to recommend paying the extra $4,000 to sample the limited trail aspirations of the X-Pro, but as a rank above the base Sportage LX or the next-up Sportage EX, the X-Line AWD comes across as the sweet spot on the Kia compact's order sheet—especially if you have to deal with a wintry climate several months out of the year.