Review: The 2022 Kia Sorento PHEV SUV Promises To Slice Your Family Fuel Costs  
The larger your family gets, the higher your fuel bill climbs—at least, that's usually the story when seeking out a daily driver that's capable of transporting the entire brood in one go. A recent trend of plug-in hybrid SUVs, however, promises to at least attenuate some of the effect of soaring gas prices, especially if your driving is restricted to a mostly urban environment.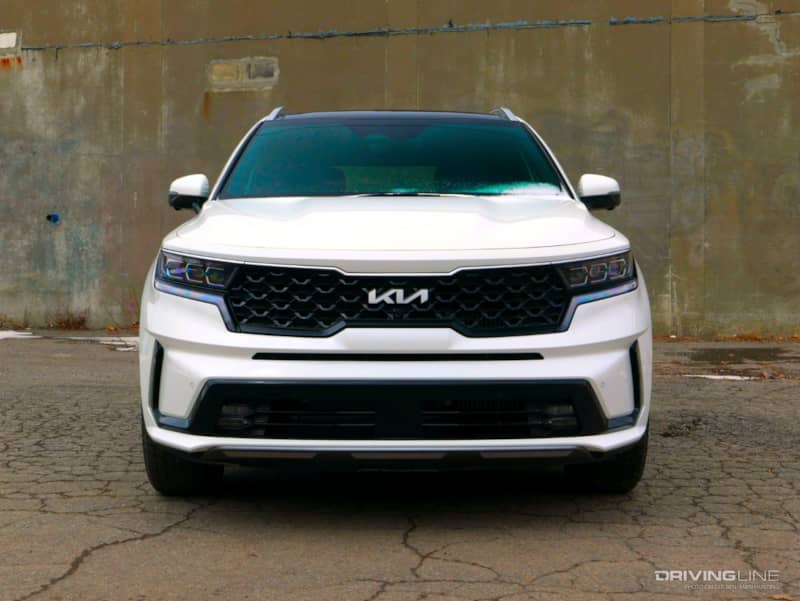 The 2022 Kia Sorento Plug-in Hybrid is one of the latest three-row sport-utilities to dip its toes into the big battery pool. Building on the previous year's Sorento Hybrid, the Plug-in model adds a power pack that can be charged via a wall outlet, with an eye towards delivering up to 32 miles of electric-only driving. While that number might sound meager on its own, when placed in the context of a day's commuting it quickly becomes clear that the Kia's battery power is enough to cover most American's needs. Once that's run out, the Sorento simply shifts into hybrid mode, providing strong fuel economy on longer trips (or during quick dips back to the charger at home).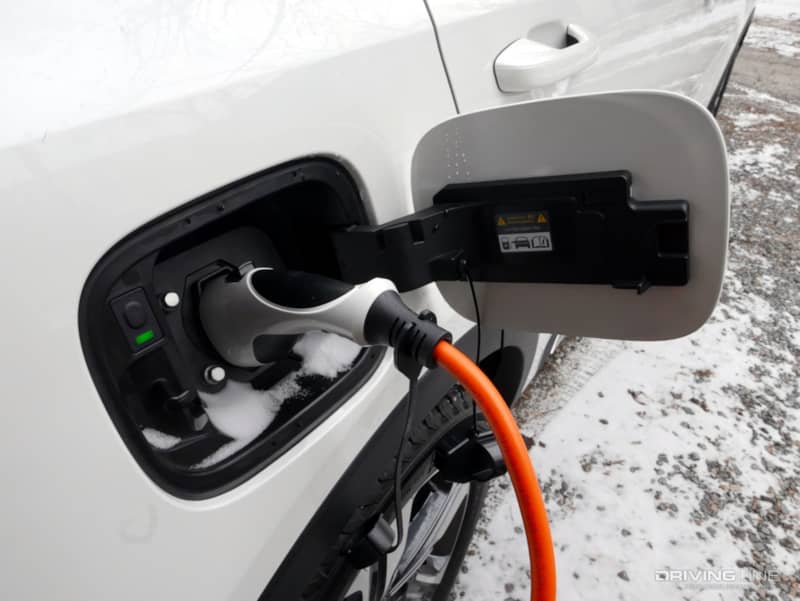 Just how well does the Sorento PHEV balance between the dual worlds of emissions-free EV cruising and battery-assisted hybrid hauling? And is it worth the extra cost over the standard Sorento's not-insubstantial charms?
Still The Same Sorento
The plug-in Sorento doesn't ask you to make any practicality compromises to accommodate the extra 221 pounds of battery its hauling under the passenger compartment. Cargo space tops out at 75.5 cubic feet, just like the gas-only Sorento, and legroom for each of its three rows matches that of any other edition of the Kia SUV.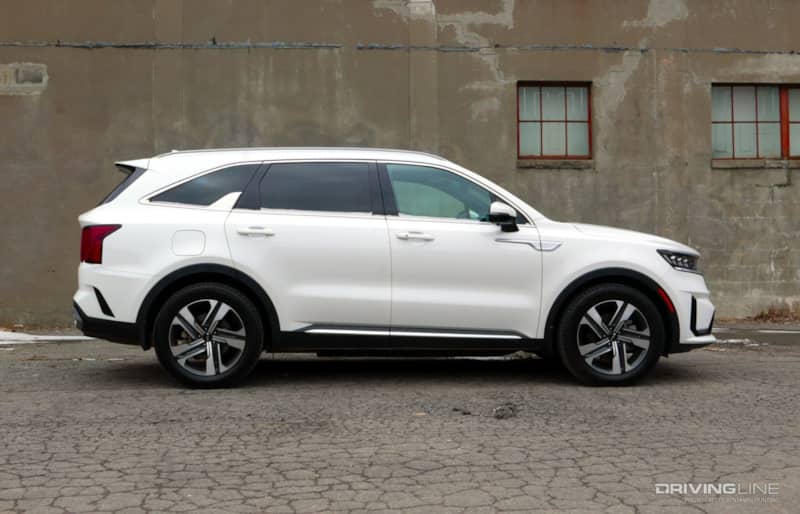 You can stuff six riders under its roof, too, but you'll want to make sure that anyone relegated to the rear-most row is under the age of 10: the Sorento's accommodations at the back are child-friendly at best (although limber adults are likely to tolerate those confines for five-minute intervals).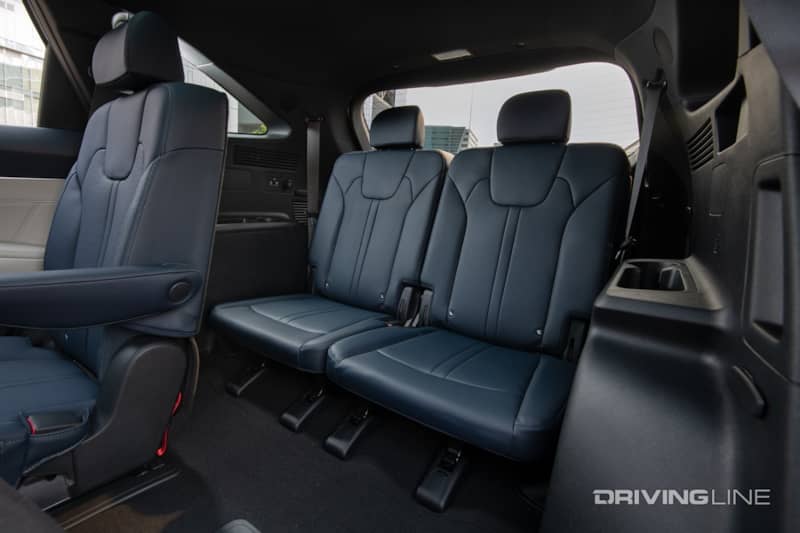 Although not quite as generous as the larger Kia Telluride, the rear seat is more than made up for by the vehicle's generous stretch-outs up front and in the middle row. With the final set of seats folded flat, I was also able to accommodate a fair number of tools, including an air tank, without any issue.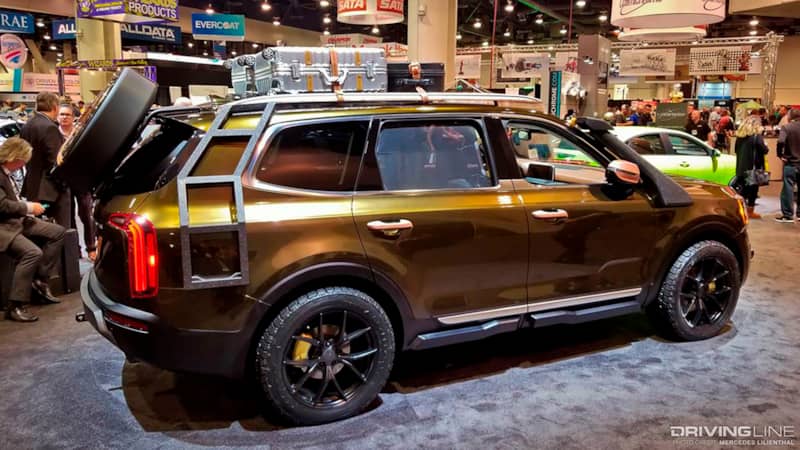 Available in only two trims—the SX and the SX Prestige—the plug-in Sorento is also well equipped across the board. Highlights on my Prestige tester included heated and cooled leather seats (with second row heating and a heated steering wheel), a large 12.3-inch infotainment touchscreen, a heads-up display, and a front-to-rear sliding glass roof. I found that Sorento to be a comfortable road trip companion, on both rural two-lane blacktop as well as high-speed highway segments of the journey.
32 Miles Of Freedom
Conservative, albeit handsome styling and plush interior aside, the 2022 Kia Sorento PHEV's real party trick is going gas-free. This is accomplished by way of a 90 hp electric motor that's designed to take over when driving at speeds of 40-mph or lower (also stepping in during highway deceleration). It's tucked between a six-speed transmission and the Kia's 1.6L four-cylinder turbo engine, and linked to a 13.8 kWh battery pack (a huge step up from the standard Hybrid model's 1.6 kWh unit). All-wheel drive and front-wheel drive are both available.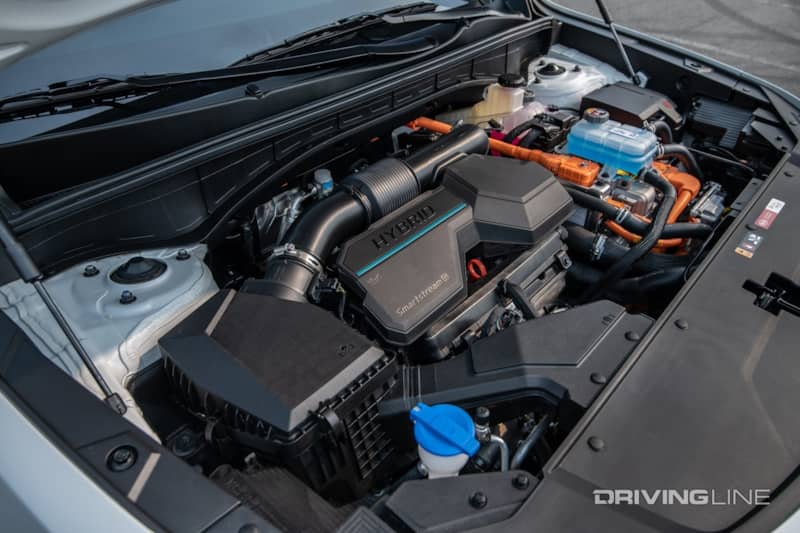 If you're thinking 90 ponies don't sound like much, particularly when you're dealing with a 4,500 pound SUV (with 395 pounds dedicated to the hybrid drivetrain itself), you are correct. Still, despite the fact that the Sorento PHEV is a full second quicker in a straight line to 60 mph than the Sorento Hybrid (a credit to its combined system output of 261 hp and 258 lb-ft of torque), sheer performance is pretty low on the list of criteria when shopping for a family-oriented SUV. More important is the Sorento's ability to lean on its battery to keep the gas engine idle during that first 32 miles after a full charge (available after 2 hours at 240-volts, or up to 12 hours on a 110-volt wall socket). Here, the Sorento is bit of a mixed bag.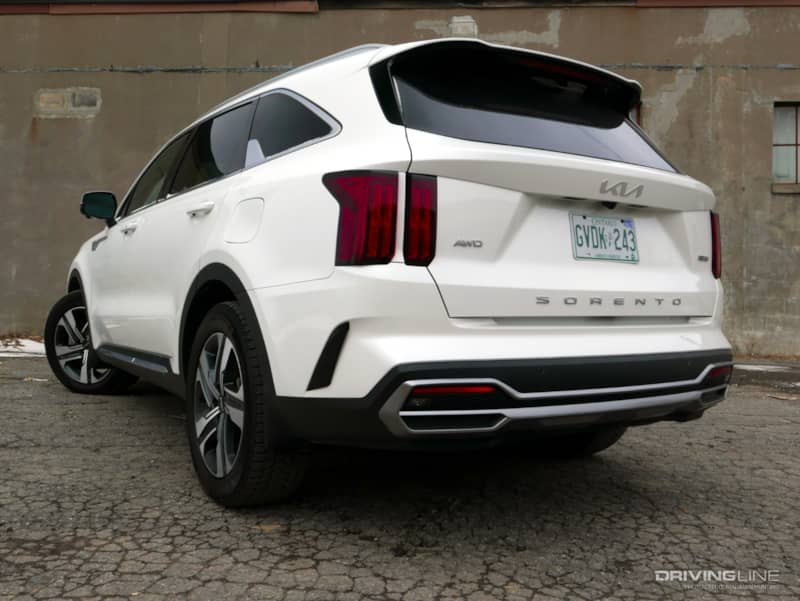 I had no trouble leveraging the electric motor's output when driving from one stoplight to the next, as it was more than capable of motivating the Kia's bulk. That being said, perhaps because of the colder temperatures (just above freezing) during my time with the vehicle, I had difficulty convincing the Sorento to not fire up the gas-burning fires of its turbo four. Even with the vehicle's drive mode set to 'EV' instead of 'Hybrid' or 'Automatic,' it often ran the engine, even at idle, for at least a few minutes during a given trip. Presumably this was to warm up the cabin, which is not a traditional strongpoint during battery-only operation, but it was frustrating to be presented with a feature that suggested a true electric mode (as found in rivals like the Toyota Highlander plug-in) only to discover I was still at the mercy of the Sorento's internal algorithms.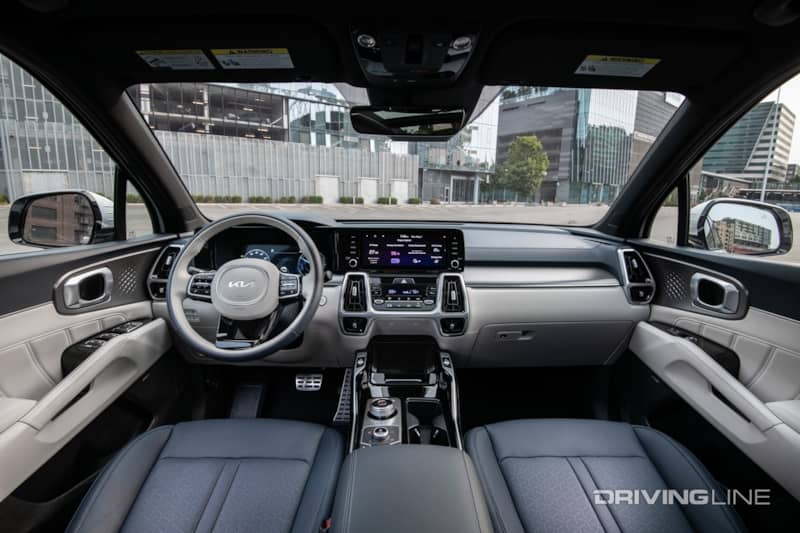 On warmer days the EV was more willing to play ball, and its 32 mile range estimate proved accurate, and even occasionally an undersell of just how far I could go on battery alone if I was judicious about sending energy back into the drivetrain by way of regenerative braking. When it was time for the gas motor to join the party after its electrons had been depleted, the vehicle displayed a dual personality that was sometimes rough at lower speeds, but perfectly smooth during highway cruising. I hope this is merely a software tuning issue that Kia can work out with a service update. It's not a huge problem, and it's most noticeable during the hand-off between electricity and gas, but it stands in contrast with a number of other, more transparent PHEVs.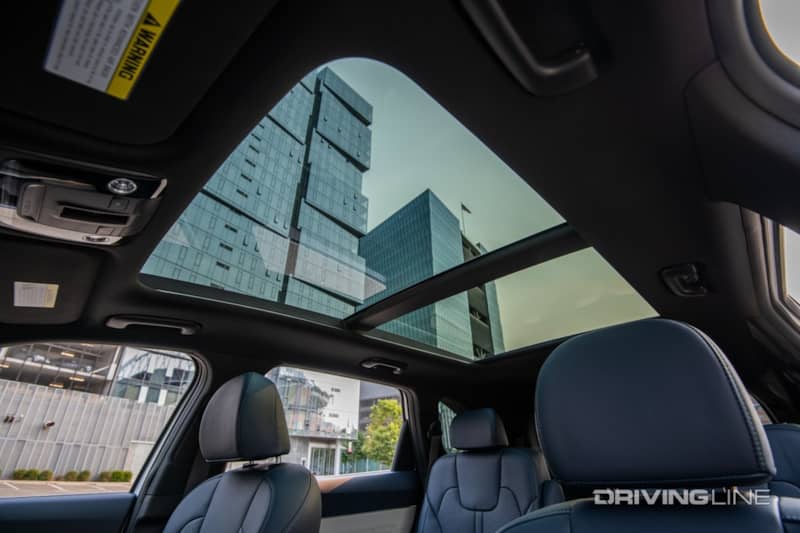 Overall, even with a fully-depleted battery, I saw an impressive 30-35 miles per gallon from the Sorento Plug-In, which is just below the rating of the lighter Sorento Hybrid, and certainly commendable for such a large vehicle.
Worth The Cost?
There's a cost to going electric, and for the Kia Sorento PHEV you're looking at a starting price of $45,190. How does that compare to the Sorento Hybrid? It's hard to say, given that the Hybrid is offered in S and EX trims, while the Sorento PHEV presents in the top-tier SX and SX Prestige editions mentioned earlier, neatly splitting the brand's electric play in two.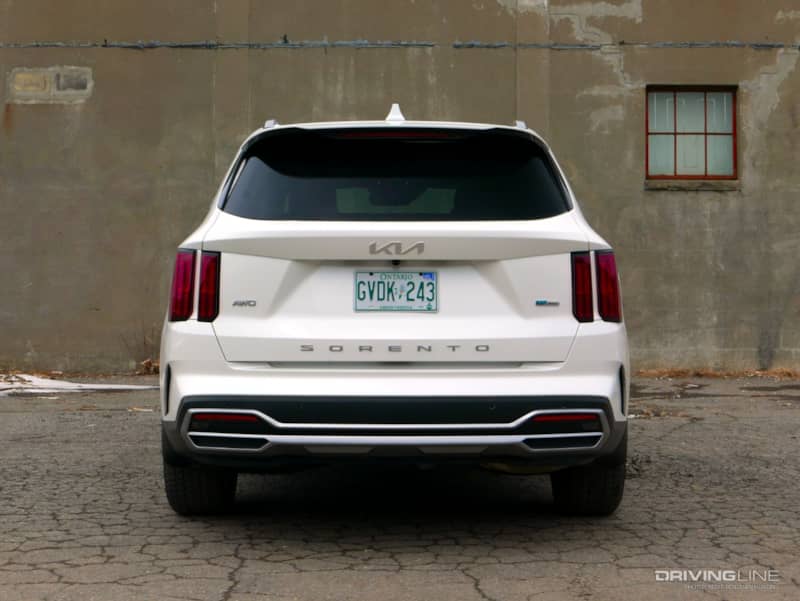 As compared to the gas-only SX, however, the plug-in Sorento asks for an extra $7,000 or so, a gap that is largely erased by the availability of a $6,587 federal EV tax credit. That keeps it competitive with comparably-equipped rivals like the Highlander, and significantly cheaper than the high performance Ford Explorer Hybrid (the only other non-luxury plug-in 3-row out there).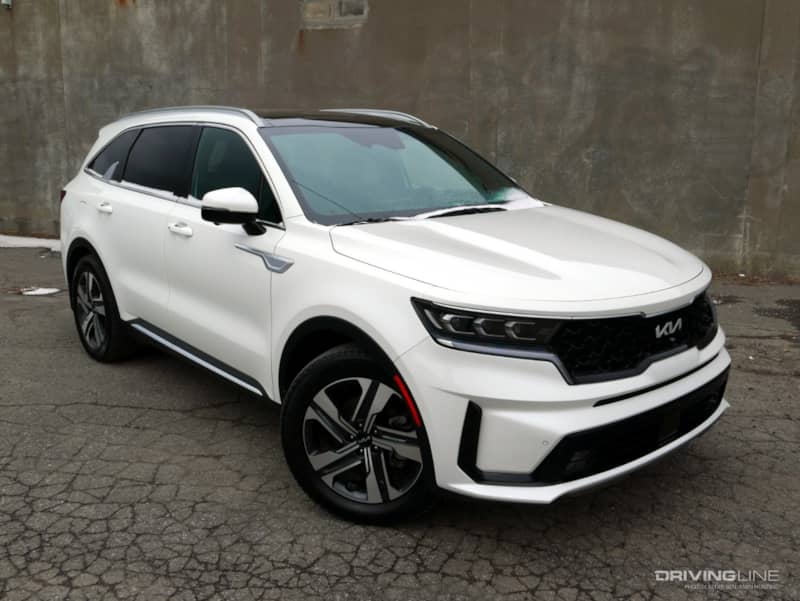 If your primary plan is to pick-up and drop-off within a 30 mile radius of your home, plugging in to charge overnight, then the Kia Sorento PHEV makes a lot of sense. While it's clear that the demands of winter weather will see more than a little gas being burned to keep the cabin warm, in all other situations the Sorento will acquit itself admirable on battery power, decoupling your commute from the fuel pricing rollercoaster. If, on the other hand, long-distance driving is a regular feature of your family plans, the more efficient Sorento Hybrid presents a better bargain, and one that will pay off more effectively both at buying time and when filling up.