The Attainable Dream: Building a Sinister S550 Mustang GT
When an enthusiast is asked about their dream car or dream build, the answer falls into one of two categories. First, there's the hypothetical dream vehicle, the one you'd want to drive or build in an ideal situation where money or resources are no concern. Because who wouldn't want a priceless Ferrari F40 LM to cruise around in on the weekends?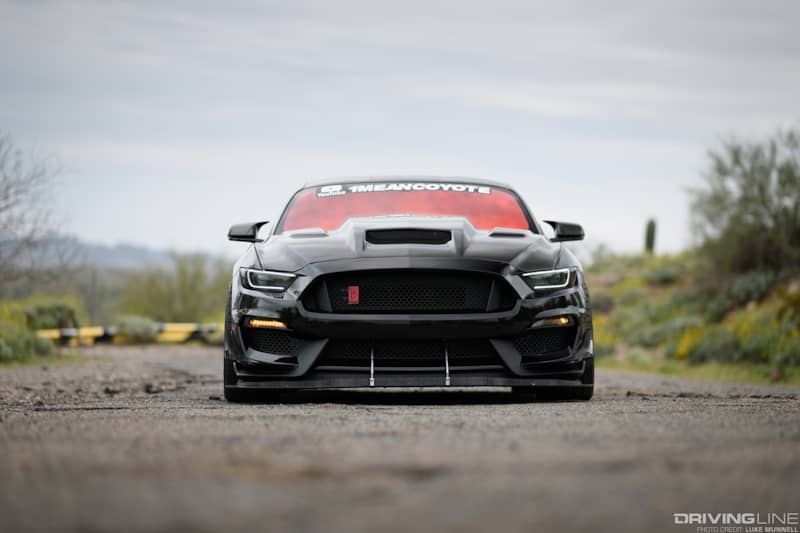 But the second and more important category is the attainable dream vehicle. This is the car or project that you might not have the means to pull off right now, but it could realistically happen. Rather than a pipe dream exotic that most of us could only acquire in an alternate life, this one could be attainable after a job promotion, stacking overtime or just staying focused and saving diligently.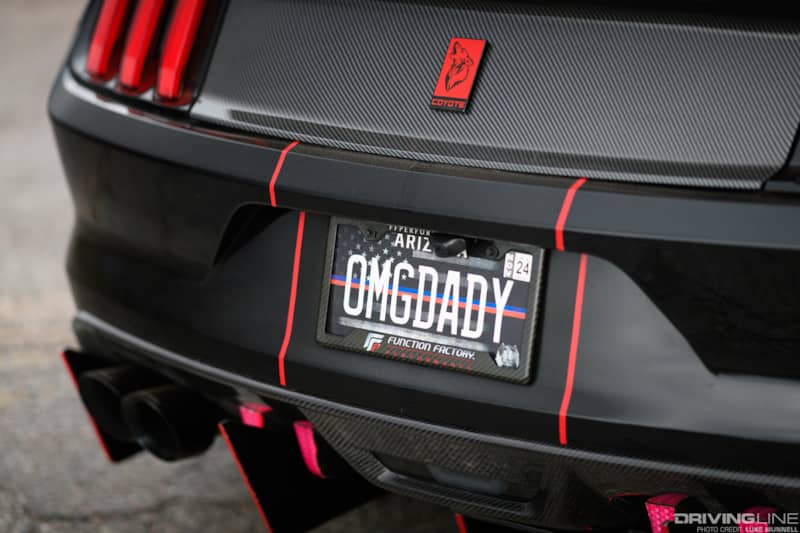 And few cars are more ideal as an attainable dream car than the Ford Mustang GT. For almost 60 years, V8-powered Mustangs have been aspirational, desirable and affordable in a way that many fantasy dream cars are not.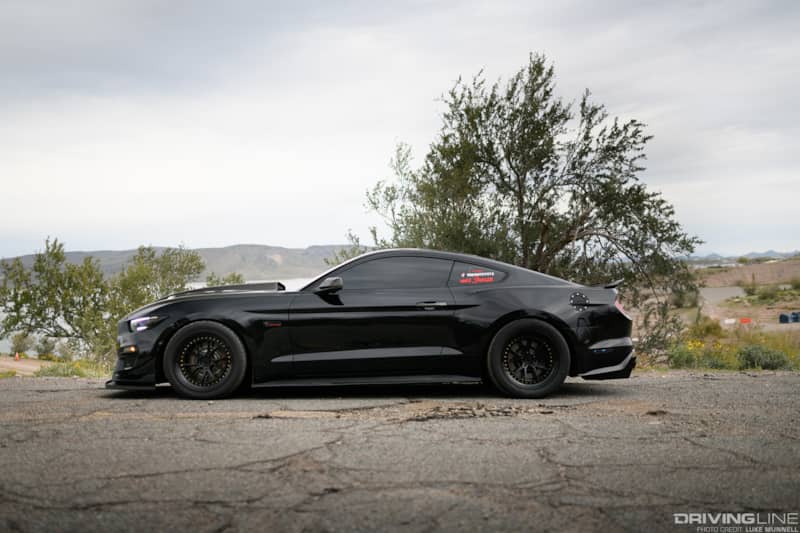 Then there are enthusiasts whose dreams go beyond just buying a cool car. They want a car that serves as canvas to express their own style — and again the Mustang shines in this department as well.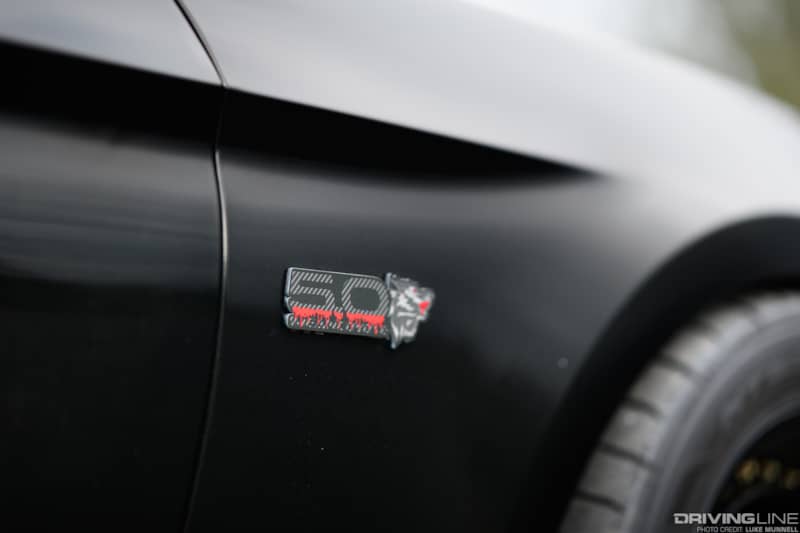 This all brings us to Mike Maser, who was drawn to the S550 Mustang GT not just because of its impressive performance out of the box, but because of the vast aftermarket support that all late-model Mustangs enjoy.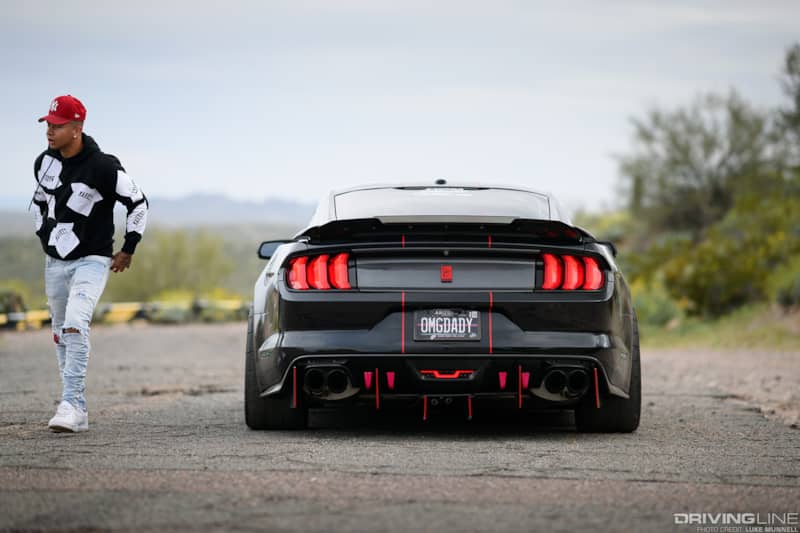 Coyote Dreamin'
Mike has spent the last two and a half years perfecting his vision of the ideal Mustang GT, which takes inspiration from both factory and aftermarket sources.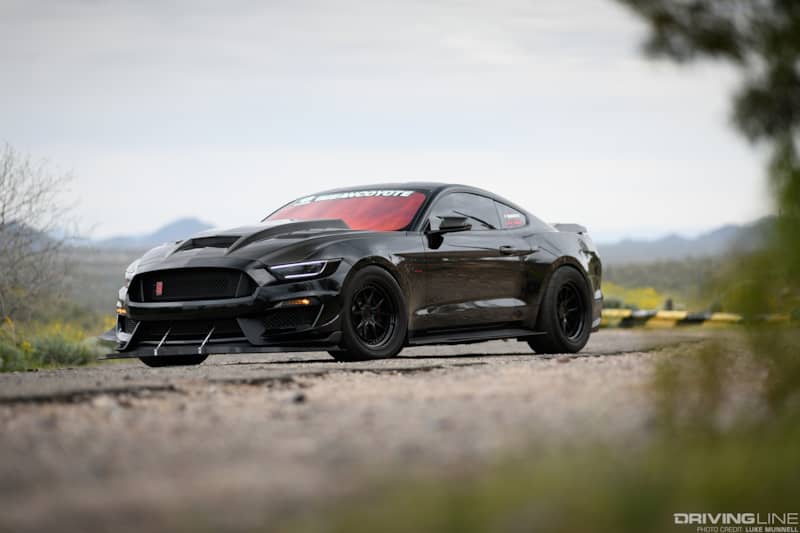 Initially leaving the factory as a 2017 GT with the legendary Coyote V8 an a six-speed stick shift, Mike's Mustang could now be mistaken as a Shelby GT350 with its new front and rear fascias — while the bulging cowl hood brings to mind the drag strip dominating Mustangs of the 1990s and 2000s.
The 5.0 Coyote V8 is a stout engine in stock form, and to this point Mike's power upgrades have been pretty restrained. There are Corsa long tube headers and exhaust, and a GT350 intake manifold — with Mike estimating output around 490 horsepower right now.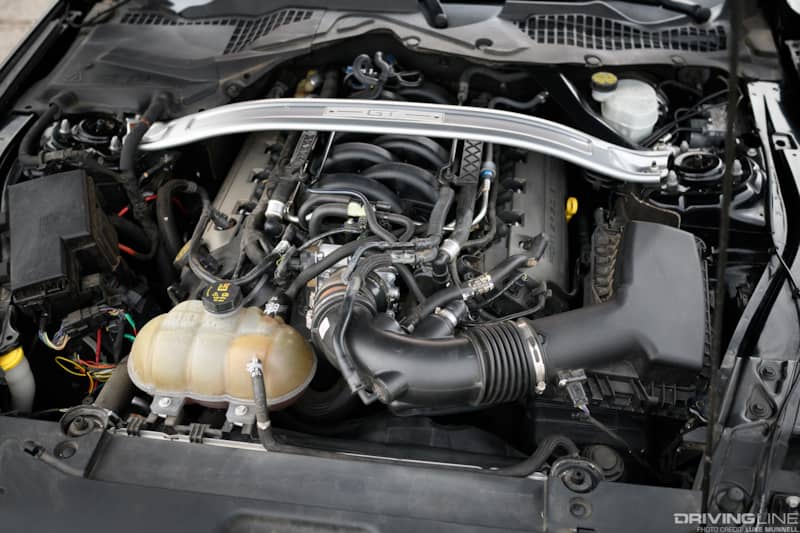 Back on the outside, Ford Performance 1.5 inch lowering springs improve the S550's stance, but what really sets the car off is the wheel and tire combination.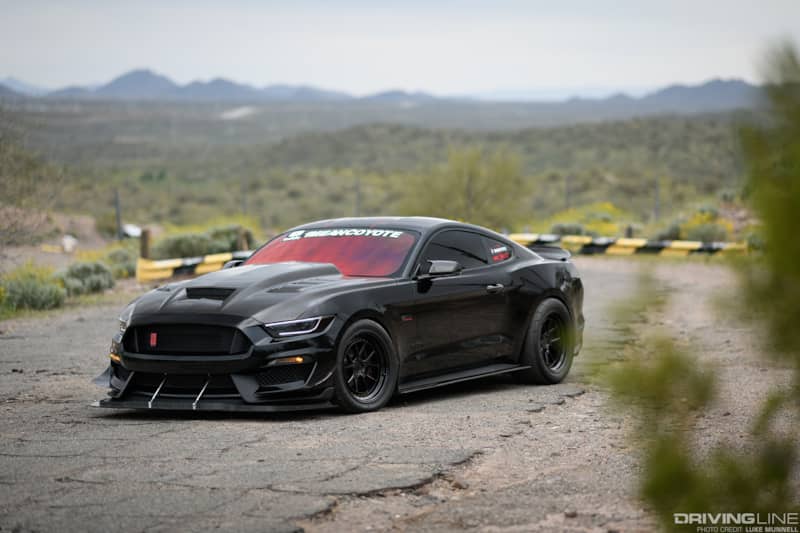 Meet the Meats
While most modified S550 owners choose larger 20 or 21-inch wheels with low-profile tires, Mike wanted the meat. He runs black-finished Aodhan DS08 wheels, 18x9.5" in the front and 18x10.5" in the rear.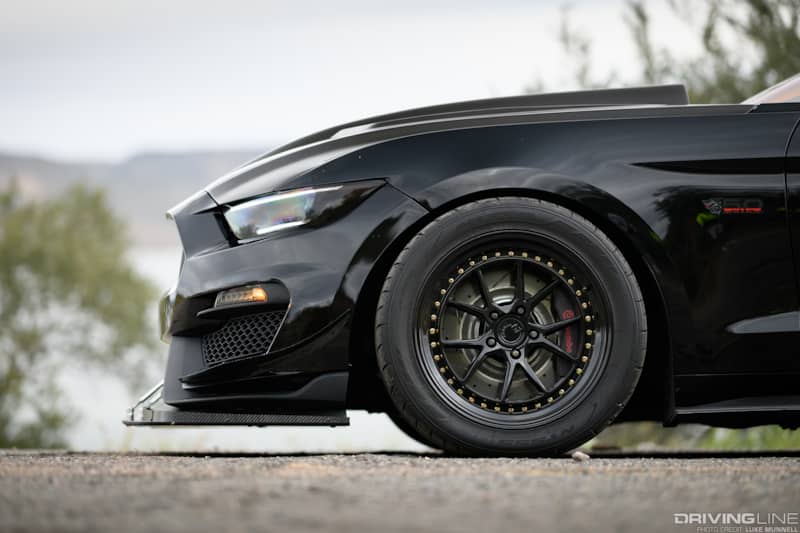 And wanting to maximize traction from the 5.0, he runs Nitto 305/40R18 Nitto NT555 RII drag radials in the rear with a matching set of 285/40R18 Nitto NT555 G2 tires up front.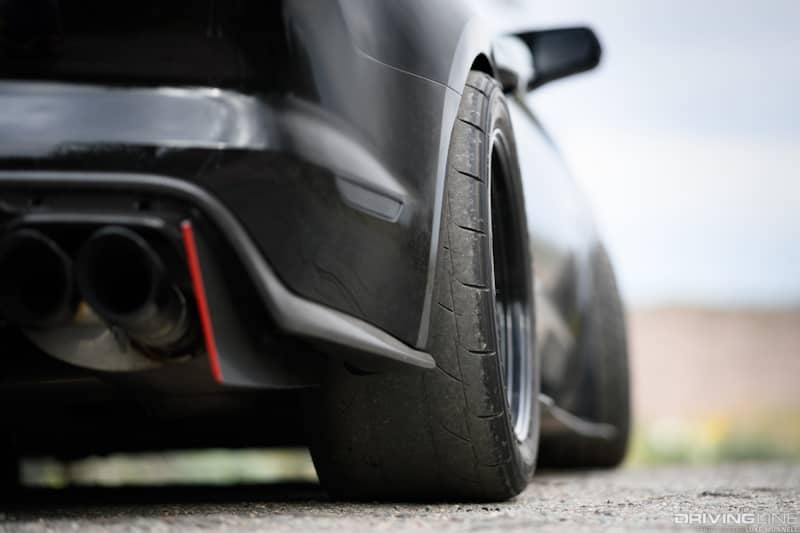 The setup works perfectly both from a traction standpoint and an aesthetic one. And the smaller diameter wheel allows for the beefy tire sidewall that's too often missing on today's modern muscle cars.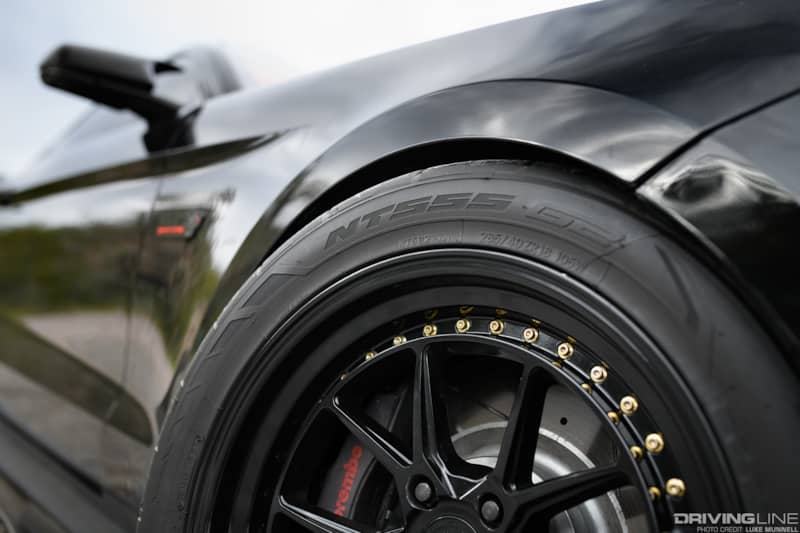 Tying it all together is the Mustang's cabin, which Mike gave a heavy dose of both red and carbon fiber accents to complement the blacked out exterior.
An Endless Journey
When talking about his S550, Mike says it was just recently that he realized his dream build has started to become a reality, but the journey is far from over.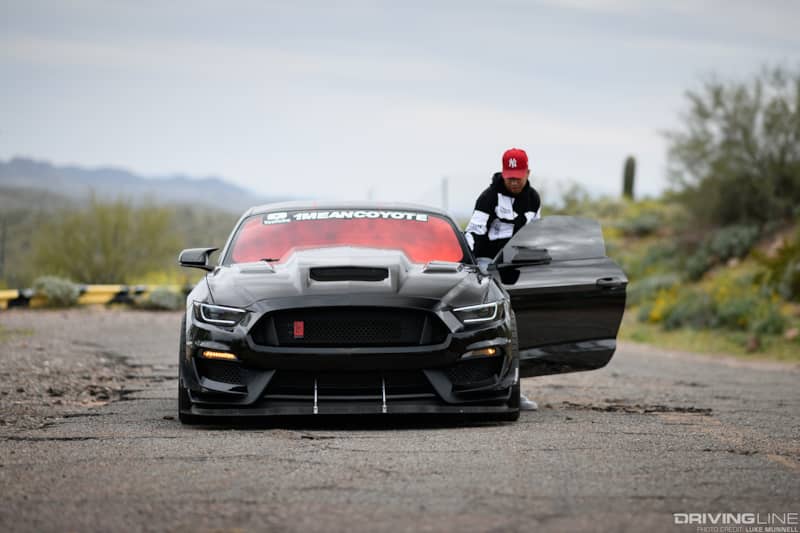 Among future plans for what he describes as his "endless build" is a supercharger kit to take the Coyote's performance to a new level.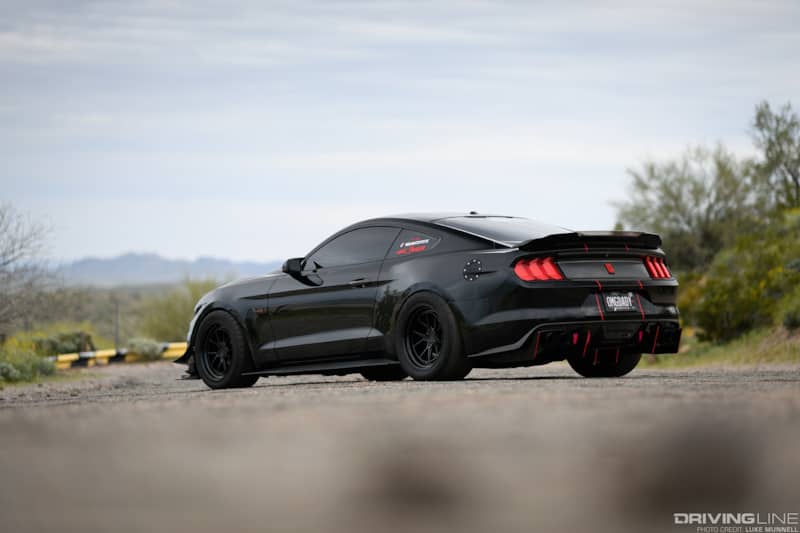 And that's truly one of the best things about a dream project — like those good dreams we sometimes get woken up from there's no rule that says this type of dream has to end.