The Ideal, Modestly-Priced Mid-Sized SUV With Third-Row Seating: Part 6
Our quest for the perfect third-row seating, mid-size SUV brings us to Mazda this time, to try out the CX-9. So far, we've gotten behind the wheel of a Ford Explorer, Dodge Durango, Subaru Ascent and a Chevrolet Traverse. At the present time, we're only sure of one thing: with each new vehicle we drive, the decision to pick the one we like best is growing more and more difficult. The CX-9 didn't help matters. While it's the tightest on space of any of the other candidates (for passengers and cargo), its torquey Skyactiv-G 2.5L engine and precise handling make it a pleasure to pilot.
Checking our safety boxes, a 2021 IIHS Top Safety Pick and a handful of key driver-assist features, available across all models, is reassuring. The interior materials are some of the nicest we've seen and front seat comfort is top-notch. And finally, it's competitively priced, with even the highest trim level coming in under budget. If it sounds like we're talking ourselves into the CX-9, it's because it's that good. For the full report, keep reading.
Tight Quarters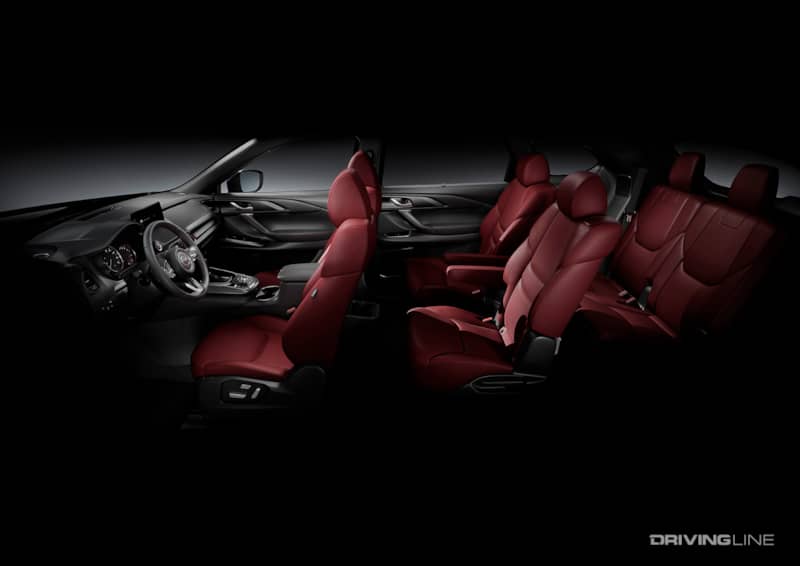 Like the Explorer and Durango, third-row seating in the CX-9 consists of a 50/50 split fold-down bench. However, in this case it's very tight for adults, due in large part to the design of the rear lift gate, which sacrifices precious headroom height. Leg room in the third-row is noticeably more limited as well, although it coincides with the CX-9's garage-friendly, 199-inch overall length and wouldn't be an issue for families with younger children. As for cargo space with the third-row folded down, the CX-9 is at the back of the pack. Just 38.2 cubic feet of room is available (by comparison the Chevrolet Traverse has 57.8 cubic feet, the Ford Explorer has 48 cubic feet, the Subaru Ascent has 47.5 cubic feet and the Dodge Durango has 43.3 cubic feet). Surprise, surprise, when the third-row seats are in use cargo space is very limited as well. Think two large checked bags, tops.
6 Or 7-Passenger Seating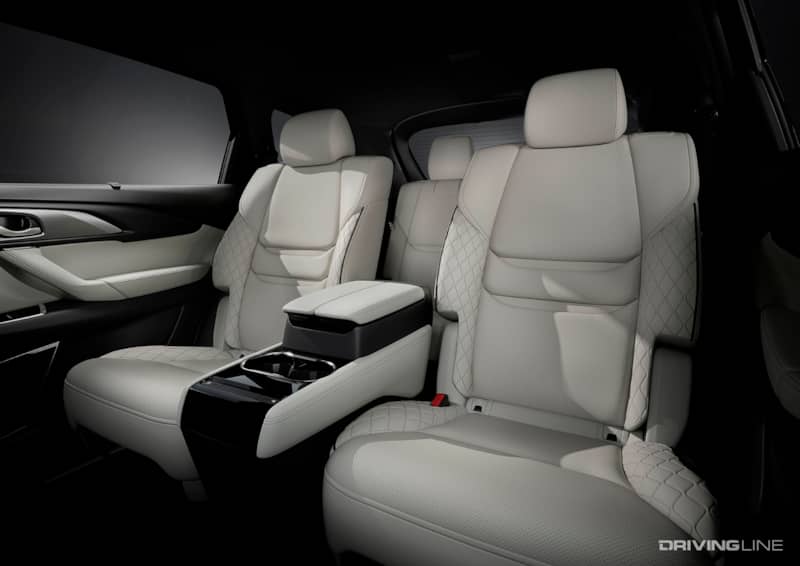 A second-row bench seat is standard on base (Sport) trim, but is optional if you're ordering a Touring or Grand Touring model and need seating for seven. The second-row bench is a 60/40 split featuring tilt-and-slide third-row access. Second-row captain's chairs become optional beginning with Touring models, while captain's chairs with a center walk-through are standard on the Carbon Edition of the Grand Touring model. Captain's chairs are standard with a center console on all Signature models, Mazda's high-end trim package. With the second and third-rows both folded down, the CX-9 loses even more ground to competitors with its 71.2 cubic feet of available space (vs. 98.2 cubic feet in the Traverse, 87.7 cubic feet in the Explorer, 86.5 cubic feet in the Ascent and 85.1 cubic feet in the Durango).
The Torquey Turbo Four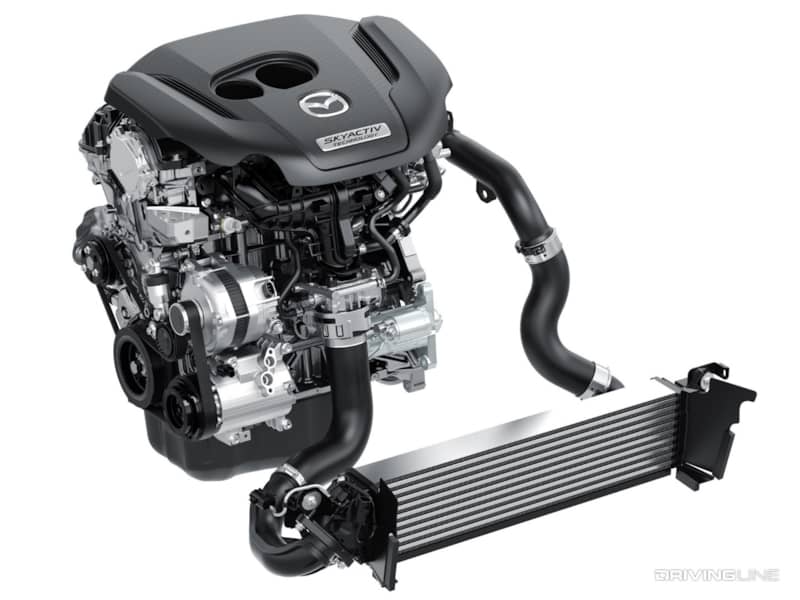 Mazda's Skyactiv-G 2.5L Dynamic Pressure Turbo engine is a fairly impressive little piece. The 152 ci aluminum block and head, DOHC 16-valve inline-four cylinder is turbocharged and intercooled, makes use of direct injection and turns out 250 hp at 5,000 rpm on 93 octane. On 87, that number drops to 227 hp. However, the 2.5L produces a healthy (and noticeable) 320 lb-ft of torque at just 2,500 rpm. Coupled to a seemingly flawless six-speed automatic transmission, getting up to speed is easy and plenty of passing power is there without the need to downshift. In all-wheel drive form, the CX-9's EPA fuel economy rating checks in at 20-mpg city and 26-mpg highway.
Fun Factor: 9 Out Of 10
Whatever shortcomings the CX-9 has on space it makes up for in performance, at least in our opinion. Its precise steering and sporty suspension provide far better handling than any other SUV we've test-driven in this series. And despite its 7-second 0-60 mph sprint and mid-15-second quarter-mile capability (numbers equal to or slower than anything else we've tested), the CX-9 feels very light on its feet. No doubt, an overall curb weight of 4,400 pounds contributes to this feeling.
Top-Tier Safety Comes Standard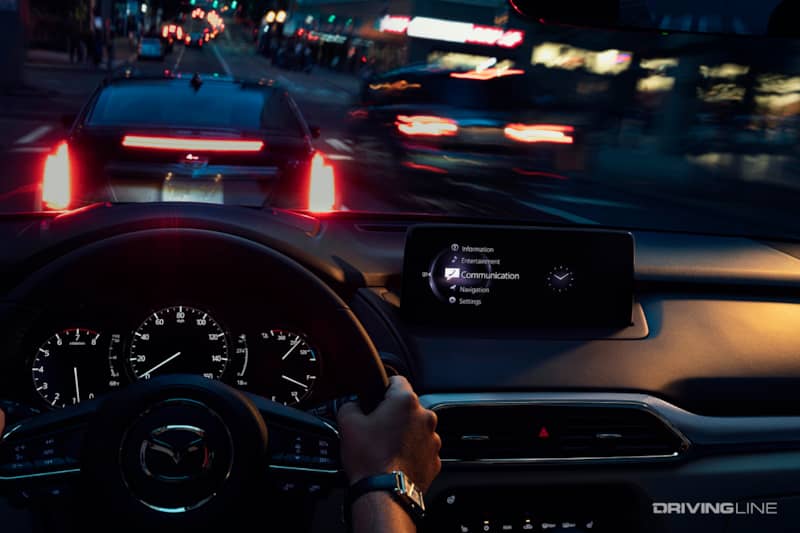 As with any family vehicle, safety has to be at the top of the priority list. When the 2021 CX-9 earned the Insurance Institute for Highway Safety's (IIHS) Top Safety Pick, its stock rose considerably in this author's household. To earn such an award, a vehicle must achieve good ratings in six different crashworthiness evaluations: driver-side small overlap front, passenger-side small overlap front, moderate overlap front, side impact, head restraint tests and roof strength. In addition, half a dozen driver-assist technology features come standard, including blind-spot monitoring with rear cross-traffic alert, lane-keeping assist, lane departure warning, advanced Smart City brake support with pedestrian detection, smart brake support with collision warning and radar cruise control with Stop & Go. For those who endure icy winters, heated sideview mirrors come standard on all CX-9 models, which we like. However, the mirrors don't gain automatic power folding functionality until you reach the Grand Touring model.
Almost Posh Yet Simplistic Interior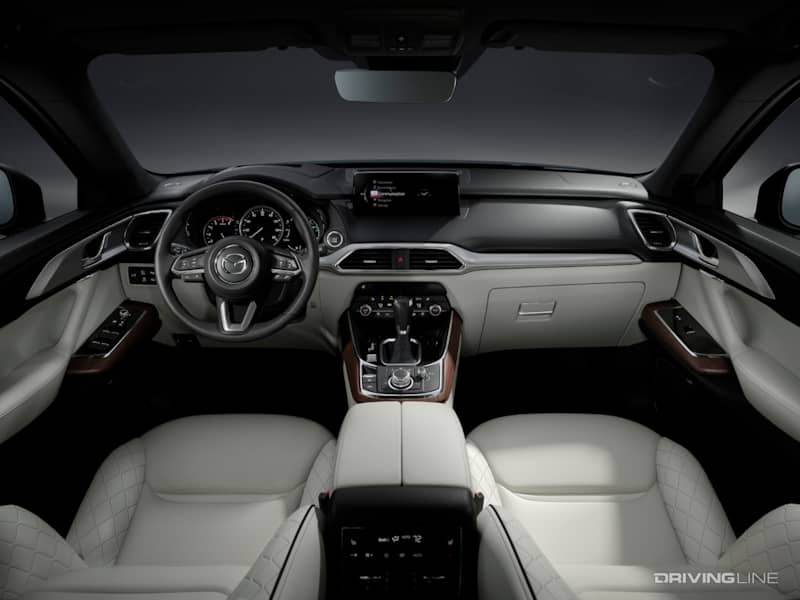 In the cabin, a straightforward layout and upscale materials scream elegance for such an affordably-priced crossover. You're definitely not inundated with buttons and gadgetry, although the CX-9 doesn't really lack anything. For 2021, the infotainment display grows to 10.25-inches in width and new paddle shifters are available on Grand Touring and Signature models. Other high marks (for us, at least) include 3-zone automatic climate control coming standard on all models, along with heated front seats.
Right In The Ballpark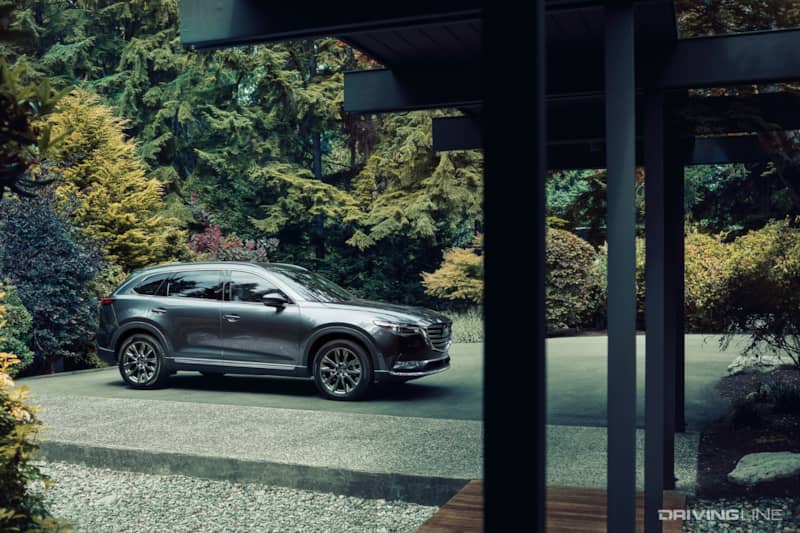 When it comes to pricing, the CX-9 is in the same ballpark as everything else we've taken a look at in this segment. A Sport model with AWD starts at $37,235, the Touring trim bumps things up to $39,025 (again in AWD), MSRP for an AWD Carbon Edition begins at $44,355, runs slightly higher at $45,215 for an AWD Grand Touring and culminates in a $47,980 starting point for Signature trim with AWD. Signature models come standard with rear automated emergency braking, a driver-attention monitoring system and new wheel options for 2021. The Signature also checks in under our $50,000 budget maximum.
Our Ideal CX-9

We're torn between the Carbon Edition package (shown above) available on the Grand Touring model and a Touring model. If it comes down to looks, the Carbon Edition package gets the nod thanks in large part to the 20x8.5-inch black metallic wheels (accompanying 255/50R20 all-season tires), gloss black grille and exclusive Polymetal Grey Metallic paint it brings to the table. But if budget trumps everything else, a Touring model—with its leather and 6-way adjustable power front seats, keyless entry, power rear lift gate and second-row captain's chairs (an option that costs nothing extra)—will be the right choice. For the time being, the wallet-friendly $39,025 for the Touring model has our vote.
More From

Driving Line
From small to spacious, check out the Chevrolet Traverse if ample cargo space is more your thing. In this area, it's the best in the segment.