The Ideal, Modestly-Priced Mid-Sized SUV With Third-Row Seating: Part 8, Jeep Grand Cherokee L
Just as our search for the perfect mid-size, third-row SUV began to germinate back in January, Jeep dropped a bomb that suddenly had us looking at the Grand Cherokee—but not just any Grand Cherokee. For 2021, the automaker's all-new, extended wheelbase Grand Cherokee "L" will feature third-row seating, with capacity for as many as seven. Whether it is our respect for the iconic brand, the chance to obtain the right vehicle at the right time or one more reason to try to obtain a Hemi, we're interested. Unfortunately, like the 2022 Chevrolet Traverse, the Grand Cherokee L isn't available at the present time. According to Jeep, that will all change beginning sometime in the second quarter, when the L's begin to arrive at dealerships.
On paper, the Grand Cherokee L boasts class-leading legroom in its second-row, rivals Dodge Durango in overall cargo capacity, comes standard with blind-spot monitoring and lane-keeping assist, and offers three different four-wheel drive systems—one of which includes an electronic limited slip rear differential. The only sticking point (for us, at least) is that you can't get your hands on a Hemi without spending well over $50K. Instead of accumulating seat-time due to its current unavailability, below we're taking a walk through the Grand Cherokee L's brochure. While it's not at the top of our list, it's certainly not at the bottom—and no matter what we decide, we fully believe Jeep will sell a boatload of them.
Max Capacity: 7
Like a lot of vehicles in the mid-size, third-row category, the Grand Cherokee L can seat six or seven, depending on which configuration you choose for the second-row. Across all trim levels (Laredo through Summit), second-row bucket seats come standard, all of which are manual folding and of tip-and-slide style. A second-row bench is optionable on each trim level, along with second-row heated seats being standard on every model but Laredo. Regardless of which second-row configuration you settle on, Jeep advertises the L as having the most second-row legroom of any SUV in the segment. The 50/50 third-row bench is manual folding on Laredo and Limited trim, but power folding on Overland and Summit models.
Average Cargo Space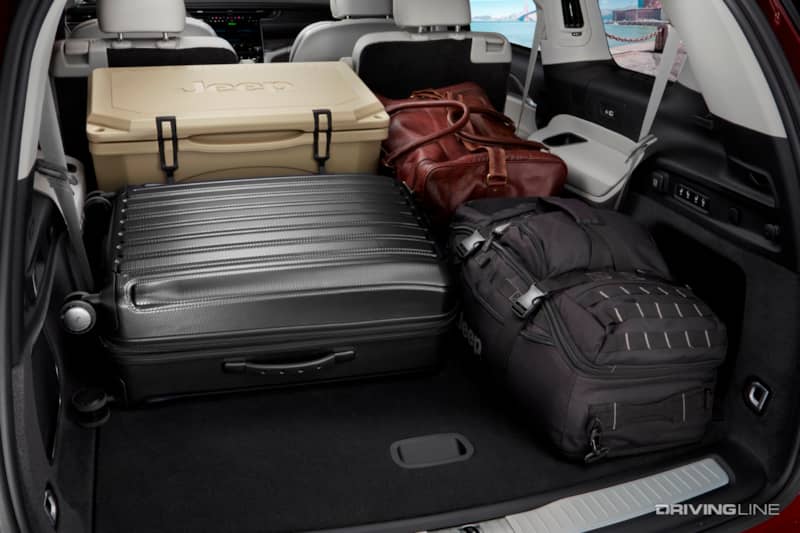 In terms of overall cargo capacity, the Grand Cherokee L isn't a threat to class-leaders, but it's certainly not as tight on space as the Mazda CX-9 we tested. In fact, its 46.9 cubic feet of space with the third-row down and 84.6 cubic feet with the second-row also taken out of the equation puts it on even ground with the Dodge Durango—and not too far behind Ford's Explorer or Subaru's Ascent (48 cubic feet/87.7 cubic feet and 47.5 cubic feet/86.5 cubic feet, respectively). The above photo epitomizes the current yardstick for measuring cargo capacity(s) on today's mid-size, third-row SUV's. We call it "the luggage test."
Familiar Power Plants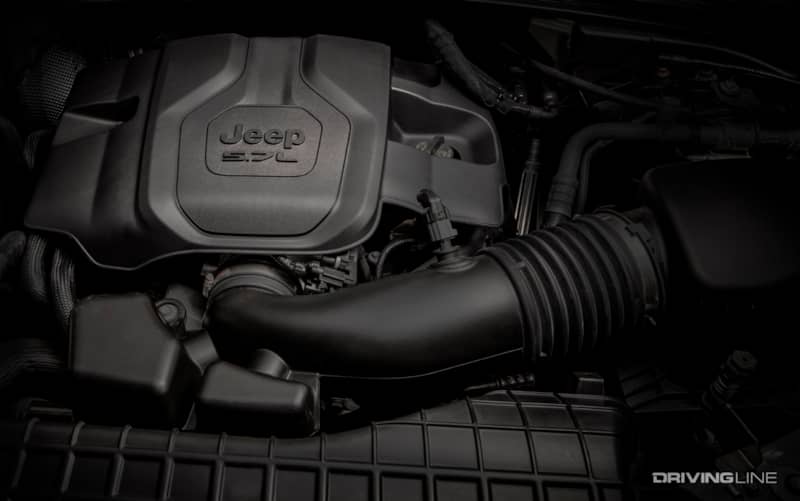 The available 5.7L Hemi V-8 packs a potent 357hp, 390 lb-ft punch and would obviously be our first choice for a power plant. However, not unlike the Durango R/T we've been eyeballing, you pay a fair premium for the V8 option—and in this case it's more significant than it is at the Dodge dealer. The Hemi first becomes available on 4x4 Overland models for an additional $3,295. On top of the V-6 version's starting MSRP, that means a Hemi Grand Cherokee L will cost $58,290 to get into. That's more than $8,000 over this family's budget. Thankfully, if we have to settle for the 3.6L Pentastar V-6 there would be little reason for complaint. The base engine kicks out 290 hp and 257 lb-ft of torque—respectable figures in this segment.
Selec-Terrain & Three Different 4x4 Systems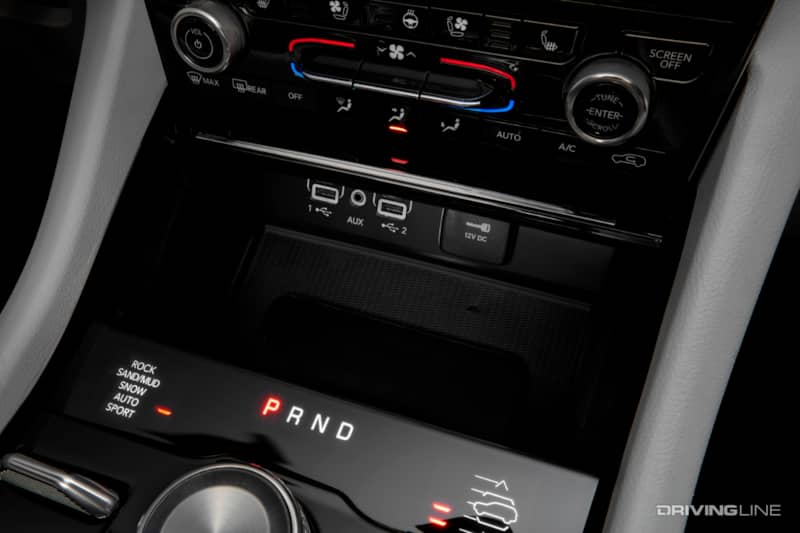 While Grand Cherokees aren't the most common sight on the trail, Jeep continues to make them more capable than any other comparable SUV in the same category. Beginning with Limited models, Jeep's Selec-Terrain traction management system comes standard. With it you get five different driving modes: Auto, Sport, Rock, Snow and Mud/Sand. As for the four-wheel drive system, three are available. Quadra-Trac I, a system with full-time single-speed 4x4, comes standard on Laredo and Limited. Quadra-Trac II, which includes a two-speed transfer case and hill-descent control, is standard equipment on Overland. The Quadra-Drive II system includes an electronic limited slip rear differential and comes standard with Summit trim, but is also available for Overland models outfitted with Jeep's Off-road Group package.
5.7L Hemi: The Budget-Buster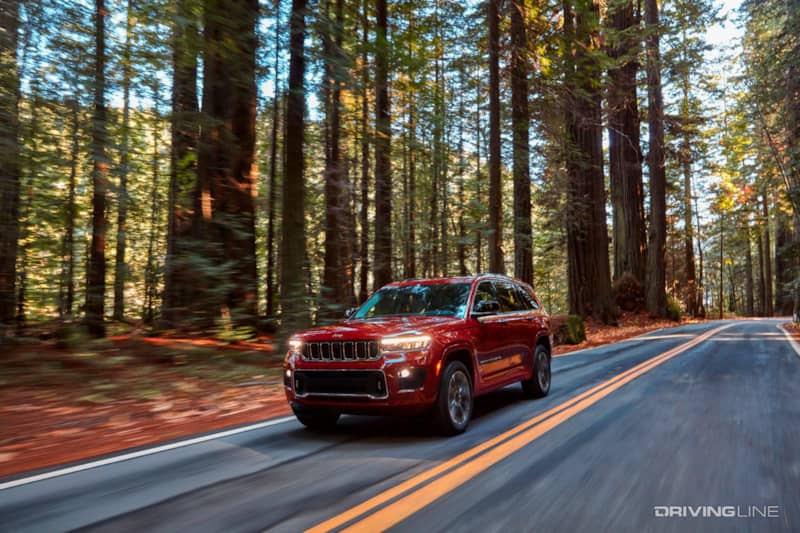 In the days of old, the word Laredo represented the Grand Cherokee's mid-range trim option. On the L, it's the base model and its MSRP starts at $36,995 for a 4x2 V-6. For a $2,000 upcharge, you can get into a 4x4 model (4x4 being our preference) for $38,995. Bumping up to a 4x4 Limited model raises the price of entry to $45,995, but the V-8 option isn't available until you spring for Overland trim. There, a four-wheel drive, Hemi-powered Grand Cherokee L features Jeep's Quadra-Trac II system, Nappa leather seats, new ambient LED lighting with five-color selection, a dual-pane sunroof and a hands-free, foot-activated power lift gate, but the Overland starts at a rather steep $58,290. Beyond that, the high-end Summit model enters the picture for $62,290, followed by the Summit Reserve package that kicks off at $65,290.
Ample Driver-Assist Technology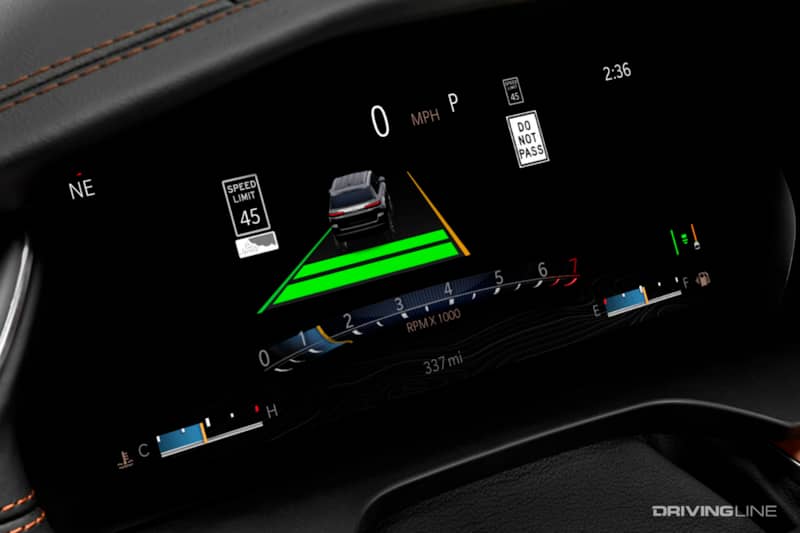 With human error being the number one cause of motor vehicle accidents, advanced driver-assist systems (ADAS) are highly prevalent these days. And with safety being the number one priority for our future kid-hauler, we're glad to see that the Grand Cherokee L matches the front-runners of the mid-size segment. Blind-spot monitoring, lane-keeping assist, adaptive cruise control, electronic stability control and rear cross-traffic alert come standard on all models, along with advanced side-curtain airbags. To date, we aren't aware of any safety ratings being released for the L by either IIHS or NHTSA.
Our Ideal "L"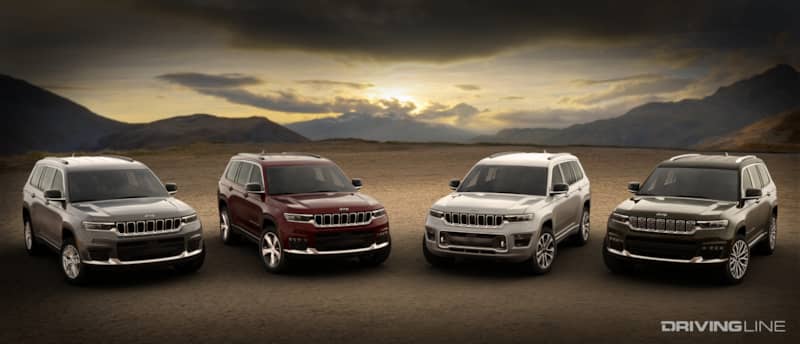 Due to budget constraints (remember, we're calling it quits at $50K), a Hemi-powered Grand Cherokee L won't be in the cards. However, a 4x4 Grand Cherokee L in Limited trim would suit our needs well (second from left). The Limited comes with Capri leather seats, heated seats in the first two rows, a heated steering wheel, a power lift gate and remote start. So how sold are we on the Grand Cherokee L? While we won't be able to hold out long enough to testdrive a '22 Traverse this fall, we may be able to put off a final decision until late spring if it means we can get behind the wheel of one of these.
More From

Driving Line
In case you missed any of the previous Ideal, Modestly-Priced Mid-Sized SUV With Third-Row Seating articles, here are links to the entire series: