The Ideal, Modestly-Priced Mid-Sized SUV With Third-Row Seating: Part 7
The Atlas has been Volkswagen's biggest moneymaker for several years running since arriving in 2018—and for good reason. It's loaded with space, can be had with either a turbo-four or a peppy V-6 and has all the standard safety features most SUV buyers are after. For all of the above and more, the Atlas earned the Family Car of the Year award from Cars.com. And in true German-engineering fashion, the Atlas also boasts the lowest maintenance costs among mid-size SUV's, according to a Vincentric study. Throw in eight available trims, curb appeal that doesn't disappoint and a price-point that matches everything else we've tested so far and it isn't hard to justify why the Atlas made our list. So does VW's biggest SUV really have it all? We recently got behind the wheel to find out.
Seating For Up To 7

Seven passenger capacity on the third-row Atlas checks in in the form of a 50/50 split folding rear bench on all models. Base model S and SE models come standard with a 60/40 split folding second-row and the aforementioned ability to seat seven. Second row captain's chairs become available as an option on SE with Technology models for a $695 upcharge. For adequate circulation, air vents are present for all three rows. As for comfort, the Atlas' third-row is the most accommodating of average size adults we've found.
Exceptional Use Of Space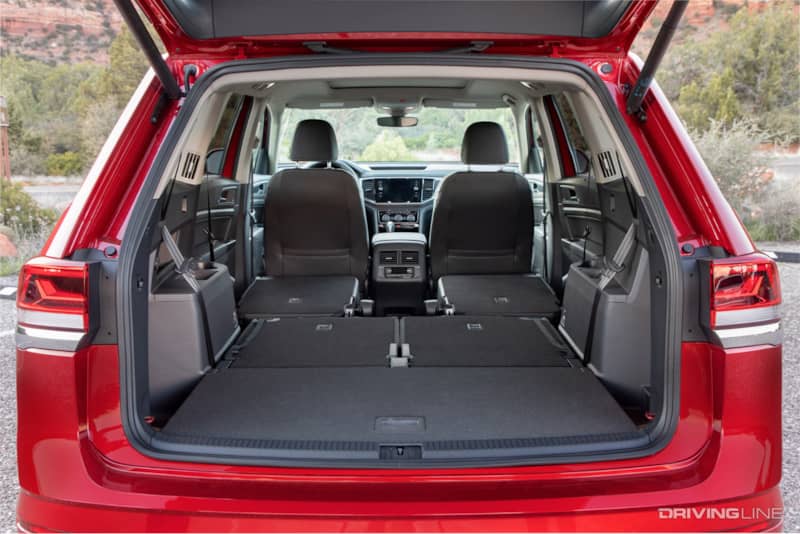 When it comes to cargo space, the Atlas is a front-runner in this segment. With both the second and third rows folded down, 96.8 cubic feet worth of space is available. That nearly rivals the 98.2 cubic feet on the Chevrolet Traverse. When only the third-row is taken out of the equation, 55.5 cubic feet is available (vs. 57.8 cubic feet on Traverse). Despite its exceptional, top-of-its class roominess, the Atlas measures just 200.7 inches long from head to tail. That's shorter than Traverse, matches the Dodge Durango and is barely longer than Ford's Explorer.
2 Solid Engine Choices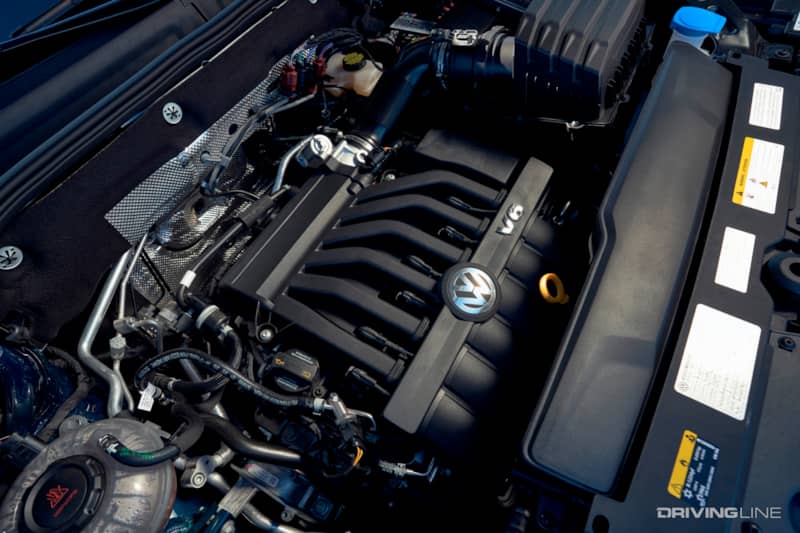 Two engines are available for the Atlas, and the larger, more powerful option doesn't automatically drive the price into $50K territory. Volkswagen's turbocharged 2.0L four-cylinder is the only option on S and SE trim, but is still available on SE with Technology and even SEL models. The cast-iron block, aluminum head, DOHC 2.0L packs 235 hp, 258 lb-ft of torque and a turbo that can generate an impressive 36-psi of boost right off the showroom floor. The larger V-6 option is an 11.4:1 compression, DOHC 3.6L capable of turning out 276 hp at 6,200 rpm and 266 lb-ft at 3,500 rpm. It becomes optional on SE with Technology trim and is standard equipment on the SE with Technology R-Line. Either engine is matched to an eight-speed Tiptronic automatic transmission with Sport mode.
Mid-Pack Performance & Fuel Economy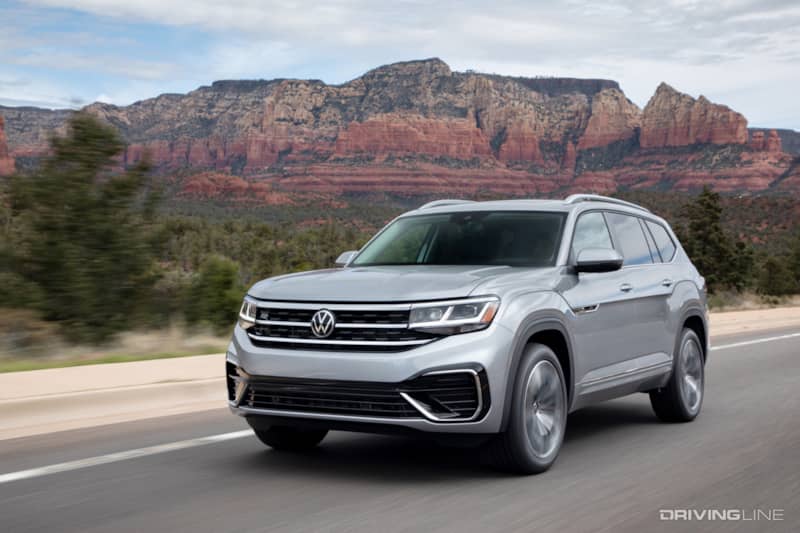 Keeping pace and performing on-par with everything else we've tested in the mid-size, third-row SUV segment, V-6 models can sprint from 0 to 60 mph in about 7 seconds flat. It takes the lower horsepower turbo I-4 just under 8 seconds to get there. Quarter-mile stats appear in the form of a mid-15 for the V-6 and 16 seconds even for the 2.0L. There is no denying that the four-cylinder is noisier, but even though it's noticeably quieter (and more powerful), you do pay a fuel economy penalty with the V-6. All-wheel drive (i.e. 4MOTION) models are rated at 16-mpg city and 22-mpg highway vs. 2.0L 4MOTION models being capable of achieving 20/24 mpg.
Safety Cage-Equipped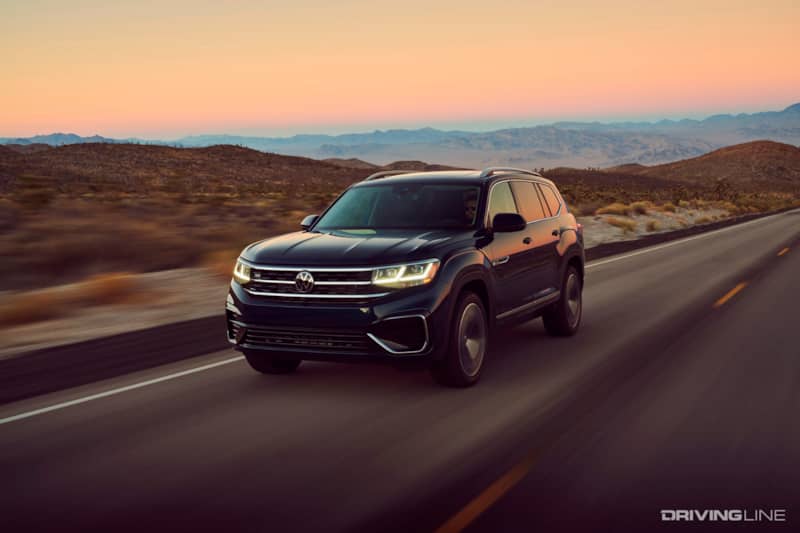 All modern SUV's offer various driver-assist and smart safety features, but only Volkswagen incorporates a safety cage into the Atlas during assembly. If other manufacturers do this, they aren't boasting about it like VW is. The cage is designed to help distribute forces away from the driver and passengers in an impact. As for driver-assist features, the Atlas comes standard with blind-spot monitoring, rear cross-traffic alert and forward collision warning. A driver and front passenger, front and side thorax airbag supplemental restraint system, Volkswagen's Intelligent Crash Response System (ICRS) and side curtain airbags all come standard as well.
Middle-Of-The-Road Pricing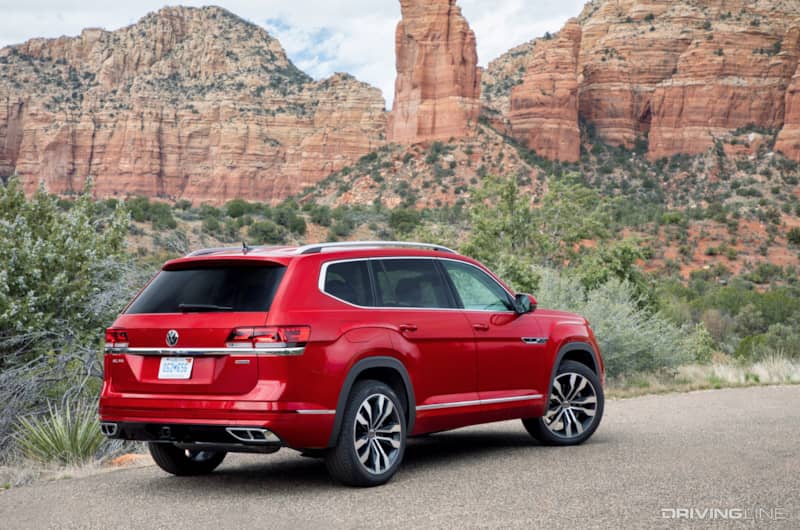 One thing that holds true for the mid-size, third-row SUV market is that you don't have to spend a fortune to own one. The base model of every SUV we've tested started in the low $30,000 range. Volkswagen's Atlas is no different, with an S trim with 4MOTION starting at $34,650. The price on an SE model begins at $38,000 (again with 4MOTION), the SE with Technology (and 4MOTION) carries an MSRP of $41,265 and for $1,400 more ($42,665) you can get into an SE with Technology R-Line. Climbing up the rest of the ladder, the SEL carries a price tag of $45,245, the SEL R-Line checks in at $46,945, the SEL Premium starts at $50,220 and the SEL Premium R-Line kicks off at $51,920 (again, each price is with the VW's 4MOTION AWD option).
Our Ideal Atlas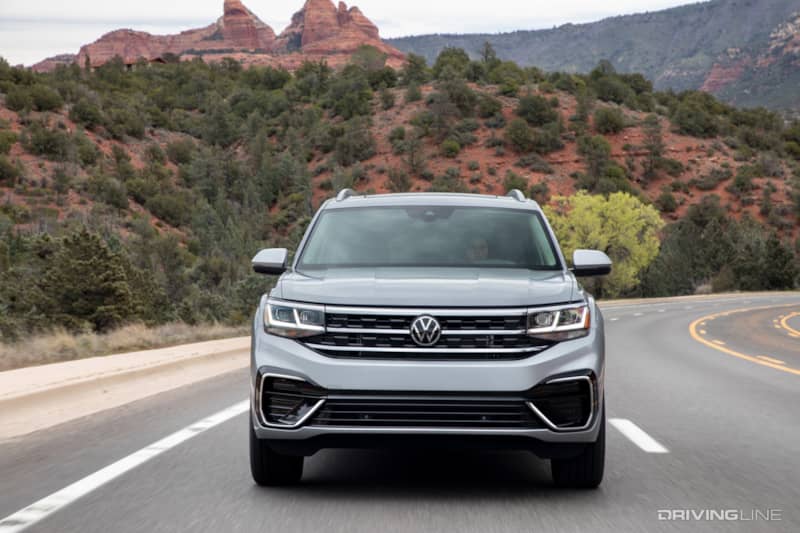 For our money, we like the SE with Technology package. With it you get the more powerful 3.6L V-6, 20-inch alloy wheels, a 10-way power-adjustable driver seat that's heated (along with the front passenger's), heated sideview mirrors and Climatronic 3-zone automatic climate control. At this trim level, Volkswagen throws in the hands-free, easy-open rear lift gate and remote start. Even with adding in the $695 upcharge for ditching the second-row bench for captain's chairs, our ideal, all-wheel drive Atlas would cost less than $42,000—well under our $50,000 budget.
More From

Driving Line
If cargo space is your main concern in a mid-size SUV, the Atlas' primary rival in this series is the Chevrolet Traverse, which we explored in Part 5. Check it out!