The Jeep Grand Cherokee ZJ Is The Cheap '90s Off-Road 4X4 You Forgot About
When the original Jeep Grand Cherokee arrived on the scene it proved that not only could SUVs offer luxury, but they could also pack modern technology without losing their off-road chops. While the Jeep Grand Wagoneer and the Range Rover that preceded it had been comfortable trucks, the ZJ generation Grand Cherokee traded the body on frame design of the past for a 4x4 unibody platform that would carry itself just as well on pavement as it did on the trail.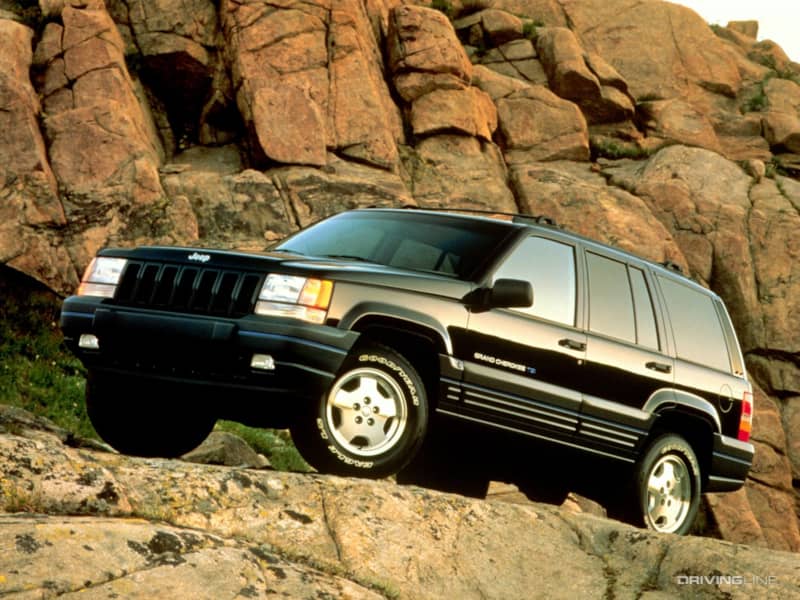 Arriving in 1993, the Grand Cherokee ZJ was a major turning point for Jeep. Larger than the boxy Cherokee, more poised (and fuel efficient) than the Grand Wagoneer, and delivering substantial four-wheel drive capability without impeding smoothness during the daily drive, the Grand Cherokee was a revelation. Soon, other automakers would be struggling to field luxury trucks of their own, kicking off an SUV gold rush that continues to this day.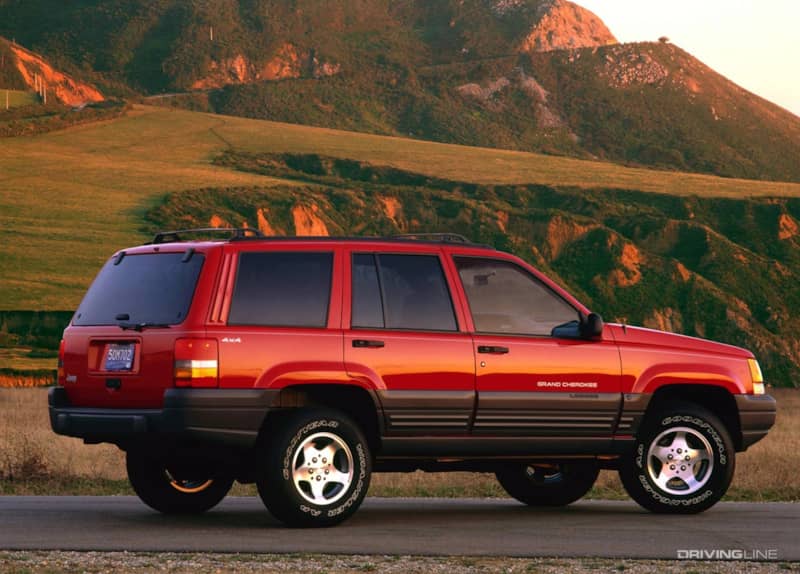 Despite its crucial role in building Jeep's big '90s surge, today the Grand Cherokee is a surprisingly cheap pick up as a used four-wheeler. While there are definitely reasons as to its affordable pricing compared to other SUVs from the same era, there's also a lot to like about the ZJ 4x4.
A Bigger Cherokee
The design brief of the Jeep Grand Cherokee ZJ was simple: expand the existing Cherokee's blend of around town competence and rough-and-tumble ruggedness into a larger package. Indeed, the Grand Cherokee was originally intended to replace the smaller Cherokee altogether until strong sales kept the compact SUV in the mix for another decade.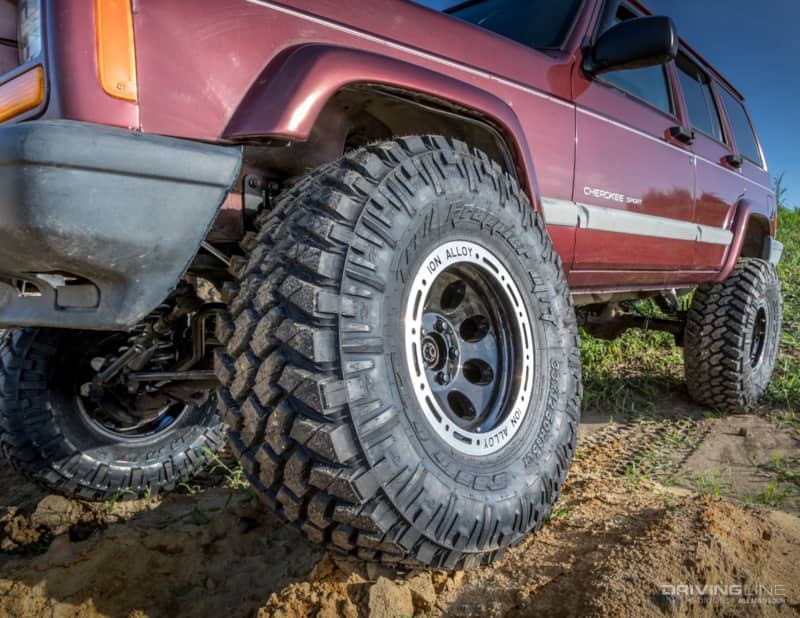 The formula suspended the ZJ's unibody monocoque on top of solid axles front and rear by way of coil springs at all four corners, giving the truck a unique blend of articulation, strength, and sophistication in the corners that other similarly-sized sport-utilities had trouble matching. Although rear-wheel drive was offered, the primary appeal of the Grand Cherokee was its available four-wheel drive systems, Command-Trac (part-time) or Selec-Trac (full-time).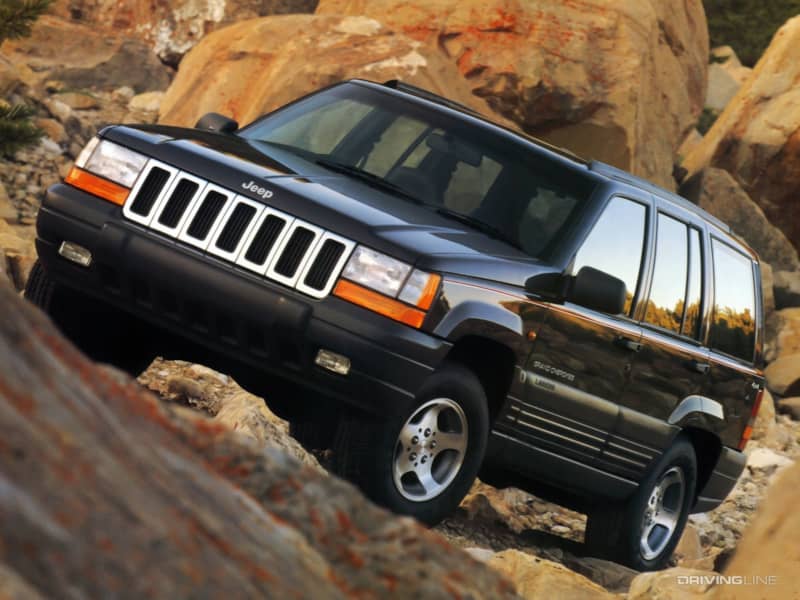 Carrying over from the XJ Cherokee was AMC's 4.0L H.O. inline six-cylinder engine, an unkillable power plant good for 190 horses. The following year Jeep would also offer a 220hp 5.2L V8 to the mix, and by 1998 a 5.9L V8 (245hp and 345 lb-ft of torque) was dropped into the performance-oriented Limited model. A four-speed automatic transmission was standard, with the availability of a five-speed manual until 1995.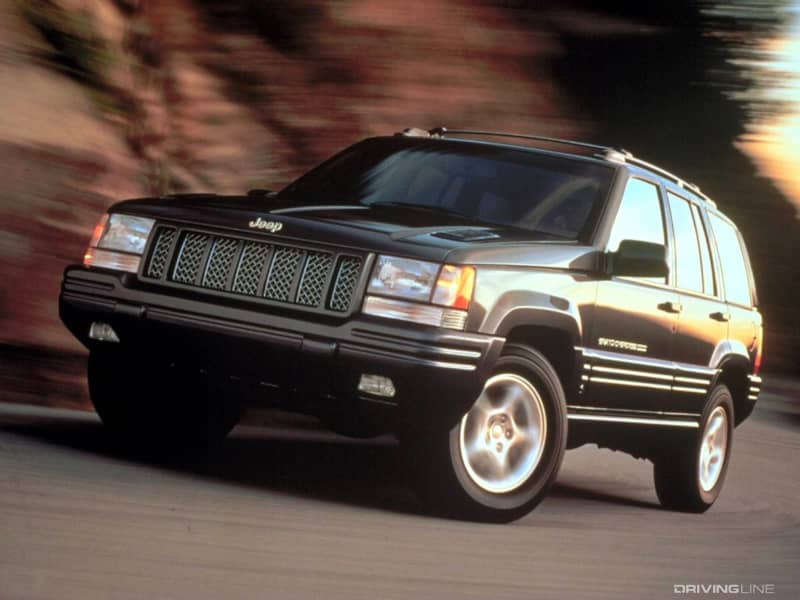 The Jeep Grand Cherokee offered a range of trim levels aimed at satisfying both barebones buyers and those seeking a legitimate premium ride that would match the feature count of a current high end sedan. Through the years, it also gained features such as four-wheel anti-lock brakes and a new four-wheel drive system called Quadra-Trac (full-time), which would eventually replace Command-Trac. By the end of production, Jeep was selling a quarter million examples a year, which helps explain how common they are on the used market.
Off-Road Chops
With a 105-inch wheelbase (4 more inches than the XJ, and roughly eight inches longer in total), the ZJ benefits from being remarkably nimble in tight quarters, matching its smaller sibling in terms of trail access. That extra room also gives you more space for hauling camping gear, coolers, and recovery equipment as compared to the Cherokee.
With roughly 8 inches of ground clearance, it's also capable of crawling over a variety of obstacles right out of the box, although a 4-inch lift is a common starting point for more serious 4x4 fun. Stock breakover angle checks in at 17 degrees, with a 36.5 degree approach angle and a 29.3 degree departure angle (with 1996-98 models adding a half-degree and full degree to the last two measurements).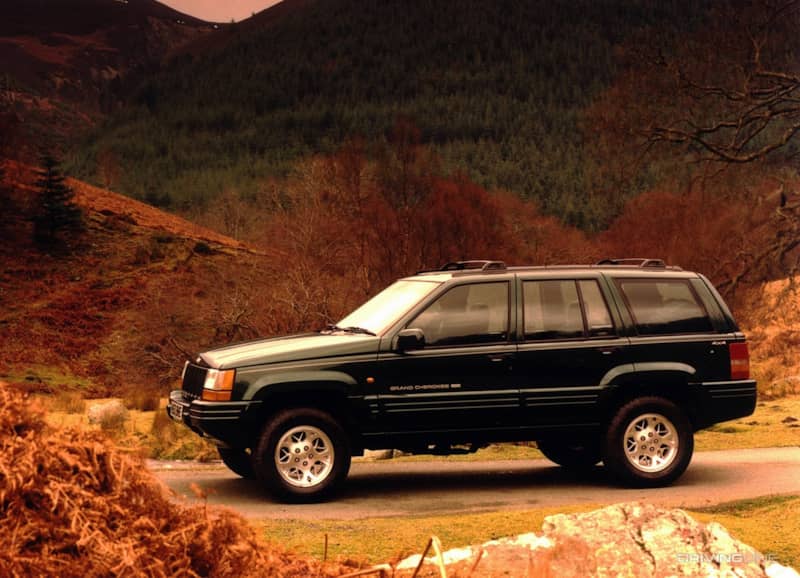 Available limited-slip rear differentials work well if not worn out from excessive use, and stiffening the unibody is a good idea, as there are aftermarket options out there. Tire sizes of between 33- and 37-inches can be accommodated with the modest lift mentioned above.
What To Watch For 
What can go wrong while you're out on the trail? The early Command-Trac four-wheel drive system made use of the NP231 transfer case, while the Selec-Trac graduated to the NP242. Each of these feature low-range gearing, with the NP242 also adding 'full-time' capability. The latter has a reputation for additional complexity compared to the NP231, and it's not uncommon to see swaps to the part-time case when troubles arise. V8 versions of the ZJ were often sold with the problematic Quadra-Trac NP249 full-time transfer case, which is again often replaced with either a 231 or 242 (often after coupling failure).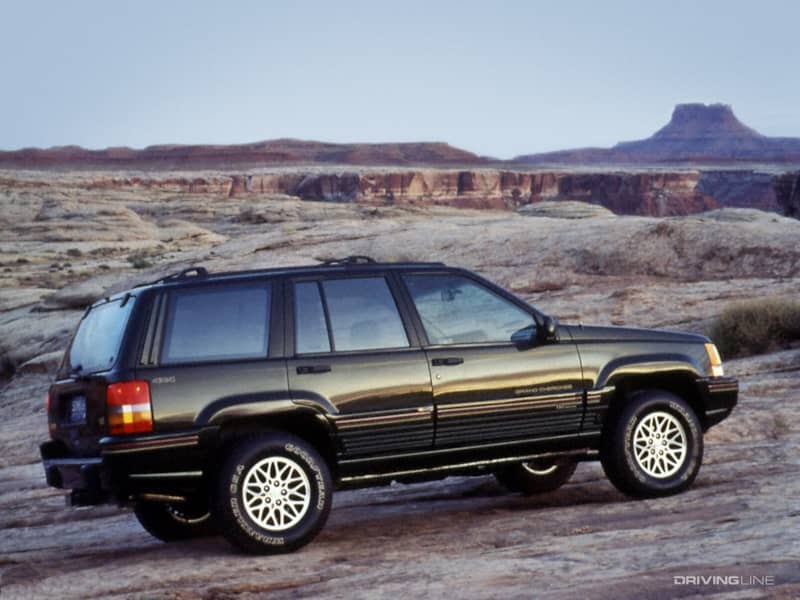 The Dana 44A (for 'aluminum') rear axle is also known to cause problems. It's a commonly swapped component once it fails as rebuilds are expensive (with Wrangler axles fitting in as replacements). The Dana 30 up front is more reliable. Other smaller problems you'll likely encounter include door hinge tearing, inaccurate coolant sensor failure warnings, sticking rear hatches, and factory alarm system issues.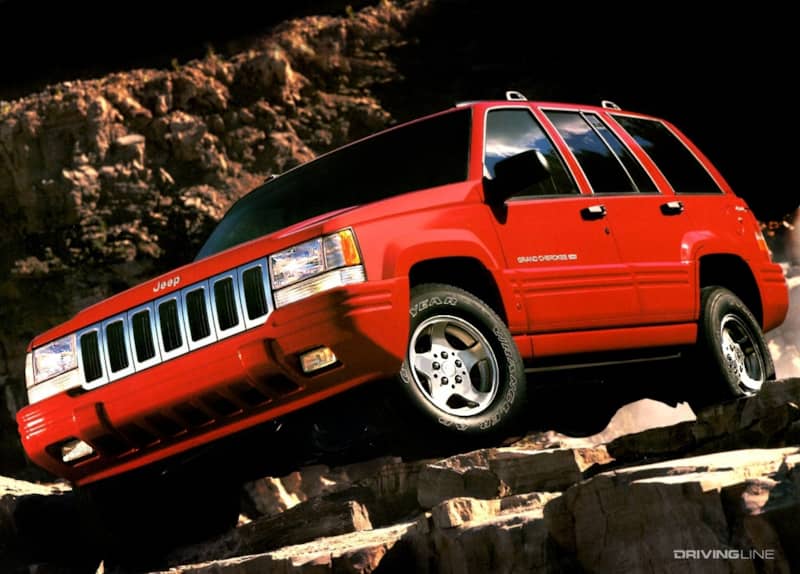 Under the hood, both the I6 and the V8s are known to be stout and problem-free with proper maintenance—leaving more money in your pocket to deal with the issues listed above.