The Last Van Standing: 2014 Ford E-350 4x4 By Ujoint Offroad
For as long as we've been immersed in car culture, we've heard the same phrase time and time again: "They don't build them like they used to." Whether it's referencing style, reliability, build quality, or overall complexity of modern vehicles, the saying rings true in many ways. For fans of the Ford Econoline van, it means something a little different.
In 2014, Ford announced that this would be the last year of the full-bodied Econoline. While the Econoline still exists today, it can only be ordered as a cutaway chassis. At this point, a 2014 E-Series is an extremely sought-after item. Finding one with low miles and the coveted V10 engine is becoming increasingly more difficult. However, it's something that Chris Steuber managed to do.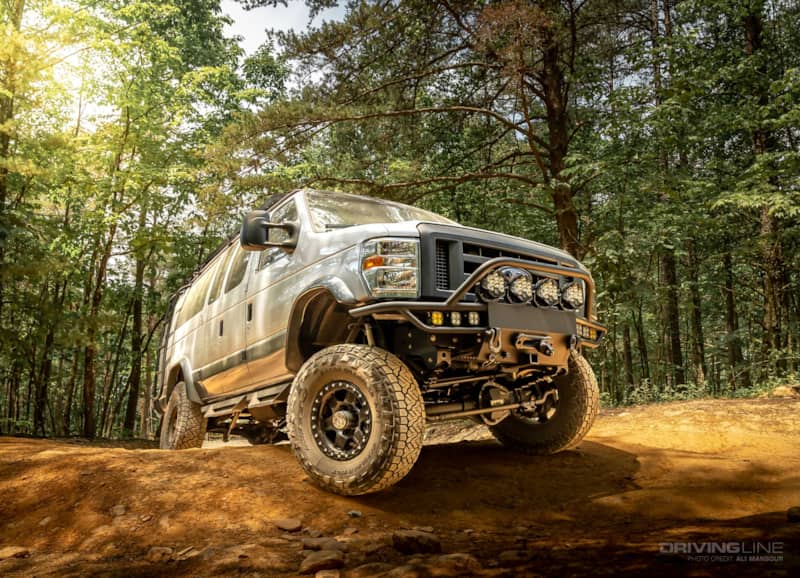 Not only does the E-350 you see here have the V10, but it was found with less than 10,000 miles on the odometer. As the owner of Ujoint Offroad, which specializes in Ford E-Series 4x4 conversions and upgrades, Steuber wasted no time getting it outfitted with the company's latest offerings. With 37-inch-tall Nitto Tire Recon Grappler A/T's underneath, Dana 60 axles, and seating for 12, this van serves as the ultimate multipurpose rig for Steuber's needs. While you can watch this van in action on our YouTube channel, here, we're breaking down this last of a kind build.
V10
Steuber has owned and built countless vans over the years. But his favorite engine by far is the V10. While the fuel economy isn't anything to write home about, the power and reliability of the 6.8L is well worth the price of entry.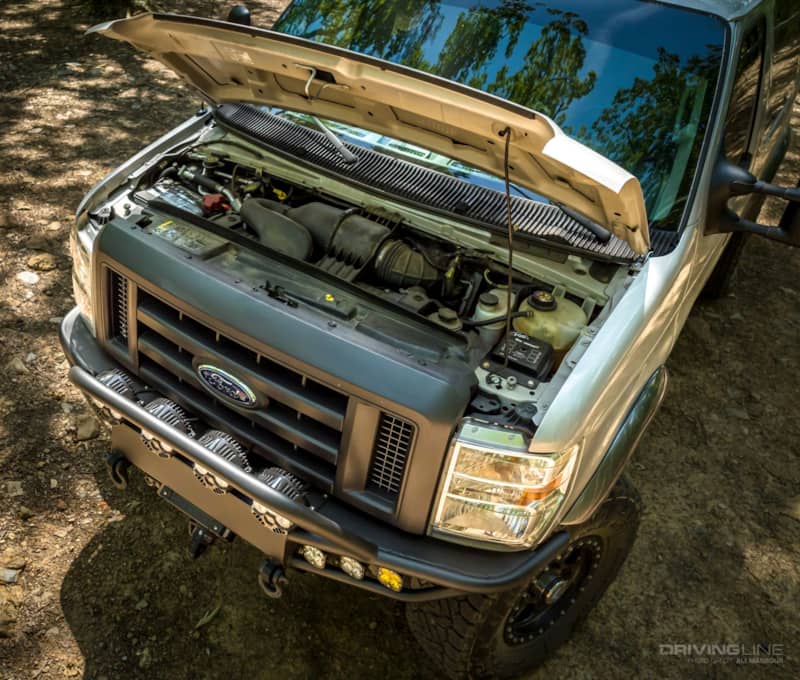 Drivetrain
Aside from the power, another selling point of the V10 is the 5R110 automatic transmission that comes behind it. To date, Steuber states it's been the strongest and most reliable E-series transmission he's found. Another benefit is that you can easily mate it with a NV271 transfer case, which cuts down on the complexity and conversion time of making the van four-wheel drive.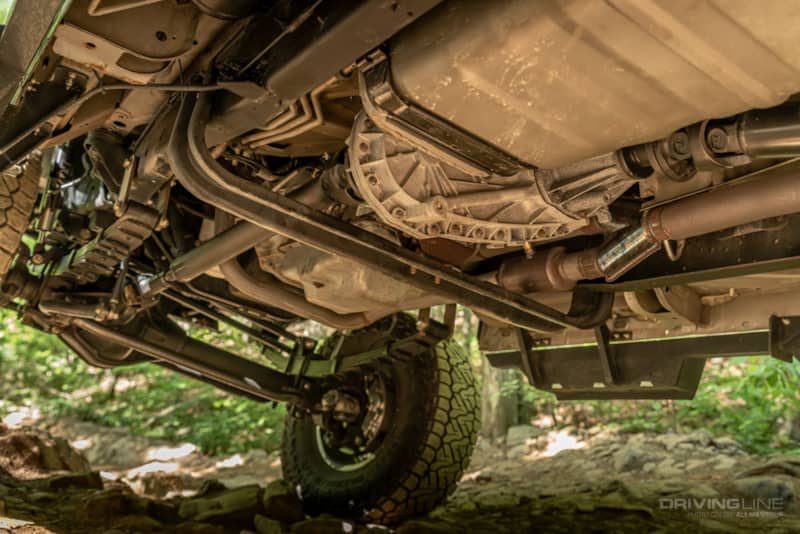 4x4 Conversion
Converting the van from 2WD to 4WD is fairly easy as the Ujoint conversion kit uses bolt-on leaf-spring mounts to secure a live-axle. This setup also pushes the wheelbase forward a few inches to allow room for a much larger than stock tire.
Solid Front
Ujoint uses high-pinon Dana 60 front axles on its conversions, which provides tremendous strength, and it works with Ford's roll stability control system. This particular axle was upfitted with 4.88 differential gears, a Detroit Truetrac, Spyntec hub conversion, and massive SSBC brake kit. A crossover steering system makes it easier to control the 37 tires while a set of 6-inch lift springs and Fox 2.0 reservoir shocks provide altitude and comfort.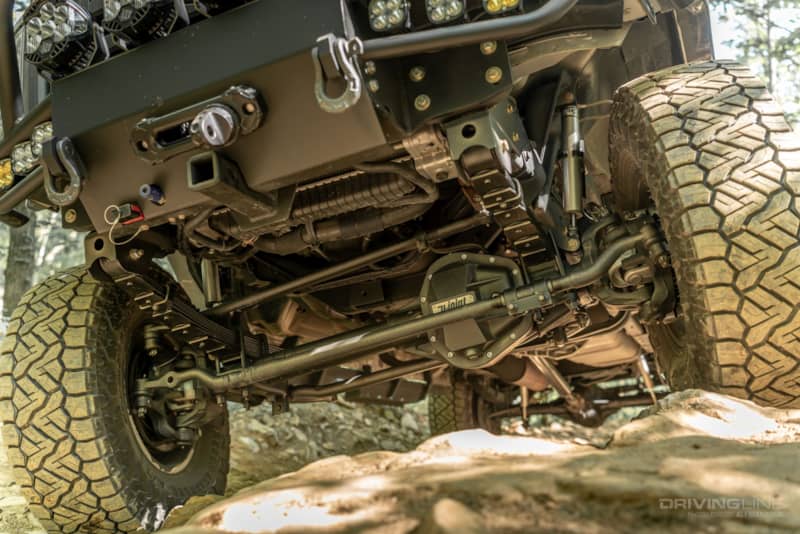 Semi 60
The original low-pinon Dana 60 rear resides outback and is fit with a matching 4.88 gearset that works with the stock limit-slip differential. Like the front, upgraded differential covers were installed. For times when Steuber needs to use the van for towing, the Ujoint overland air bag kit is there to help. Since the bottom of the air bag is not mounted to the leaf springs, the suspension travel is not limited to the bag length. This is ideal for getting the most suspension performance on the trail.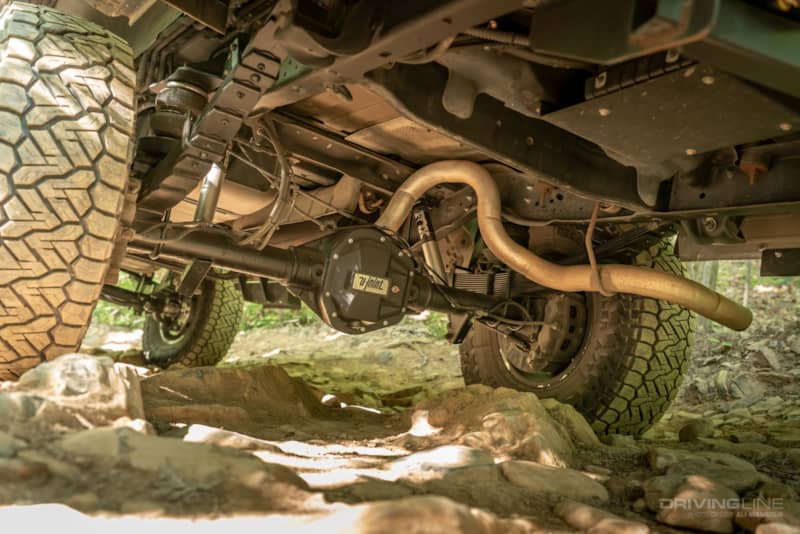 Recon Innovation
Tires are always a critical part of the build equation. This is true from both a looks and performance aspect. At the time we shot the van, the Nitto Tire Recon Grappler A/T's under the van had just over 10,000 miles on them. Steuber states that he loves the Recon Grapplers. His two biggest praises were how quiet they are and how well they perform in a variety of conditions. While his previous van had this same Recon Grappler in a 35-inch, these are a 37x12.50R17. Securing the tires in place are 17x8.5 G400 wheels from Innov8 racing.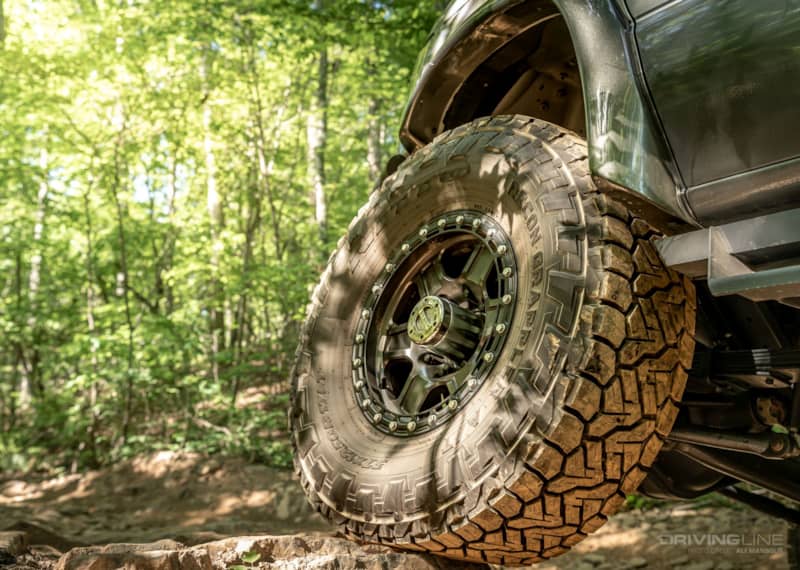 Racked Up
Up top, you'll find Ujoint's all-aluminum roof rack with a full flooring system. Steuber states that the flooring upgrade not only increases cargo capacity but helps tremendously with keeping the interior temps down in the summer. To access the top, a ladder from Aluminess was installed.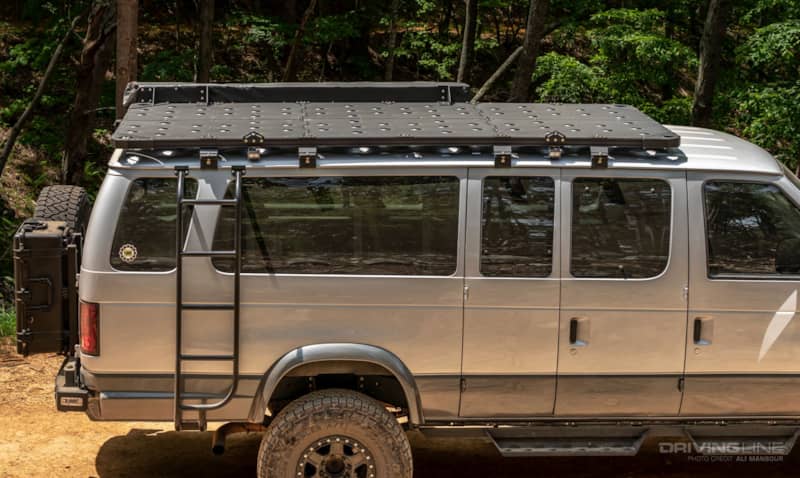 The Baja Approach
One of biggest changes to come out of Ujoint recently has been the expansion of the bumper line. This is the company's latest Baja-inspired bumper. Weighing in at just 65 pounds, the aluminum bumper provides an increase in strength and approach angle without a major weight penalty. Along with an assortment of Baja Designs lighting, you'll find a Warn VR-12s winch, Factory 55 Prolink, Agency 6 fairlead, OBA port and Anderson connector.
Under Cover
The back bumper is a dual swing out which provides a secure place for the full-size spare and a massive Pelican case. Ujoint designed the bumper to be frame mounted using 3/16-inch steel. To provide a clean finish to the bumper, Ujoint covers the powder coated steel section with an aluminum skin.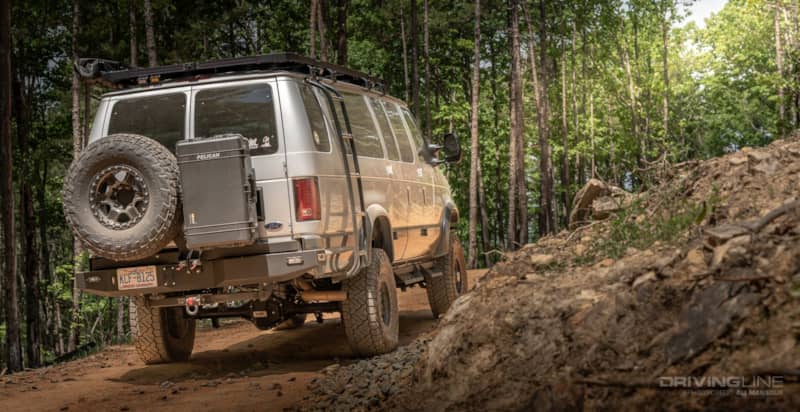 Entry and Awing
With six inches of lift and true-to-size 37's, the van has a fairly tall step-in height. To make entry a little easier for his family, Steuber installed Ujoint aluminum steps. For those long days in the sun camping, a 270-degree awning from Kinsmen is there to provide shade.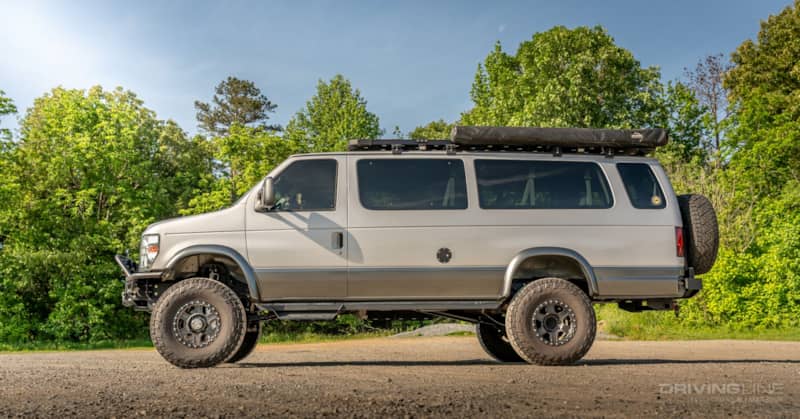 On The Trail
For normal driving, the van relies on a Hellwig front sway bar to keep any bodyroll in check. For the trail, Steuber simply disconnects a link to allow the front suspension to move freely.
Pod Control
Given the amount of exterior lighting the van has, Steuber needed a simple and clean way to control it all. The solution comes from sPOD. Using the sPOD controller and Ujoint driver's door switch mount, Steuber can easily access his controls, while having limited wiring coming into the van.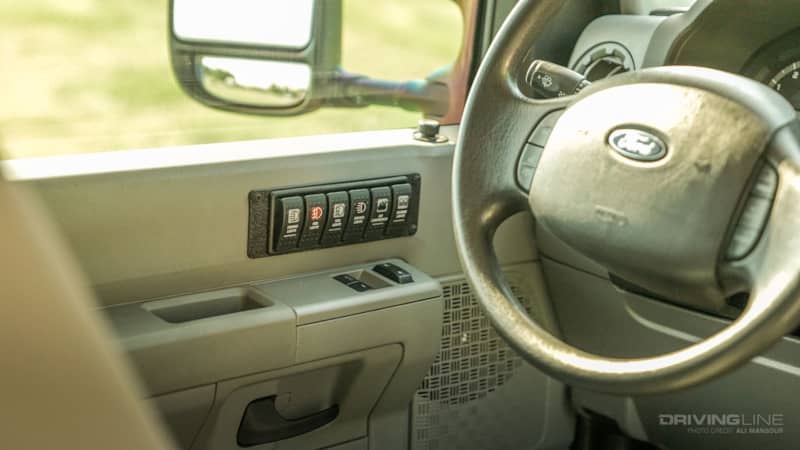 Seating For 12
With four children, it's easy to run out of seating and storage with most vehicles. This E-350 can easily fit 12 passengers and that's with one of the benches removed.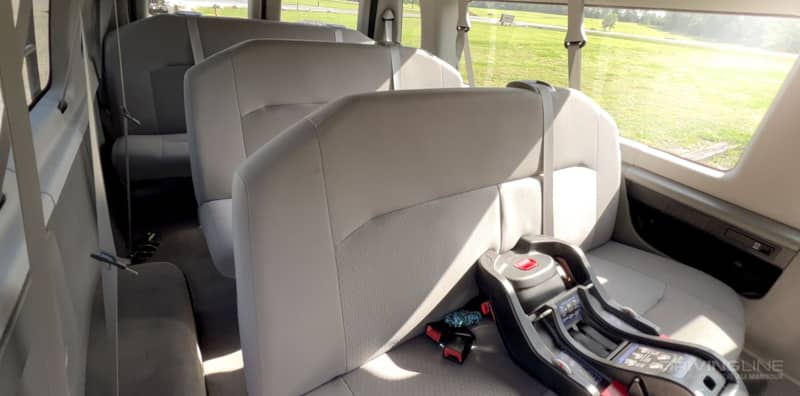 Ujoint
Despite the long body, the van's wheelbase is only a few inches longer than a Jeep Gladiator, which keeps it fairly maneuverable. While this van isn't meant to be a hardcore rock crawler, it has excellent off-road chops.