The New Era of Turbo Performance: Which Car Is Right for You?
It's no secret that we auto enthusiasts have it really good these days when it comes to choices on the new car market. No matter your budget, there's never been a bigger list of enthusiast-oriented and high performance cars to choose from.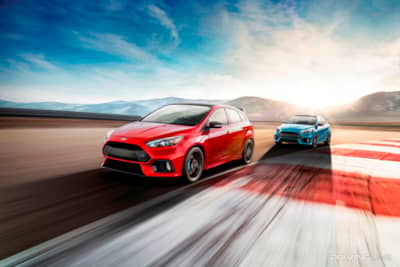 The last few years in particular, has seen increasing competition in the realm of $35-40k, four-door turbocharged performance cars that deliver performance once limited to race cars and exotics.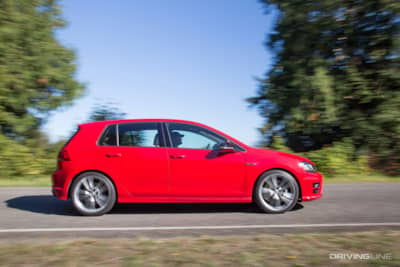 With the recent arrival of the Honda Civic Type R to the game, there are more choices in this segment than ever. So we thought we'd look at the Type R next to its rivals the Subaru WRX STI, Ford Focus RS and Volkswagen Golf R to look at pros and cons of each to see if we can figure out which kind of buyer each car is best suited to. Here are your competitors:
1. SUBARU WRX STI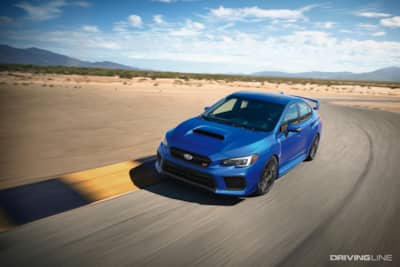 PROS  |  Reasons to pick the STI:
The Sedan Factor - It's the rally-bred STI and is the only one of this group that comes with a traditional trunk, with a huge wing attached to it of course. If you aren't a fan of hatchbacks, it's the only choice.
Resale Value - All it takes is one look at the used car market to see how well STIs hold their value. Take good care of it, and you'll always be able to get most of your investment back.
Proven Performance - While the STI might not be as advanced as some of its competitors, it's also a very proven platform with massive aftermarket support and a wealth of knowledge out there.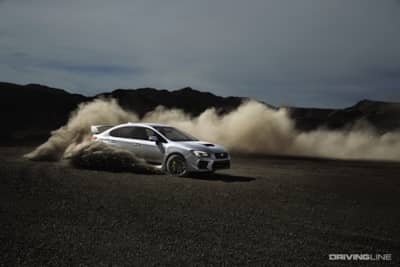 CONS  |  Reasons not to pick the STI:
Aging Powertrain - While the STI's 2.5-liter flat four engine has no shortage of power, it's definitely down on tech when compared to competitors. There's no direct injection, turbo lag will be a bit more pronounced and fuel economy lags behind some of the other more modern engines.
High Insurance - Unfortunately the STI's recipe for serious performance on a low budget has lead to the car having much higher insurance rates than other similar cars. If you are considering an STI, get a quote first — especially if you're a younger driver.
Wild Looks - Aside from the Civic Type R, the STI has the most extroverted exterior styling in this group. While that could be a plus for some, there definitely won't be much sneaking under the radar in this car.
2. FORD FOCUS RS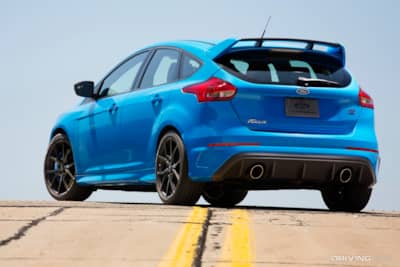 PROS  |  Reasons to pick the Focus RS:
Power - With 350 horsepower on tap from its 2.3-liter EcoBoost four cylinder, the Focus RS is the most powerful of the group by rating, with a nearly 50 horsepower advantage over its competitors.
Styling - Everyone will have their own opinions about looks, but the exterior of the RS has a nice balance of aggressiveness without going too far. It's more interesting looking than the Golf R but not as wild as the STI or Civic Type R. We also dig the color choices.
Getting Rowdy - While all of the cars in this group will put a smile on your face down a twisty backroad, the Focus RS pushes the crazy meter a little bit further than most. Whether it's putting into drift mode for some empty parking lot fun or listening to the exhaust popping, the RS is as lively as it gets.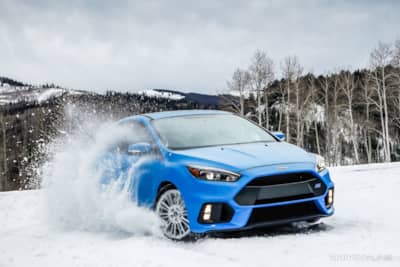 CONS  |  Reasons not to pick the Focus RS:
Those Seats - The Focus RS comes with aggressive Recaro seats that look awesome and hug perfectly in the corners, but they aren't for everyone. We recommend a long test drive to make sure you won't be going crazy during a road trip.
Interior Space - In addition to the snug Recaro seats, the Focus RS also has an interior that can feel a little cramped next to the competition. For a household of one or two this likely won't be an issue, but if you're looking for a family car you'll definitely want to make sure it has room for all your gear and passengers.
Stiffness - The Focus RS comes equipped with adjustable dampers, but even in its most comfortable setting you'll still be feeling every bump on the road. If you're looking for a car to eat up highway miles, you might be happier with something a little less aggressive.
3. VOLKSWAGEN GOLF R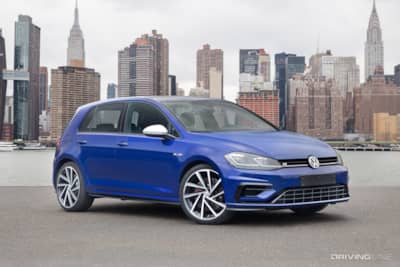 PROS  |  Reasons to pick the Golf R:
Automatic - The Golf R is the only car in this group that's available with either a manual or automatic transmission, with the automatic option being VW's excellent DSG. The DSG mates perfectly with the R's AWD system and allows for especially fast 0-60 times without feeling like your clutch is getting fried.
Refinement - While none of the cars in this group are luxury ones, the Golf R is easily ahead of the pack when it comes to refinement. Despite its performance, the car rides quite smoothly and could easily serve as a daily driver without tiring the driver or passengers.
Maturity - The Golf R's design is by far the most conservative of the group, and that means you won't be attracting unwanted attention every where you go. It's great at dialing it down and being a normal car when you want it to — but its performance is right there near the front of the pack.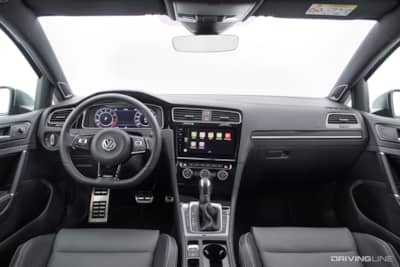 CONS  |  Reasons not to pick the the Golf R:
Too Mature - While there are plenty that want a car that doesn't scream out "I'm fast," others might be disappointed that this AWD performance machine doesn't look much different from a standard VW Golf.
Very Clinical - While there's no doubting the Golf R's performance capabilities, some have criticized the driving experience for being too refined. It does its business very well, but there's not a ton of drama to it. Hooligans might want to look elsewhere.
Expensive - While all of these cars have MSRPs in the $35-40k range, the Golf R is the most expensive with a starting price of $39,375. And given the popularity of the model, don't count on getting any major discounts when you go to buy one.
4. HONDA CIVIC TYPE R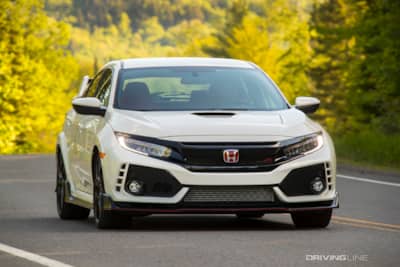 PROS  |  Reasons to pick the Civic Type R:
Price - Among all the cars listed here, the Civic Type R is priced the lowest with an MSRP under $35,000 and a lot of nice standard features.
King of the Ring - The Civic Type R recently became the fastest front-drive production car of all time with a seriously impressive 7:43 lap time at the Nürburgring. If track days are in your plans, the red-badged Honda should be a great choice.
Roominess - Despite its aggressive looks and race car pedigree, the Civic Type R shares the same interior layout and cargo capacity of the standard Civic. Both the backseat and rear cargo area are surprisingly spacious, which could be a factor if you haul passengers often.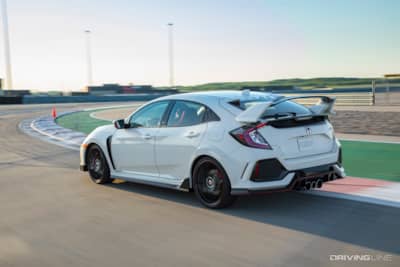 CONS  |  Reasons not to pick the Civic Type R:
Hot Commodity - While the Type R's MSRP is indeed the lowest of the group, the car is still hard to find and could be for some time. Dealer markup is common, and when that's added into the equation, the value benefit goes away quickly.
No AWD - The Civic Type R is the only car of this group that doesn't feature all-wheel-drive. While that doesn't seem to harm its track performance, those looking for the quickest launches or all-weather traction should probably look elsewhere.
Polarizing Styling - A vehicle's styling will always be subjective, but there's no getting around the Type R's extremely aggressive looks. It manages to make the STI look tame by comparison, and while some people will dig the craziness, others wish Honda would have toned it down a bit.
There you have it. While there's not a bad choice among the bunch, each car has its own attributes that should appeal to different kinds of buyers. No matter your preference, the simple fact that all of these great cars are currently on sale here in the United States should be enough to make us thank the automotive gods.