The Parts-Runner: A 1200HP Duramax Beast
In 2018, tens of thousands of diesel owners know what a 500, 600 or 700rwhp truck feels like—but what's life like with four-digit power on tap? Can you tame that kind of firepower enough to daily drive it? Mike Maas thinks so. The Minnesota native recently transformed his 300,000-mile, LB7 Duramax-powered '03 Silverado 2500 HD into the ultimate daily: a 1,200rwhp terror on wheels. But just how exotic is the parts list that got him to this point? To make 1,200rwhp possible, it took big fuel and lots of air. To make the 2,200 lb-ft of torque that comes along with it survivable, a built engine and a stout transmission were mandatory. Finally, to make this kind of power streetable, it took precise control of key engine parameters by way of custom ECM and TCM tuning.
Despite an extensive list of engine, fuel system and transmission modifications, nothing in Mike's build is what we would consider over-the-top. In fact, many diesel enthusiasts would even deem it a run-of-the-mill performance build for someone chasing big horsepower. For instance, his LB7 makes use of the stock crankshaft and camshaft, utilizes the same Carrillo connecting rods and cast-aluminum Mahle Motorsport pistons used in everything from 700 to 2,000hp applications and even runs standard ARP 425 head studs. A pair of BorgWarner turbochargers and non-ported Street Series cylinder heads from Wagler Competition Products handle airflow, while two stock displacement injection pumps feed a (fairly common) set of 150-percent over injectors on the fuel side. Again, it's nothing wildly out of the norm—but it makes huge power.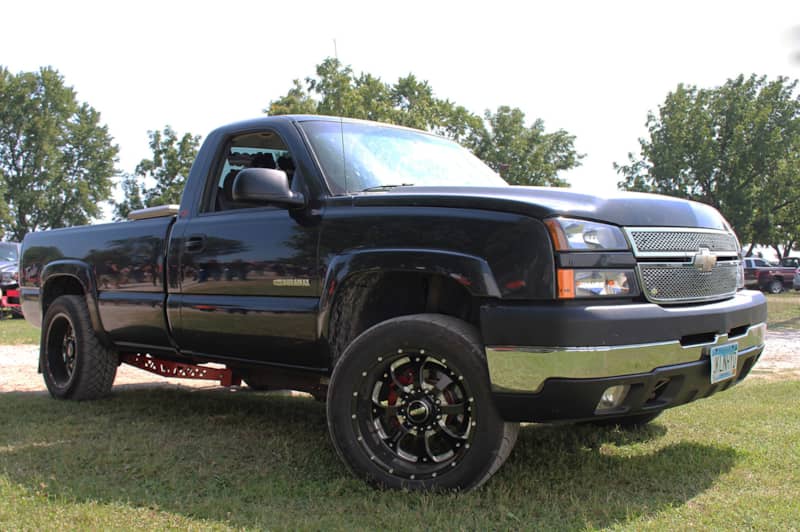 The best part? When Mike's truck isn't melting down chassis dynos or smoking all four tires at the drag strip, it's out making deliveries and picking up parts for his business, Dark Horse Diesel.
LB7 Modded to the Max
Buried beneath a beautiful compound turbo system fabricated by HSP Diesel, you'll find an externally balanced LB7 Duramax sporting a factory crank, forged-steel Carrillo rods, stock bore, fly-cut 16.8:1 compression Mahle Motorsport pistons and a forged flex plate from BD Diesel. Mike's local machine shop, Craig's Machine & Dyno, handled all machine work. Up top, a set of cast-aluminum street series heads from Wagler Competition Products, fitted with 130 ppi valve springs, are anchored to the block via ARP 425 head studs.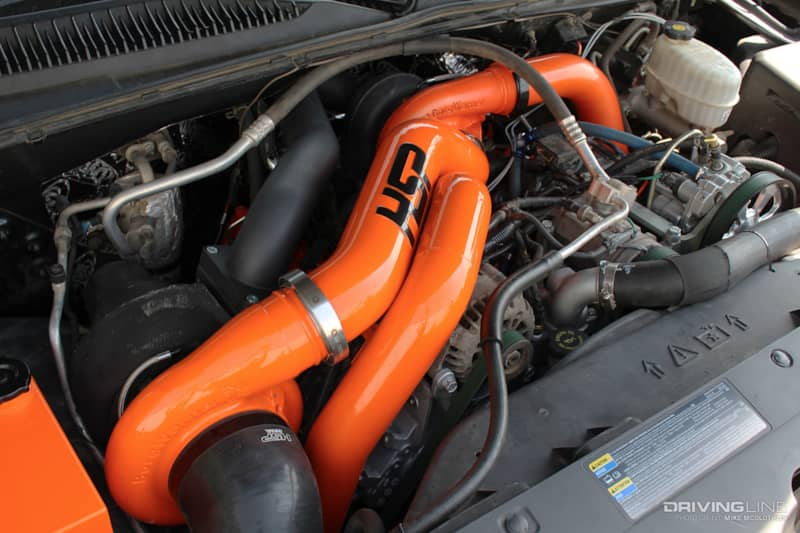 A BorgWarner-based, S485 SX-E takes the biggest bite out of air in the compound arrangement. The T6 flanged, atmosphere turbo employs a billet compressor wheel with an 85mm inducer and combines with the valley charger to produce 90 psi of boost.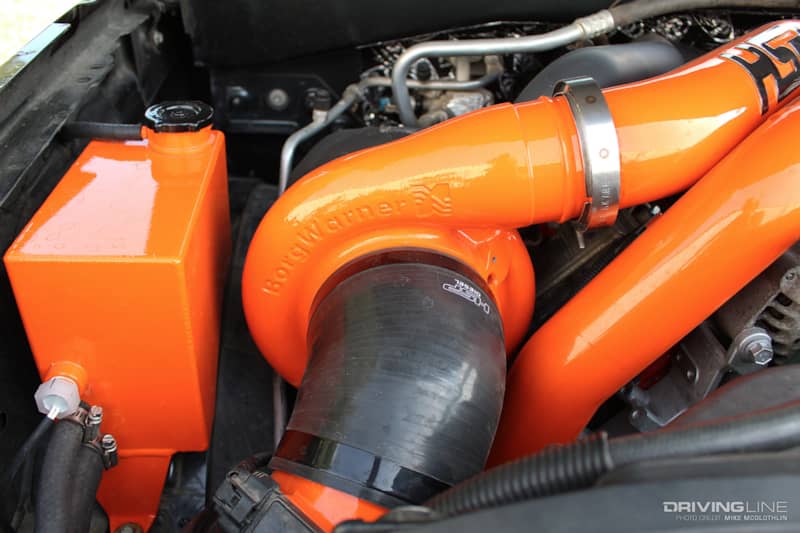 Speaking of the valley turbo, the popular S369 SX-E serves as the system's high-pressure unit. Right out of the box, this forged milled wheel (FMW) equipped BorgWarner charger flows just under 100 lbs/min (or 1,400 cfm). Its standard 360-degree thrust bearing assembly also makes it the perfect candidate for standing up to the elevated boost and drive pressure seen in this compound setup.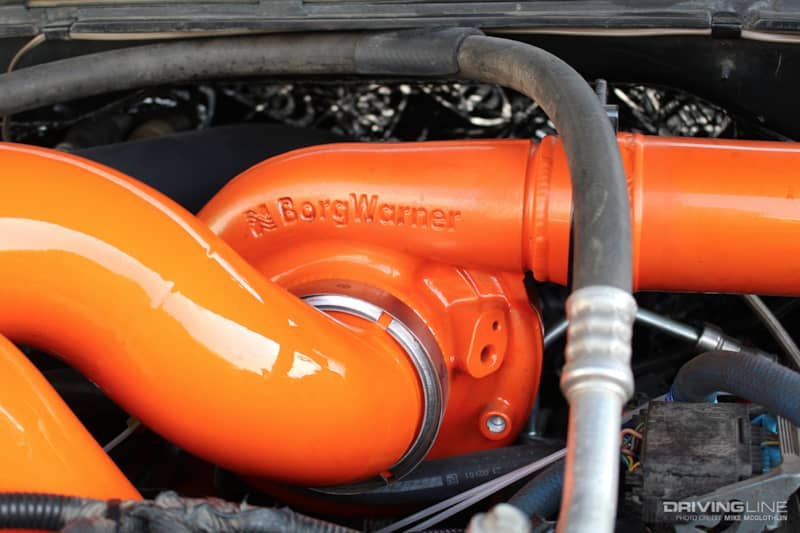 With a set of 150-percent over, SAC style injectors from S&S Diesel Motorsport to feed, Mike calls on dual CP3s to get the job done. Based on PPE's Dual Fueler system, the pumps consist of two used, stock displacement units from LBZ and LMM applications. His friends at Wold Fabrication came up with the belt driven CP3 pulley, which matches the truck's 20x10 SOTA Offroad Novakanes. The CP3s see plenty of low-pressure fuel supply thanks to a 220 gph Titanium series FASS system, which pulls fuel from a Wold Fabrication sump in the factory tank.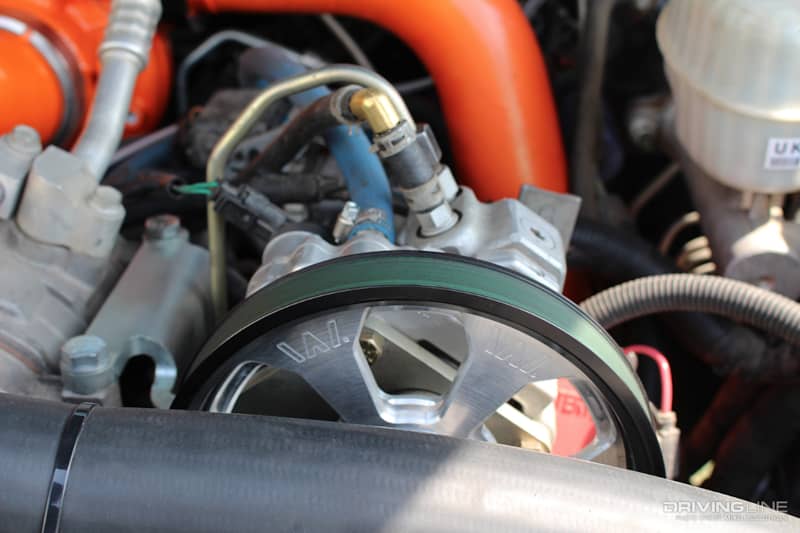 You're reading that correctly, the truck itself has accumulated 303,000 miles and change since rolling off the assembly line. With it being a shop truck and all, Mike tells us he's already racked up 4,000 additional miles since we snapped this photo.
Perfectly in Tune
Every Duramax build is only as good as its tuning allows. In Mike's case, he chose one of the best Duramax tuners in the industry: Mark Broviak of Danville Performance. Thanks to Mark's tweaks via EFI Live software, the truck is incredibly well behaved for a setup that builds near-triple-digit boost and cranks out well north of 1,000hp. Mike navigates his Danville tunes via an Edge CTS2 monitor while also using it to watch rail pressure, lift pump fuel supply pressure, engine coolant and transmission temp.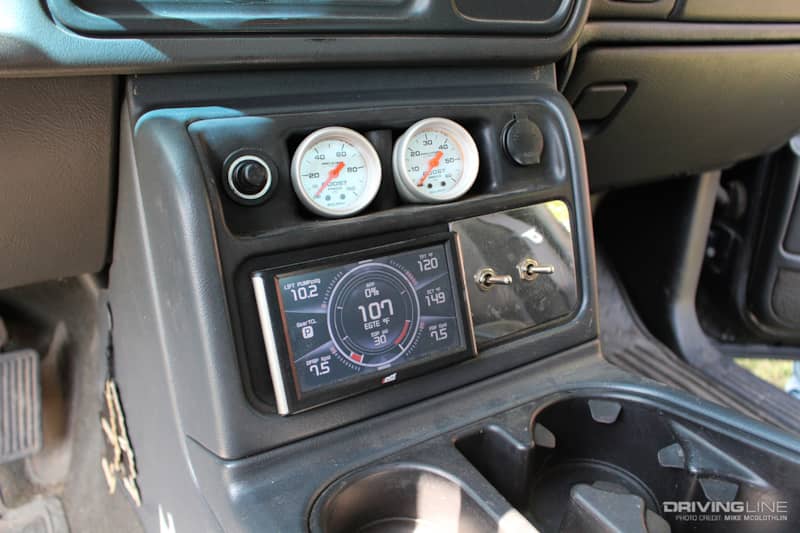 A pair of Pro-Comp Ultra-Lite series gauges from Auto Meter keep tabs on boost pressure (the unit on the left providing the combined, overall measurement, which frequently tops 90 psi). The two toggles on the lower right control an Alli-Locker converter lockup switch from Dirty Hooker Diesel. The manual lockup switch allows Mike to couple the converter to the engine in any gear he chooses—thereby putting maximum power to the ground as soon as possible.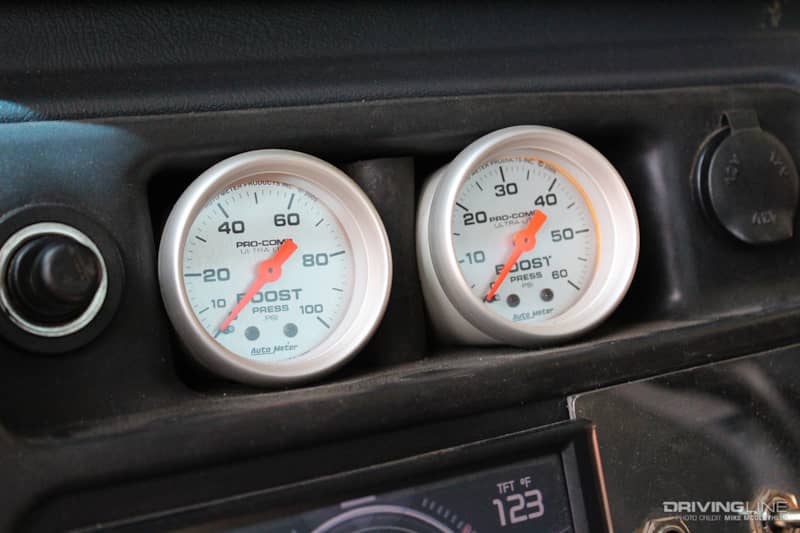 Nitto 420S
Even though traction can be hard to come by in a 3-ton truck turning out 2,200 lb-ft of torque, the 305/50R20 Nitto 420Ss aboard Mike's Silverado do an exceptional job grabbing ahold of pavement. But not only do the 420Ss keep the truck in a straight line at the track, their all-season design keeps it glued to the road in inclement weather. Rain or shine, it's an errand truck, first and foremost.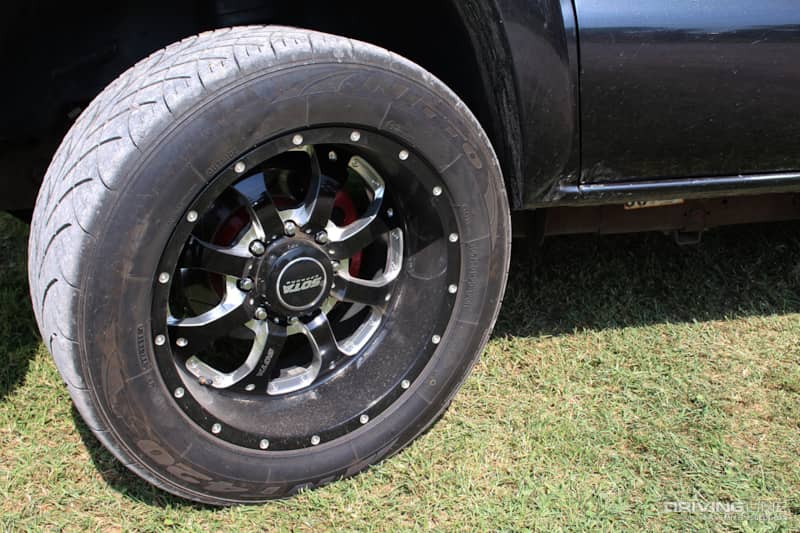 Looks Can Deceive
While the classic body ¾-ton doesn't exactly appear stock, the mud flaps and low profile toolbox certainly don't suggest it's packing 1,200-plus hp, either. To keep the Chevy's front end alive, a set of PPE Stage 3 tie rods were installed, along with one of the company's straight center links. To rule out the failure-prone GM Gov-Loc, Mike swapped it with a center section out of a Dodge AAM 1150. A set of traction bars from Wold Fabrication keeps the rear axle from wrapping under power. In this photo, Mike's "nasty little surprise" of a Duramax takes a rest, having just cleared 1,244hp and 2,193 lb-ft on the Dynocom chassis dyno formerly owned by Dan's Diesel Performance.