Top 14 Cummins Trucks of UCC 2019
For the first time in Ultimate Callout Challenge history, a new champion is guaranteed to be crowned in 2019. After winning the first three UCC events consecutively, Lavon Miller and the boys at Firepunk Diesel are sitting this year out—so it's anyone's game this time around. But who's got the best chance of winning the baddest diesel truck competition in the land? Having finished second the past two years, Derek Rose is certainly champing at the bit to pull off the overall win. Shawn Baca has killed it in the dyno portion every year, and with stronger performances during the drag race and sled pull he could easily nab the W for the Industrial Injection camp. But then, Jared Delekta, driver of Industrial Injection's Cummins-powered '01 Chevy Silverado, won't exactly be willing to yield to his teammate—especially after having ran an incredible 8.07 quarter-mile at 180 mph and dyno'd 2,188hp in 2018.
With Cummins-powered trucks inflicting the most damage thus far at UCC events, it only makes sense that 50 percent of all 2019 entries are relying on the almighty inline-six—in one form or another—to carry them into the winner's circle. From a couple of freakish P-pumped 12-valves to an army of cutting edge common-rail power plants, the following competitors are arguably bringing the most potent engine packages to UCC 2019. To find out how they fair, make sure you're at Lucas Oil Raceway in Indy the weekend of May 3-5.
1. Derek Rose
As mentioned, DNR Customs' Derek Rose has come up just shy of First Place in the last two UCCs (2017 and 2018) but has also attended all three affairs in the event's brief but growing history. Last time we checked, his center-drive '06 Dodge was slated to be packing a built Cummins engine with a deck-plate and a solid block, a triple-turbocharger arrangement accompanied by a water-to-air intercooler, triple CP3s, a full tubular back-half, a Moser 9-inch with a 9.50 pro gear out back and a 5-lug converted AAM 9.25 up front. This truck has run low nines in the past, but now weighs in at a reportedly lighter 6,050 pounds. Look for Rose to be in the top three by the time the dust settles at UCC 2019.
2. Shawn Baca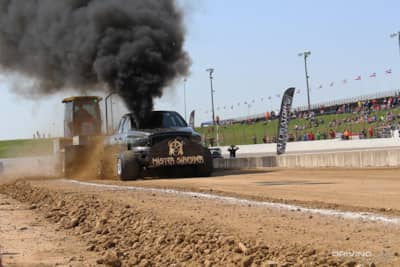 One of the most recognizable names at UCC is Shawn Baca. His Dodge Ram, coined the Master Shredder 2, is known to put up some of the biggest dyno numbers in the nation, and Baca and his steed showed solid progress last year at both the drag strip (8.88-second quarter-mile) and on the pulling track (second place hook). Still sporting a triple-turbo arrangement, Baca's deck-plated and excessively fueled Industrial Injection Cummins will once again be hit with a healthy dose of nitrous aboard the rollers. Look for Baca to lay down somewhere between 2,400-2,700hp and, barring any transmission trouble, launching issues or electronic gremlins, put together a low eight-second pass at the drag strip.
3. Jared Delekta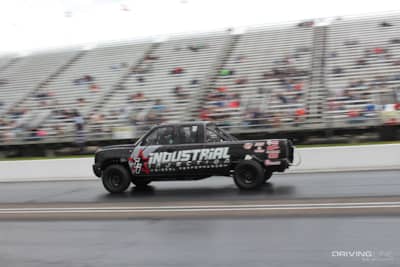 As for Baca's teammate Jared Delekta, he and the Industrial Injection Cummins-powered '01 Chevy put on a show at last year's UCC, having gone 8.07 at a blazing 180 mph through the 1320 and laying down almost 2,200hp on the dyno. Known as DeMaxed, the truck became a celebrity in the diesel industry when the Duramax and Allison combination were yanked in favor of a deck-plated 6.7L-based Cummins with two S488 chargers feeding an S594. Now running a single Garrett unit (albeit massive), the truck weighs less, the engine doesn't see as much stress (cylinder, boost and drive pressure are all lower) and makes just as much power. Look for Delekta to be right in the thick of things in both the drag strip and dyno events, where DeMaxed may even dip into the sevens in the quarter-mile and clear 2,300hp or more on the rollers.
4. Chris Buhidar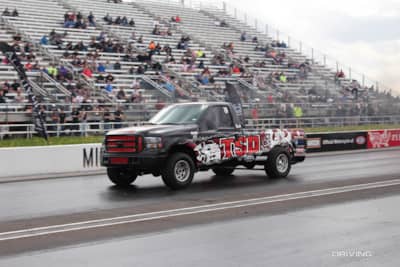 A multi-time Super Street class champion in the former National Hot Rod Diesel Association, Truck Source Diesel & Off-Road's Chris Buhidar is no stranger to being the quickest at the drag strip. After finishing fourth place at UCC 2018 thanks to an 8.57-second pass at the drag strip, 2,238hp on the dyno and a sixth place effort in the sled pull, Buhidar ended up joining the ranks of the ODSS drag racing series last fall. There, his triple-turbo, 5.9L Cummins-Powered '00 F-350 nicknamed "The Mick" mixed it up with some of the fastest Pro Street trucks in the country. Always a consistent performer, look for his leaf spring, factory frame Super Duty to finish toward the top again this year.
5. Josh Scruggs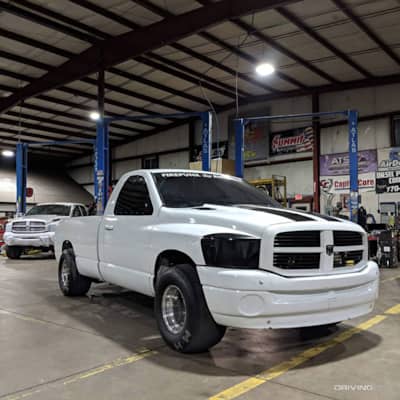 Making a name for himself along the ODSS circuit, Josh Scruggs pulled off the 5.90 Index class win at Rudy's Fall Truck Jam in 2018, so we know he can race. A few months later, he purchased Firepunk's record-setting Pro Street truck last fall—the same exact truck that's won UCC three years in a row. Now, Scruggs is looking to keep the momentum alive with this drag race, dyno and pull-proven chassis. Rumored to be powered by an Industrial Injection-built 6.4L Cummins when it arrives in Indy, we can't wait to see what Scruggs has in store for this record-breaking, UCC-dominating truck.
6. Donavan Harris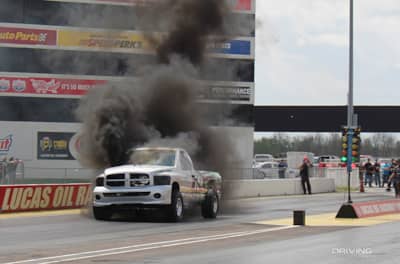 Always a solid performer across the board, Donavan Harris is returning for his fourth year of UCC competition. With help from industry heavy hitters such as Armor Inc. Diesel & Suspension, Dynomite Diesel Products, D&J Precision Machine and many others, the truck chassis dyno'd 2,024hp during recent testing—the most it's ever made. A deck-plated common-rail Cummins sports a compact compound turbocharger system made up of a 106mm Garrett GT55 atmosphere charger feeding an 85mm GT55 on the manifold. Along with making at least 200 more hp, the truck is said to be 5,000 pounds lighter now. This should help Harris eclipse last year's quarter-mile best of 8.58 at 165 mph with relative ease.
7. Todd Welch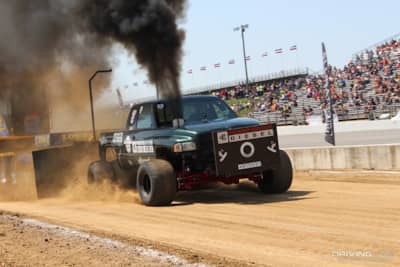 Representing the mechanical Cummins crowd once again is Todd Welch and the team from Power Driven Diesel of Cedar City, Utah. Their P-pumped second-gen is a favorite to many and this year it'll be sporting two 106mm Garrett GT55s as low-pressure turbos in its triple-turbo arrangement. Though the truck has yet to show its full potential on the drag strip and chassis dyno (they even split the engine block in 2018), it has seen success in the sled pull portion of the event, where an SQHD axle allows them to run dual rear cut tires. With the potential to make well north of 2,000hp, it will be interesting to see if Welch and crew can put it all together this year at UCC.
8. Justin Andres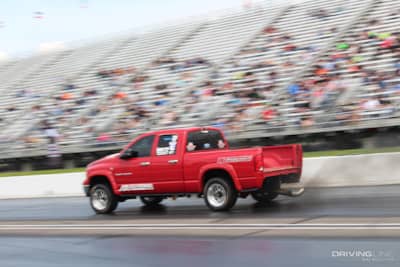 Literally blasting onto the scene at UCC 2018, Justin Andres' full interior '05 Dodge rocketed to an 8.94-second pass at 154 mph on the opening day of festivities. Unfortunately, the incredible pass toasted his engine (cracking the block), sidelining him for the rest of the weekend. For 2019, Andres is bringing his street truck back to Indy with a fresh 6.4L Cummins from Freedom Racing Engines, along with a compound turbo configuration that utilizes a GT55 on the manifold, dual 12mm CP3s and 100-lpm injectors from Dynomite Diesel Products, and custom tuning from Done Right Diesel Performance. Trust us, this is one of the nastiest street-driven diesel trucks you'll come across. It sent 1,700 hp to the pavement last year, so who knows what it's making now… And in between events, you might even catch Andres in the cab soaking up the A/C, as it's one of the only street-driven rides competing in the Ultimate Callout Challenge.
9. Frank Kuperman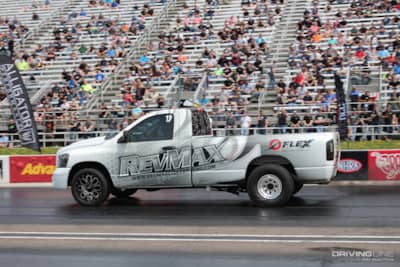 Frank Kuperman and the RevMax Performance crew go about things a bit differently than most UCC competitors. In 2017, they drove their two-wheel drive standard cab Ram all the way from North Carolina to the event in Indy, and once the competition was over they drove it all the way home with zero issues. Each year, the truck also competes on a 68RFE six-speed transmission—and uses UCC to show the world that RevMax builds one tough version of the often-dreaded Chrysler automatic. In 2017, the 68RFE lived through a 10.79-second quarter-mile pass. In 2018, it had no issues coping with more power and an even quicker 10.29. In a sea of crazy-powerful, over the top, competition-only trucks at UCC, this one is pretty unique.
10. Brett Marcum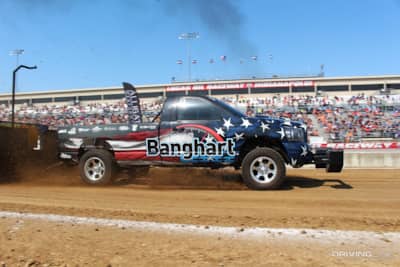 Despite 2018 being his first year competing, Brett Marcum finished in the top half of an ultra-competitive field of trucks. This time around, he's looking to surpass his previous quarter-mile best of 9.37 seconds, lay down way more than 1,309hp on the dyno and lug the sled beyond 300 feet. With a fresh competition Cummins from Freedom Racing Engines, he might just be able to do it. We were privy to seeing the top-end of Marcum's Cummins go together while visiting Freedom's facility in mid-April, and it should have no problem surviving and thriving in each event at UCC 2019.
11. St. James Diesel Performance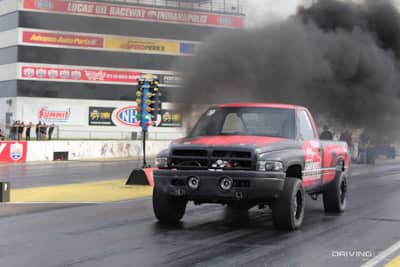 The crew at St. James Diesel Performance will look to build on their 20th overall finish last year. In 2018, their second-gen, a proven eight-second performer in its previous life, pulled off a 9.06-second pass at 148 mph during the drag strip portion of the event with Anthony Reams at the helm. Not bad for a leaf spring, factory frame truck that tipped the scales at 5,800 pounds on race day. The '95 Dodge Ram 2500 conceals a triple-turbo'd 6.7L-based common-rail Cummins under the hood and is backed by a Firepunk Diesel four-speed.
12. Trevor Peterson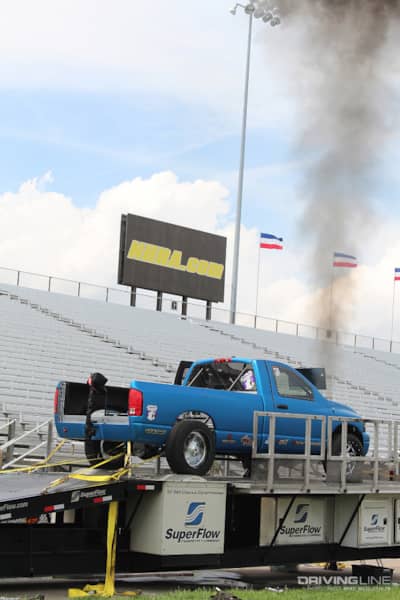 After joining a list of drivers looking to qualify to compete in UCC 2019 back at the '18 event, Trevor Peterson proved he was more than ready to run with the big boys. His '06 Dodge—equipped with an Industrial Injection Shredder series 5.9L engine, dual CP3s, big injectors, a Randy's Transmissions-prepped 48RE and Breakout Tuning Solutions' ECM tweaks—cleared more than 2,100hp on the dyno. A fourth place finish during the sled pull and a 10.06-second quarter-mile were good enough to get him into the big show in 2019. Look for Peterson to bring even more to the table during the dyno event, as well as put up single digit quarter-miles.
13. Travis Trent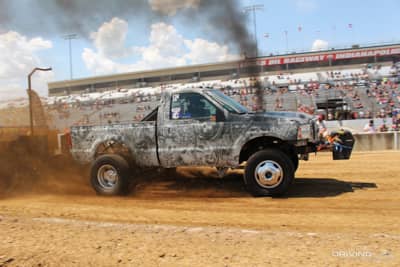 Travis Trent brings another Cummins-powered Ford to the Ultimate Callout Challenge, but this will be his first trip to UCC as a full-blown competitor. In 2018, he ran the UCC qualifier with solid results, his short bed '05 F-250 having nabbed a 9.92-second quarter-mile pass, putting up 1,259hp on the dyno and finishing sixth during the sled pull. Set back in the frame as far as he could mount it, Trent's common-rail Cummins sports a big single T6 charger from Tater Built Turbochargers, a water-to-air intercooler, 500-percent over S&S Diesel Motorsport injectors and tuning by Christopher Lamont Nelson at Energetic Motorsports.
14. Cory Witteveen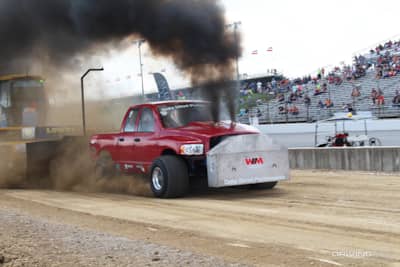 Having put on a strong, first place showing during the sled pull qualifier in 2018 with his cut-tire '05 Dodge, Cory Witteveen and his team earned a spot in 2019's main attraction. Breaking away from all the common-rail technology, Witteveen's vibrant red third-gen is powered by a 6.4L 12-valve and during UCC 2018 a serious 14mm P-pump from Hart's Diesel was hanging off the side of it. His truck also saw some serious mph in the quarter-mile competition last year as well, so if Witteveen can get out of the hole quicker, nines shouldn't be out of the question for him at the drag strip.
Get pumped for this year's Ultimate Callout Challenge by seeing how things went down last year.