Rudy's Fall Diesel Jam 2018
After Rudy's Performance Parts hosts the Outlaw Diesel Super Series' season opener each spring, the Burlington, North Carolina-based company brings thousands of spectators and more than 100 competitors back to Piedmont Dragway for the year-end finale every fall. Coined Rudy's Fall Truck Jam, the last ODSS race of the year brings with it an atmosphere that can only be described as electric. For competitors, a long season that's entailed late-night wrench sessions, last-minute upgrades, on-the-spot fixes and hundreds of hours of travel time all comes to a close on this eighth-mile track. It's where winners are determined, losers go back to the drawing board and everyone begins strategizing for next year. The conclusion of the 2018 racing season would be no different.
By the time the ODSS circuit rolls back into North Carolina, each competitor knows exactly where he or she stands in the points chase—and they know exactly how things have to play out in order to take over or hold onto the top spot. While there weren't any crazy last-minute shake-ups in the standings at Rudy's, there definitely were some exciting, even tense moments. Continuing to break new ground, the Firepunk Diesel crew set a new record in Pro Mod, while at least two other trucks topped their previous best passes. Carnage also came calling for two of diesel drag racing's top competitors (Ben Shadday in Pro Mod and Paul Cato in 5.90 Index, respectively) and an 18-truck field made for an exciting 6.70 Index category.
For the full highlight reel, keep scrolling—and mark your calendars now for Rudy's Spring Opener in 2019…
The Hometown Win: Rawlings Barnes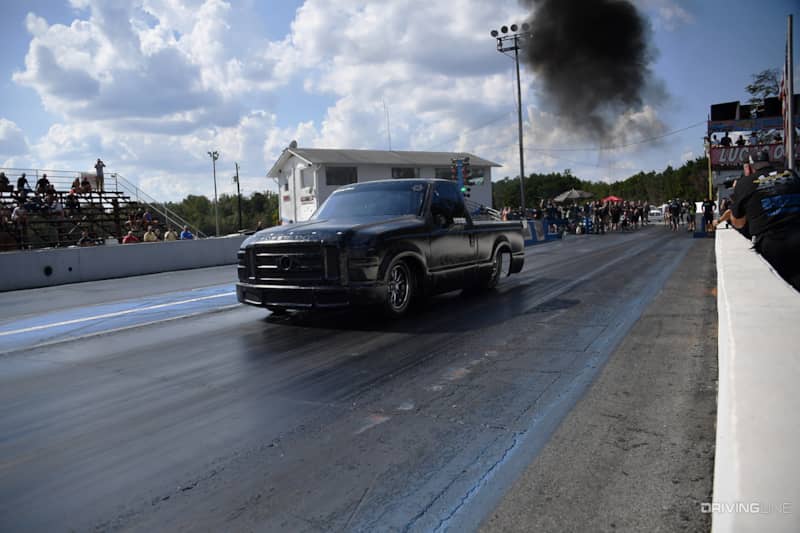 Rawlings Barnes' 2018 racing season definitely had its ups and downs, but being able to pilot the Rudy's Performance Parts Super Duty to a win in front of the hometown crowd had to feel good. On top of collecting his second trophy for the year (he also won the season opener on the same track), Barnes put up a new personal best in the Power Stroke powered F-250: a 4.71 at 151 mph. With 4.90s and trap speeds in the 143 to 144 mph range being the norm at the beginning of the season to running more than two tenths quicker and almost 10 mph faster by the end of it, this truck, its driver and the whole Rudy's team has come a long way. Barnes ended up third in points for the year in what ended up being one of the tighter points chases along the ODSS circuit.
2018 Pro Mod Champ: Ben Shadday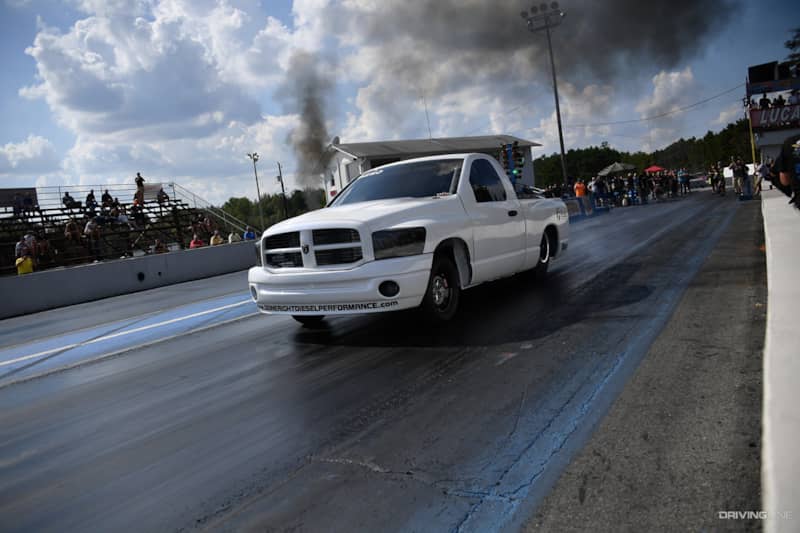 Heading into Rudy's Fall Truck Jam, Ben Shadday and his 3,500-pound '06 Dodge 1500 sat atop the points in the Pro Mod class. The biggest threat to his points lead lay in Larson Miller, driver of the hard-charging Save the Racks S10 that's been parked under the Firepunk Diesel stable all season. Unfortunately for Shadday, he fought traction all day and ended up crossing lanes mid-track, making contact with the wall during the third round of qualifying. Fortunately for Shadday, Miller also struggled to find traction and went out in round one of eliminations.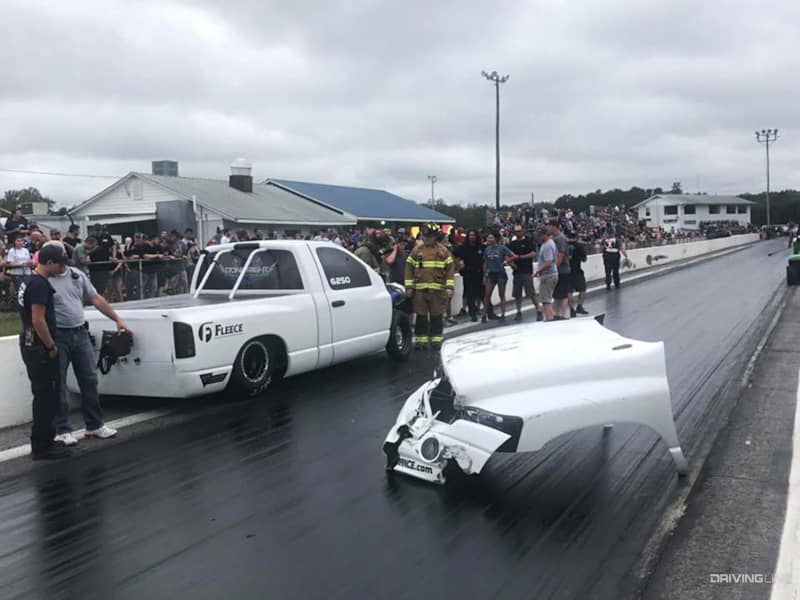 Thankfully, Ben emerged from the wreck unscathed, the truck's damage looked to be mostly cosmetic and even after the wild ride he still had the Pro Mod championship locked up.
New Pro Mod Record: Larson Miller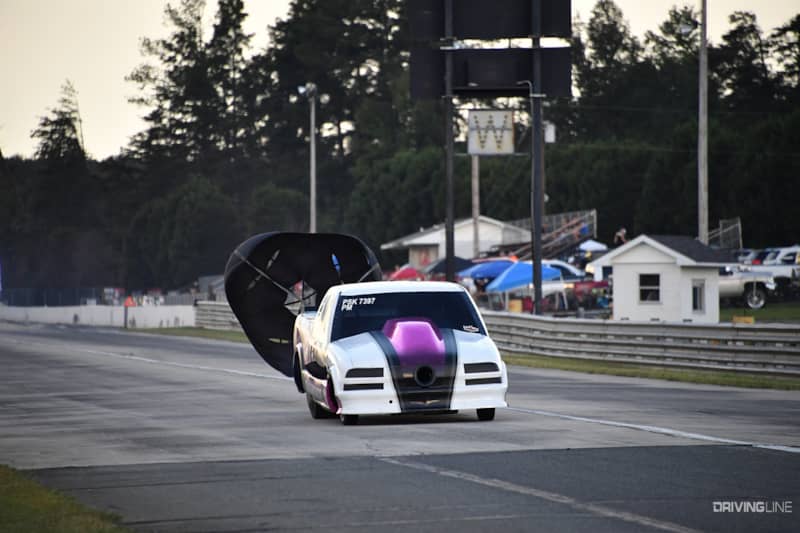 After running into a licensing issue following his 4.47-second pass at the previous event (Hardway Sunshine Showdown 2018), Larson Miller was determined to make things "official" at Piedmont Dragway. True to Firepunk Diesel form, Miller made it look easy when he turned in a 4.48-second pass at 169 mph behind the wheel of the Save the Racks S10. Unfortunately, Miller kicked the tires and was eliminated in the first round, but he still held onto second place in points for 2018.
Pro Street Winner: Dustin Jackson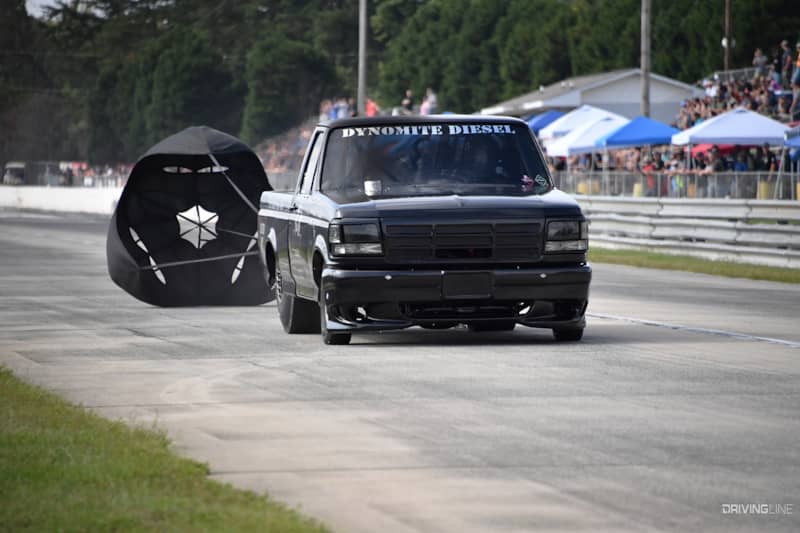 There isn't much else we can say about Dustin Jackson other than that he's a natural-born drag racer, drives one of the oldest yet most proven trucks in the Pro Street field and is simply unbeatable most of the time. In 2018, he won all but one ODSS race and even stole a win at an NHRDA event. His back-to-back Pro Street titles are impressive to say the least. Look for more of the same from Jackson in 2019.
Lavon Miller's Pro Street Dodge Dips Into the 4s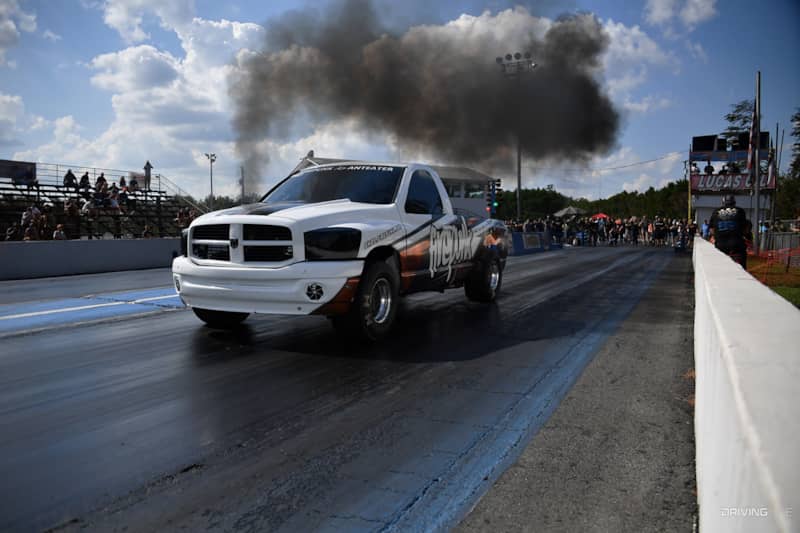 A year in progress, Firepunk Diesel's Lavon Miller was finally able to pull off something he's been working on since the 2017 Rudy's Fall Diesel Jam: get his Pro Street Dodge into the 4s. Already having set the ODSS record at 5.00 and 145 mph just 12 months prior, he achieved his goal by going 4.97 at a blazing 151 mph. In recent years, Pro Street racers have pushed chassis certifications to (and in this case, beyond) their limit and Miller has been at the forefront of this movement.
New Personal Best: Jared Delekta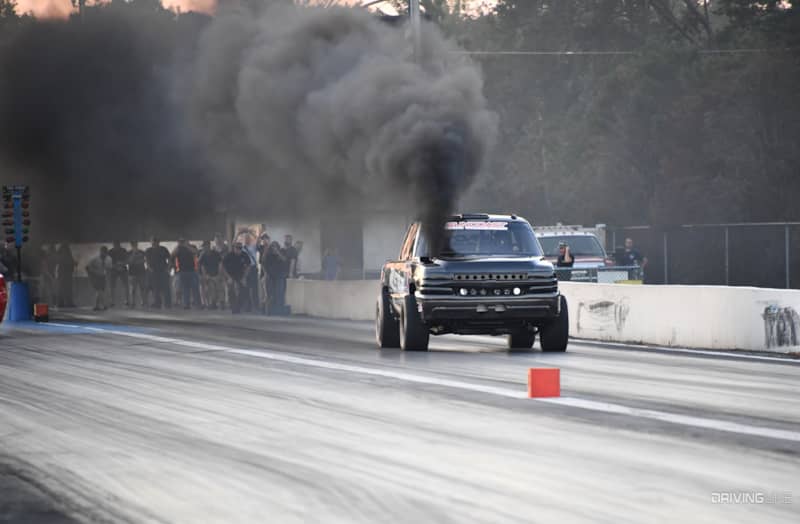 Being based in Utah and running the ODSS race schedule can't be easy (as all races are held east of the Mississippi), but it doesn't phase the guys at Industrial Injection. Jared Delekta, driver of the Cummins-swapped '01 Silverado, certainly doesn't seem to mind. In North Carolina, he sent the Pro Street Chevy through the '660 in 5.09 seconds at 146 mph, blowing past his previous personal best of 5.2 at 138 mph.
Rudy's Winner/Runner-Up in Points: Jared Jones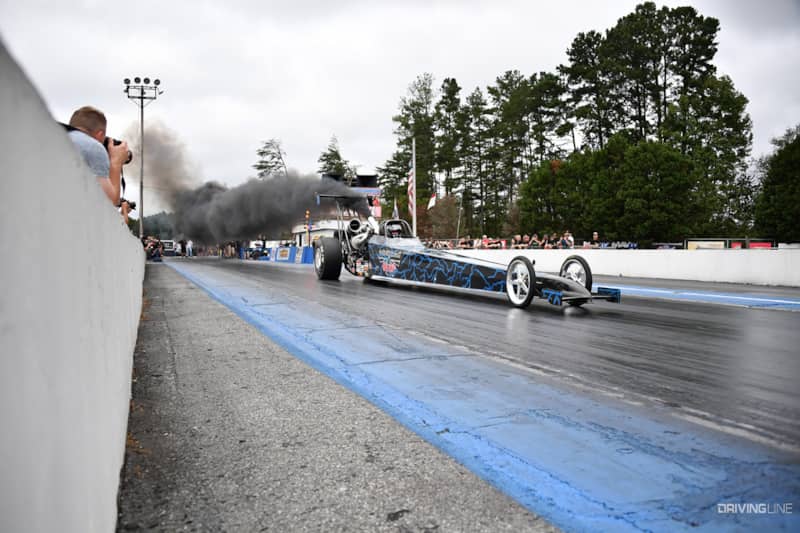 Despite fighting their fair share of gremlins in 2018, the Scheid Diesel team's Spitzer chassis dragster, piloted by the fearless Jared Jones, ended up with the win at Piedmont. After the KingSpeed Race & Repair rail unfortunately couldn't make it to the line for the final, the 12-valve Cummins-powered dragster from Terre Haute took the win without a fight. But despite Jones and Scheid taking the win, Wade Moody (who went out in the first round of eliminations) had already wrapped up the season championship in diesel's fastest category.
5.90 Index Winner: Josh Scruggs
After a 6.04-second pass earned him the number one qualifier, Josh Scruggs noticed a hanging shift. Rather than leave anything to chance during eliminations, he and his team swapped in a spare transmission in the pits. The move paid off, as Scruggs went 5.91 in the first round, won against a red-lighting McCoy Black in round two and took out points leader Rick Fox in the final round thanks to a quicker reaction time. It was Scruggs' first win along the circuit.
Rick Fox Wins the 5.90 Points Chase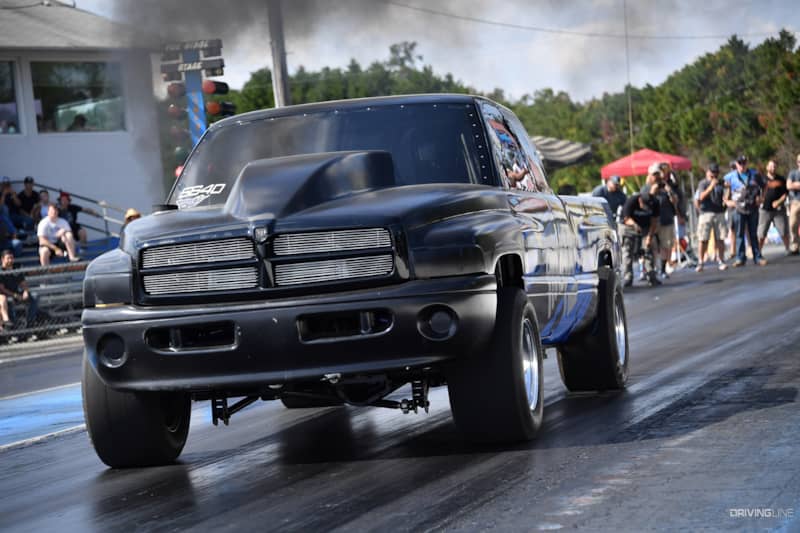 Despite his second place finish in North Carolina, Rick Fox still brought home the 2018 ODSS season trophy in 5.90. His Firepunk-built, D&J Precision Machine engine'd '00 Dodge made a big statement this year, with two wins and two second place finishes in the four races it was able to attend. Without a doubt, the new 5.90 'tweener class (a category that bridges the gap between Pro Street and 6.70 Index) is a hit with fans and competitors alike.
6.70 Index Winner: Mike Coleman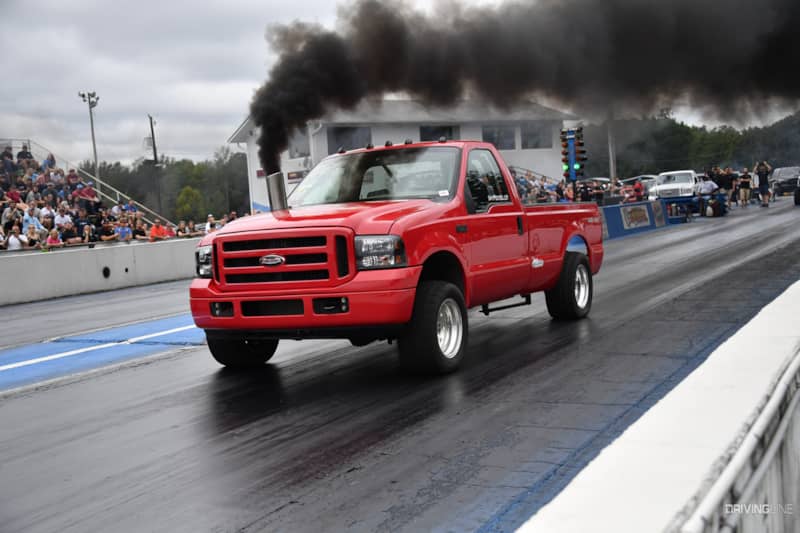 Having won the 6.70 Index class at the Hardway Diesel Showdown a few weeks prior, Mike Coleman came into Rudy's with some pretty solid momentum. He wouldn't disappoint. After qualifying number one for the second event in a row, Coleman proved to be locked in throughout eliminations and ultimately secured back-to-back wins, along with the 2018 6.70 points championship.
7.70 Index Winner: Ryan Riddle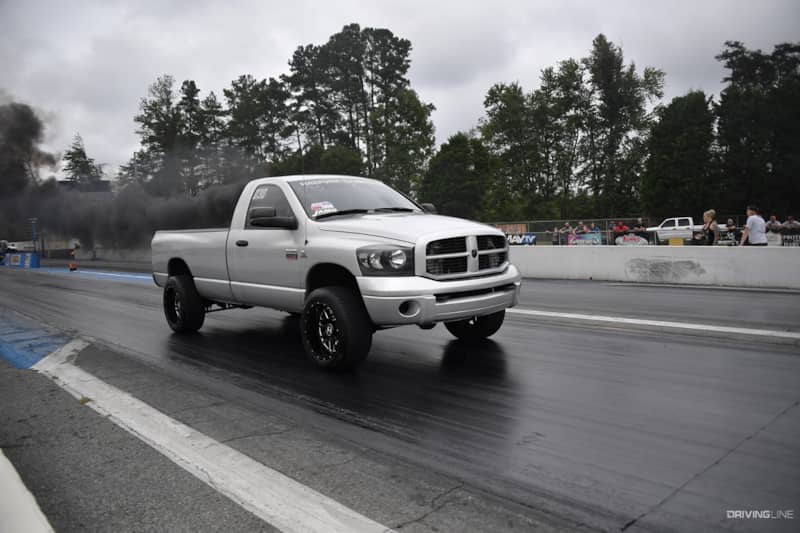 When it comes to the 7.70 Index class, you have to give credit where credit is due, and Ryan Riddle flat out ran away from the rest of the field in 2018. He and his standard cab Ram nabbed four first place trophies in the six-race series and accumulated 533 total points (vs. 336 for second place)—an incredible feat for someone competing against more than 40 other 7.70 Index competitors.
Photography provided courtesy of Amy Gilbert of Stainless Diesel
Want more diesel truck racing? The records kept falling at the Hardway Sunshine Showdown!