Tuerck takes his first event win, Gittin Jr. takes the championship lead after Formula Drift Texas 2020
At the halfway point of the Formula Drift season, Ryan Tuerck was leading the championship with 272 points, Vaughn Gittin Jr. sat in second place with 264 points after his double victory in Seattle, Fredric Aasbo sat in third place with 236 points, With Justin Pawlak (232 points), Chelsea Denofa (228 points), and Bakchis (228 points) all within striking distance.
Heading into Texas, an event that had to get shifted a week later than originally announced due to some changes in the NASCAR schedule, it was clear that these six drivers were positioned well to make a run at the championship. While Formula Drift has visited Texas for the past several seasons, COVID19 restrictions which required spectators to sit in the large oval grandstands necessitated a change to the track layout, reverting to a layout that was initially used when Formula Drift first came to the track in 2013. The sport has evolved substantially since 2013, so any driver who drove the track in 2013 wouldn't necessarily have an advantage, and while we saw some familiar faces on the podium in Texas, it was far from a predictable event weekend.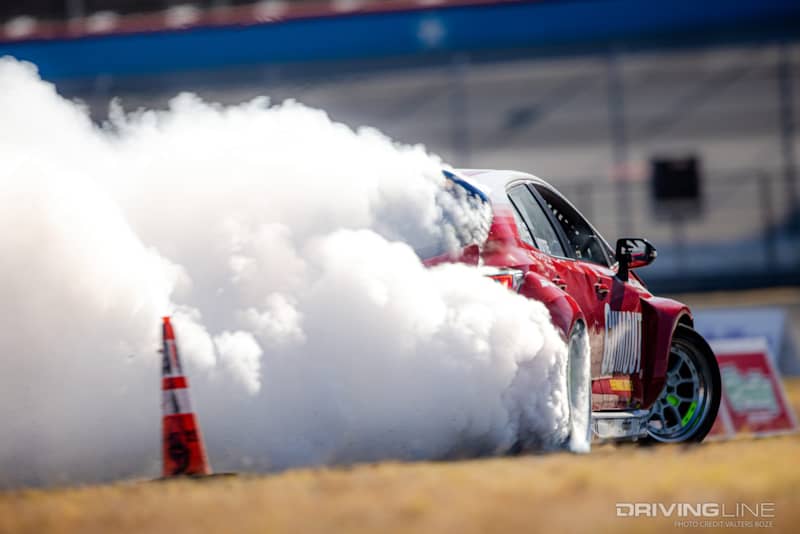 Saturday Round 5
Gittin Jr drew magic number 5 after his Seattle win, which slated him into a Toop 32 battle with Tyler Nelson. Slotting the drivers in reverse order of the Seattle Round 4 finish, Ryan Tuerck would get the 3rd position and a coveted bye run, RTR teammate Chelsea Denofa would slot into second position, also earning a bye run, while Aasbo would end up in 18th position, facing Japanese contender Wataru Masuyama in his first tandem battle. By luck of the draw, Forsberg would end up with the top qualifying position, which also gave him a bye run in the first round. A few of the drivers who had made previous rounds were unable to attend Texas, which also provided for a few more bye runs than normal in the first round of tandem. But tandem competition has a way of equalizing the situation, and the full moon that was expected on Halloween night seemed to have an influence on some of the results.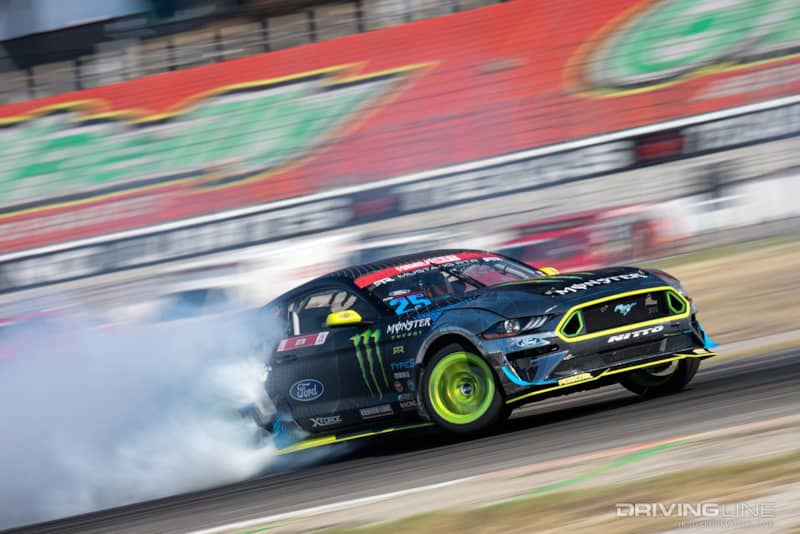 Rd. 5 Top 32
In the top 32 round, Justin Pawlak, fresh off a final round battle with Vaughn Gittin Jr. in Seattle, would end up suffering a massive engine failure late in practice and was unable to make his tandem run against Jonathan Nerren. The second biggest upset of the Top 32 round came in the last battle, where a mechanical issue caused Dylan Hughes's E46 to lurch to a stop shortly after the starting light turned green on his lead run, which counted as an incomplete run. In the chase run, Hughes would collide with Jhonnattan Castro shortly after initiation. We would find out in a later interview that the transmission on Hughes' car lost 1st and 2nd gear, and while he was able to execute a launch in the chase run in 4th gear, it threw off his timing for entry which caused the collision. Both drivers were ok, and Hughes' team got to work fixing the car ahead of the Sunday competition, but Castro would be the one continuing the day.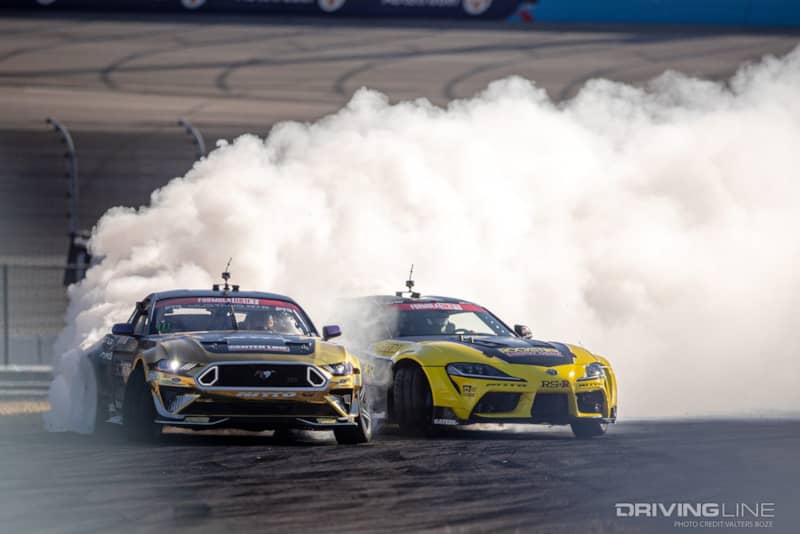 Top 16 
In Top 16, several of the early battles went essentially as expected, with top drivers like Forsberg and Gittin Jr. earning wins in their battles against Michael Essa and Matt Field respectively. Rookie and Youtube sensation Adam LZ took out longtime Formula Drift competitor Dean Kearney when Kearney's Viper over-rotated on initiation on his lead run, then suffered irrepairable damage from a collusion with LZs S15. Nerren continued his good luck when higher-seeded Kazuya Taguchi slid off course in his UP Garage Nissan S15, which allowed Nerren to earn his first Great 8 appearance of the season. On the other side of the bracket, Aasbo earned the victory over Denofa due to Denofa colliding with Aasbo while in the chase position, Jeff Jones defeated Odi Bakchis's Nissan S15, Tuerck defeated Dai Yoshihara's Subaru BR-Z, and Taylor Hull ended Castro's day in their tandem battle.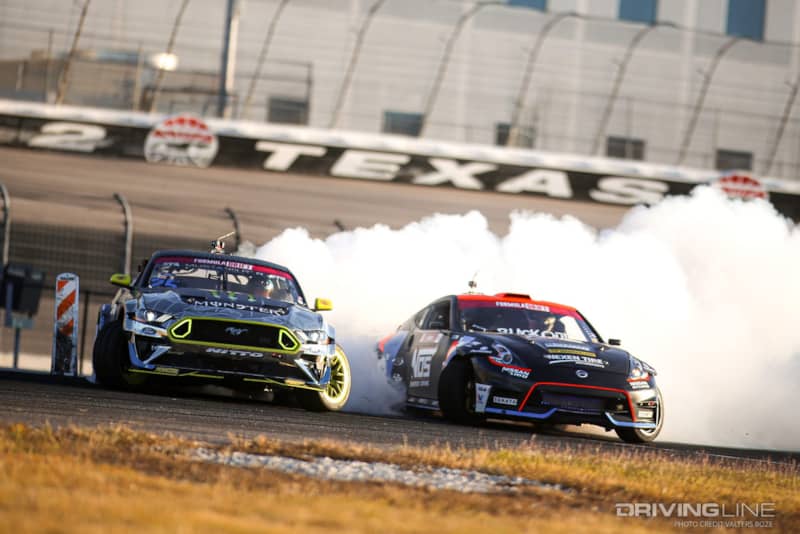 In the Great 8, Forsberg and Gittin Jr. would end the days for LZ and Nerren respectively, while Jeff Jones defeated Aasbo and Tuerck defeated Hull on the other side of the bracket. The win for Jones marked the first time he has ever made the Top 4 round of tandem competition, despite being a competitor for nearly 10 years. In the Top 4, long time friends Forsberg and Gittin battled a very tight tandem round, with each making only very slight mistakes at various times through the course. In a split decision, judges would reward Forsberg with the tandem win, while Gittin Jr. would be relegated to the consolation round. On the other side of the bracket, Tuerck would end Jones's charge for the event win, although the tandem battle was competitive to the end. Gittin Jr. would defeat Jones in the consolation round and earn the final step on the podium. Tuerck would defeat Forsberg in the championship battle, which guaranteed two Nitto Tire cars on the podium.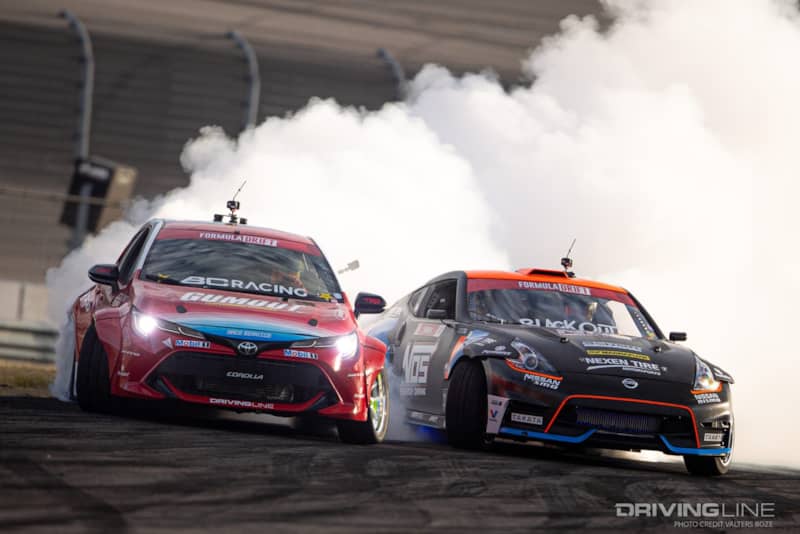 Tuerck would get the better of Forsberg and earn his first victory of the season, the final Nitto Tire driver to earn an event win. The win also catapulted Tuerck into the championship lead, although with another round less than 16 hours later, it was undetermined if that lead would last through the weekend. Tuerck, Forsberg, and Gittin Jr. are all members of an informal team known as "Drift Alliance," and despite Forsberg and Gittin Jr. competing since 2004 and Tuerck competing since 2006, it is the first time the entire podium has been occupied by the Drift Alliance crew.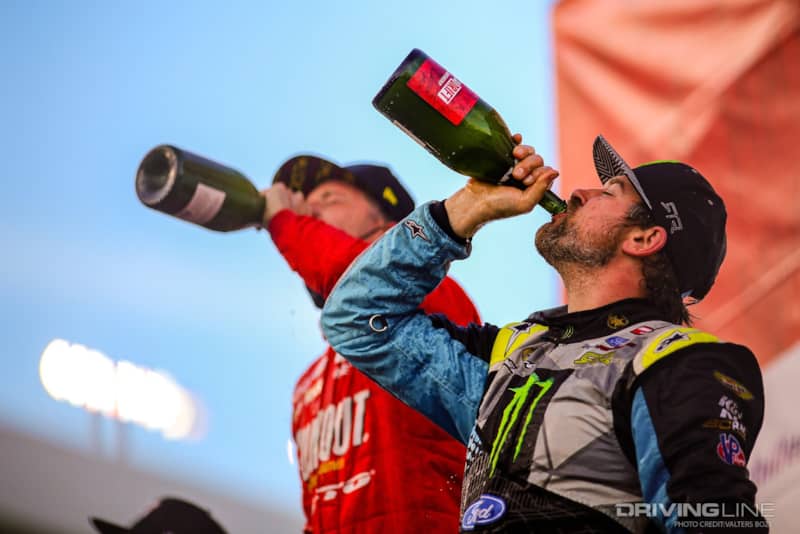 Sunday Round 6
Tuerck drew number 7 out of the hat, slotting him against rookie Tyler Nelson. This put Aasbo into the #1 slot, and Gittin Jr. into #5, both of which would get a bye run. Denofa would end up in #9, facing rookie Rome Charpentier in the Top 32, and both Tuerck and Denofa would win their tandem battles, ensuring all four Nitto drivers were in the Top 16.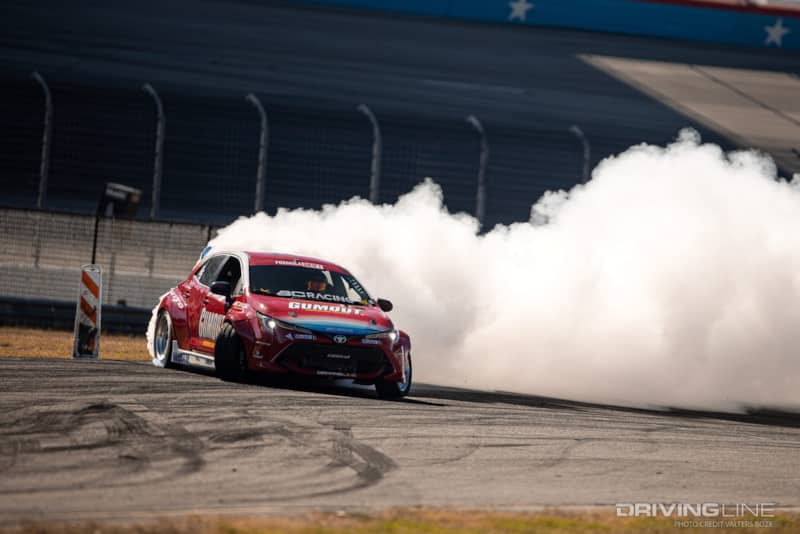 Thankfully, all Nitto drivers would win their Top 16 battles as well with Aasbo defeating Pawlak, Denofa defeating  Nerren, Gittin Jr. defeating Matt Field, and Tuerck defeating Dean Kearney. In a battle with major championship implications at play, Forsberg defeated Odi Bakchis in the final battle of the Top 16 round, which may set Bakchis's championship pursuits on the back burner for this season with only two championship events remaining.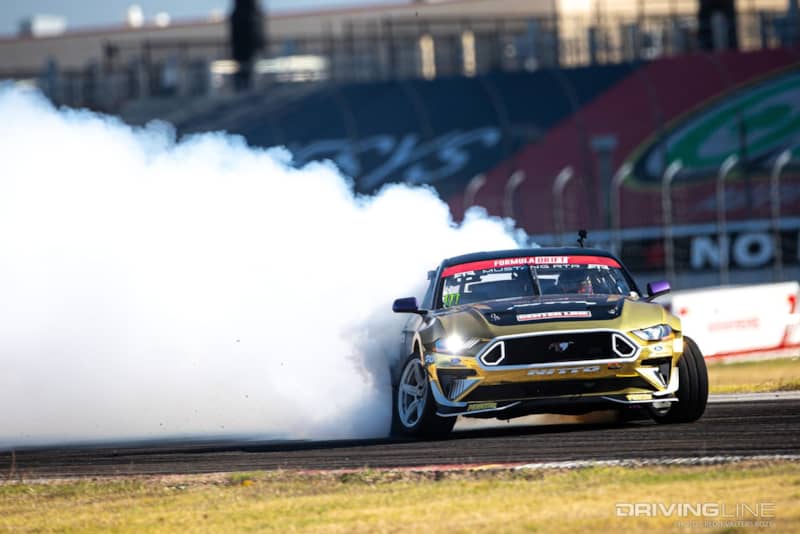 Rd 6 Top 8
In the Top 8, Denofa would defeat Aasbo, avenging the loss from just a day prior, and setting up a Top 4 battle with teammate Vaughn Gittin Jr. after Gittin Jr. defeated Taguchi in his Top 8 battle. On the other side of the bracket, Tuerck would lose his battle with rookie Adam LZ, guaranteeing LZ's best finish so far in his rookie season. Forsberg would defeat former champion Yoshihara in the final battle of the Top 8, setting up his Final 4 battle with LZ. In the all-Mustang battle on the left side of the bracket, Gittin Jr. took the win, giving him the second win over his teammate this season. Forsberg was able to defeat LZ, but not before his rear tires caught fire mid-drift. Forsberg didn't teleport into the year 1985, instead finishing his run cleanly and earning an appearance in the final. In a very tough battle, Forsberg would get the better of his good friend Gittin Jr., earning his first win of the season and second podium finish of the weekend.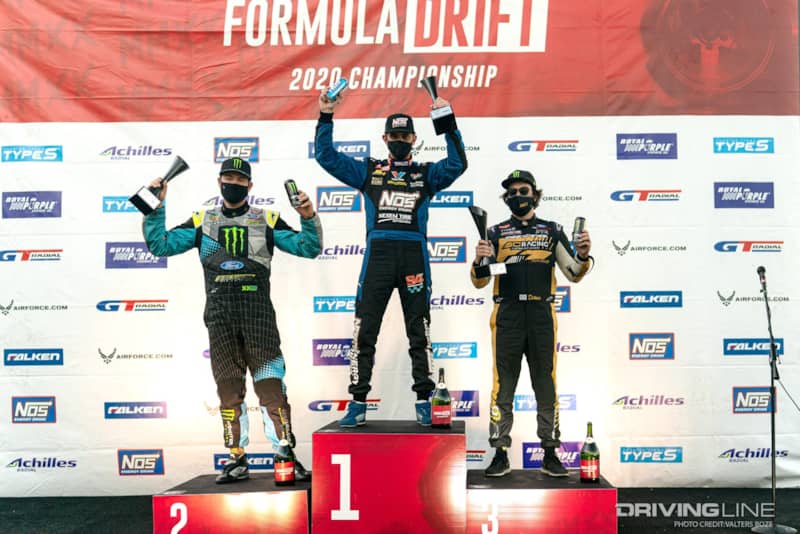 Championship Contenders Taking Shape
With just two events left, the number of championship contenders is starting to narrow. Odi Bakchis and Justin Pawlak both slid in the standings, with neither driver making it out of the Top 16 round in Texas. Chris Forsberg jumped into third position, sitting with 364 points. Vaughn Gittin Jr. slid into the championship lead with a pair of podiums on the weekend, pushing his podium streak to four consecutive events, and pushing his championship points total to 428 points on the season. Ryan Tuerck sits in second place overall, holding 420 points and sitting just 8 points behind Gittin Jr. Denofa now sits in fourth place with 336 points, while Aasbo rounds out the top 5 with 332 points. Bakchis, now in 6th position, is now 136 points behind the lead of Gittin Jr., which means he is nearly eliminated from championship competition so long as the drivers ahead of him show up to the final weekend in Irwindale.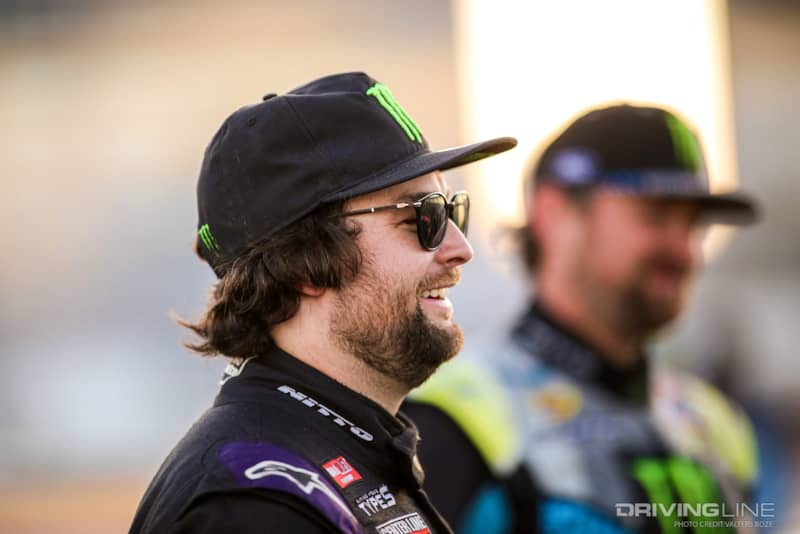 The final weekend of the Formula Drift series is set to take place on the weekend of November 20th through 22nd, and Formula Drift is currently selling a small amount of tickets to spectators in case the county of Los Angeles has progressed to a tier of re-opening that allows spectators to be in attendance. In the event that this doesn't happen, all tickets will be refunded, but with only a limited number of tickets available, those who are interested in watching the 2020 championship finish up in person should buy their tickets now! In an additional twist, the schedule for the weekend has been shuffled slightly. Friday, November 20th will hold the seventh round of the PRO championship, Saturday will hold the fourth and final round of the Pro 2 championship, and Sunday will have the eighth and final round of the PRO championship. This will allow the PRO teams a full day between competitions, as well as give the PRO 2 drivers a rare weekend appearance opportunity.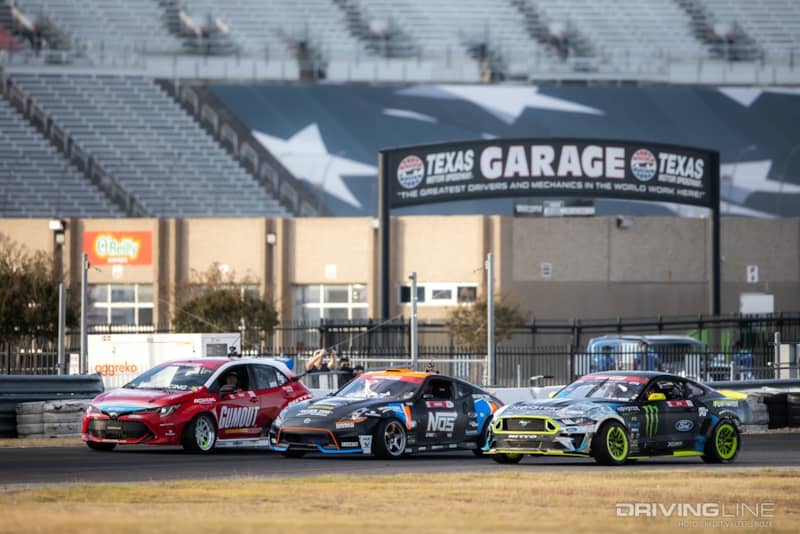 The final Formula Drift weekend of competition is just three weeks away! Who do you think will take the championship?