Fredric Aasbo Wins Second Formula Drift Championship at Irwindale Speedway!
Story By Joey Redmond
Photos By
The last event of the 2021 Formula Drift season was at the famous Irwindale Speedway in Southern California. Some of the most amazing championship battles have been fought at this track over the years, and this is why Irwindale Speedway is the most famous drift track in history. Let's see how the Title Fight at Irwindale went down.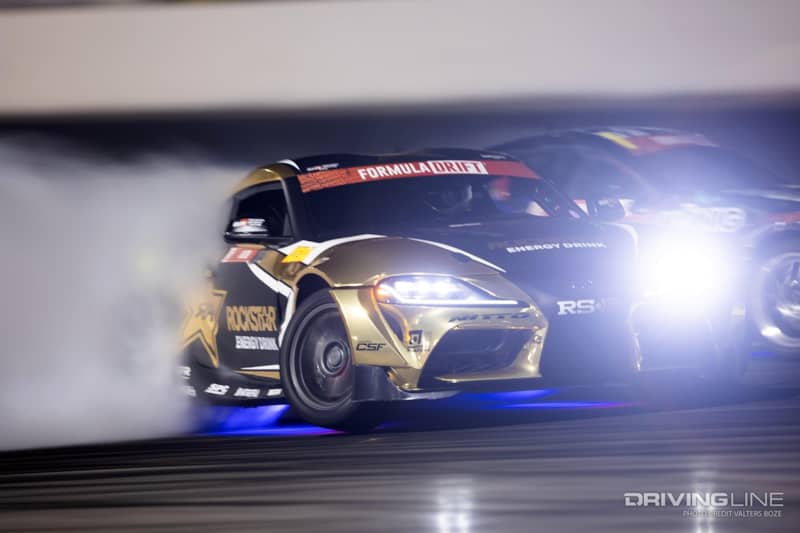 Qualifying
Fredric Aasbo arrived and was ready to dominate Irwindale Speedway early on by laying down a top qualifying score of 95 that was never beaten the rest of the night. Chelsea DeNofa struggled with a score of a 70, putting him in 19th place for Top 32. Matt Field, the other main Formula Drift championship contender, failed to get a score on his first qualifying lap as the torque tube in his Corvette broke. He came back on his last chance qualifying lap and laid down an amazing run that put him in 22nd place.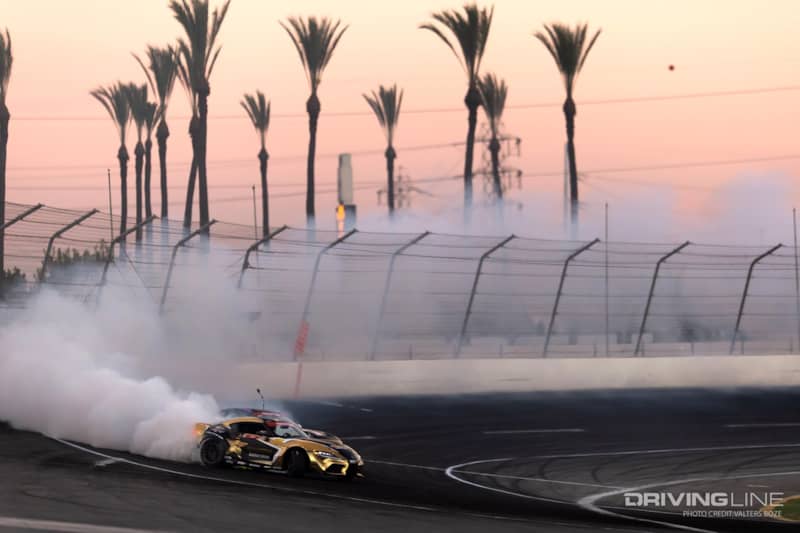 Bye to Dai in the Top 32
Before the drifting started, Dai Yoshihara announced he would be retiring after Irwindale. This was huge as he is one of only three drivers left who has run every event since the series was founded in 2004. He ended up losing to rookie Simen Olsen, putting an end to his amazing Formula Drift career.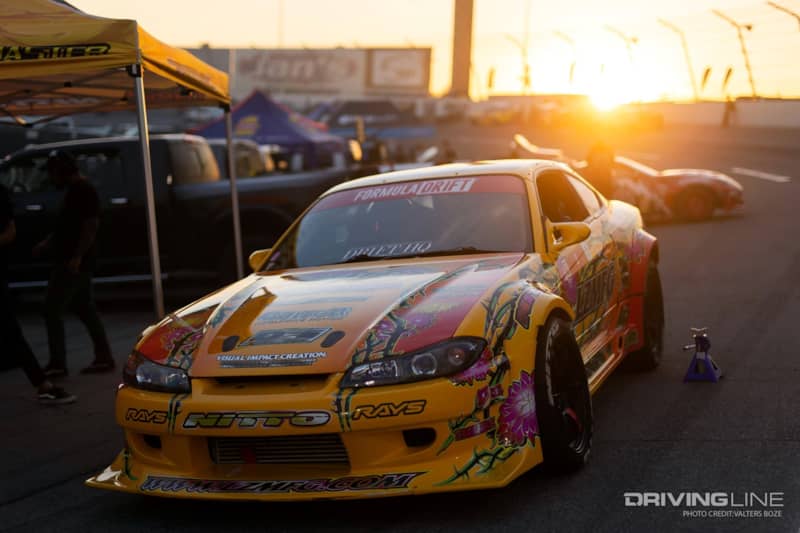 Fredric Aasbo and Odi Bakchis drove their way to a bye run spot from qualifying and weren't set to have a battle until Top 16. Matt Field had a really tough battle against Travis Reeder, who pushed him hard around the course. The judges gave the win to Matt Field, keeping his championship hopes alive.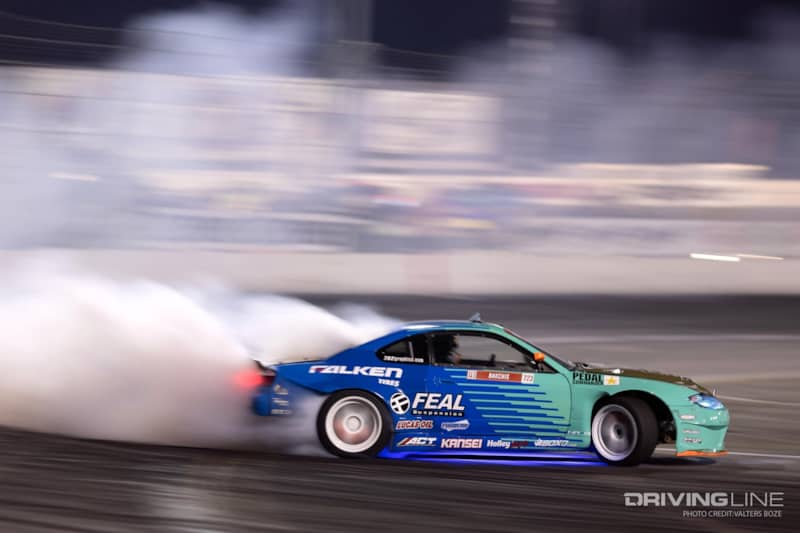 The Long Top 16 for DeNofa
Vaughn Gittin Jr. also announced he is stepping away from Formula Drift for a little bit to pursue other projects, but he made it clear he is not retiring. He had a great battle with Rome Charpentier in the Top 16 and managed a victory to move into the Great 8 where he would take on Taguchi.
Fredric Aasbo easily took out Jonathan Hurst to maintain his Formula Drift championship lead on the night. Matt Field advanced into the Great 8 as well after Justin Pawlak crashed into the bank wall in their battle. This left Chelsea DeNofa, who had an insane battle with Michael Essa. The judges made two One More Time calls, meaning that no driver won the battle and they were forced to run again. Per the rulebook, the judges can only call One More Time (OMT) twice so they were forced to pick a winner after the third battle. It was another close and crazy battle between these two guys, and the judges were split! One judge voted for Michael Essa and the other two judges went with Chelsea DeNofa. This was probably one of the most intense battles of the season, and the victory kept Chelsea DeNofa's Formula Drift championship hopes alive.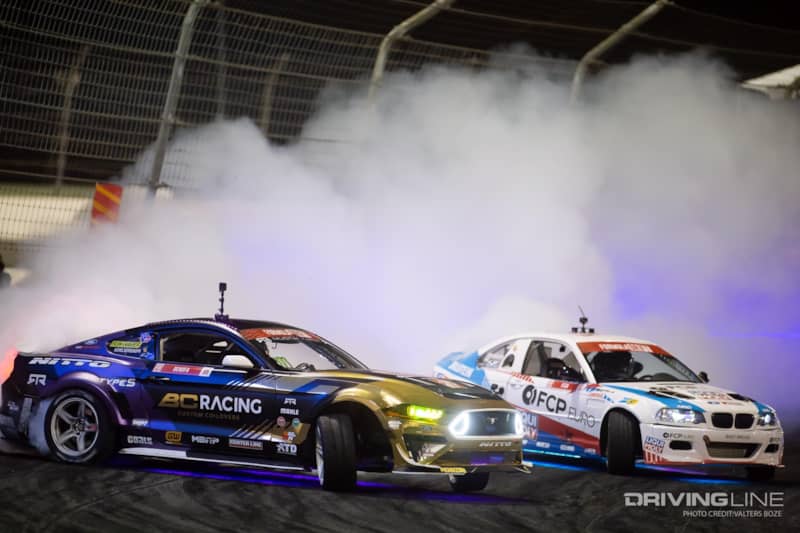 DeNofa vs. Field for a Championship Chance in the Great 8
The biggest battle of the Great 8 was Chelsea DeNofa vs. Matt Field. Both drivers were near 20 points behind Fredric Aasbo, so they both needed a victory to keep their championship hopes alive. Sadly, only one of them could advance into the Final Four. It was another highlight battle on the night, but Chelsea DeNofa got lost in the smoke coming off the bank in his chase run and made an error big enough to give Matt Field the victory and end his 2021 Formula Drift season.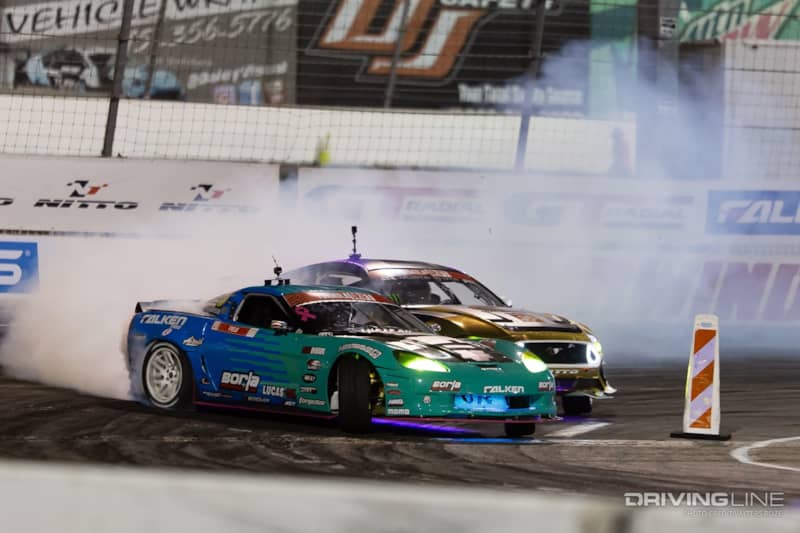 Fredric Aasbo advanced into the Final Four by defeating Ryan Tuerck, as both drivers put their Nitto NT555 G2 tires to the test in one amazing battle. Vaughn Gittin Jr. kept his hot streak going by taking out Kazuya Taguchi, which set him to do battle with Fredric Aasbo in the Final Four.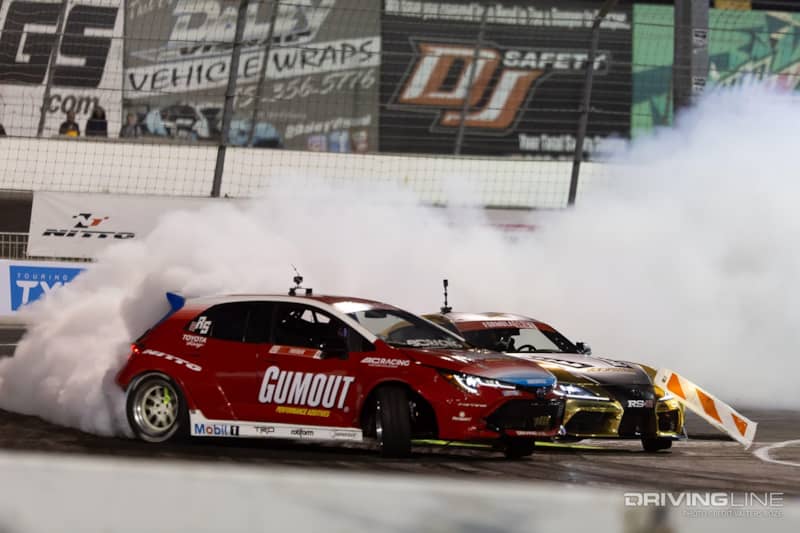 Fredric Aasbo Wins It in the Final Four!
The stage was set for a wild Final Four. Fredric Aasbo was set to face Vaughn Gittin Jr. for his chance to drive his way to his second Formula Drift championship. Vaughn Gittin Jr. put up a good challenge, but the judges picked Fredric Aasbo, meaning that he had clinched his second career Formula Drift Championship!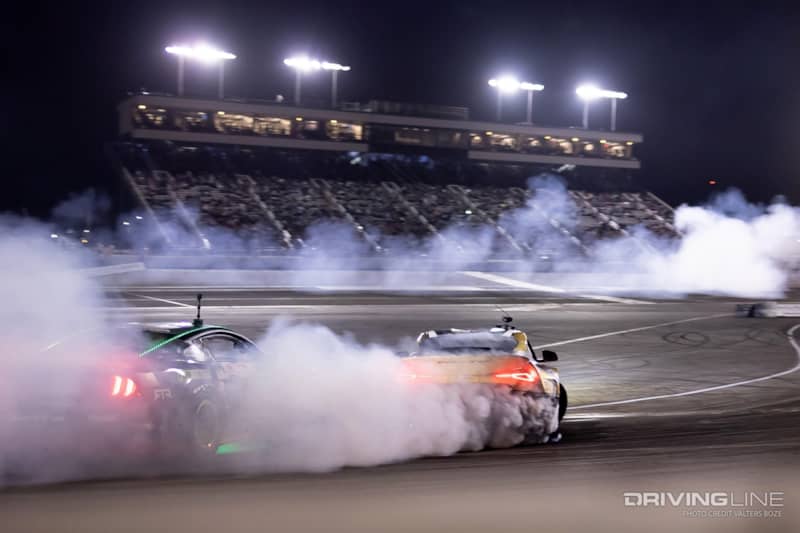 Matt Field and Odi Bakchis had another frenemies battle on the other side of the bracket, which resulted in some serious contact at outer zone two that the judges put Matt Field at fault for. The battle finished up with the other run and the judges made the call to let Bakchis advance into the final round.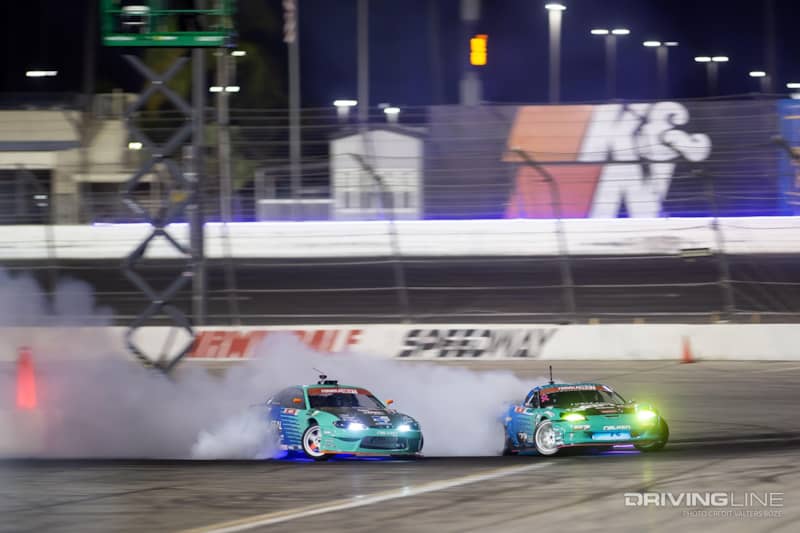 Odi Bakchis Wins His Third Event of the 2021 Formula Drift Season
The tough final battle with Fredric Aasbo came down to lead battle versus lead battle, where normally Fredric Aasbo is untouchable. However, Odi Bakchis put on a much better lead run as Fredric Aasbo failed to fill outer zone three when he was the lead car. Odi is finding this to be his best track in Formula Drift, as he also won Irwindale Speedway last year. He has now claimed the victory at Final Fight in back-to-back seasons to wrap up and end the 2021 Formula Drift season. This victory actually also let him leapfrog Chelsea DeNofa and finish the season in third place.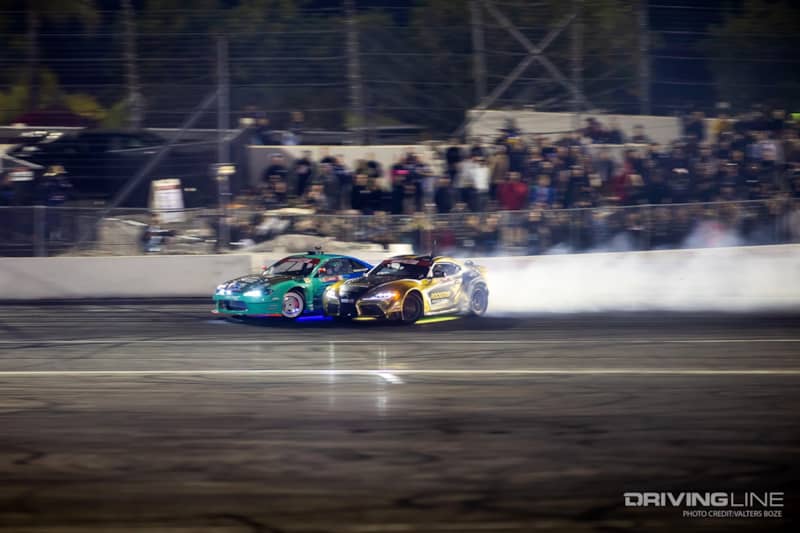 2021 Formula Drift Championship Results
Fredric Aasbo (648)
Matt Field (617)
Odi Bakchis (614)
Chelsea DeNofa (605)
Vaughn Gittin Jr. (554)
Ryan Tuerck (537)
Chris Forsberg (479)
Dylan Hughes (470)
Kazuya Taguchi (442)
Michael Essa (427)