Formula Drift 2020 St. Louis Round 1 & 2: Event Results and Current Season Standings
The Formula Drift season is finally underway, albeit a bit later than initially expected. Nearly five months since the originally scheduled start of the 2020 season, and more than 300 days since the 2019 season finale took place at Irwindale, the season is officially here. After the first double-header event weekend that took place at Worldwide Technologies Speedway just outside of St. Louis, Missouri, three Nitto Tire drivers are among the top four drivers in the standings. 
Qualifying Replacement Process
The Saturday event counted as Round 1 in the points standings, and as we covered in our 2020 Formula Drift spectator's guide, qualifying has been temporarily suspended for the season. Unfortunately, 2019 season champion James Deane and his Worthouse Drift teammate Piotr Wiecek were unable to make the 2020 season happen, which meant 2019 season runner-up (and new addition to the Nitto Tire drift team lineup) Fredric Aasbo had the privilege of drawing a number between 2 and 16 out of the hat as a replacement for qualifying.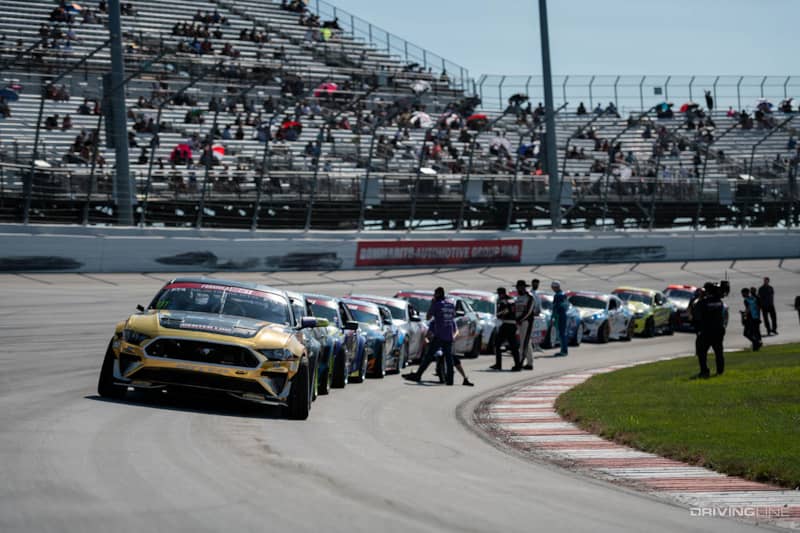 Aasbo drew the number 12, which meant he slotted into that position in the bracket. The next driver in the championship standings, Odi Bakchis, was slotted into 11th, Ryan Tuerck slotted into 10th, and so on until Kazuya Taguchi slotted into the 1st position. Position 13 through the final position were all filled in order, with 2020 rookies being ranked in alphabetical order.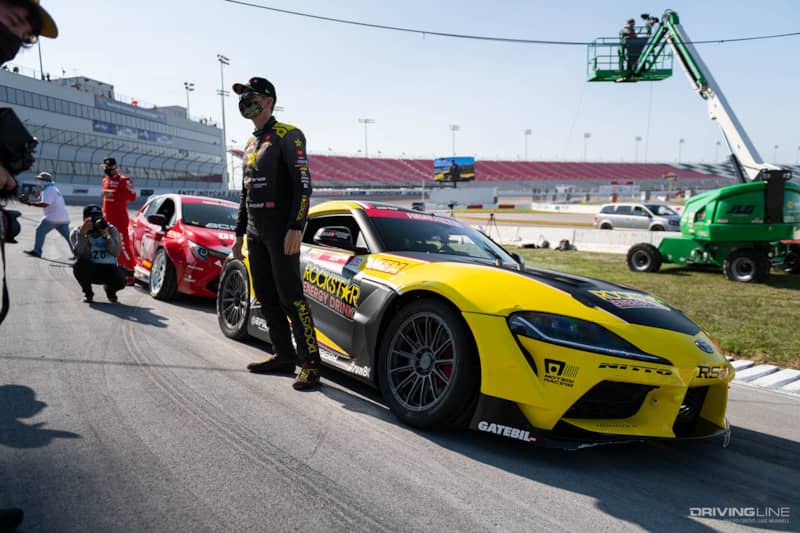 In total, 29 drivers made it to St. Louis, which meant the drivers in slots 1 through 3 (Taguchi, Matt Field, and Justin Pawlak) each earned bye runs. This process will continue through the 2020 season, with the previous event winner drawing a number, and the ladder being available shortly after that. This system was created by Formula Drift to try and shuffle the tandem order for each event and add a slight element of luck and randomization to the tandem brackets.
Saturday Round 1
With the tandem bracket set, tandem competition got underway under beautiful sunny skies and a socially-distant crowd that sat in the main grandstands, which is rated for over a capacity of over 25,000 but was limited to less than 25% to ensure social distancing. The Top 32 battles went relatively as expected, with higher seeded drivers taking nearly every tandem battle. The biggest upset of the early round was 4th-seeded Ken Gushi, who was also debuting his 2020 Toyota GR Supra this weekend, losing to rookie Alec Robbins.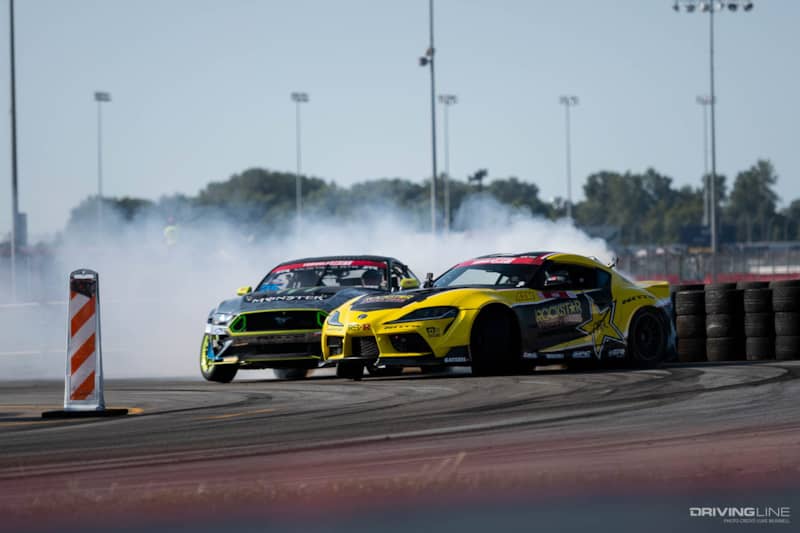 In the Top 16 we saw several great battles, topped by a pair of Nitto Tire matchups. Vaughn Gittin Jr's Ford Mustang RTR would face Fredric Aasbo's 1,000HP+ Toyota GR Supra on one side of the bracket, while Gittin Jr's Mustang RTR teammate Chelsea Denofa would face Aasbo's Papadakis Racing teammate Ryan Tuerck on the other side of the bracket. With one quarter of the top 16 driving on Nitto NT555 G2 tires, there was a whole lot of rubber burnt between the quartet. In the end, both Papadakis Racing teammates would move on, which would become a common theme for the day.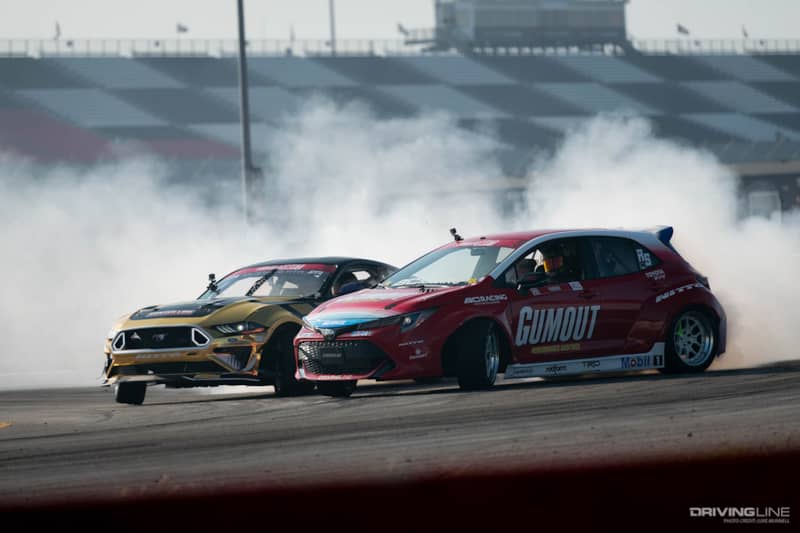 As the brackets got whittled down, the final four came down to three-time Formula Drift champion Chris Forsberg, 2015 champion Fredric Aasbo, Tuerck, and Bakchis. Due to the disposal of qualifying for the season, losing a final four battle still required a consolation battle to earn the final step on the podium. Unfortunately for Forsberg, not only did he lose his battle with Aasbo in the Final 4, but a busted intercooler meant his car wouldn't make the line for the consolation matchup, which relegated him to fourth place overall. Tuerck would win his battle with Bakchis in the other Final 4 battle, which meant Bakchis would slot into the final podium spot by virtue of default over Forsberg. In the all-Toyota, all-Nitto, all-Papadakis Racing final round, Aasbo would complete the perfect debut for his Toyota Supra by beating his new teammate.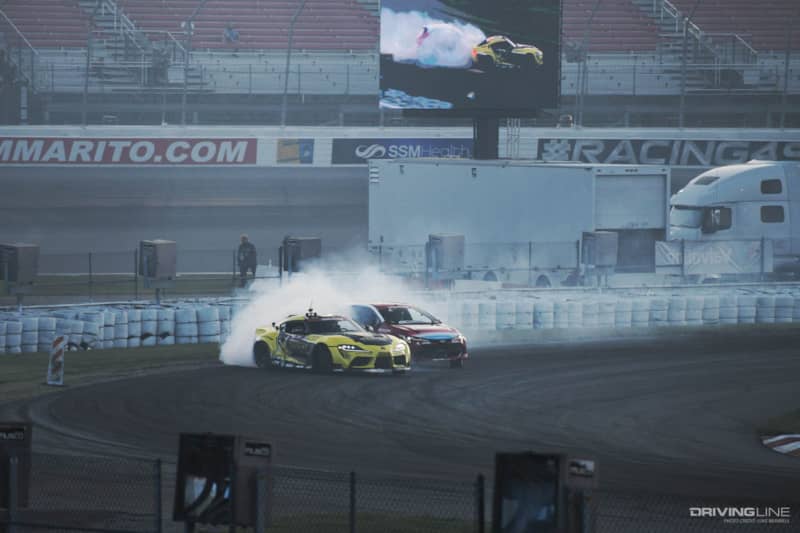 In the post-race interview, Tuerck revealed that he had been fighting power steering issues all day long, and drove the last several rounds of tandem without power steering. In his interview, Aasbo mentioned that he felt a little rusty in the vehicle, but was quick to praise his Papadakis Racing team for building a solid car for him despite his cobwebs behind the wheel.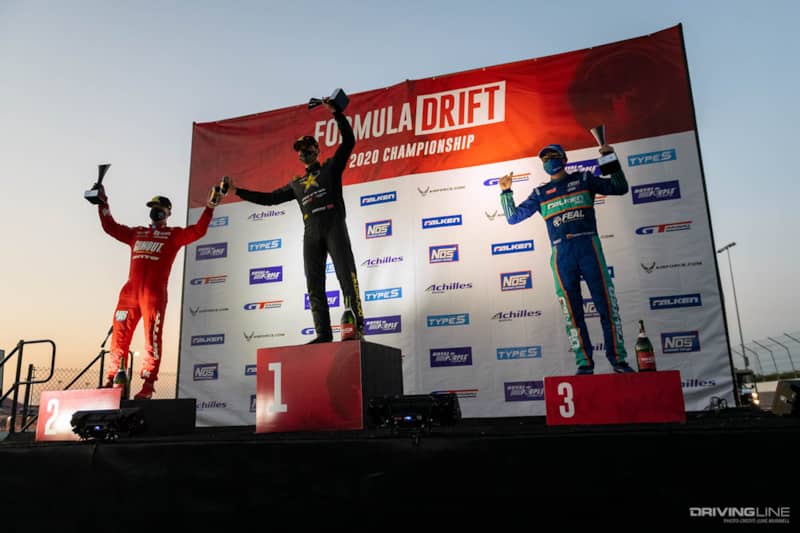 Sunday Round 2
Shortly after Round 1 officially finished, event winner Aasbo would again pull a number to seed the drivers for Round 2 that would take place less than 12 hours later on the same course. Aasbo would slot into 8th position, Tuerck slotted into 7th position, Bakchis into 6th, etc. Top 32 tandem battles would again be relatively uneventful, although Top 16 would feature a handful of shakeups. Aasbo would lose his first tandem battle of the season in the Top 16, losing to Matt Field's Chevy Corvette, while Chris Forsberg (who was able to repair his intercooler overnight) would fall to Denofa's Mustang.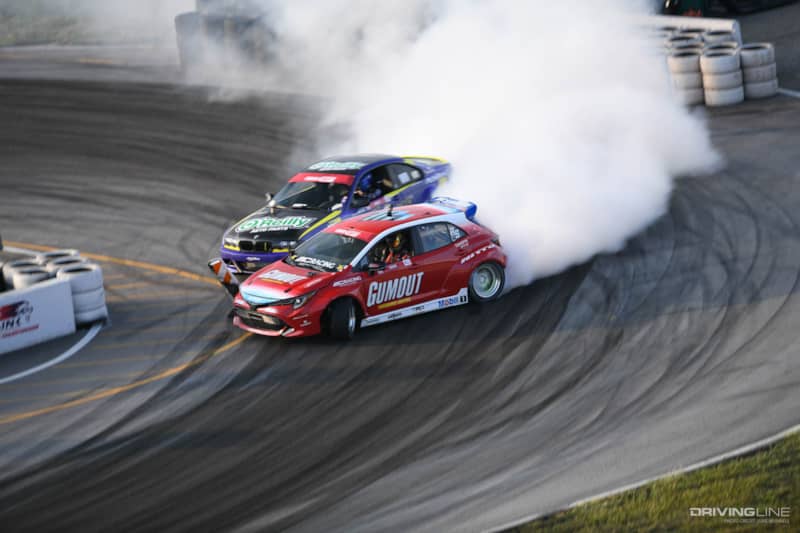 In a third Nitto-vs.-Nitto Top 16 battle of the weekend, Tuerck would defeat Gittin Jr., which meant only two Nitto drivers remained in the Great 8 for the second consecutive day.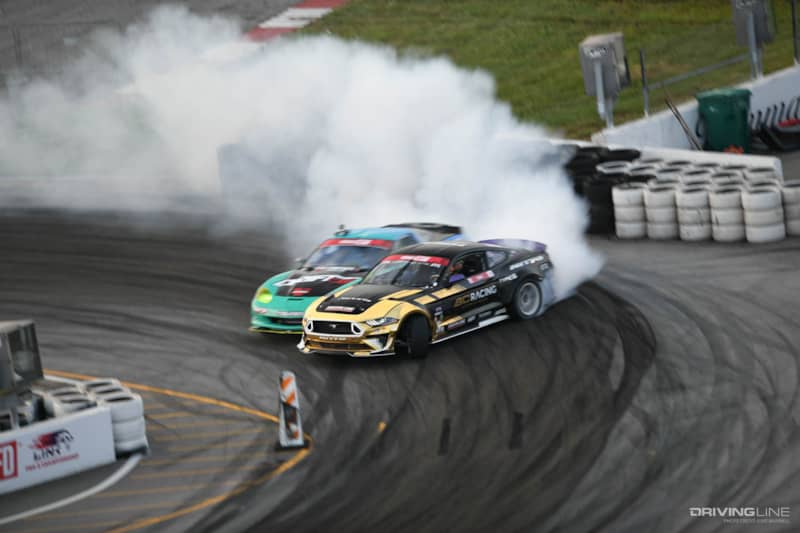 Field and Denofa would win their Great 8 battles against Gushi and Michael Essa respectively, while Tuerck would defeat Dylan Hughes in his battle, and Bakchis would take out Justin Pawalak's Roush Ford Mustang in the final Great 8 battle. In the first Final 4 battle of the season for each driver, Denofa would take out Field, while Bakchis and Tuerck faced off in their second Top 4 appearance for each driver. Bakchis would win the battle, earning his first Final Round appearance of the season.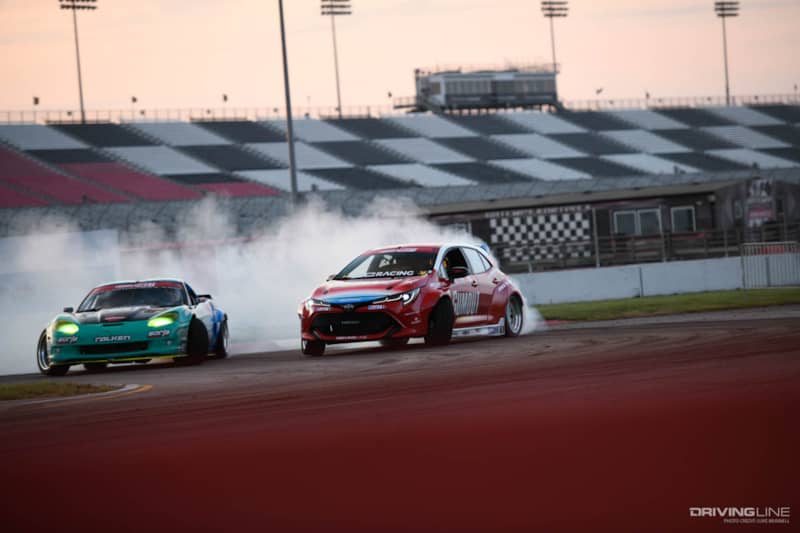 In the consolation matchup, Tuerck would take out Field, which slotted him into his second podium of the season, although it took a "one more time" round for the judges to make a decision. In the final, Denofa had enough to edge out the win against Bakchis, giving him a win just two events after his win in Texas last season.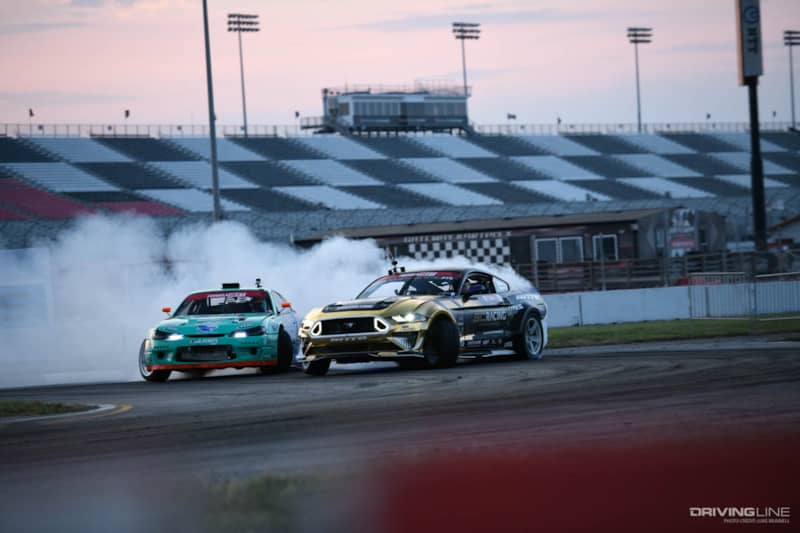 Championship Chase is Tied
After the first two rounds, Bakchis and Tuerck are currently tied for the championship lead, although Bakchis is shown in first place overall due to having a higher finish at the most recent event. Denofa and Aasbo sit tied for third, just 32 points behind them, with each of them holding a win under their belts.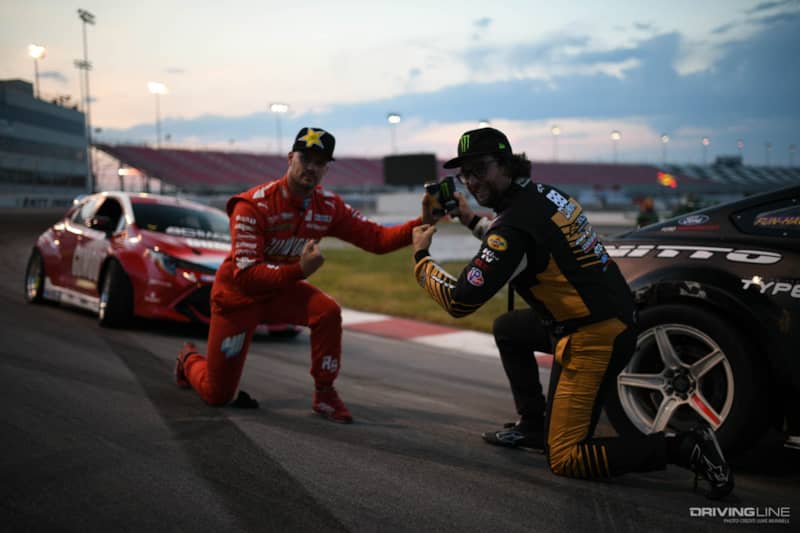 There's a four-way tie another 36 points behind them, although there's still a long way to go before the championship is decided. Seattle sits just three weeks away, and although the event currently isn't scheduled to have fans in attendance, that is subject to local regulations which may change between now and then.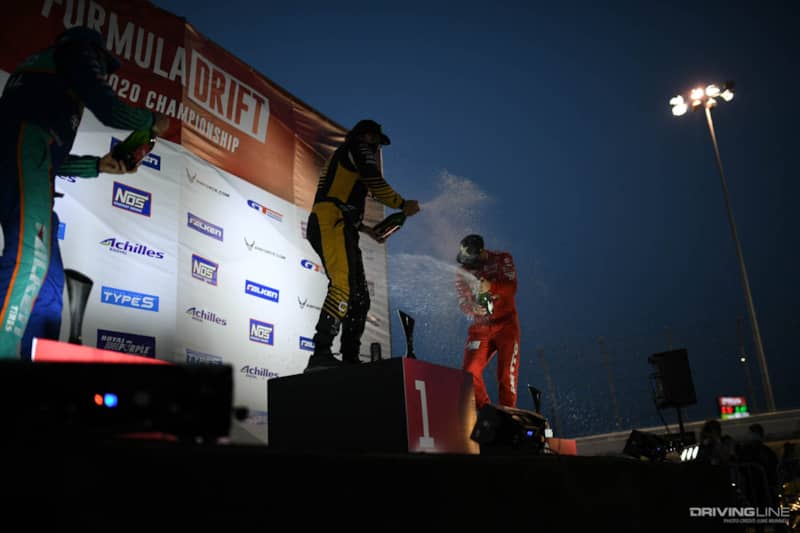 Will Aasbo or Denofa follow up their early wins in Seattle? Will Tuerck get his first win of the season? Stay tuned to our 2020 Formula Drift coverage to find out!