Ultimate Callout Challenge 2017: Drag Race
Unlike last year's Ultimate Callout Challenge, the chassis dyno competition wasn't the first event at UCC 2017. Instead, things kicked off at Lucas Oil Raceway's quarter-mile drag strip, which meant competitors weren't able to size each other up like they were last year. It was go-time right from the get-go — and it was immediately apparent which teams had had ample time to test their ragged-edge setups. While half the field struggled to get down the track — be it due to launching, traction, shifting, or engine ailments — the other half looked impressive.
Derek Rose and the DNR Customs' Dodge ran a 10-flat on its first pass, followed shortly after by a 9.16 at 148 mph. Mike Graves and the Hollyrock Customs GMC went quicker and quicker each time it hit the track. Jesse Warren's 6.0L Power Stroke rocketed to a 10.30 and later a 10.0 at 144 mph. And then, right out of the gate Lavon Miller and the Firepunk Dodge clicked off an 8.79-second pass at a blazing 156 mph. On the opposite end of the spectrum, both Ashley Black's and Wesley Beech's engines checked out on them, Ben Shadday lost a cylinder, Jeremy Wagler melted a couple pistons, and the transmission issues Shawn Baca encountered with his 2,500 hp Ram quelled any chances of making a full power pass.
Throughout the drag races, it was clear that some of the trucks were overpowering the track — and the west lane ended up being avoided altogether. Ultra-cool air temperatures and the threat of rain didn't help matters, either, but despite precipitation being all around the Indianapolis area, the action was only brought to a halt once on account of inclement weather. We've pinpointed the high marks of the drag racing portion of UCC 2017 below — but make sure you stay tuned for our comprehensive chassis dyno coverage. It's up next.
10-Second 6.0L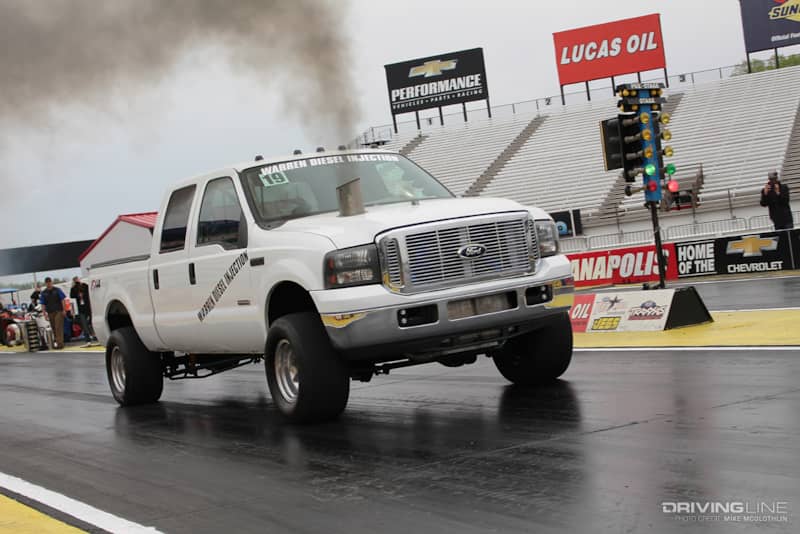 Right out of the gate, Jesse Warren proved his 6.0L Power Stroke could hang with the best of the best in the UCC field. His 10.30-second quarter-mile set the tone on what to expect from his track-proven Super Duty. Before the night was through, Jesse would collect a 10.05-second time slip.
Coasting to a 9.79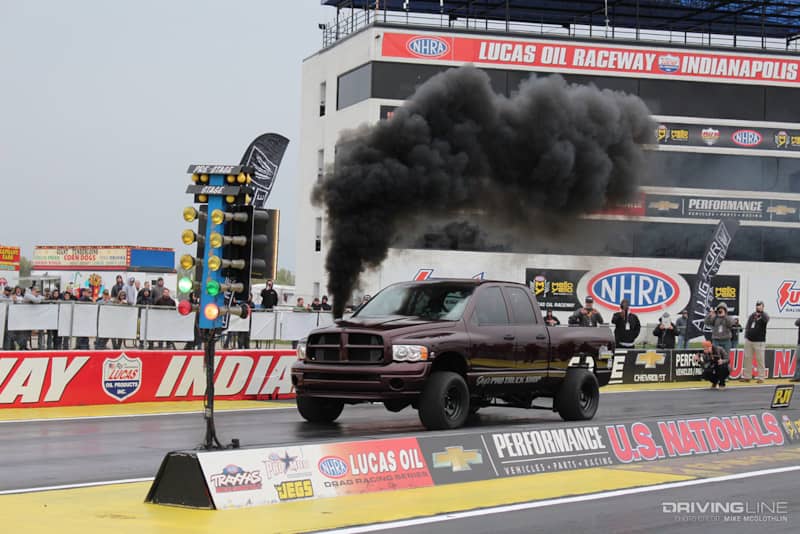 Following a nasty launch, Josh Gruis' Dodge looked to be well on its way to a low 9-second pass. However, an issue with the transmission not taking third gear forced Josh to lift off the throttle and then lay back into it. Then the engine lost an injector near the end of the track. Amid the disruptions, the truck still clicked off the first 9-second pass of the afternoon, coasting through the traps at 9.79 seconds.
Almost 8's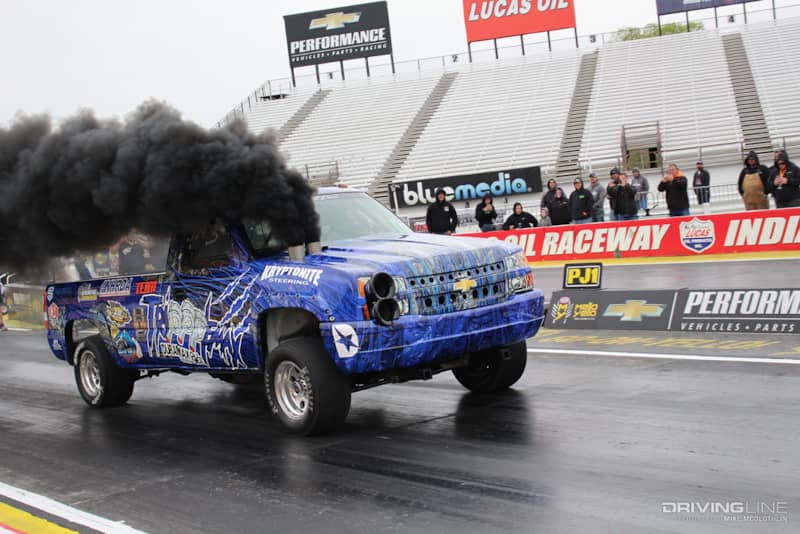 Wade Minter's triple-turbo, nitrous-fed Duramax was on one a heck of a pass before the output shaft broke in his transmission (a built 48RE). Somewhere around 3/4 track, there was a loud pop and Wade couldn't complete what was sure to be a high 8-second trip through the 1320. Even with the transmission failure, Wade coasted to a 9.79 at 106 mph — good enough for a Sixth Place start to the weekend.
Setting the Bar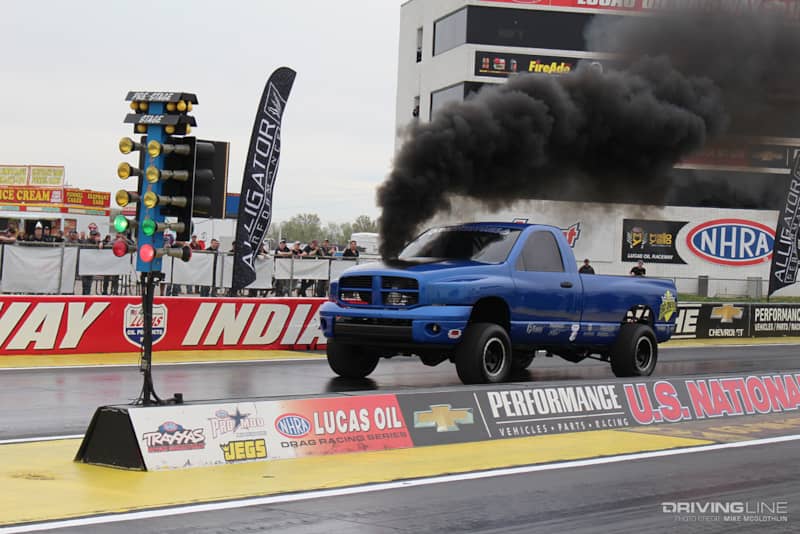 After making a 10.0-second pass his first time down the track, Derek Rose and the DNR Customs' Dodge leaned on the truck a bit harder the second time out. The result was a sound 9.16-second pass at 148 mph that both awed the crowd and gave Derek the early lead. His low 9 would stand as the mark to beat for nearly two full hours and would end up locking him into the runner-up position going into the dyno event.
Record-Breaking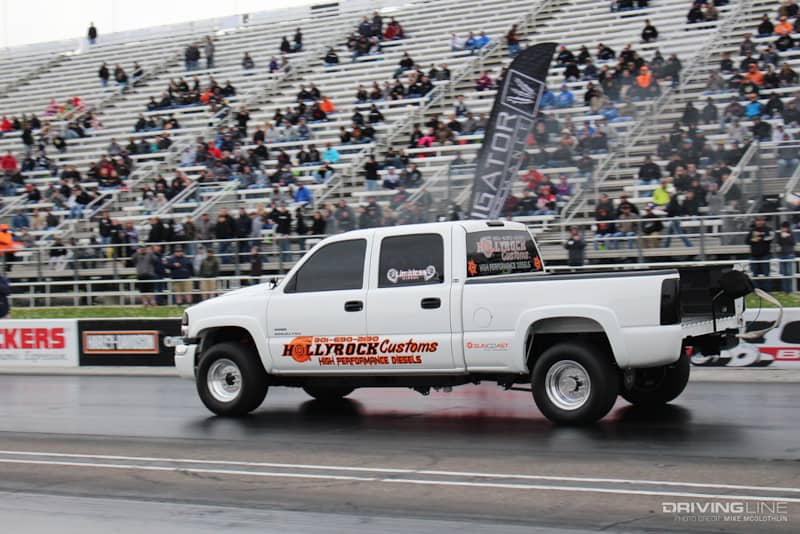 Gradually stepping things up between passes, Mike Graves and the Hollyrock Customs GMC Sierra went from a 10.80 at 134 mph on its initial run to a 10.16 on the second — and then it proceeded to light up the board with a 9.55 at 149 mph. We believe Mike's all-out, mid-9-second pass is a new record for crew cab Duramax-powered GM's and it's a monumental achievement for a truck still utilizing the Allison transmission. The record-setting pass would land the Hollyrock crew in the fourth spot on the night.
Consistency Is Key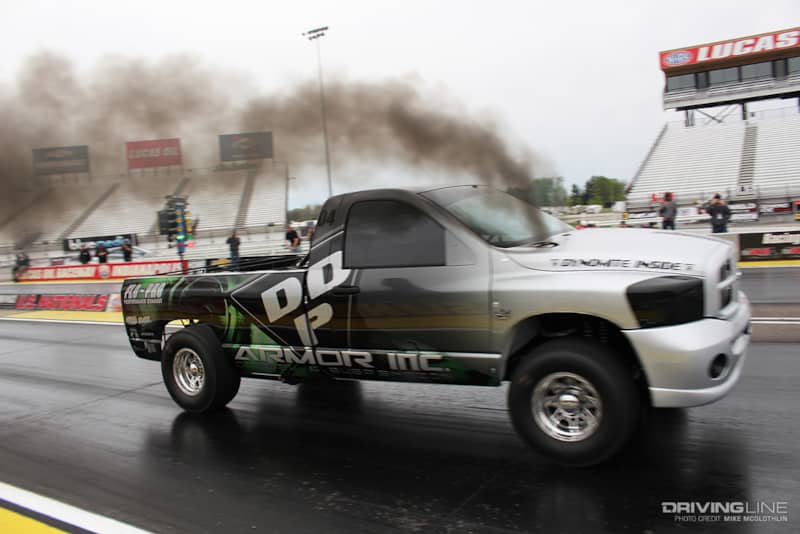 In an awesome display of both power and consistency, Donavan Harris spent all of his time on the track running 9's. And while his first pass would be his quickest in terms of E.T. (9.52 at 143 mph), the Armor Inc/Dynomite Diesel Ram would tack on another mph in its second attempt (a 9.69 at 144) and pull off a 9.58 at a speedy 146 mph before retiring to the pits.
Down, but Not Out
It was one of the most anticipated moments of the day: the Wagler Competition Products "Shop Truck" pulling into the staging lanes — with none other than Street Outlaws' Farm Truck behind the wheel. The blown and parallel turbo'd Duramax rocketed out of the hole but had issues mid-track, which led to an oil down and the truck coasting to an 11.45-second pass at 84 mph.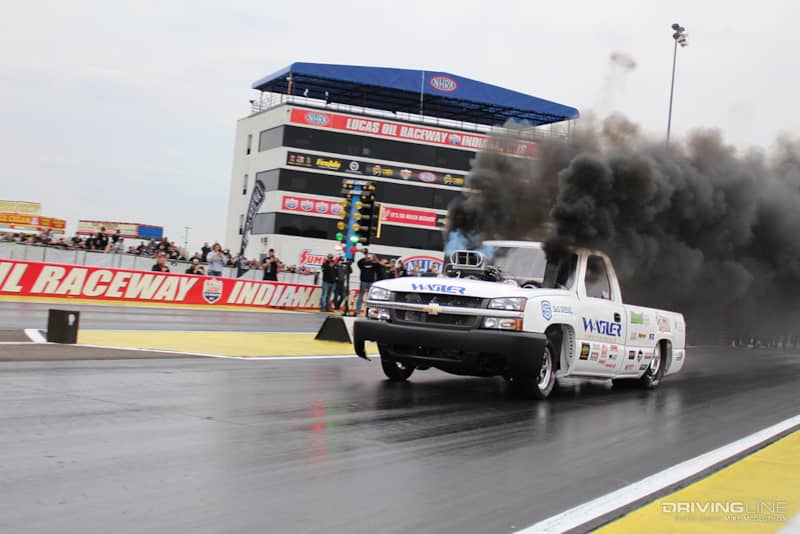 Back in the pits, the Wagler crew loaded the truck on the trailer and headed back to WCP headquarters for a rebuild. After discovering two melted pistons, it was evident that the crankcase had become pressurized and blew out the rear main seal. While the mishap would cost them a chance to compete on the dyno, the Wagler team promised they'd be ready for the sled pull on Day 3.
Lack of Traction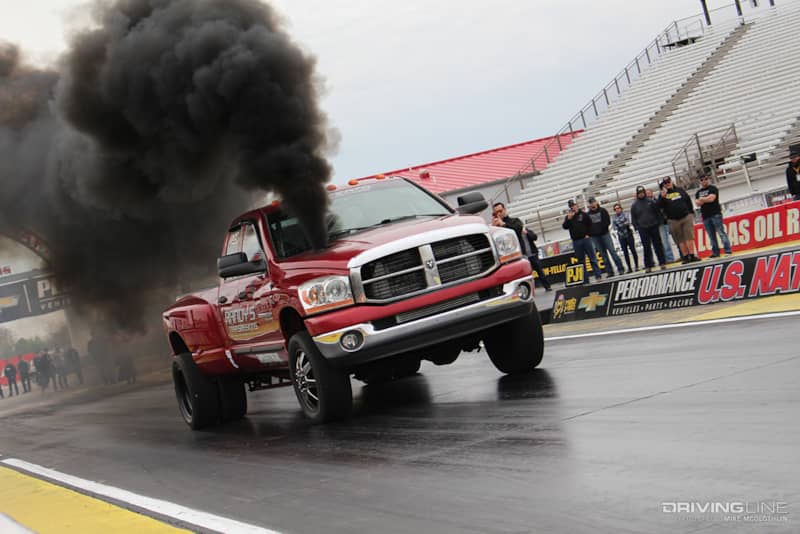 Randy Reyes was ready to rock as soon as the track opened, but sadly his 7,800-pound, daily-driven dually never found adequate traction. Trying to apply 1,500+ hp to a cold track via all season tires resulted in some wicked six-wheel smoke shows, but not the 9-second passes Randy was hoping for. When all was said and done, Randy had to settle for an unfortunate best quarter-mile effort of 12.24 seconds.
Only Truck in the 8's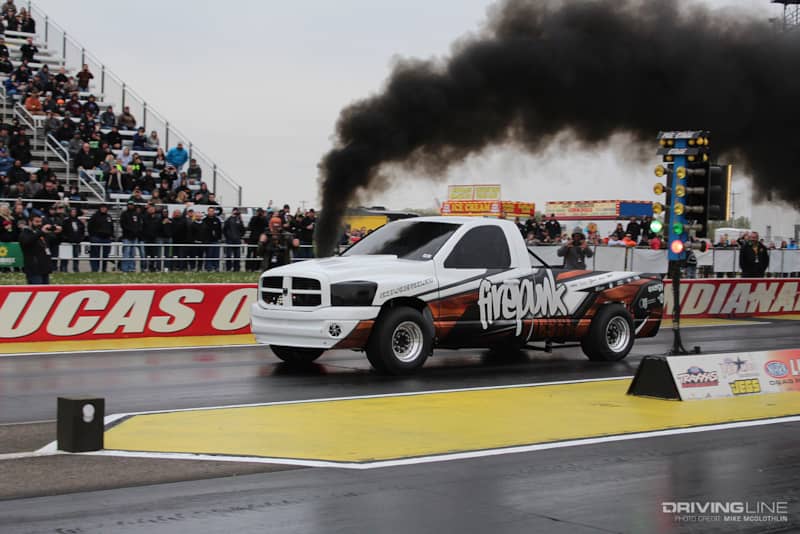 Although he brought the same truck that took home the UCC crown in 2016, Lavon Miller's Dodge underwent a slew of changes before this year's show (chassis, engine, fuel system). So how did the new setup fare? In true Lavon Miller/Firepunk Diesel fashion, the truck appeared well-tested and track-proven. Its first pass off the trailer yielded an 8.79 at 156 mph and Lavon backed it up with an 8.63-second blast on the following attempt. With the fastest elapsed time and the only truck in the 8's, Lavon and the Firepunk crew were off to a great start.
Duramax/Allison in the 9's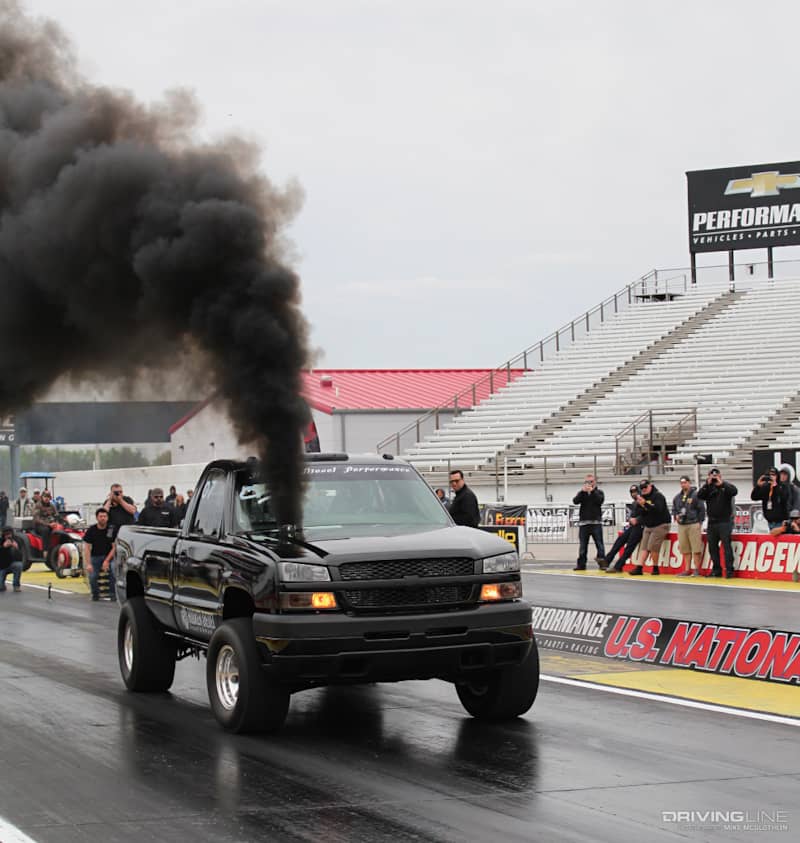 Another Allison-shifted Duramax, the Husker Diesel Silverado driven by Justin Hyatt, was in hot pursuit of the 9-second zone. After running a 10.10 at 120 mph, Justin put together a 9.62-second pass at 148 mph. Unfortunately, engine troubles which couldn't be rectified ended their weekend early, and the Husker team was forced to forego the upcoming dyno and sled pull events.
68RFE Goes 10's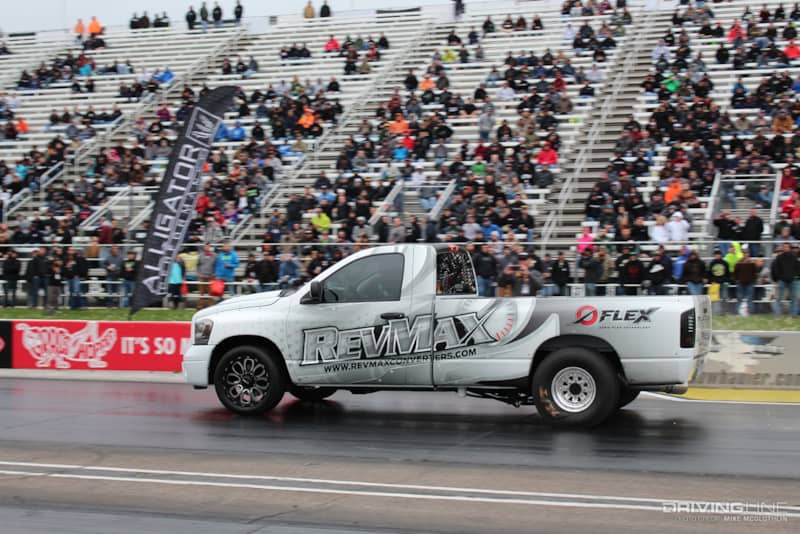 Fitted with slicks and going faster and faster with each trip down the track, Tom Hauser's two-wheel-drive Ram would eventually lay claim to a 10.79 at 125 mph. Even more impressive than getting into the 10's is the fact that this truck's 1,200+ hp Cummins is backed by a RevMax-built 68RFE — the six-speed automatic that's notorious for failure in high-horsepower applications.
Hard Luck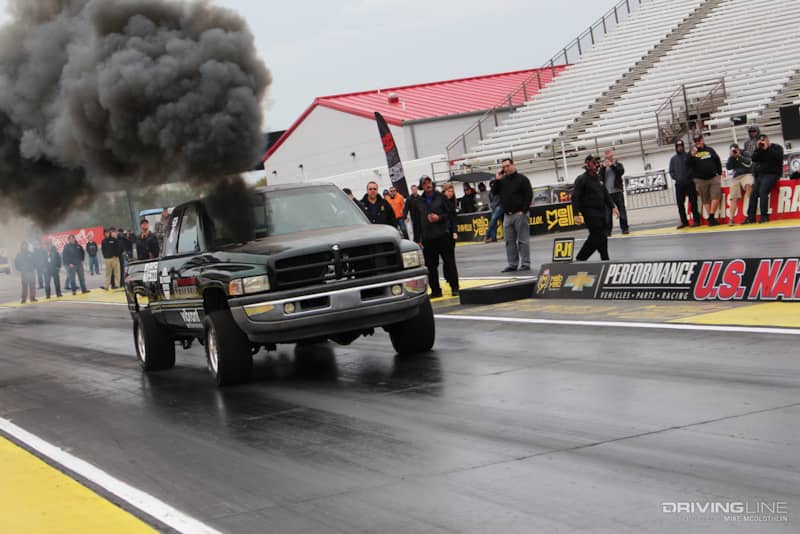 Despite the fact that the truck was packing a Scheid Diesel billet-aluminum block Cummins with a 16 mm P-pump, 36-degrees of timing and triple Garrett turbos, Todd Welch's second-gen Dodge was unable to live up to its potential on the drag strip. After battling multiple issues, the Power Driven Diesel Ram ended up with a best pass of 15.73 seconds.
Spun Main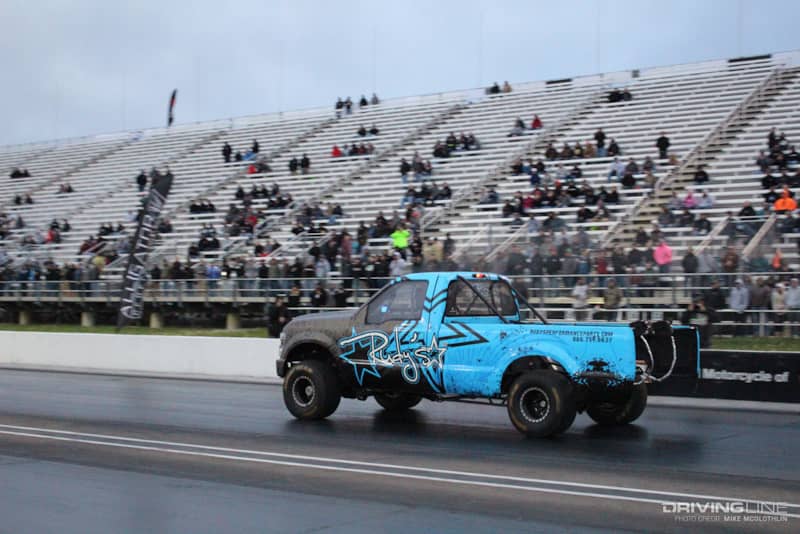 Aaron Rudolf's 9-inch axle'd, triple-turbo 6.4L Power Stroke would cut 1.3-second 60-foots on its way to a couple 10-second passes. Unfortunately, the engine would spin a main bearing during its final pass of the night: a 10.20 at 141 mph.
DRAG RACE RESULTS
Quickest Elapsed Times:
| Position | Name | Team | Time |
| --- | --- | --- | --- |
| 1. | Lavon Miller | Firepunk Diesel | 8.63 |
| 2. | Derek Rose | DNR Customs | 9.16 |
| 3. | Donavan Harris | Armor Inc. | 9.52 |
| 4. | Mike Graves | Hollyrock Customs | 9.55 |
| 5. | Justin Hyatt | Husker Diesel | 9.62 |
| 6. | Wade Minter | SoCal Diesel | 9.796 |
| 7. | Josh Gruis | Jag's Pro Truck Shop | 9.797 |
| 8. | Cody Hale | Anarchy Diesel | 9.91 |
| 9. |  Zach Fuller | Starlite Diesel | 10.03 |
| 10. | Jesse Warren | Warren Diesel | 10.05 |
| 11. | Aaron Rudolf | Rudy's Diesel | 10.20 |
| 12. | Wesley Beech | Beech Performance | 10.59 |
| 13. | Tom Hauser | RevMax | 10.79 |
| 14. | Ben Shadday  | Done Right Diesel | 10.93 |
| 15. | Jeremy Wagler | Wagler Competition | 11.45 |
| 16. | Cody Hopkins | Destructive Diesel | 11.56 |
| 17. | Shawn Ellerton |   | 11.64 |
| 18. | Randy Reyes | Randy's Transmission | 12.24 |
| 19. | Shawn Baca | Industrial Injection | 12.28 |
| 20. | Andrew Tovornik | Midget's Diesel | 12.86 |
| 21. | Jaran Holder | Holderdown Diesel | 13.96 |
| 22. | Ashley Black | Black's Diesel | 14.07 |
| 23. | Anthony Reams | XDP | 15.57 |
| 24. | Todd Welch | Power Drive Diesel | 15.73 |
Learn more about these 24 trucks in Part 1 and Part 2 of our UCC event coverage.