The Trucks of Ultimate Callout Challenge 2017: Part 2
This might be the second wave of Ultimate Callout Challenge competitors, but in no way does that mean these trucks are any less capable of winning. In fact, any one of the 14 vehicles profiled below has what it takes to take home the trophy. Just like the batch of trucks profiled in Part 1, built engines, radical fuel systems and triple-turbo arrangements seem to be the standard — along with each ride's powertrain living on the ragged edge — in order to have a shot at finishing in First Place.
Scroll down for the inside scoop on the rest of the UCC field — and then buckle your seat belts for the drag strip. Our in-depth quarter-mile coverage comes your way next!
1. SHAWN BACA
Industrial Injection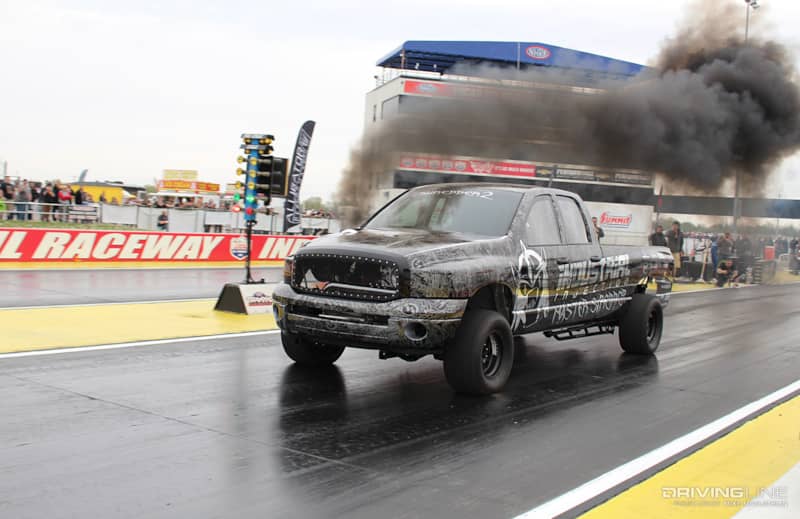 As one of the highest horsepower trucks at UCC, all eyes will be on Shawn Baca's Ram in the dyno competition. It's rumored that his Industrial Injection-backed, triple-turbo'd, deck-plated Cummins monstrosity will send more than 2,500 hp to the rear tires this year. And if he can get the air-shifted transmission to work as planned, the "Master Shredder" (as it's called) should put up an impressive elapsed time through the quarter-mile. After fairing well in the sled pull event last year, also look for Shawn to put forth a decent effort during the sled pull.
2. JOSH GRUIS
Jag's Pro Truck Shop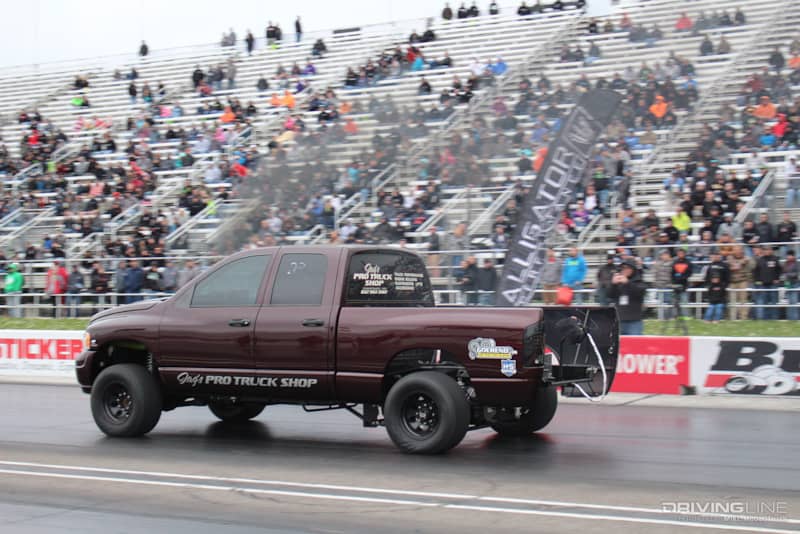 In less than five months' time, Josh Gruis and his team at Jag's Pro Truck Shop transformed this Dodge into a truck that could run 9's, produce 1,500 hp on the dyno and hold its own in the dirt. A 6.4L common-rail Cummins — along with a healthy compound turbo setup — dwells beneath the hood, while a 48RE automatic from Goerend Transmission handles the shifting duties. A drag racer in every sense of the word, look for Josh to finish near the top in that arena, but also place mid-pack on the dyno and surprise a lot of folks during the sled pull.
3. SHAWN ELLERTON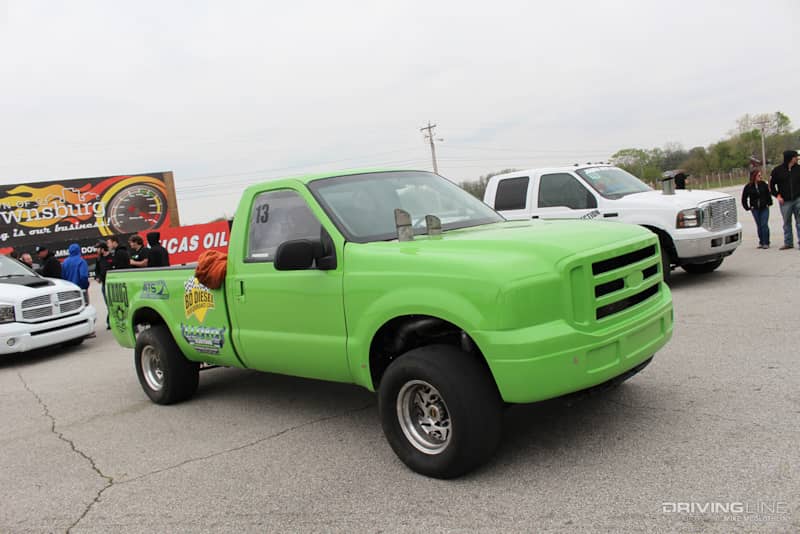 Longtime diesel head and 6.0L Power Stroke loyalist Shawn Ellerton is one of many competitors making a return visit to UCC. Once again, Shawn is hauling his lime green regular cab Super Duty all the way from Alberta, Canada, to do battle. His built 6.0L benefits from a big set of hybrid injectors from Warren Diesel, dual high-pressure oil pumps, a cab-mounted, triple-turbo arrangement featuring three BorgWarner SX-E units and a nitrous system that is anything but conservative. As is his style, Shawn will be going for broke in every event.
4. CHASE FLEECE
Fleece Performance Engineering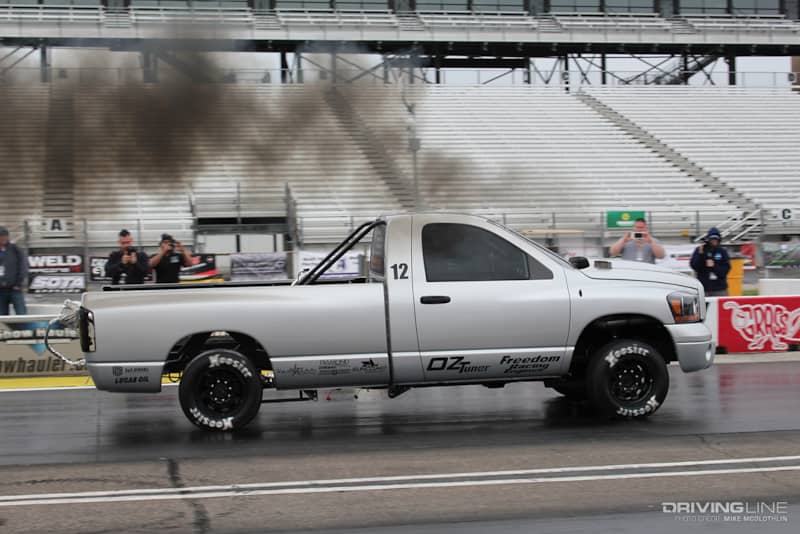 Chase Fleece kept quiet about what exactly he was bringing to UCC 2017, and after seeing this regular cab Dodge in person, it was well worth the wait. Three turbos, a 6.7L-based Cummins with billet rods and Diamond Racing pistons, a Hamilton cam, Sun Coast transmission and Oz Tuner tuning sums up the truck's powertrain, which should be good for 2,000-rwhp. Don't be surprised to find Chase's Dodge near the top during the sled pull and dyno events.
5. MIKE GRAVES
Hollyrock Customs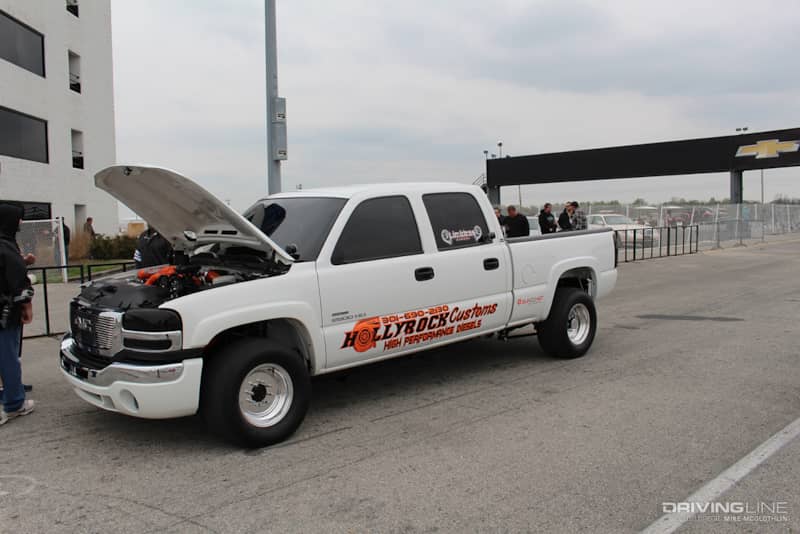 This is the type of truck that shows up at the local test and tune and drops jaws. Mike Graves' Duramax-powered, Allison-shifted crew cab GMC Sierra packs a triple-turbo arrangement, big fueling upgrades and is capable of running 9's. It's uncommon for an Allison transmission to survive 9-second passes, but Mike and the Hollyrock Customs crew have been pulling it off for years, which makes their presence at UCC more than warranted. While the drag strip will be this truck's biggest strong suit, mid-pack or better finishes in the sled pull and on the dyno are expected.
6. DEREK ROSE
DNR Customs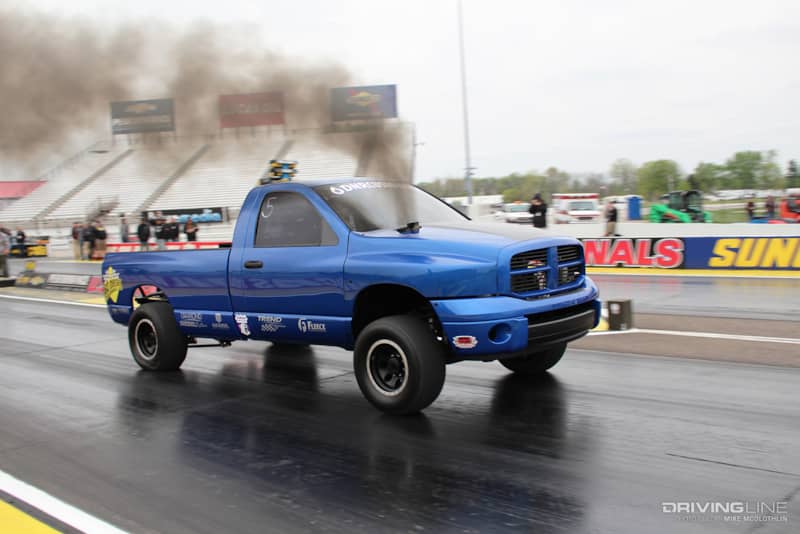 Derek Rose's center-drive DNR Customs Dodge Ram epitomizes the ultimate UCC truck. It sports a billet-aluminum block Cummins built by Fleece Performance Engineering, which combines the awesome flow of a 12-valve cylinder head with a common-rail fuel injection system. Making use of three gear-driven 12 mm CP3s, 650 percent over injectors and triple turbos, this is easily one of the rowdiest trucks that came to play at UCC 2017. If Derek's truck doesn't overpower the drag strip, it should have no problem finishing near the top in the 1320, and we would be surprised if the truck doesn't clear at least 2,000 hp on the dyno.
7. JARAN HOLDER
Holderdown Diesel Performance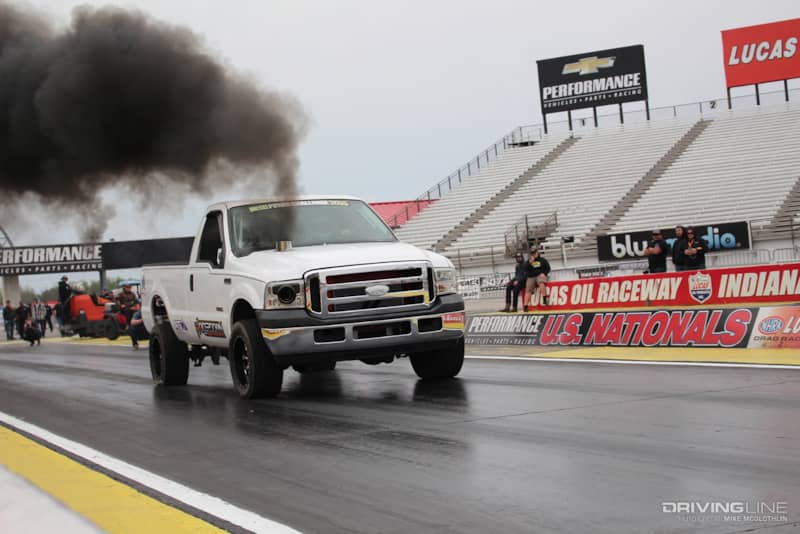 Another solid competitor representing the Blue Oval crowd is Kentucky native, Jaran Holder of Holderdown Diesel Performance. His regular cab Super Duty has seen 9's in the past and he and his 6.0L Power Stroke will no doubt be swinging for the fences at UCC. Warren Diesel injectors, a massive compound turbocharger arrangement featuring an S598 and S475 from God Speed Turbo Innovations, Innovative Diesel tuning and a 4R100 transmission should help turn this F-250 into a little rocket ship.
8. TOM HAUSER
RevMax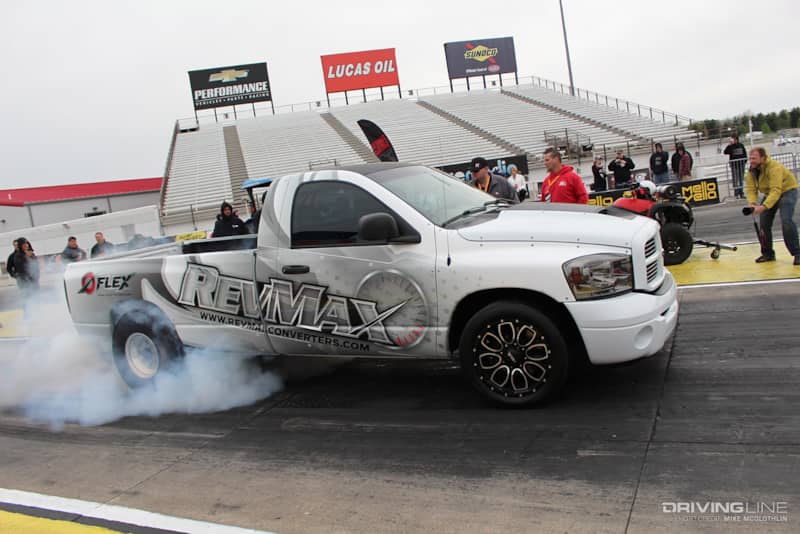 Tom Hauser's 6.7L Cummins-powered, two-wheel-drive fourth-generation Ram may not be setting the world on fire, but it is definitely pushing the 68RFE automatic to new heights. Sporting a RevMax Signature Series 1000, Tom and his team aim to show everyone what a RevMax-built 68RFE can handle. On top of that, this is the only truck competing at UCC that was driven to and from the event (a 1,200-mile round trip). Look for Tom's truck to turn out a 10 in the quarter, a four-digit horsepower number on the dyno and a surprising two-wheel drive effort during the sled pull.
9. DONAVAN HARRIS
Armor Inc. / Dynomite Diesel Performance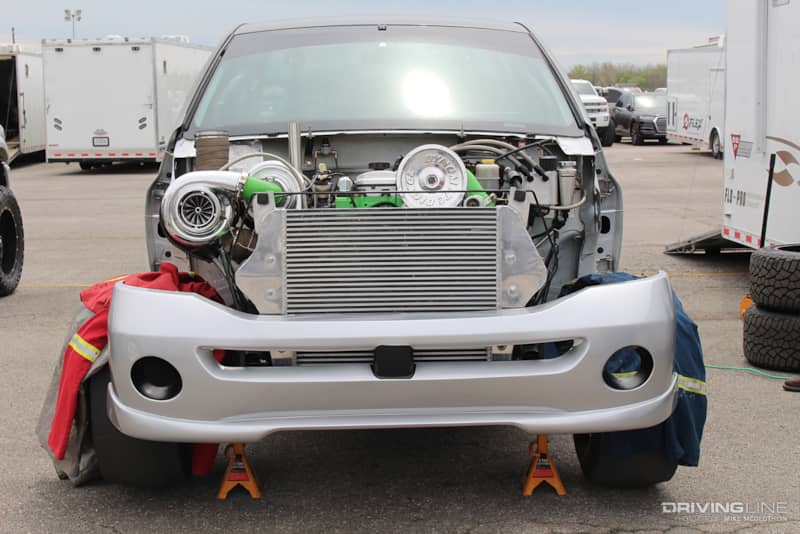 Making the return trip to UCC is Canadian native Donavan Harris of Armor Inc. and his standard cab Ram. With a deck-plated common-rail Cummins displacing 6.4 liters, compound turbos, a maniacal amount of fuel on tap and experience in all three types of events, Donavan should have what it takes to place in the top five at UCC 2017. Expect 9's at the drag strip, 1,500+ hp on the dyno and a full pull in the dirt.
10. ZACH FULLER
Starlite Diesel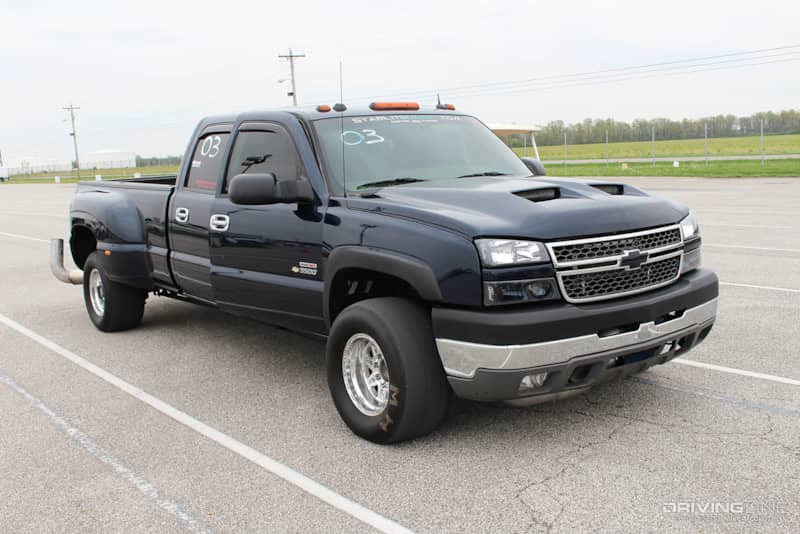 While some might assume that bringing a heavy, dual rear wheel truck to UCC is the equivalent to bringing a knife to a gunfight, they'd be dead wrong when it comes to Starlite Diesel's Zach Fuller and his Chevy Silverado 3500. Trust us, this thing moves out. Thanks to a full Wagler Competition Products Duramax under the hood, triple Garrett GTX turbochargers, Industrial Injection Cobra injectors and XP CP3's, Zach's Bow Tie behemoth (nicknamed "Big Blue") is fully capable of finishing near the top in every category. Think bottom 10's in the quarter-mile, 1,200+ hp on the dyno and a six wheels digging in the sled pull.
11. CODY HOPKINS
Destructive Diesel Performance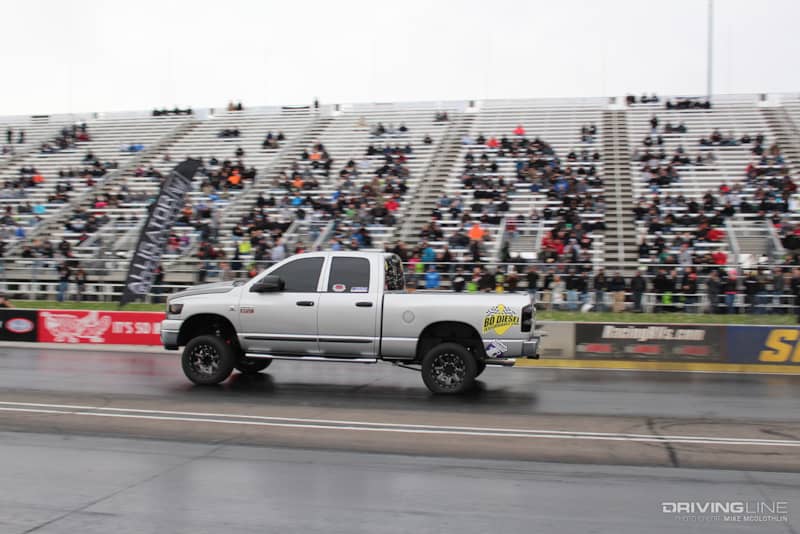 Although Cody Hopkins' Destructive Diesel Performance Ram has a definite "street status" appeal to it, the triple-turbo arrangement under the hood says it's still here to party. Cody's goal at UCC is to pour 100 percent into each event yet finish with a truck that's still in one piece — a tall order even for a streetable, 1,100 hp rig. But while Cody's Ram may be down on power as compared to some of the other competitors at UCC, it has a better chance of avoiding the breakage gremlins as well as allowing him to place strong in each grueling test.
12. WESLEY BEECH
Beech Performance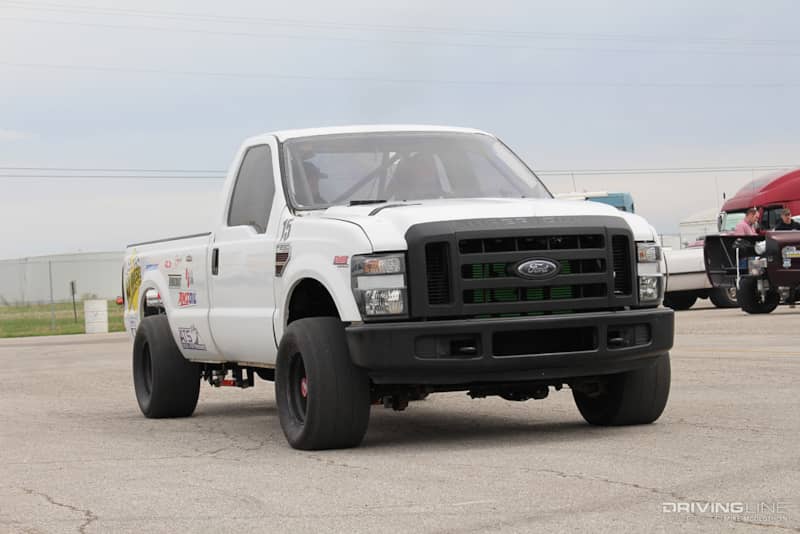 Wesley Beech knows his way around the 6.4L Power Stroke platform, and for UCC he's bringing the nastiest version he's ever put together. His '08 F-250 will conceal a two-stage trio of turbochargers (two S480 atmospheric units feeding an S482 in the valley), a custom dual high-pressure fuel pump system, dual 220-gph FASS fuel supply systems, MCC tuning and a 4R100 transmission. Sprinkle in a healthy dose of water-methanol and nitrous, and you get a late model Ford that will be a force to be reckoned with.
13. ASHLEY BLACK
Black's Diesel Performance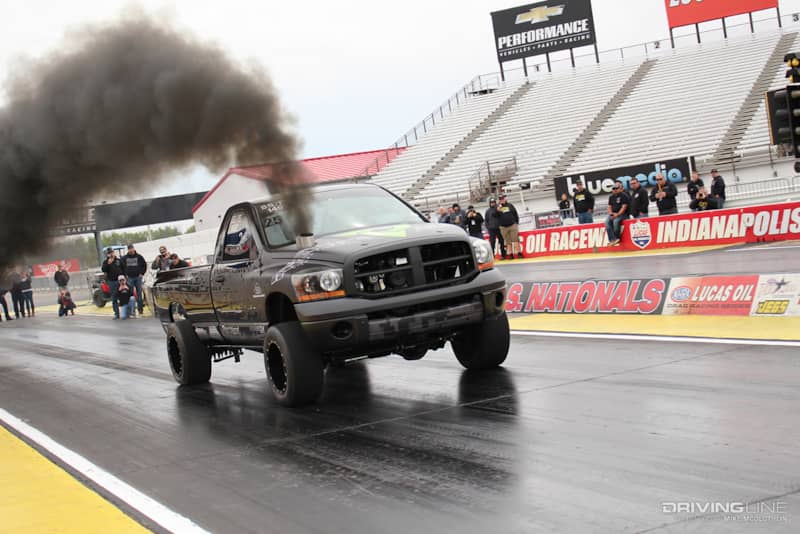 After campaigning a wheels-up, 9-second, two-wheel-drive common-rail Pro Street Dodge for several years, Ashley Black and his Black's Diesel Performance crew put this regular cab four-wheel-drive version together for UCC. The 6.7L Cummins powering it has been destroked to a 6.4L, the fuel system employs a set of 500 percent over injectors from Exergy Performance, and the triple-turbo arrangement makes use of three BorgWarner based S400 turbos from Stainless Diesel, complete with the company's billet 5-blade compressor wheels. Throw a substantial amount of nitrous into the mix, and you can see why Ashley and crew have their sights set on making 2,000 hp.
14. DAN SNYDER
Snyder Performance Engineering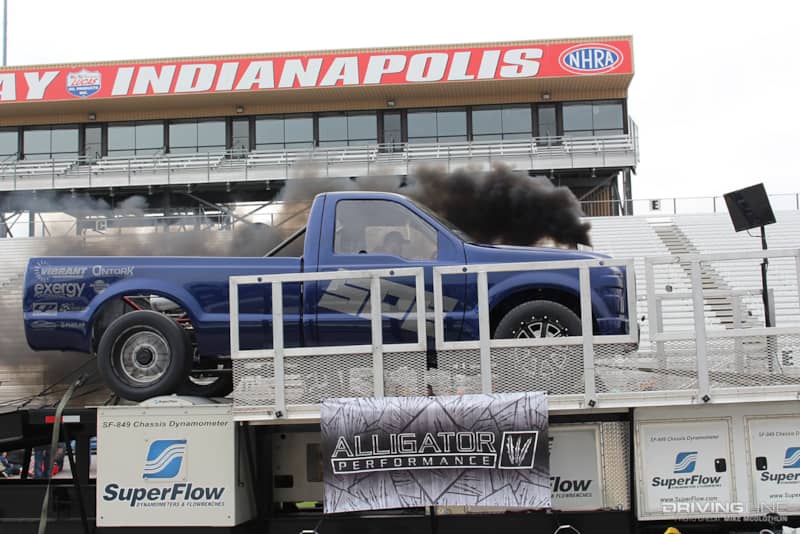 Even though it's technically a 7.0L stroker, Dan Snyder of Snyder Performance Engineering is bringing the only 6.7L (based) Power Stroke to UCC. To get through the quarter-mile in a hurry, his Super Duty has been four-linked and lightened to a trim 5,500 pounds. For power production, Dan is feeding the built Power Stroke air via triple S400-based turbos, while stroker high-pressure fuel pumps, a monster set of piezoelectric injectors from Exergy Performance and dual low-pressure fuel systems will take care of diesel delivery. Without a doubt, this truck is on the cutting edge of what a 6.7L Power Stroke is capable of in this type of mega-horsepower environment.