Ultimate Callout Challenge 2018: Dyno Competition
After an impressive showing at the drag strip on Day 1, the action shifted to the chassis dyno for Day 2 of the 2018 Ultimate Callout Challenge. Each competitor was pitted against Northwest Dyno Circuit's load-cell SuperFlow dynamometer and given 20 minutes to lay down the highest combined horsepower and torque number they possibly could. For the best chance of winning, competitors rely on the bottle more in this event than in any other—and copious amounts of nitrous are consumed throughout the day. When the rollers finally stopped spinning this year, five competitors had cleared 2,100hp or more and seven trucks had produced at least 2,500 lb-ft of torque.
New for 2018, the Ultimate Callout Challenge welcomed 25 qualifiers to compete for a chance to be part of U.C.C. 2019. Run alongside the big name U.C.C. trucks, the U.C.C. Qualifiers also took part in the drag racing, dyno and sled pull events throughout the weekend, with the top five overall finishers earning a spot in next year's main event. Along with highlighting the key dyno performances from this year's primary competitors, we'll also fill you in on some of the top-performing qualifiers below. Trust us, with several qualifying trucks clearing more than 1,500hp on the dyno and running 9s or faster in the quarter-mile, they're worth spotlighting.
Dyno and drags not your thing? Hang on! Our U.C.C. sled pull coverage comes your way next.
1. Derek Rose: 2,378.2hp / 3,479.9 lb-ft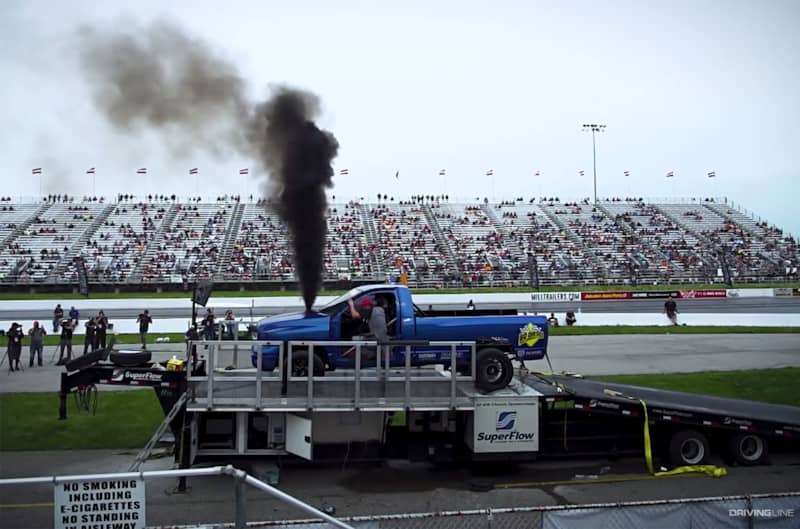 At these power levels, big torque at low engine speed brings extreme cylinder pressure into the equation, which can lead to a whole host of issues (bent rods, cracked blocks, blown head gaskets). So, as a general rule of thumb most competitors keep their engines alive by configuring them to operate at high rpm (4,000+ rpm) most of the time. However, the fact that it takes both horsepower and torque to win the dyno portion of the Ultimate Callout Challenge forces competitors to throw all of that out the window. The new stategy? Hit the nitrous at low rpm, but with enough boost on tap to avoid a backfire. Putting a five-jet nitrous system to use, Derek Rose executed this to perfection. Not only did he produce 465 lb-ft more than the nearest competitor, but his 2,378hp figure was the second most on the day. As a result of his huge torque number, Rose came roaring back up through the standings.
2. Lavon Miller: 2,243.6hp / 3,014.4 lb-ft
Holding the Lead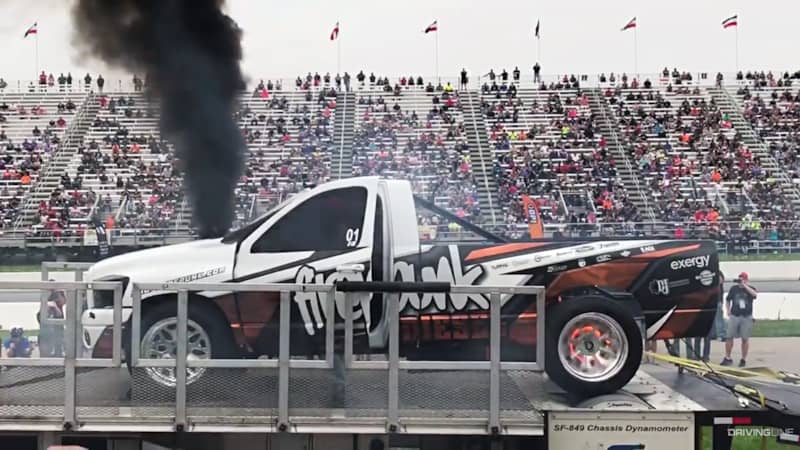 After making a combined 5,258 number on the dyno and following his win in the drag racing portion of the event the day before, Lavon Miller was once again sitting atop the overall points standings with one event remaining. However, with Derek Rose's strong, first place showing on the dyno, he and his 9-second Dodge went from eleventh place all the way into second. Rose was right on Miller's heels heading into the final event: the sled pull.
3. Shawn Baca: 2,391.1hp / 2,734.7 lb-ft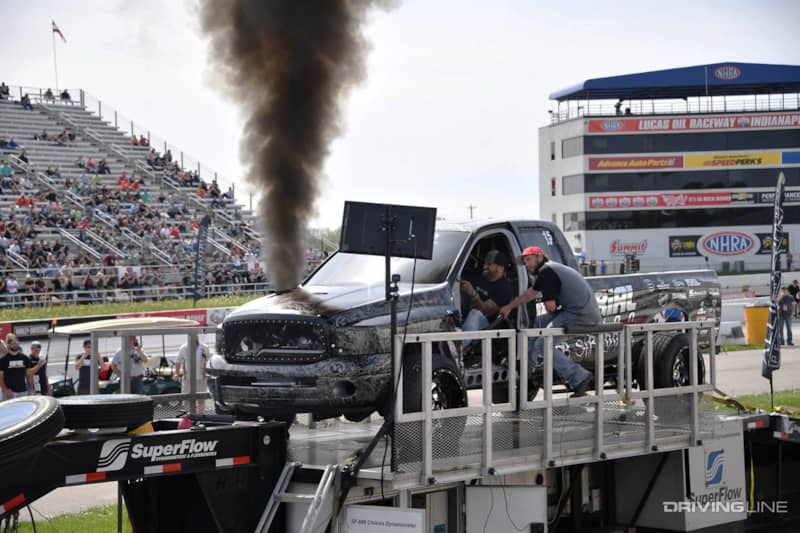 Anyone who's been following the extreme side of diesel performance the past few years knows how powerful Shawn Baca's "Master Shredder" Dodge is. This truck has made as much as 2,476hp and 3,311 lb-ft of torque in year's past (2016 hp and 2017 torque numbers, respectively). Needless to say, the crowd was expecting big things. Although Baca would lay down the highest horsepower on the day, it came at a price. After making a 2,391hp pull on the rollers, both rockers above the number one cylinder broke, forcing Baca to call it a day.
4. Chris Buhidar: 2,238.2hp / 2,802.4 lb-ft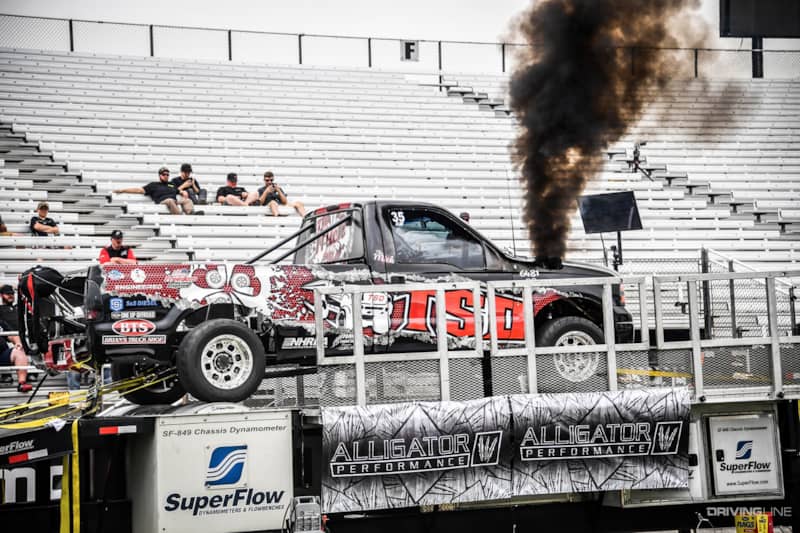 Coming off a solid, third place finish on Day 1, Chris Buhidar's 8-second, triple-turbo, Cummins-powered Super Duty took to the rollers and picked up right where it left off. The truck's first pull yielded 2,101hp and the following run tallied a 5,040.6 combined horsepower and torque figure. With a breakout effort in the dirt, Buhidar and the Truck Source Diesel team were still within striking distance.
5. Jared Delekta: 2,188.3hp / 2,663.8 lb-ft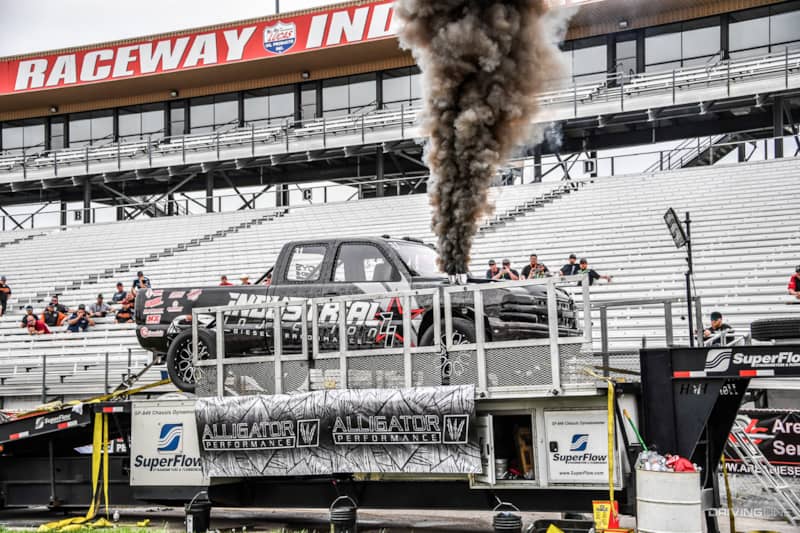 The Industrial Injection camp's engine woes would continue with Jared Delekta strapped to the rollers—and this one would prove to be a bit more serious. After the triple-turbo'd Cummins helped the DeMaxed Silverado clear a stout 4,852.1 overall number, it was obvious the engine had been hurt. Far from ready to throw in the towel, the Industrial team quickly got to work pulling the Shredder engine out of the truck and replacing it with the display Cummins they'd brought with them for the DPI Expo.
Top 10 U.C.C. Competitor Dyno Results:
Derek Rose: 2,378.2hp / 3,479.9 lb-ft
Lavon Miller: 2,243.6hp / 3,014.4 lb-ft
Shawn Baca: 2,391.1hp / 2,734.7 lb-ft
Chris Buhidar: 2,238.2hp / 2,802.4 lb-ft
Jared Delekta: 2,188.3hp / 2,663.8 lb-ft
Jesse Warren: 1,652.1hp / 2,667.9 lb-ft
Tony Burkhard: 1,673.1hp / 2,625.2 lb-ft
Jess Hardessen: 1,816.1hp / 2,469.3 lb-ft
Todd Welch: 1,853.5hp / 2,294.8 lb-ft
Cody Hale: 1,675.0hp / 2,437.1 lb-ft
U.C.C. Qualifiers
1. Trevor Peterson: 2,109.5hp / 2,609.3 lb-ft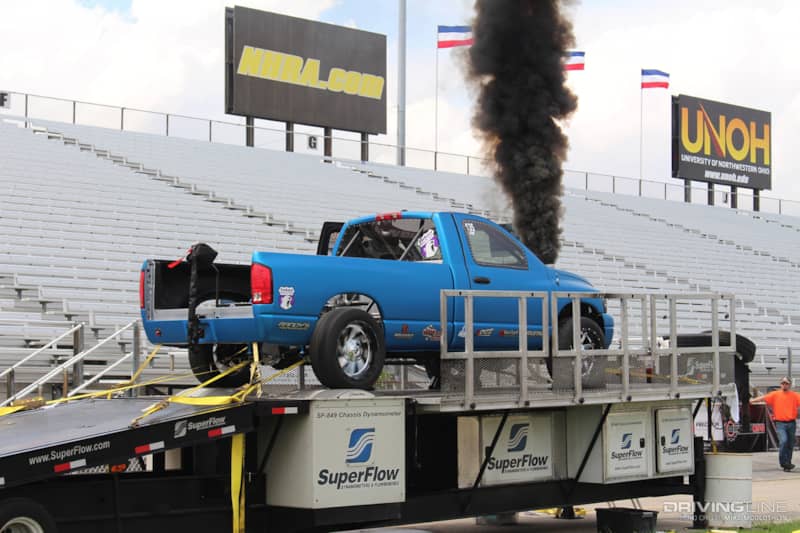 At 2,109hp, U.C.C. Qualifier Trevor Peterson smashed his goal of making 2,000 ponies on the dyno. Sporting a Shredder series Cummins built by Industrial Injection, dual CP3s, tuning from Breakout Tuning Solutions and a built 48RE from Randy's Transmissions, his '06 Dodge has the potential to run with the big dogs—and thanks to a second place overall finish in the qualifier, next year he'll have his chance to do just that.
2. Ryan Phaff: 1,868.5hp / 2,507.9 lb-ft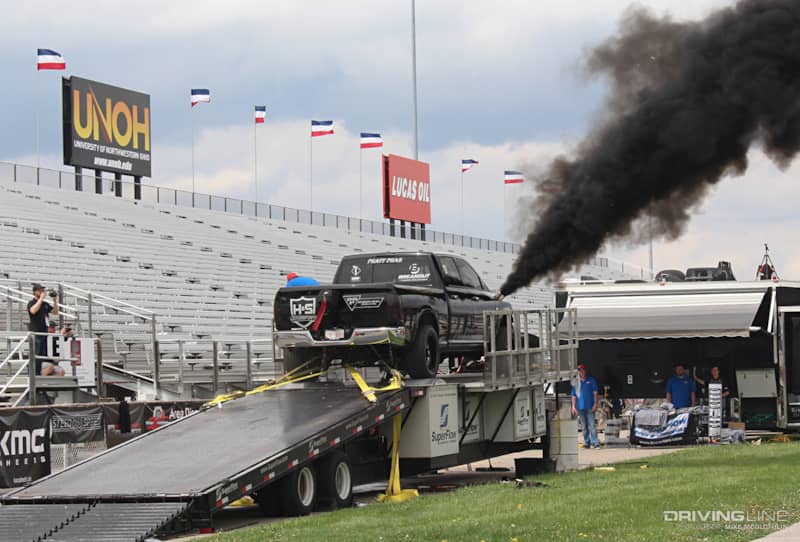 With a primary objective of making his truck the fastest four-door fourth-gen Ram on the planet, Ryan Phaff had no problem showing spectators what it will take to get him there. His 1,868hp showing easily secured him the number two spot in the dyno competition—and thanks to running an 8.87 at 160 mph the following day, along with taking third place in the sled pull on Day 3, Phaff sealed his fate as the number one overall qualifier at U.C.C. 2018.
3. Kelsie Epp: 1,504.0hp / 2,278.4 lb-ft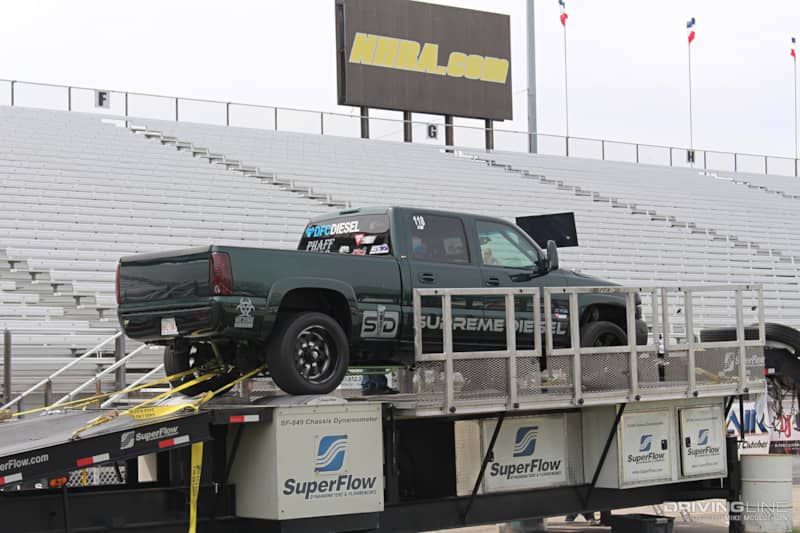 As the only woman competing in the U.C.C. Qualifier, Kelsie Epp definitely made her presence known—and she did it with a triple-turbo'd, Duramax-powered GMC amid a sea of Cummins-powered Rams. A third place finish on the dyno would be backed up with a 10.09 at 141 mph the next day at the track. Although the blazing 10-second quarter-mile pass ended up cracking the V-8's block, she made a waterless attempt at lugging the sled during the final event of the weekend. All told, Kelsie pulled out an impressive seventh place overall finish.
Charlie Keeter: 1,168.3hp / 1,837.1 lb-ft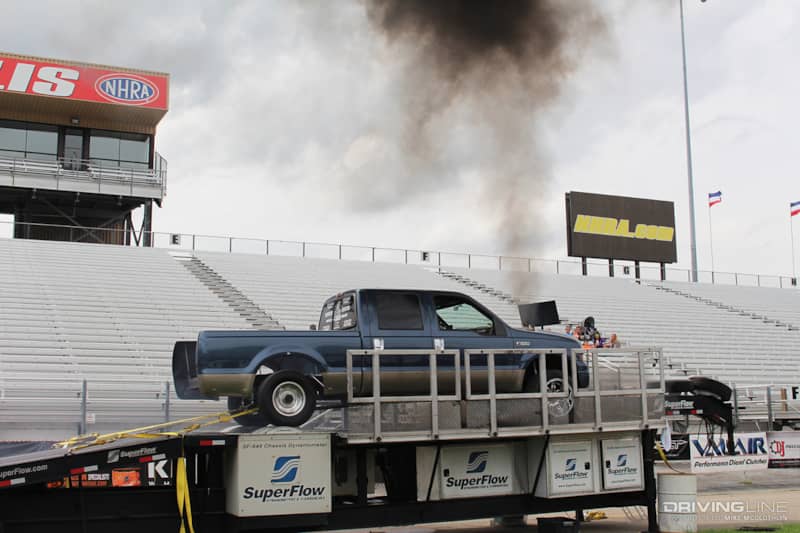 While U.C.C. 2018 was undoubtedly dominated by Cummins-powered trucks, it didn't stop Charlie Keeter and his 6.0L Power Stroke from mixing things up on the Qualifier side of the fence. Even though Keeter placed outside of the Top 10 on the dyno, his '04 Ford F-250 was easily one of the most impressive trucks on the drag strip. After clearing 1,168hp and 1,837 lb-ft of torque on the rollers, his daily-driven Super Duty lit up Lucas Oil Raceway with a 9.53 at 141 mph, along with a 9.57 at 140 mph prior to that.
Dylan Grooms: 1,324.2hp / 2,345.4 lb-ft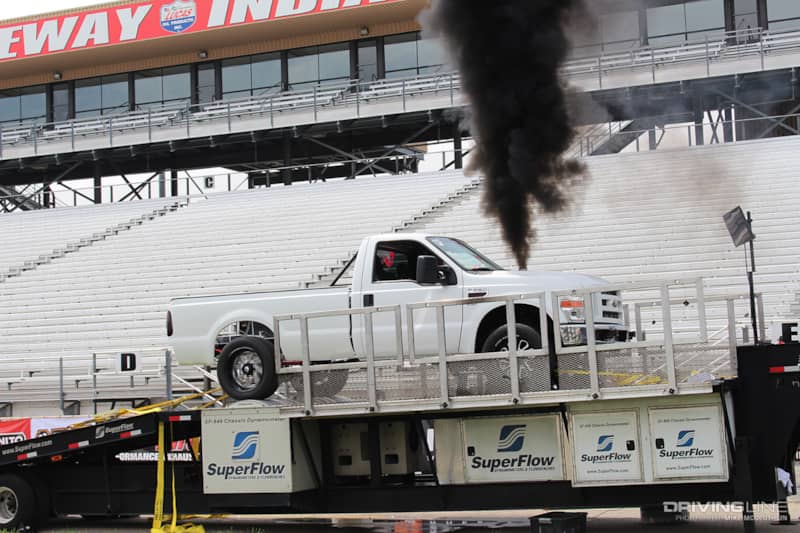 Another nasty Ford that showed up to compete was Dylan Grooms' 6.4L-powered, standard cab F-250. Although the truck's first dyno pull would lead to a blown radiator hose and a drastic loss of coolant, no harm appeared to be done and 1,324hp was applied to the rollers, which was good enough for fifth place. At the drag strip, Grooms rocketed to a 9.92-second pass (sixth place). Then, in an effort to go even faster, a third stage of nitrous was introduced on a subsequent run and the engine's intake manifold blew completely apart. After swapping in a new engine, Grooms and crew would proceed to take ninth place in the sled pull and end up earning fourth place overall.
Top 10 U.C.C. Qualifier Dyno Results:
Trevor Peterson: 2,109.5hp / 2,609.3 lb-ft
Ryan Phaff: 1,868.5hp / 2,507.9 lb-ft
Kelsie Epp: 1,504.0hp / 2,278.4 lb-ft
Cory Witteveen: 1,397.3hp / 2,328.5 lb-ft
Dylan Grooms: 1,324.2hp / 2,345 lb-ft
Mark Robertson: 1,390.4hp / 2,048.7 lb-ft
Brad Daniel: 1,376.6hp / 1,969.3 lb-ft
Joshua McCormack: 1,390.4hp / 2,048.7 lb-ft
Jeremy Kudera: 1,610hp / 1,590.0 lb-ft
Travis Trent: 1,259.8hp / 1,840.9 lb-ft
 Contributing Photographer: Amy Gilbert of Stainless Diesel
To see how the trucks did on the strip, check out our coverage of Day1!